POV Holder:
?
Next POV
July 26th
POV Used
?
POV Ceremony
July 28th
HOH Winner 1:
Frankie
HOH Winner 2:
 Zach
Battle of the Block Winner
Next HOH/ Next BOB
July 31/Aug 1
Original Nominations:
?
Final Nominations:
?
Have Nots
Nicole, Caleb, Christine, Derrick
POV Players
?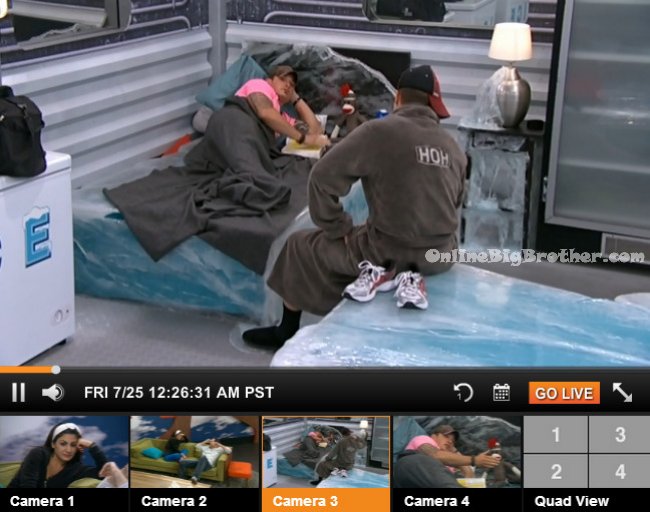 12:25am Caleb tells Zach that he doesn't want him to put up Amber so that he can look at her and say that her game is literally in my hands. Zach says it is for sure. Caleb says but in a way she doesn't realize. Zach says she doesn't at all she is spitting in your face dude! Caleb says Cody is in there calming her down. Caleb says I think I believe her when she says she isn't coming after you. Zach says yeah I understand you point of view but I have people coming up to me telling me that she is coming after me. Caleb asks who do you think has more control over her than anyone? Zach says herself. Caleb says yeah that too. Caleb says Amber has agreed that no Jury members go up until after jury. Caleb says if I am only one person and can only protect her to a certain point. If people want to put her up after that's fine. Zach says alright sounds good bro! We'll talk later.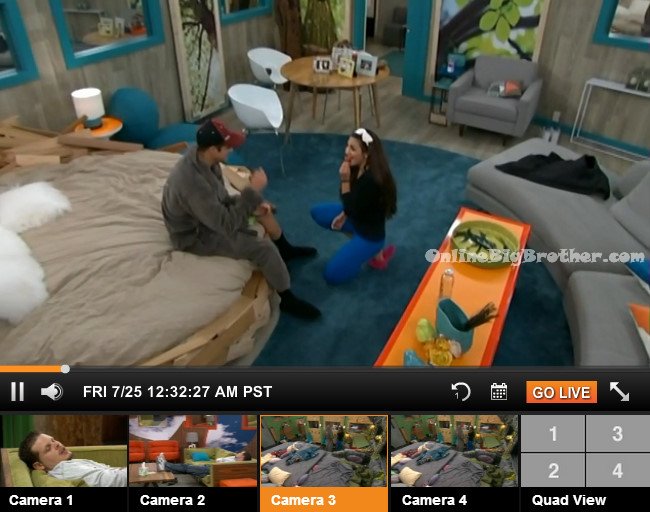 12:30am Victoria comes up to the HOH room to talk to Zach in private. Victoria asks what the plan is. Zach says he wants to get out Caleb. I am not putting you up. Victoria asks is Frankie? Zach asks he told you?! Victoria says no. Zach says you're possibly going up. Victoria asks why? Zach says we haven't really talked yet because every time we do Caleb comes up here. Zach says the best way to do it is to put up someone that will throw it. Victoria says I will not throw it. Zach says I am thinking Christine and if she doesn't throw it then I am done with her because she does nothing!! Victoria says I think that I've earned my stripes to not have to go up. Zach says I'm not putting you up. Victoria says but Frankie is. Victoria says every time I have been put up I have pulled myself off. Zach comments that he might put up Christine and Amber to get Christine to throw the BOB. Victoria says Christine won't throw it. Zach says then I would put up Nicole and Christine. I am tired of Christine not doing anything. She has done nothing for me! Victoria says people that are putting me up are screwing themselves for later because I can be a jury vote. Frankie joins them. Victoria tells Frankie that she doesn't want to go up. I don't think theres a reason for me to go up. If I stirred the pot or sucked at competitions then I would get it. Frankie says my take on the situation is that its easy for you to go up on the block because you've already been up and it doesn't get blood on your hands. That's just the only thing that I can see as a reason. Victoria starts crying and says I just want people to respect me as a game player. Frankie says you are respected. Victoria says no I'm not that's why I keep going up. Some people are just chilling and don't know the feeling and its a sucky feeling! Frankie says hopefully if Zach puts up his nominations first then it might f**k up who I put up but hopefully that doesn't happen and I can put up who I want to put up. And if that happens then you won't go up. Frankie says I just want to stay in power because Zach is such a wildcard and could put me up. I mean his targets have changed a million time in the last 5 minutes.
Watch the ENTIRE SEASON of Big Brother 16 for ONLY $26.99 – TRY it For FREE!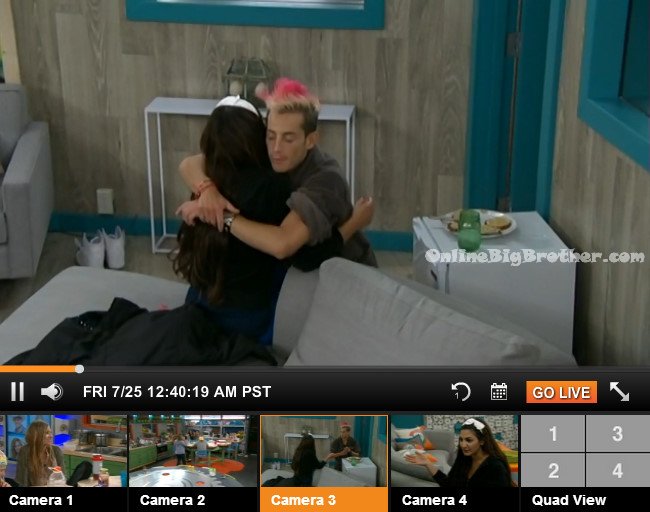 12:55am Amber comes up and talks to Frankie. Amber says that Zach is stirring up everything. Frankie says he is a lunatic. Lets just see if we can get him to stick to the plan. Amber says you're name and Cody's name is being thrown around. Frankie says I wish Derrick was up. Amber says honestly I thought you were in on it to until I heard your name being brought up. Amber asks how can you stay HOH this week. Amber says I thought Zach and I were on the same page. I thought we were on the same side and that we could work together but I guess not. Amber says apparently he is putting me up with Christine. Frankie tells Amber I am not putting you up and I am not back dooring you. Amber asks but how are you working with Zach? Frankie says Zach wants to stir things up and I don't know why he wants to stir things up. You know that he and Caleb talked about you and him fighting. Frankie says you and Caleb fighting, it needs to stop. Like don't give him a reason to put you up.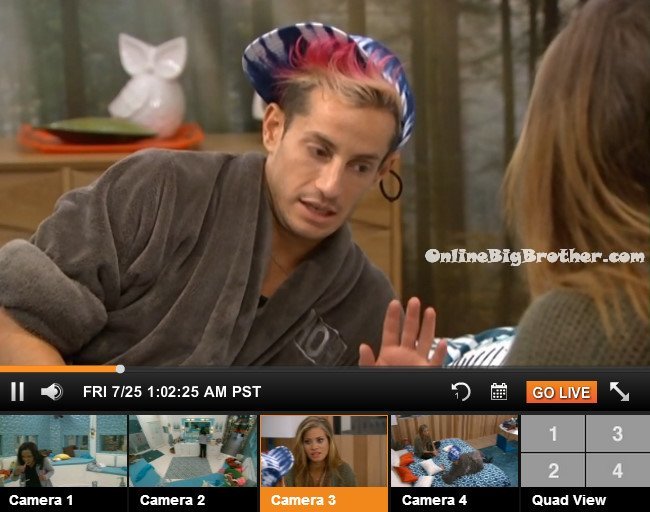 TEST out the Big Brother 16 Live Feeds for FREE with the 2 Day Trial!
1:10am – 1:45am Zach, Cody and Frankie are up in the HOH room. They asks Zach who he's putting up. Zach says he would love to put up Amber. Cody says can't she will blow all of us up! Zach says to who?! Victoria?! Everyone else knows about us. Zach says Christine dude, I am doing this for Victoria. Zach says I went to Christine to throw it and she flipped her sh*t! Cody says if we are putting up one of the 5 then our alliance is shot. She is our ear on the other side of the house. Zach says but I asked her to throw it and she lost her shit. Zach says I am not putting up Nicole over Christine. Cody says you literally sound like an idiot to her. She is in the ear of Nicole. Zach says need to put my robe on, I'm not thinking clearly! Cody tells Zach that he is big time power tripping. Zach says Dude I don't give a F**K, I literally give zero f**ks! Zach goes into the other room and Frankie whispers to Cody I need to stay HOH. Zach says I am not putting up people that I have gained trust with. Zach says I am thinking of putting up Christine and Amber. I want Caleb or Amber gone!! I don't want to put up Nicole, Donny or Victoria. I am getting gallons and gallons and pools full of blood on my hands! Cody says you're only saying that because you thinking of putting up an alliance member Christine. Zach says tell me who to put up? And I'll put them up! I am enjoying this power trip right now! I don't want to put up Nicole. If I put her up she will be like why didn't you put up Christine! Cody tells Zach that I heard you threw me under the bus by telling people that I told you to put up Nicole and Christine. Zach says come on dude! I didn't do that, why would I do that! Its not really that's what it is! Zach says getting Christine to throw the competition ensures that Amber goes up on the block.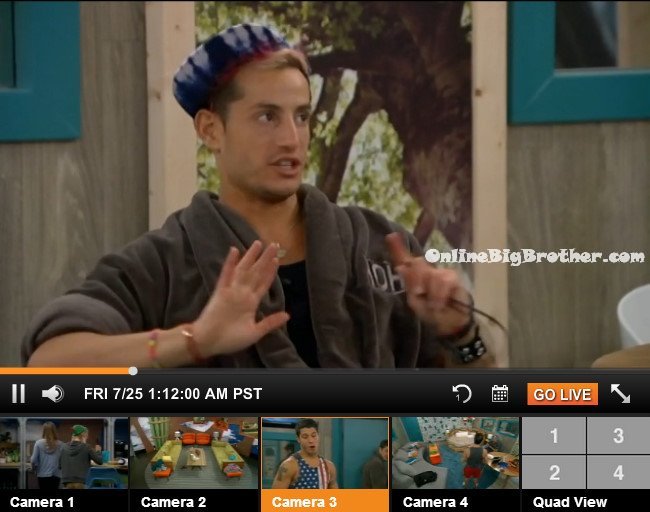 1:55am – 2:15am Nicole comes up to the HOH room. Zach asks who should I put up? Nicole says I don't know I've heard everyone's name. Zach says I want Amber to go! And I don't Christine to throw the competition.. In a perfect world I put up Amber and Christine and Christine throws the competition and Amber goes home. If she wins the veto then Caleb goes up and goes home. Nicole says I heard I was me going up. Zach says there's a fork in the road and I feel like no matter which way I go I f**k people over. Nicole asks I don't understand why you would put me up. Zach says I am not going to put you up. Zach says I don't want to put up you, Donny, Derrick or Cody. Zach asks do you trust Christine? Nicole says I trust her, we're friends. Zach says essentially I want Amber gone. I know that I am not going to win and the only way I get to the final 3 is if I do something crazy. Turn my back on people, stab people in the back .. Zach says I want to put up Caleb but thats not right, right now. Nicole says do what you think is right. Zach says you would hate me if I put you up right?! Nicole says I wouldn't be happy. Zach says wrong answer you would hate me. Tell me what to do, or I am putting you up. I am not putting you up. If I put up Christine people will be pissed at me and if I don't people will be pissed at me! Nicole says I am not coming after you right now. Zach says so if I put you up you will come after me. Zach says well this conversation was terrible. Nicole says are you serious! Nicole says asking someone to throw a comp is stupid! Would you throw a comp if you were asked?! Zach says yes. Nicole says well I will keep that in mind! Zach says my game is F**ked after this week no matter what. Kill me now. Nicole says that's irrational to think that because that's basically saying anyone in power.. means their game over. Nicole says good talk and leaves.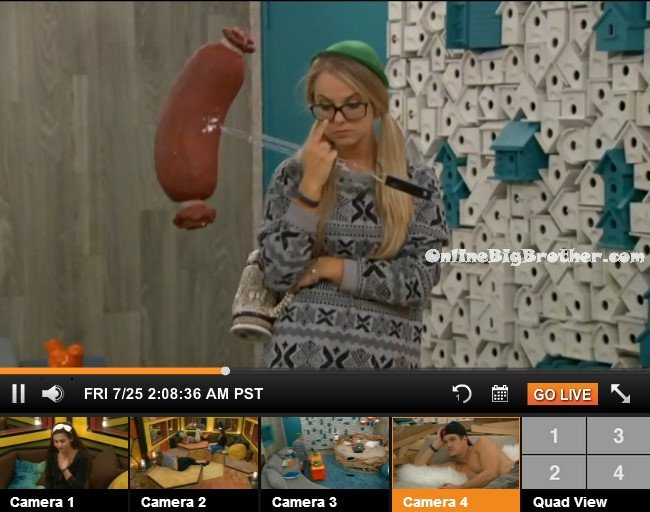 2:20am Nicole heads to the hive room and tells Christine, Victoira and Frankie how uncomfortable it was in HOH room talking to Zach. She says that that she thought someone was hiding in bathroom and that it felt like Zach was fishing for information. Frankie says sorry for Zach's insanity. I don't know what Zach will do. I will do his best to control what's going to happen. Christine says that Zach is crazy.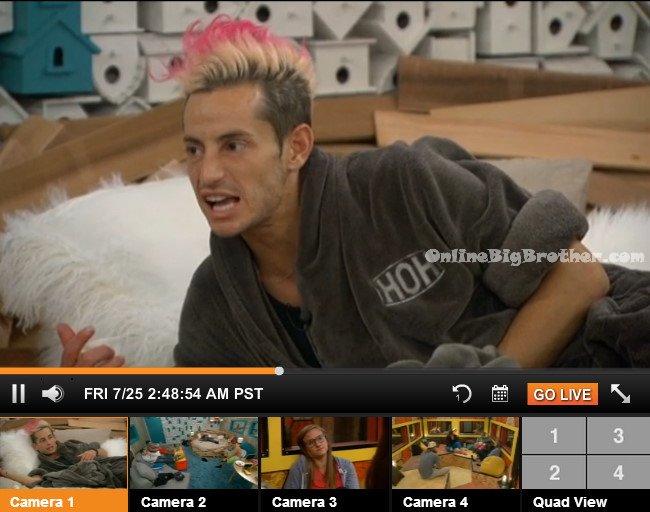 Up in the HOH room Frankie and Zach are talking. Frankie tells Zach to put up Amber and whoever else he wants. Frankie tells Zach to not mess up the sub alliance in their alliance. Zach says that he has no choice except for Nicole with Amber. Zach wonders if they could they backdoor Amber by putting up Hayden or Nicole first? Zach says so the plan is to put up Hayden and Nicole initially. Frankie says that's a huge possibility. Zach asks if he should tell Hayden he's a possibility. Zach tells Frankie he will have to backdoor Caleb because Jocasta and Victoria will probably lose the battle of the block competition. Frankie says he wants to backdoor Amber. Zach says he does too. Derrick and Cody join them. Zach says he is going to put up Nicole and Hayden. Derrick asks Zach if he told Nicole he's putting her up? Zach says I'm not putting her up. Derrick says that he likes how Zach lies to people. Zach says that he wants to put up Jocasta and Nicole so he could be sole HOH and be the one to backdoor Amber. Derrick tells Zach to not put up Victoria because she trusts him (Zach). Frankie says that Caleb came up to him and said that he doesn't want Amber to not be put up by Zach or him (Frankie). Frankie says that if one of the nominees win POV, Caleb or Amber will go thermonuclear and they will have to put Amber up. Frankie says and Caleb can't be mad. Zach says that he wants Christine to stop acting like Jenn City and do something. He says he wants Amber or Caleb to go home. Derrick tells Zach that he hopes Zach does a ZACHATTACK at the nomination ceremony. Zach now changes his mind again and says that he is going to put up Nicole and Christine.