POV Holder:
Hayden
Next POV
Aug 2nd
POV Used
?
POV Ceremony
July 28th
HOH Winner 1:
Frankie
HOH Winner 2:
 Zach
Battle of the Block Winner
 Nicole/Christine
Next HOH/ Next BOB
July 31/Aug 1
Original Nominations:
ZACH's Noms (Christine & Nicole) Frankie's Noms (JOcasta & Victoria)
Final Nominations:
?
Have Nots
Nicole, Caleb, Christine, Derrick
POV Players
Frankie, Victoria, Jocasta, Donny, Hayden & Christine
Take Advantage of the FREE 2 day Trial to watch all the drama!
8:40am – 9am Big Brother wakes up the house guests. When the live feeds return – Frankie, Donny, Victoria and Jocasta are awake. Victoria has been up since 7am and she's still getting ready in the bathroom. Frankie is up in the HOH room he climbs into the bed and starts dancing with hands to the music. Victoria comes up and says that the diary room needs the props from the photo booth. Frankie gets called the diary room but asks if he should get ready first. BB blocks the feeds and when they come back Frankie is getting into the shower and checks out his crotch burn in the mirror.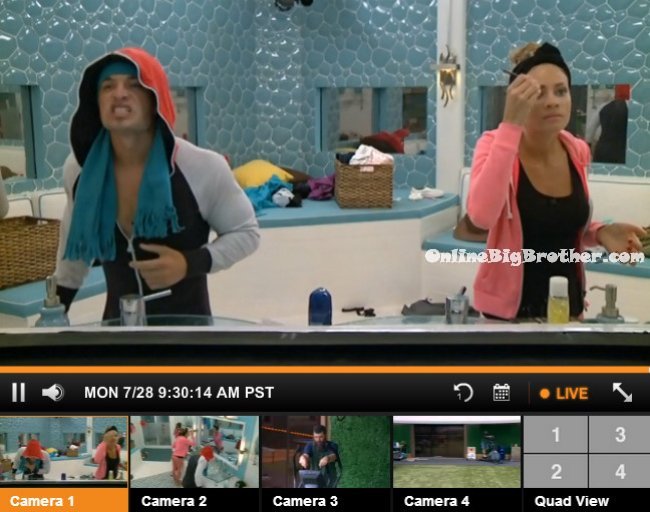 In the downstairs bathroom – Amber and Victoria are getting ready. Caleb is brushing his teeth. Amber talks about how she got hit in the head with a pillow at 5:30am waking her up. (It was Caleb) Amber says it was probably Hayden. She says she was going to throw it at the boys but didn't know who did it. That's okay I will get them back. Caleb doesn't say a word and leaves the bathroom.
9:35am – 9:50am Caleb heads up to the HOH room and tells Frankie about how he "smoked Amber right in the face" with a rock pillow last night while she was sleeping. Caleb laughs about how it woke Amber up and she didn't know who did it. Frankie thanks Caleb for his kind words about his grandfather the other day. I really appreciated it. Caleb says what I think Zach needs to do is when you go to close the lid to the veto box. I think Zach she apologize to me for what he is about to do and then he does his speech. Frankie asks but you are taking credit for it? Caleb says after .. yes to Amber. Caleb tells Frankie to tell Amber that she needs to talk to him because its stupid that its been 5 days since she's talk to me. Caleb leaves the bathroom. Zach joins Frankie in the bathroom. Frankie tells Zach that Caleb had a good idea for you to stop me from closing the veto box. Zach says yeah thats a good idea. Frankie tells Zach how Caleb beamed Amber in the head with a rock pillow last night while she was sleeping. Frankie says he said we don't just knock people down we destroy them! Zach says everyone is going to be shocked! Frankie says including me .. I can't wait to act! Frankie says that after the veto meeting I will bring Amber up to the HOH room and all I am going to say is that the only person she needs to talk to is Caleb. Then I will bring him up and she can have the HOH room for the day.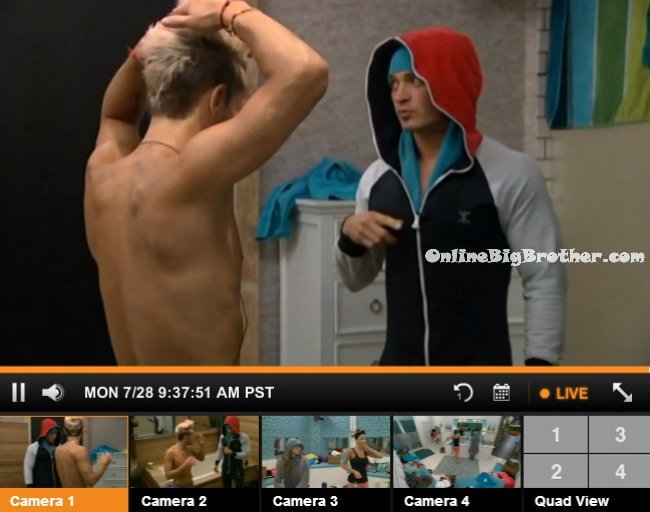 10am In the bathroom – Amber asks Hayden and Cody if they were the ones to throw the pillow at her while she was sleeping. Both of them tell her it wasn't them. Meanwhile – Caleb heads back up to the HOH room and tells Zach about how he threw the rock pillow at her face while she was sleeping. Zach laughs and says oh my god. Caleb tells Zach that after I want Amber to know that I was the head of all of this. But before I want you to apologize to me. Zach says I like that! Caleb says you could say I apologize Caleb I have some things that have been eating at me.. but while I have everyone in this room I wanted to address something. Zach says perfect, I like it. Caleb goes to the washroom. Frankie comes up and tells Zach that it is actually Hayden that closes the veto box because we switch back. Zach says okay. Zach leaves. Frankie says my "mussy hurts!"
Big Brother 16 Live Feed FREE TRIAL – Use the FLASHBACK feature to watch everything you've missed!
10:10am – 10:20am In the havenot room –
Hayden says its going to be a great time. It's going to be a great show! I'm excited. Hayden tells Derrick that they can deny to Caleb that they knew he was going to use the veto on Victoria instead of Jocasta like Caleb expects. Hayden then tells Zach in the kitchen that he can deny know but tell Caleb that it makes sense why Hayden did it. Up in the HOH room – Caleb continues to laugh about smoking Amber in the head with a pillow while she was sleeping. Caleb leaves and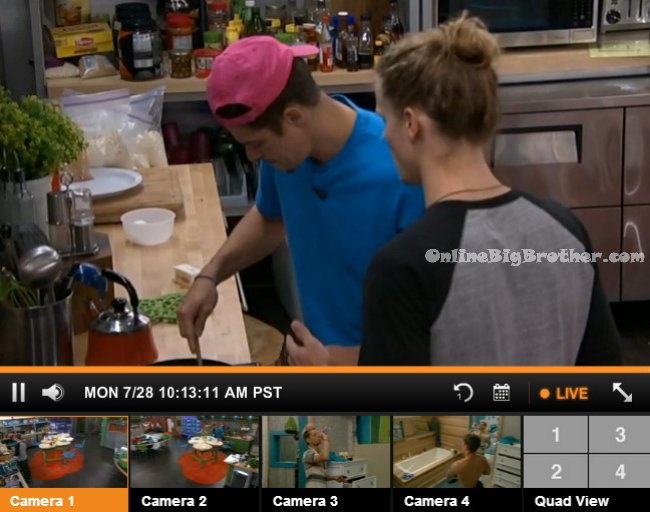 10:25am – 10:40am Derrick joins Frankie. Frankie continues to talk about his crotch burn and pulled groin. He says that it was due to big brother giving him the wrong size of jeans in the last competition. He says mussy is raw. Derrick asks what's a mussy? Frankie says a male pu$$y. Derrick says thats a new one. Zach joins them. Derrick says we need a name for this. Frankie says Zach-ATTACK! Because that's what it is. Derrick says perfect and leaves the HOH room. Zach says its perfect that the plan was to target Amber this week and its actually happening. Its funny that Caleb thinks it was his plan. Hayden joins them and they laugh about how Caleb wants all the blame. Hayden says he is literally doing all of this to get her to apologize to him. Frankie says just so we are all clear Amber is the one going home this week. Zach says oh yeah. After this meeting I am never talking to Amber again. Hayden says you can deny you knew I was going to do it but just if you could agree with me doing it. Zach says this is going to be so much fun!
10:45am – 11am In the hive room Victoria practices her speech again to Frankie. He tells her she nailed it. Victoria then pulls Cody in and practices it with him. (She's literally practiced her 15 second speech 100 times and still can't remember it.) Cody tells her that she nailed it. Short and sweet good enough to eat! In the kitchen – Donny talks about how he knew coming into the house he would be the outcast but knew people would warm up to him. He says that he was a custodian at a school before and the kids loved him so he knew over time the younger people in the house would grow to like him.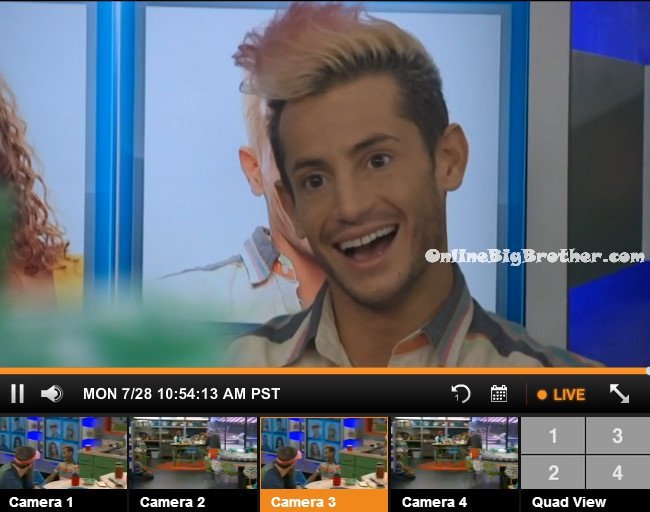 11am – 11:13am In the living room – Frankie says the fact that my mom said in my letter that she is playing a great game means that I am not being portrayed as an a$$hole because she if I was she would have told me to come home. Derrick says it was the same for his letter too. Victoria and Hayden join them. Out in the backyard – Zach and Cody are playing pool. Donny and Christine are watching. Meanwhile on the backyard couch – Nicole, Amber and Jocasta are chatting about random things. Caleb comes out of the diary room and says we have 5 minutes till lock down.
11:16am Big Brother switches the live feeds to the highlights real.. The POV ceremony is happening now .. .get your live feeds now when they return its going to be non-stop crying and drama…
See what they can't show you on TV! -Try the Big Brother 16 live feeds for FREE!
Alliances
Zankie = Frankie/Zach
The Detonators = Derrick, Frankie, Zach, Christine, Cody
Final 2 Deal "The HITMEN" – Cody & Derrick
Trilogy = Nicole, Christine & Hayden
Team America = Donny, Derrick, Frankie
Old timers = Jocasta/Donny
Nicotine = Christine/Nicole
(Defunct or unknown status)
Bomb squad = Caleb, Amber, Frankie, Derrick, Cody, Christine, Zach, Hayden
Not a showmance= Hayden/Nicole
Los Tres Amigos = Derrick, Cody, Zach
The bottom Feeders = Derrick/Nicole
We hate Devin = Christine and Zach
Outsiders = Brittany, Victoria, Jocasta, Donny
Stalker = Caleb/Amber
Quad Kings = Derrick, Zach, Cody and Hayden (still being built)
One way to support this site that doesn't cost you anything extra is making your Amazon purchases through the links below Amazon.com OnlineBigBrother Link
For Canada use link Amazon Canada OnlineBigBrother
More polls here https://www.onlinebigbrother.com/big-brother-compendium/big-brother-16-polls/
[polldaddy poll=8207784]