POV Holder:
?
Next POV
Aug 16th
POV Used
?
POV Ceremony
Aug 18th
HOH Winner 1:
Derrick
HOH Winner 2:
Frankie
Battle of the Block Winner
 ?/?
Next HOH
Aug 21st
Original Nominations:
?
Final Nominations:
?& ?
Have Nots
?and ?
POV Players
?

8:55pm Derrick and Frankie BEE HIVE
Derrick thinks he stay HOH because next week is Endurance and Frankie has a better chance to win it. Derrick will tell the house hey did rock papers scissors and he lost. "You're a better bet to win next week"
Derrick says they will send Donny out this week. Frankie tells him he wants Caleb to go far with him because Caleb has his back, Frankie mentions that Caleb has mentioned final 3 with Derrick numerous times. , "Zach is wonderful.. I still feel the same about Zach as I did week one.. I love the kid"
Derrick – he's been tough on you .. you're not a pushover
Frankie – Cody is all over the place.. he's emotionally compromised a bit.. I cannot handle him not volunteering.. .
Derrick says they will go to Donny tell him everyone in the house wanted him up with Victoria but they are going to put him up against Zach gives him a fighting chance.
Derrick – How many weeks do we have to protect this guy.. he's only here because of us
Frankie mentions they are giving Donny two chances to save himself.
Derrick is going to tell DOnny that Zach is the target this week.
Derrick – Donny has to go if he stays on the block because if he stays he's lost trust with us..
Derrick says Donny had an alliance and they took it apart, "3 weeks they are all gone"
Derrick – We're locked in
Frankie – well done
Derrick whispers to him "Enjoy your week of safety"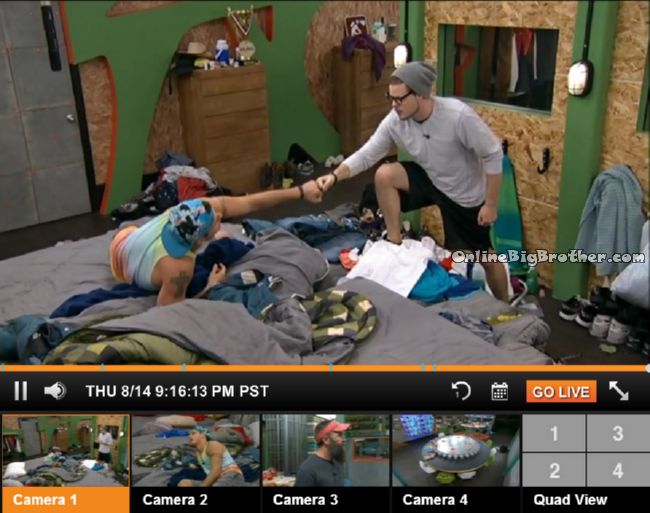 9:16pm Derrick and CodyDerrick tells him he's staying HOH "It's the only way I can guarantee you being safe" He says Frankie and him 'Rock paper scissor" and he lost.
Derrick – You're good for the week you're safe.. I'm putting my game in your hands. You gotta have my back next week.. if it's endurance I'll massage your b@lls"
Derrick will put up Donny and Zach.
Derick – Are you thinking about volunteering
Caleb – ya on the safe side.
(Everyone needs to pay tribute to the BB gods so Donny/Zach win the BOB it will make for some fun feeds)
Derrick – I'll tell Frankie you are volunteering to go up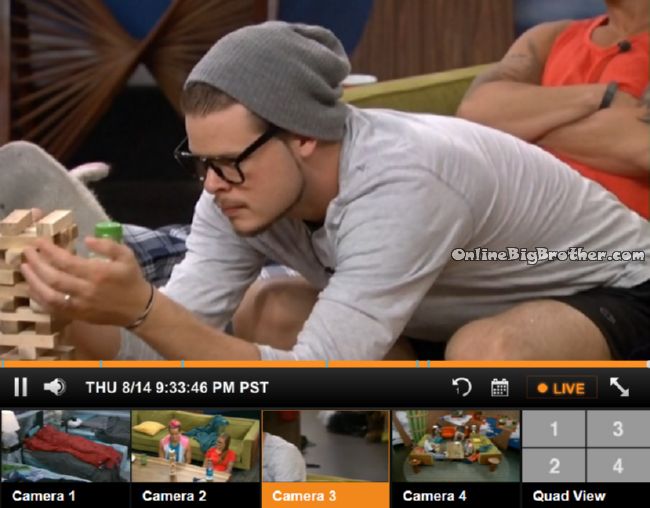 9:44pm Jenga JEnga JE JE JE JEnga
Derrick starts doing impersonations of Frank Eudy (BB13)
Frankie says it will be hours from when Nicole walks into the Jury to when they make out. Derrick thinks it will be when Jocasta goes to bed.
Caleb says he's been around the world already he's not going for the trips he's going for the money. Frankie asks them when drawing for POV Players pick him if they get houseguest choice.
The Live Feeds are archived. You can go back and watch everything that happens
Try It Free! Subscribe now to the official BB16 Live Feeds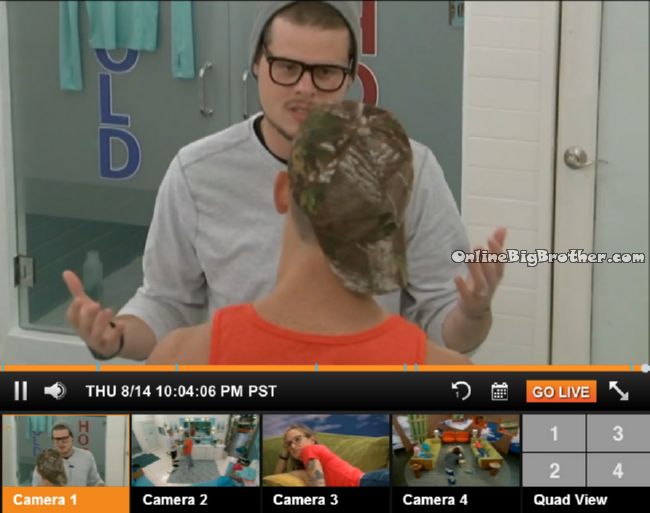 10:03pm Bathroom Derrick and Caleb
Derrick makes it sound like he's making the ultimate sacrifice by being HOH this week because he cannot play in next week's HOH.
Derrick tells Caleb he's 100% safe from going up and backdooring.
Derrick – This is an easy week it's a relaxing week for all l of us.
Derrick brings up talking to Cody and he's thinking about volunteering so it might be easy on their part.
Derrick says will be chilling this week with Victoria.
10:15pm They get one bottle of wine and six beers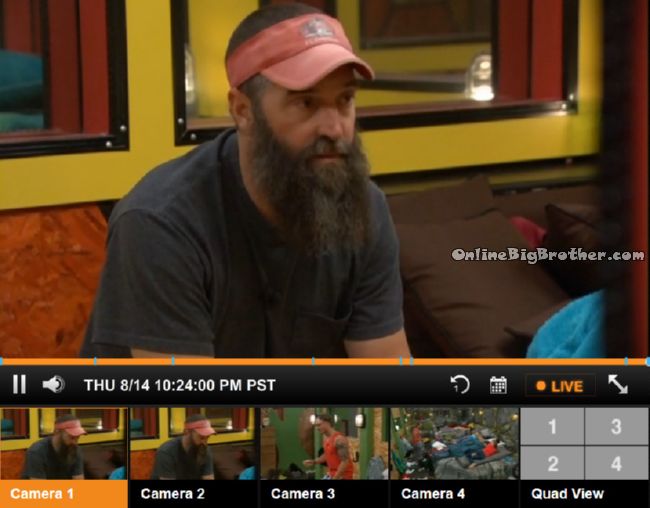 10:17pm Derrick and Donny
Derrick says the entire house is wanting DOnny nominated with victoria. .
Donny says there's people in the house that can go up instead of him. Derrick says they are going up.
Donny – two people not going home..
Derrick – you're not my target you're not Frankie's target period.. If you win Battle on the block you're safe for the week and you're a vote for me..
Derrick says he wants to try and get Zach up with DOnny doesn't want Victoria along Donny that would be worst case scenario.
Derrick says everyone knows Victoria is going home this week "Even she knows"
Derrick – I want to have a comfortable week
Donny – I want to have a comfortable week.. I'm trusting y'all
Derrick – I don't want you with Victoria.. I'm working with Frankie on this..
Donny says he only has Derrick and Frankie in the game. Mentions that the TA task might be for them to get a Team America member on the block then save them.
Donny – I have felt unsafe half this game it would be wonderful to have a safe week before a double elimination"
Donny – THat's a hurricane.. to have a week off before I'm thrown back to the wolves"
Donny suggest Derrick gets everyone together and make a plan to get Victoria out he wouldn't feel as bad being a pawn if he knew he was part of a team trying to accomplish a goal.
Donny mentions if he's not nominated and POV is played Derrick can always put someone other that him up. Point sout that Derrick has the numbers to keep them safe. He knows he ideas mentions that just today he came to Donny told him that.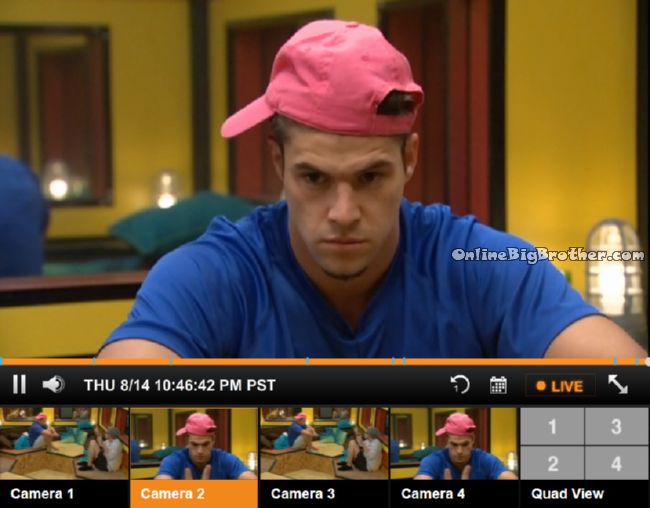 10:40pm BEEHIVE Zach and Derrick
Zach what if it's a competition I can't throw. Derrick wants to call a meeting for tonight to figure it all out.
Derrick – There's 6 of us and 2 of them.. this is the point we've dreamed about.
Zach – we got to get there to get there
Zach – If I can't throw it and I end up winning between you and me Christine has to be on the other side..
Zach – obliviously I don't want to go on the block.. if there's a chance I'm going to win it in a moment I might F***ing win it"
Zach – Why can't we put up Victoria on one side an Donny on another side.
Derrick reminds him if they have Victoria and Donny nominated they have no back door option. Zach really wants Christine and Cody up says If Caleb and Cody are nominated and Zach gets caught up in teh competition and win it they are screwed.
Derrick wants him to voice that concern.
Zach – Between you and me I don't want to throw it.. it's too late in the game to throw it..
Zach says the ideal plan is Zach/Donny go up with Cody/Vciotira.
Zach – Worst Case scenario Christine goes home
Zach tells him not every competition is throw able he might have to stand there hit the button.. He's going to hit the button.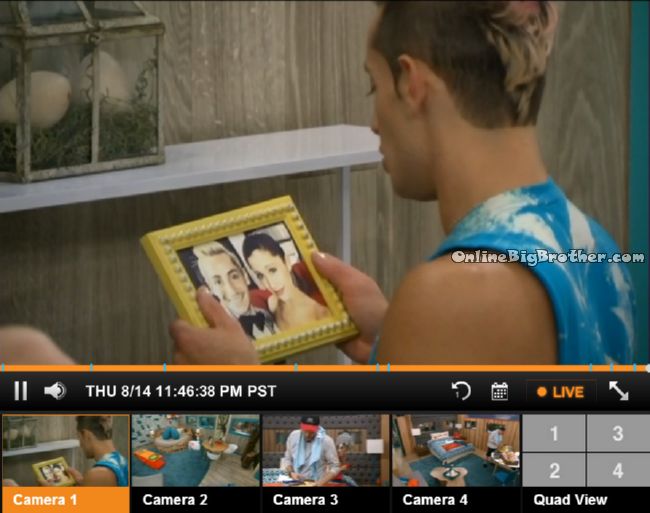 11:15pm Frankie and Derrick get their HOH rooms.
Derrick gets one of daughters blankets
Frankie gets his sisters new Album, "my Everything" he had no idea that was going to be the name
Frankie's letter is from his sister the pop singer. tells him she going to be hosting the VMA's and congratulates him for coming clean.
(11:20pm Cam 1-4)
Derrick says he has a book for a HOH letter. It's from his wife and mostly about his daughter. (it's too long to transcribe probably the longest HOH letter i've ever heard took him 3 minutes to finish 11:21pm Cam 1-4)
11:32pm "FireWorks" in the HOH.. Everyone milling around. Caleb is dancing around singing a line from Frankie's Music "I got one less problem without cha" Caleb says he can be Frankie's sister's backup dancer.
11:52pm Random chit chat