POV Holder:
?
Next POV
Aug 16th
POV Used
?
POV Ceremony
Aug 18th
HOH Winner 1:
Derrick
HOH Winner 2:
Frankie
Battle of the Block Winner
 ?/?
Next HOH
Aug 21st
Original Nominations:
?
Final Nominations:
?& ?
Have Nots
?and ?
POV Players
?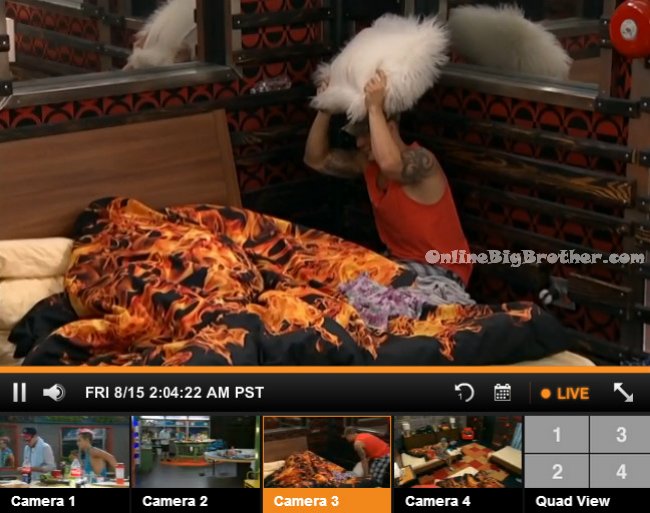 2:05am In fire room – Caleb attacks Victoria with the pillow. She runs screaming and hides under the covers. Caleb hides on the other side of the bed and catches her when she looks to see if he's gone. Caleb then starts doing kicks. Bicycle kicks, round house kicks, jumping kicks, sidekicks, etcs.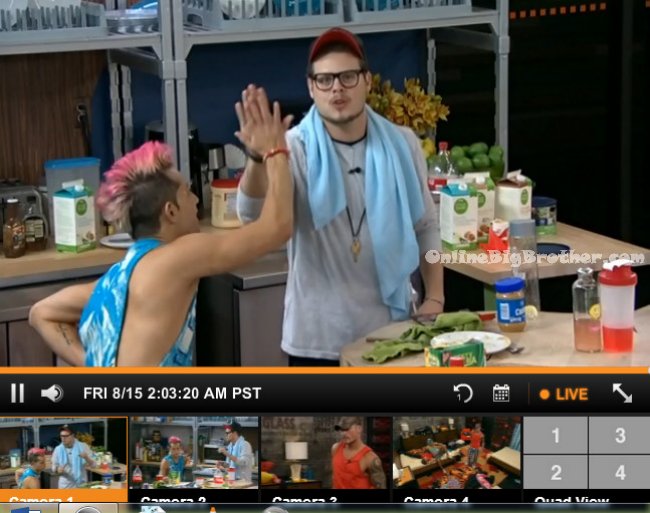 In the kitchen – Derrick and Frankie are talking. Derrick says can you just reiterate with Caleb later. I told him about the skittles but he wasn't really listening when he was smashing things on his face. When he goes to Donny tell him that the 4 were picked. And then Caleb knows to tell Donny no matter who wins he is winning the POV and Victoria is going up. Victoria is the target this week because that way if he does win, that's what he thinks. Because he wasn't paying attention. Frankie says not at all. Derrick says that's how the plan gets blown up! Frankie says we're the parents. Derrick says you put us in the house with a bunch of 21, 22 year olds and this is what you've got. Frankie says daddies. Derrick says and I don't want Zach up there either. Frankie agrees he can just chill out this week. Frankie hold up the halibut and says holy crap this is one piece?! This is from one fish!! Derrick looks at the weight and reads 2.2lbs. Derrick tells Caleb when Donny talks to you make sure he knows that the plan is to backdoor Victoria. Caleb says okay. Caleb then asks if they've seen his round house kick? He shows them his kicks. Caleb heads to the fire room and puts on hair helmet and grabs the shield. He then goes and chases Victoria. In the kitchen – Derrick and Frankie are talking about the HOH clothes they got. Frankie wonders if the shirt he got is his grandfathers. Derrick says even Caleb and Cody are happy, they're safe this week. We need to hold him (Zach) to going on the block next week. He said he would, we need to hold him to it. Frankie agrees.
Big Brother 16 Live Feed FREE TRIAL – Use the FLASHBACK feature to watch everything you've missed!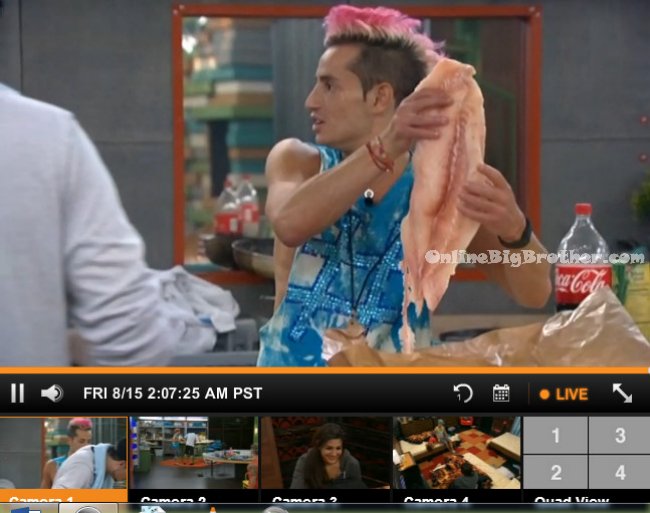 In the kitchen –
Zach tells Victoria that she's a pecker checker! Victoria asks what's a pecker checker. Zach asks Victoria what would you do to have s*x with Cody? Victoria asks what?!! Cody says that was disgustingly inappropriate! Victoira says that was disgusting. Zach says you're right that was inappropriate.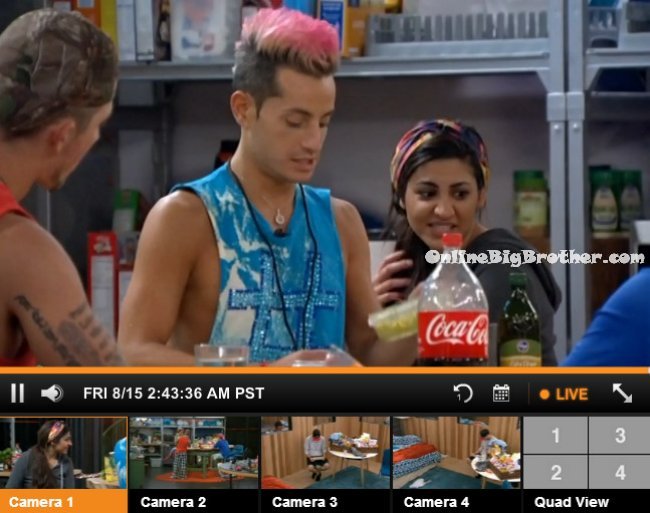 2:50am Up in the HOH room – Derrick is talking Cody and tells him that the plan is that you two are safe. And as long as Frankie doesn't win HOH again we're good. Cody says if Donny came down I would not send home Victoria, that would be a waste. Derrick says I truly believe next week will be endurance and you've got that. Derrick says I need you to win it next week. Cody says I wished you and I had won this HOH instead of Frankie so we could have gone into the diary room and do some crazy Hitman sh*t. Derrick says I think that Frankie and Caleb have a final two. Cable joins them. The conversation turns to talking about the HOH competition. Cody asks so are we going to just smoke it tomorrow!? I was going to be livid if I got pulled to be next to Zach. Caleb agrees. Cody says I want you to know that me not wanting to volunteer had nothing to do with you. It had to do with Frankie and Christine wanting me out last week and being afraid of them flipping it this week. If I had been up with Donny I would throw it. Caleb says I would love for Zach to go home before Victoria. Derrick says if he doesn't win HOH next week he is going up next to Victoria. He already volunteered to go up next to her. Cody says I want Donny got but after that I want Zach gone. They hope next week will be endurance and single HOH. Derrick says We'll get Donny out his week. If Donny and Christine lose this week, we can't lose. We'll be the only 3 people safe this week. Caleb says Cody and I won't lose! Derrick says Donny will be pissed when he finds out but there is no way he will win against you two beasts. Derricks says I would love for there to be a Pandora's. I will open it if I get it. Caleb asks do you guys think if Frankie was in the final two he would win? Derrick says definitely. People would pick him just to be able to meet Ariana. He's playing for a charity too so people would be like I just helped contribute to the charity for kids in Africa. Derrick says they're (Frankie & Ariana) not hurting for money. Derrick says only 5 more to go. Caleb says I feel like us three have been the most loyal.