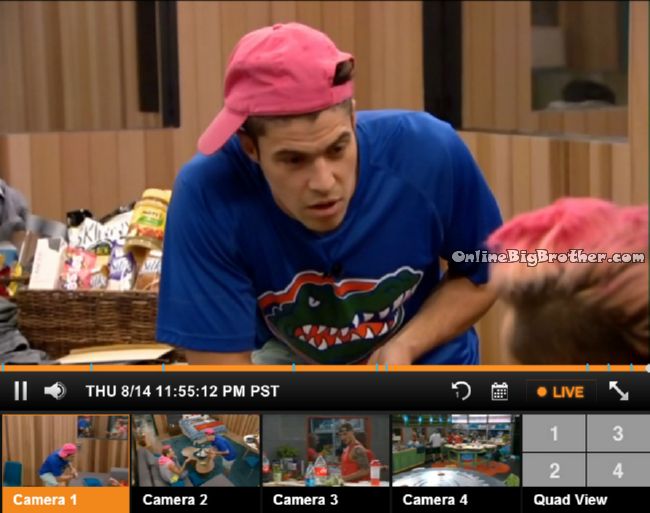 11:54pm HOH Zach, Cody and Frankie
Zach says if he's up wit Donny he might not be able to throw it.
Zach wants Donny and Someone vs Victoria and Someone
Frankie says they need someone outside the alliance to be free to being backdoored.
Cody says the only way they can make sure someone not in their alliance goes home is if it's 3 alliance members up.
Zach – I don't know how comfortable I am at throwing it.. "
Zach thinks the week will be stressful Frankie disagrees says they are all safe.
Frankie – it's a week where we are all guaranteed safety
Zach wants to know who is "we" wants to know if it includes Christine..
Cody says he doesn't want to nominated beside Donny.
Cody – the only way for the plan to work is for the person up with donny to throw it
Zach asks if COdy is going throw it
Cody doesn't want to be nominated
Zach am i going to throw a competition week 9 F*** no.. i'm the only person right cody
Zach – throw the competition f*** that"
Frankie – there's six people left and four nominees.. you are guaranteed safety using the method we have in place.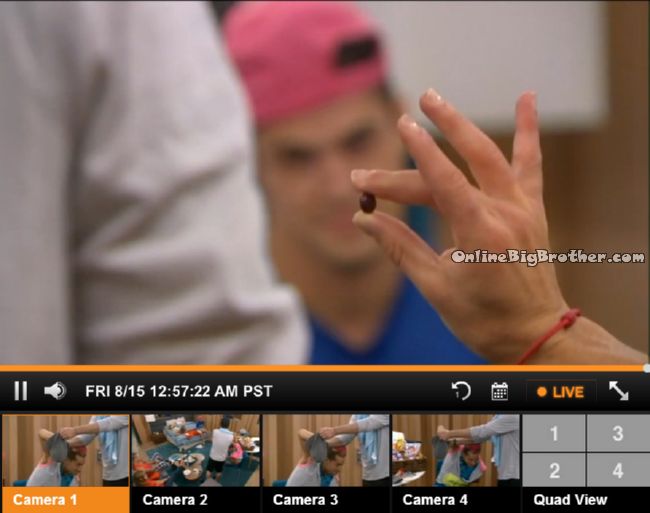 12:07AM HOh Meeting everyone but Donny and Victoria
Frankie says the targets in the house are DOnny and Victoria. the only way to guarantee is to keep one of them off the block. THe person incapable of winning the veto should be off the block to minimize the chance of them winning it.
Frankie says the person that goes up with Donny is guaranteed safety. the Two nominees on the other side will win the BOB and be guaranteed safety for the week. The person nominated with Donny throws the BOB.
Zach – Agreed I don't want to be the person that throws the competitions.. People agree with me so..
Caleb says he's been on the block it 3 times now
Frankie – So Derrick and I cannot go on the block.. (Hinting that people have to start volunteering)
Zach – If i'm on the block i'll do what I can to keep safe
CHristine – I don't want to be on the block
Cody – Tossing a competition week 9 ..
Caleb – what you're saying you three don't trust us in an alliance… you have people that will keep you safe no matter once.. i just did it last week.
Zach – If Victoria does win the veto and uses it on Donny one of us is going home.
Derrick doesn't see that happening.. "If she uses the veto and she's not on the block she's not using it"
Frankie – we're 6 people strong and there's two people to get out..
To stress they want Donny out.. Derrick brings up a scenario that NIcole or Hayden come back in the game team up with Donny and crush them
Frankie goes back to them needing a person to throw the BOB.
Christine says Zach wants Donny in the house more than her so he would have more issue with throwing the BOB.
Derrick – you shouldn't want him here he voted you out twice
Zach – I don't want him here.
Derrick – what if we keep them both off the block
COdy – No because if they win the veto and don't use it.
Caleb tells Derrick and Frankie to just pick people to be nominated. Frankie doesn't want to do that calls what they have a democracy. Derrick says he's about to pick names out of a hat.
Caleb says he completely understands but they have gotten to that point where they have to do what they have to do just like they said they would. THey all knew eventually it would come down to this.
Frankie – want to draw skittles.
Derrick – 3 out of 4 of you guys have to go on the block.
Derrick says if they put Victoria and Donny on either side and Donny wins the Veto one of them goes to Jury. Victoria will be safe from winting the BOB.
Silence… Caleb leaves
Cody – if i'm next to DOnny i'm going to throw it i'm not going to f*** Derrick..I'm not going to F*** Frankie.. I'll throw it
Cody says the only reason he doesn't want to is because how sketchy things were last week.
Zach laughs I completely agree with you.. I'm in the same boat.
Caleb comes back, says the person nominated with Donny that doesn't throw the BOB will be the target next week.
Derrick asks Christine if she goes up with Donny will she throw it
Christine – well.. What if it's the chess one..
Derrick and Frankie say they will not vote Zach out. They go on and on about how safe the the person throwing the BOB is. Caleb says no one in the room has ever cast a vote against Zach.
Zach – If everyone is so confident they will stay how come no one is volunteering
Frankie goes on a speech about how fantastic they are for last week calls Nicole a "War Monger"
Zach – Caleb said 2 minutes ago you all wanted me out why the f** would I volunteer to go up on the block"
Zach wants to draw straws
Derrick wants a commitment they are down with the plan before they do that
Frankie – it's not going to be another competition that can be won on our own
Caleb – I've been up on the block three times now
Zach – ya to get Frankie out..
Zach says sure they say he's safe but come monday a rumour starts .. hey Zach, Victoria and Donny are working together and they vote him out.
Zach starts calling them all out.. It's awesome/ Tells them, "According to beastmode cowboy you all wanted me out of the house"
Derrick says Nicole lied threw her f*** teeth
Zach – A lot of people lie through their teeth.. let's draw f***g names/
Derrick – You haven't said
Zach – I don't have a choice..
First name drawn goes up with DOnny two additional names drawn got up opposite.
They Draw Skittles
First colour drawn is Christine's
Second Colour is Cody and Third is caleb
Christine is going up with Donny and she is being told to throw the BOB
Cody and Caleb are going up opposite they are set to win the BOB.
The Live Feeds are archived. You can go back and watch everything that happens
Try It Free! Subscribe now to the official BB16 Live Feeds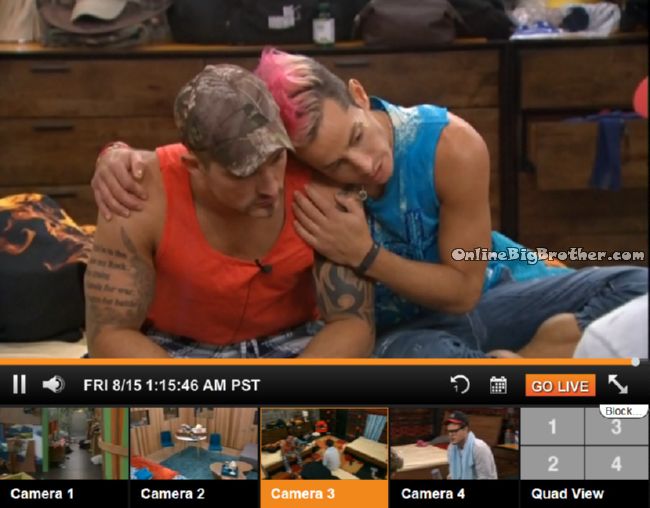 1:12am FIREROOM Caleb and Derrick
Caleb – Zach pushes my buttons dude
Derrick says Donny has to go home because it's confirmed Donny will put them up if he wins HOH. Also mentions his theory about a buyback happening and HAyden coming back in
Celeb says is going to nominate Zach when he wins the HOH
Caleb is pissed that he's a pawn again for the fourth time. Caleb – "I'm cool to go up with Cody we're guaranteed to win"
Caleb – it would be so amazing to b@ckdoor Zach
Derrick warns if there's a buy back and Hayden comes back in the game and is able to join up with Zach, Victoria and Donny they are going home.
Frankie comes in .. Derrick explains he wasn't sure Zach would throw the BOB but he knows Christine will throw it. Claeb brings up the worst case where they lose the BOB and it's Cody and him on the block come Thursday. Claeb hopes he has the votes to stay. Derrick tells him he's good.
Christine joins them
Derrick saying losing Victoria this week is a huge lose for them. If they swing and miss on Donny one of them will be going home the following week.
Derrick wants a oath that they don't tell Donny Christine tried to throw the BOB just in case for some reason he does win it. If Donny wins the BOB Victoria goes home.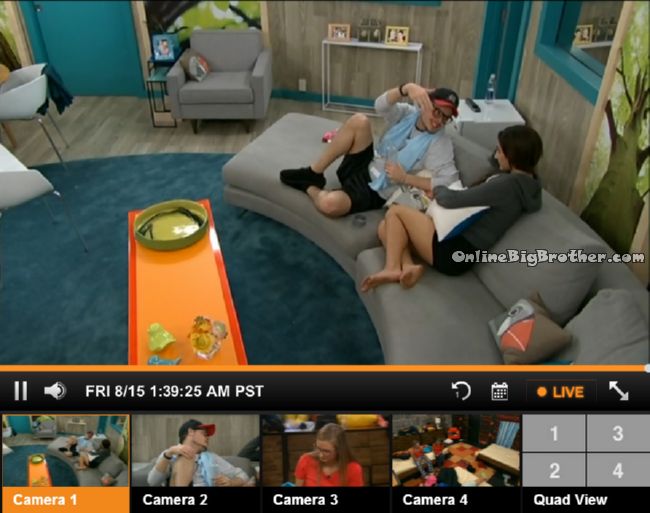 1:37AM Derrick and Victoria HOH
Derrick gives her a rundown of the skittles affair. Mentions how they picked the haves nots Christine and Frankie have only been it once and the third person will be Victoria.
Victoria- Cody won't look at me in the eye.. Caleb is being cool about it.. I've been on the block 4 times Okay
Derrick – you want some tough love you're not on the block this week you're safe.. I don't want to hear about your past nominations.
Victoria can't believe Cody is so upset for going on the block for the first time.
Victoria says the Diary room scared her they pointed out to her she was downstairs and the rest of the house was upstairs. They asked her if she felt safe.
Derrick we're good we're good this week..
Derrick says after the skittles were picked there was some moans but nobody b1tched.
Victoria mentions that Cody is being b1tchy, "Pouting doesn't want to talk.. at least Caleb is being nice.. ".
Derrick – We're good we can celebrate up here alone not with anyone else..
Victoria – tomorrow you want to have a sushi date..
Derrick sure I got two things of sushi here and one of them has your name on it
Victoria – YA
1:42AM FireROOM Caleb, Zach and Christine
Caleb – We're the season of the bomb squad
Zach – we won every HOH except for one..
Caleb says he's not mad at Zach he's mad that it's come to this.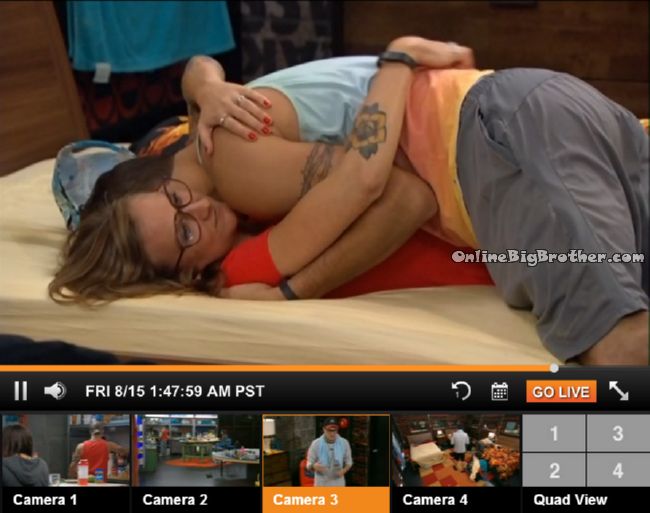 1:58Am Cody is mopping around Derrick gives them a talk about keeping to the plan and getting the last two people out of the house.
Derrick tells them Donny thinks the target is Victoria.
Derrick explains if Victoria leaves this week they have lost they can use Victoria and if there is a buy back Hayden coming back isn't as strong with Vciotira as with Donny.
Christine is nervous about the BOB. Derrick says that Christine has to be creative with throwing the BOB just like she oulw have to be creative with winning it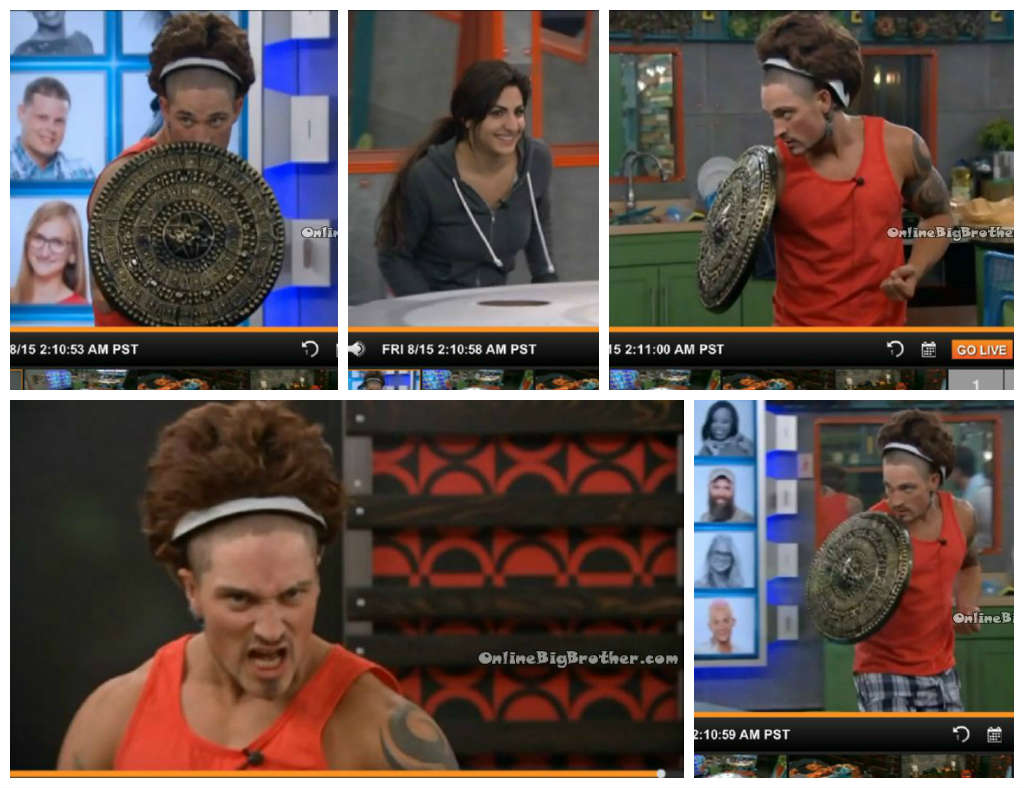 2:05AM Caleb going bananas
(Prior to this Cody is telling Christine regardless of who she' nominated with he will never vote to evict her)
Alliances
The new bomb squad – Caleb, Zach, Derrick, Frankie, Cody, Christine
"The HITMEN" – Cody & Derrick
Team America = Donny, Derrick, Frankie
More polls here https://www.onlinebigbrother.com/big-brother-compendium/big-brother-16-polls/
[polldaddy poll=8244330]
Share it YO!!
Tweet