POV Holder:
?
Next POV
Aug 16th
POV Used
?
POV Ceremony
Aug 18th
HOH Winner 1:
Derrick
HOH Winner 2:
Frankie
Battle of the Block Winner
 ?/?
Next HOH
Aug 21st
Original Nominations:
?
Final Nominations:
?& ?
Have Nots
?and ?
POV Players
?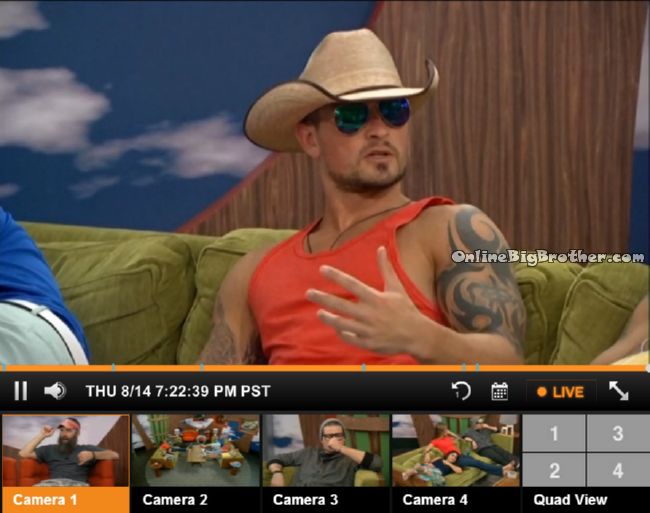 7:07pm Living room
Everyone milling around Caleb super excited .. He keeps mentioning losing the HOH competitions says he's not good at mental comps.
Caleb – I just said I was a beast never said I was smart.
Derrick says in the 4 or 5 seasons he's watched they haven't had as many "Spindle" competitions.
Zach – COdy you only have two girls two cuddle with..
Caleb – Poor Cody
Cody – I gotta keep it PG with Christine so Victoria gets the Spoon master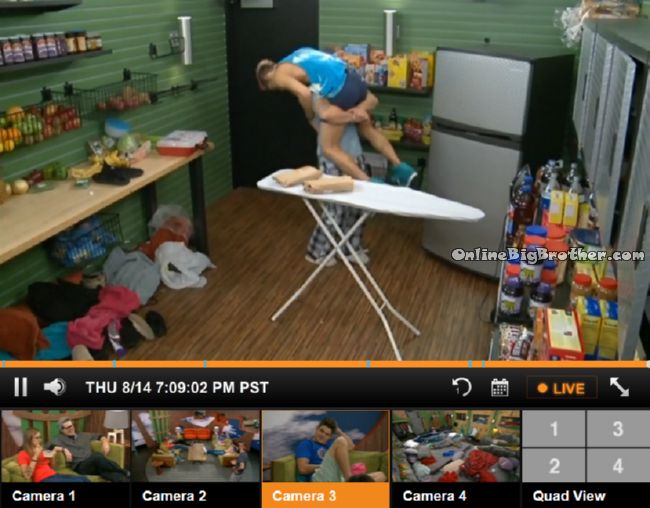 7:09pm Storage room Caleb and Frankie
They hug, Frankie tells him he has to win next week. Frankie adds this is why they are a good duo he's physical and Frankie is mental.
Caleb – All the way to the end all the way
Frankie – mm hmm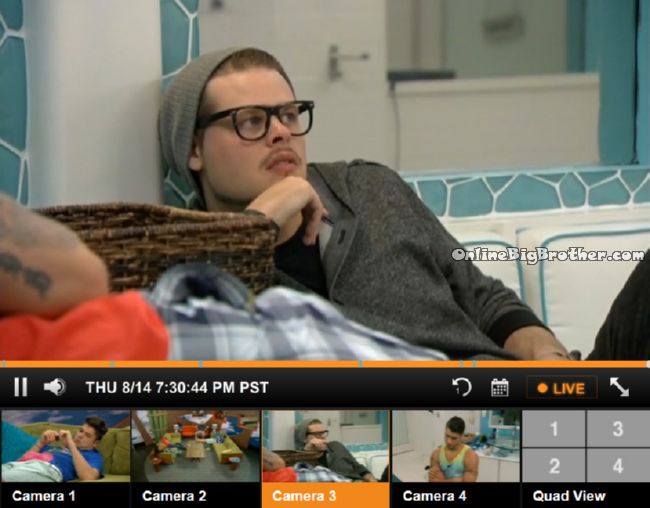 7:26pm bathroom Cody, Caleb and Derrick
Cody and Caleb want Derrick to stay as HOH.
Talking about possible nominations.. They are suggesting Zach and Donny Derrick wants to have them all in a room where they can figure it out.
Caleb – I volunteered to be on the block three times..
Derrick wants Christine in the conversation. Caleb thinks Christine should go up.
Caleb – Me personally I do not want to be on the block but if I have to I have to..
Frankie joins them..
Derrick says Donny will be going to sleep early they can have their meeting then. The only person they have to worry about is Victoria.
Derrick – Clearly she's up my a$$ so i'll say to her you're safe this week go to bed.
Derrick proposes they put four people up with no throwing just have them fight it out..
Frankie – Zach Donny CHristine and…
Caleb – who do you want up with Christine
Zach comes ion
Derrick – We're just trying to talk logistics..
Derrick and Frankie want them as a group to make the decision on who goes up., "Everyone here is equal.. we can draw straws.."
Frankie – will you throw it
Zach – Of course rose.. the only thing that scares me is you only need 3 votes to get you guys might decode to get me out.
Derrick and Frankie both say they don't care to be HOH
Derrick – "This is a cruise Control Week"
Victoria comes in
Derrick tells her she's not going up on the block
Victoria – For real.. I thought for sure
Derrick – I wanted to but they talked be off the ledge..
CHristine – joins them.. Victoria leaves. Derrick tells Christine tonight they are going to have a meeting talk about the nominations.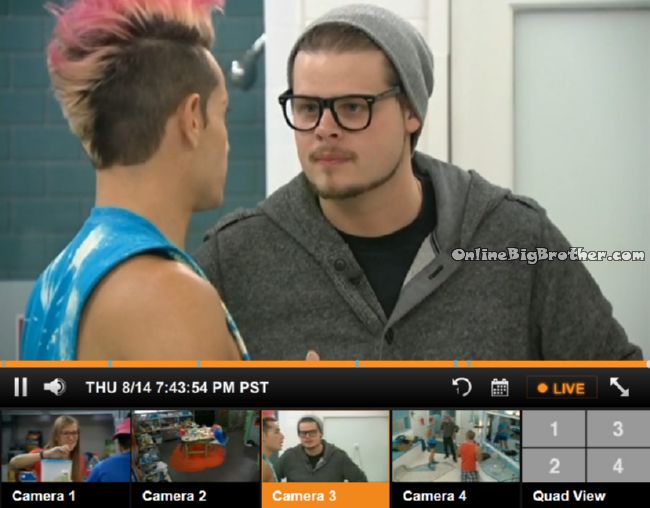 7:43pm Bathroom Caleb, Frankie and Derrick
Frankie wants Cody to volunteer to go up he's not been nominated yet.
Caleb – Christine /Cody, Zach/Donny
Frankie and Derrick make don't care who wins HOH whoever get to pick first will put up Donny/Zach.
Derrick leaves.. Zach comes in for a second.
whispers to them they need to make up a lie about Donny targeting Victoria just in case Victoria wins the Veto.
Frankie – she's not using the veto.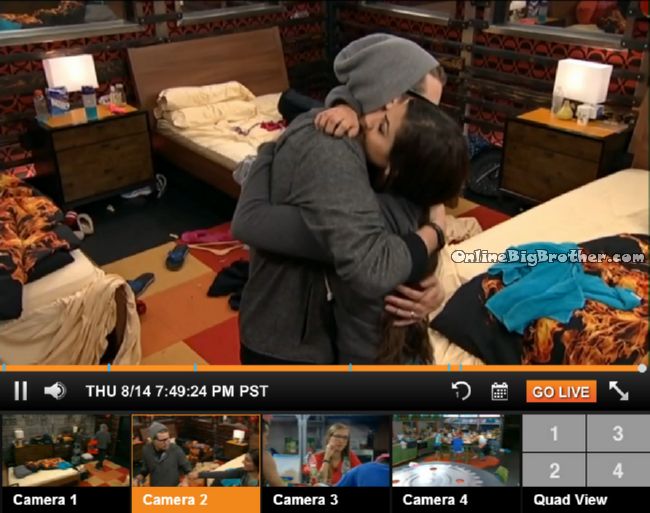 7:47pm Derrick telling Victoria he made a stand during the meeting and said he's not putting Victoria up
Victoria says everyone seems pissed she's not going up.
Derrick tells her nobody will throw a competition anymore it's too risky
Victoria wonders if maybe Cody will throw the BOB so Derrick gets HOH
Derrick – not a chance.. Tonight when Donny goes to sleep we're bringing all of them into the HOH and going to asked them which 3 of the four will go up.
Derrick – 3 out of 4 people their time is coming up.. I got your back.
They hug
Victoria – I love
Derrick – I love you too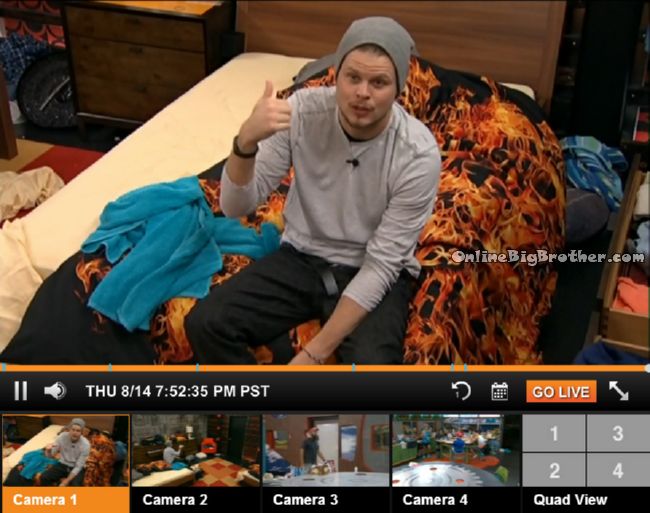 7:52pm
Derrick telling us to tune in with the HOH drama after the HOH room is revealed..
Derrick tells the camera there's going to be some fireworks in that HOH room.. Nobody is going to volunteer except for Zach..Fireworks I promise you
Alliances
The new bomb squad – Caleb, Zach, Derrick, Frankie, Cody, Christine
"The HITMEN" – Cody & Derrick
Team America = Donny, Derrick, Frankie
More polls here https://www.onlinebigbrother.com/big-brother-compendium/big-brother-16-polls/
[polldaddy poll=8244330]
Share it YO!!
Tweet