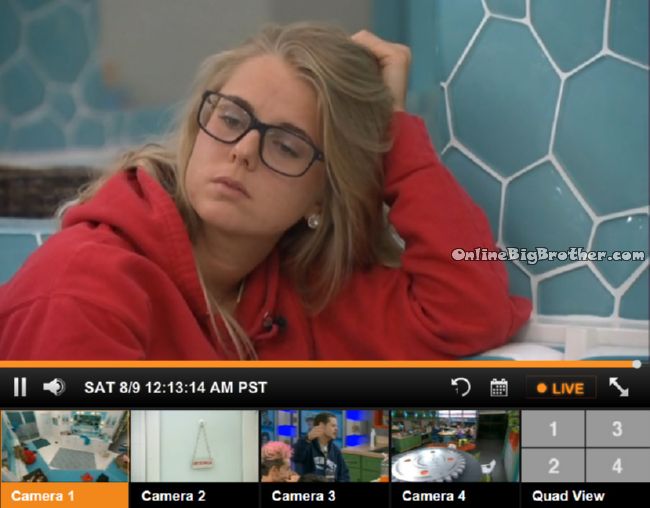 12:12AM Nicole and Victoria Nicole knows they are going to try and get Christine to put up Nicole. "everything is going to be said"
Victoria is going to talk to Christine tomorrow
Christine hopes she gets to play in the veto have a chance to save herself.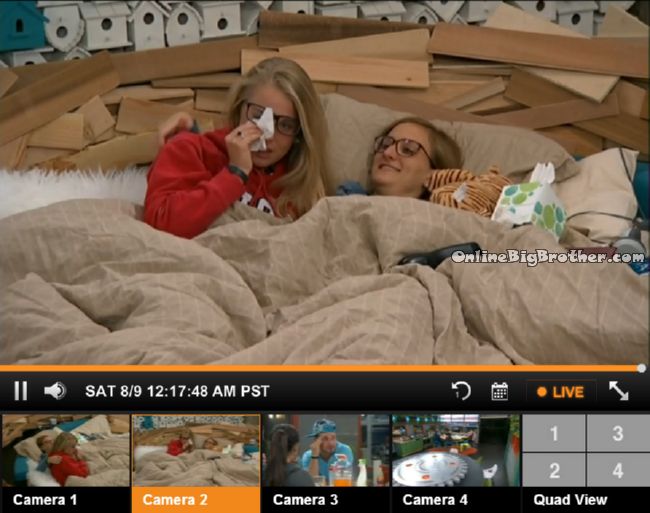 12:16AM HOh Nicole and Christine
Christine says she was just crying.. Nicole starts to cry says the game is so weird..
Nicole – I know what is going to happen they are going to try to get me up.. the boys are probably going to stick together
Christine – I'm assuming
Nicole – given the chance i wasn't going to backdoor you this week.. I hope you stay true to what you said
Nicole who knows what will be said.. what I can offer you I can play next week.. i can promise you saftey. moving forward.
Christine – we'll have to do it together.. they will probably try to get you up because they don't know how close we are.
Christine – "If the veto is sued Victoria is going up"
Nicole wants to start a clean slate right now "If you or i leave they have that final 3 deal they made it public we're going home"
Nicole- cody is mad at me
Christine i- feel the same way he won't even look at me
Nicole- I just want to start over..
Christine – i'm serious
Nicole – I would want to work with you I want to make it to the final 2 I want us to go far.. I can promise you christine if it's endurance you can count on me
Christine – I totally believe you are strong.. we are both strong nicole.
Nicole – I'm so scared of these boys..
Christine – I'm not talking Cody anything anymore
Nicole says the way Caleb threw that comp and now is best friends with Frankie. disgusts her. Nicole – Frankie was playing a very dirt game
Christine – we're screwed.. I pray that Donny wins the Veto and Victoria goes up I will be the tir breaker.
Christine thinks that Frankie now has pull with Victoria
nicole please don't put me up as the treatment nomination
Christine I promise you Nicole you are not going up.
Nicole – please if you will blindside me tell me I've been blindsided so much these past days
Christine so much
Christine – Derrick and Cody totally played uys.. they played us so hard.. so hard..
Christine – F them .. If we get ach out Derrick and Cody are completely alone
Christine says she doesn't trust Frankie one bit he threw her under the bus 3 times last night.
Nicole – he's been playing everyone like a fiddle
Christine – I feel really uncomfortable around him right now.. it's skerry I don't like it
She says yes enter y Freaky because creepy..
Nicole wants to go to final 2 with Christine "Honestly Christine .. and you are a huge fan looking at this we have no chance.. we are the underdogs 100%. "
Christine that's what gets me pumped up
Nicole says she already made a final 4 with Derick and COdy and that didn't last long so if CHristine thinks she can make a final 4 with them she's goign to be surprised.
Nicole says the rso they gave her was she was going to take Hayden to the final 2 when there was still 11 people in the house.. "I can't believe they are still worried about that"
Christine says Cody denies that there's a final 3 still but there totally is says they have to get Zach out this week.
Frankie comes in "Do you guys want to sleep together"
Nicole is going to sleep with Victoria..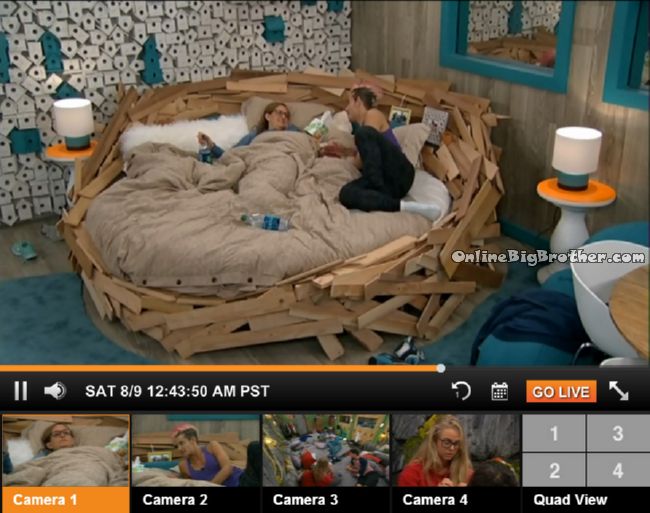 12:40AM Frankie and Christine
Christine tells him that Cody and Derrick formed an alliance with hayden and Nicole and they named it.. Cody was filing Nicole's head with lies about Christine that is why she turned on them.
Frankie says their best option is to stick with the 6 moving forward.
Christine feels they are coming after her no matter what
Frankie – if you don't backdoor cody they'll trust you again Adds she has to blame everything on Nicole when talking to the guys.
They agree to talk on their football date. they will repair their relationships.
Christine – do you think the six is salvageable ..
Frankie says Caleb really change his stand with Frnakie. "I swear to god he thinks i am jesus now.. I know justin bieber.. "
Frankie admits him coming clean was done for game he now has Caleb and Victoria on his side.
Frankie – She needs to shut her f*** mouth.. Nicole.. she' telling the boys everything we say
Christine – oh great.. .I made a deal with her to not backdoor her.
Frankie – this week she'll send herself home.. you can't say anything to her anymore..
Christine they screwed us over there's no rebuilding
Frankie there is for us on paper.
12:49AM Cody and Zach Have Nots
Zach is being depressed says his game is done.
Cody – You're not going to get any pity from me.. why is your game done..
Zach – Frankie f*** me and now he flipped the script again..
Cody – on who
Zach – On everyone.. I just hope win the veto
Cody – You Are not going f** home..
Frankie comes in says she just had a conversation with CHristine and he thinks he can get Nicole backdoored.
Zach stops talking when Frankie comes in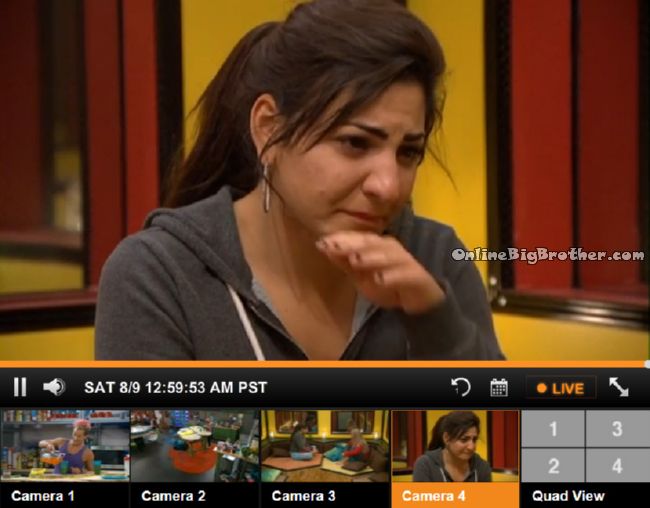 12:59AM BEEHIVE Victoria and Nicole
Victoria says if Derrick leaves she is done in this game she starts to cry says Derrick is going to be nominated.
Nicole tells her he's not going up they are most likely going.
Victoria says her target is still Frankie he was talking bad about her for 3 weeks. Really nasty stuff she knows he said it.
Nicole you can't leak antyhign to Derrick
1:07am Derrick and Victoria
Again Victoria telling Derrick she doesn't know what is going on and's to know from Derrick what is everyone doing.
Derrick says there is a lot of game left they have to stay focused.
Victoria crying she thinks Derrick might get sent out.
Victoria asks if Nicole will go up
Derrick – no it's not going to be you or Nicole .
Victoria – Cody and Frankie just had a heart to heat
1:13AM Christine and Nicole
Christine says they want her to put Nicole up shes' not going to do it
Christine tell her she hates it that Frankie asked her to sleep in the hoh " I HATE IT "
1:21AM
Christine – I know Cody goes back and forth between us
Nicole – Zach is your target this week right
Christine – yes 100%
Nicole – what if Zack comes down
Christine – Victoria goes up we figure it out from there.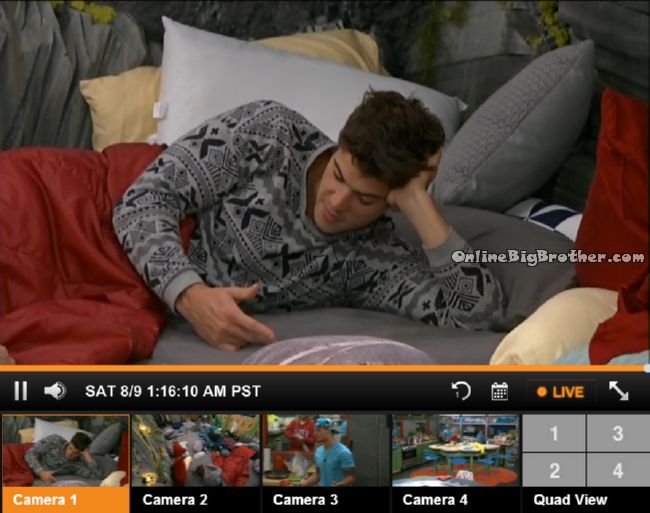 1:15AM Rick room
Zach I'm raising the white flag bro.. I'm going to try and win the veto but outside that there isn't much he can do.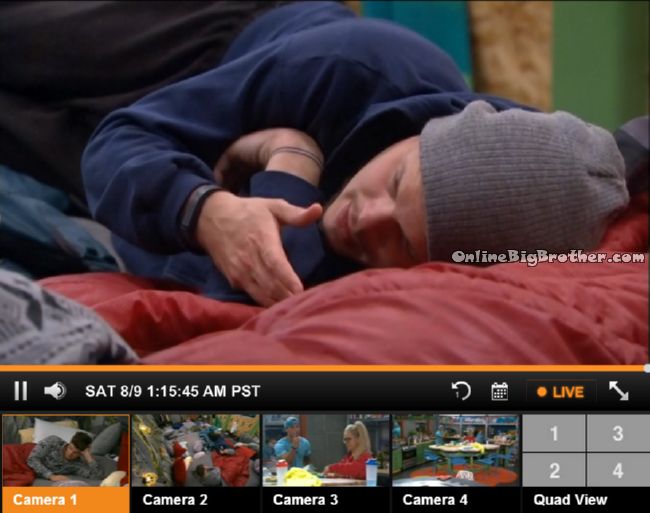 1:25AM Derrick scheming with Zach and Caleb about getting Nicole put up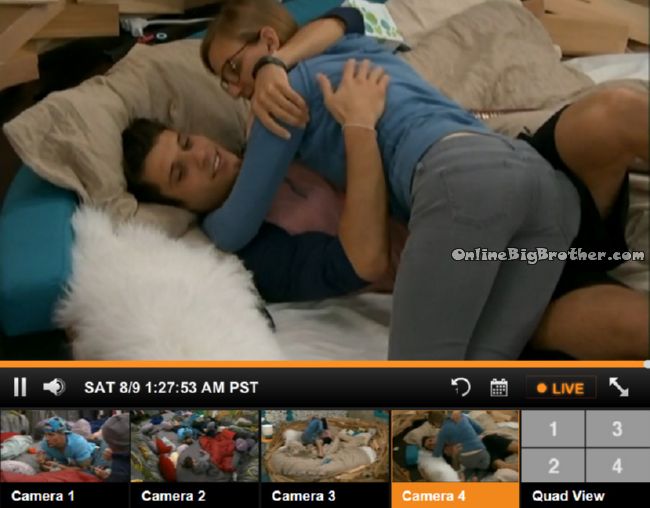 1:27am HOH Christine and Cody..
Christine giggling away .. They hug and cuddle a bit, "I love you cody".
Christine -I want you to know that you heard Frankie wanted to sleep up here don't want you to ? Christine – "He's worried.. I'm not believing the words he speaks"
Christine – I love you cody.. I pinky promise I will not back door you.. simple as that. "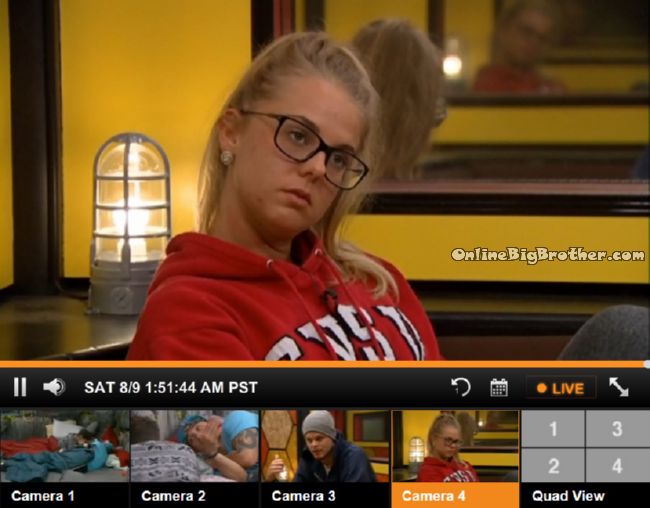 1:48AM BEEHIVE Derrick and Nicole
Derrick isn't happy for Frankie being in the house because of what they found out bout i'm hiding his past. . Nicole says she's ready to start trusting Cody again
Nicole tells him Christine told her she's putting Victoria up.
Nicole – do you think Cody is going to tell Christine I would have backdoored her.. She would have had to believe him to.
Alliances 
"The HITMEN" – Cody & Derrick
Team America = Donny, Derrick, Frankie
More polls here https://www.onlinebigbrother.com/big-brother-compendium/big-brother-16-polls/
[polldaddy poll=8233586]
Share it YO!
Tweet