POV Holder:
?
Next POV
Aug 9th
POV Used
?
POV Ceremony
Aug 11th
HOH Winner 1:
Nicole
HOH Winner 2:
Christine
Battle of the Block Winner
 Frankie/Ca;eb
Next HOH
Aug 15th
Original Nominations:
Nicole's Noms (Caleb & Frankie) Christine's Noms (Zach & Donny)
Final Nominations:
?
Have Nots
?
POV Players
?
Jocasta is evicted by a vote of 6-2
HOH winner is Caleb his Nominations are Donny and Hayden
POV Winner is DONNY who uses it on himself. Caleb's replacement nominee is Nicole
Hayden is evicted by a vote of 5-2
week 7 HOHs Christine and Nicole
Nominations are (Caleb & Frankie) Christine's Noms (Zach & Donny)
Battle of the Block winners are Frankie and Caleb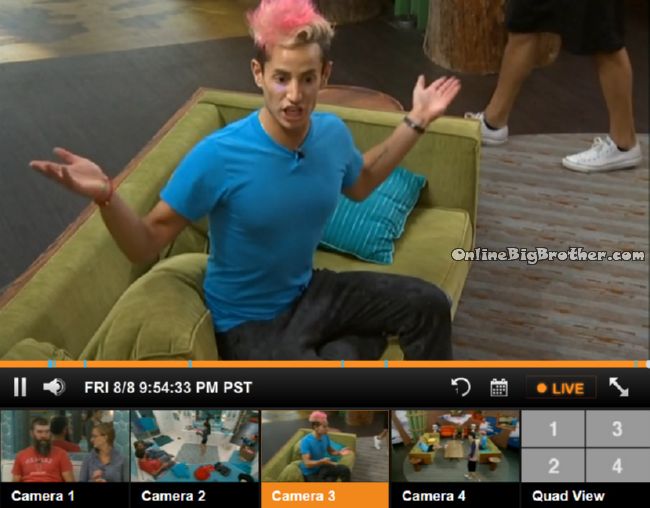 9:51pm
Frankie wins the BOB by himself
Zach – you've been talking shit about me this entire time
Frankie – Your game is dirtier than a d1ldo coming out of my a$$
Zach you to Christine you're a f*** lair to
Zach you're a liar dude…
Zach – I had your back
Frankie I had your back to..
Frankie – sucks that you lost to me one person
Zach and Frankie are fighting.. screaming at each other.. it's awesome!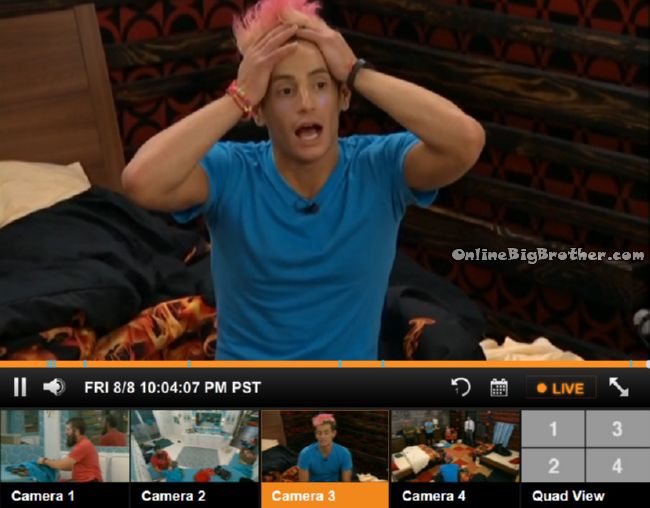 10:00pm Living room Zach, Frankie, Caleb, Derrick
Zach and Frankie screaming at each other
Zach – You sh1t on me you sh1t on me you f*** me over really bad you've been talking sh1t about me behind my back.
Zach – Christine has been lieing to
(You need the feeds to really catch this argument)
Frankie oh boy where do I begin .. They go into the Fire Room
Frankie – i've been lying to you this entire game i'm not who i said i was i was on broadway many years ago i'm a youtuber, mougal and personality I tweet and I vine I make videos.. I walked into this house with 1.5 millions followers.. I've been hiding that fact from you .. My sister is a mega mega pop star
Frankie – What is my last name
Zach -Grande marciano
Frankie – Ariana grande is my sister
Cody – I don't buy it
Derrick – I buy it
Frankie – it's been weighing very heavily on me.. that is why there is only baby pictures
Derrick – I thought Ari was a dude
Frankie – I've been playing this game really paranoid and when my grandfather died the paranoia ate away at my soul.
Frankie says he didn't trust Zach he knows the three of them are in lock down and he's on the outside.
Frankie – It broke me down"
Frankie starts explaining everything that happened
Frenaki says holding this secret is affecting his game he's playing this game for a charity he's using the money to build schools "It's part of what I do.. i'm not a bad person.. "
Cody – whats was the whole plan of putting me up against him"
Derrick asks him why is he telling them this right now
Frankie – I'm telling you the truth because i'm sorry .. I got freaked out and I did what I did..
Cody – how locked in are you with Christine
Zach – they were in it to the end
Cody – either you were fucking us or she was fucking us or you were both working together
Frankie – Aspect of it..
Derrick – Honestly most of us are who we are saying we are this is our life.
Frenaki it's me i'm playing this game as me
Caleb – Are you even gay
Frankie – I'm very gay
Derrick tells him he holds no ill will against Frankie it's a game.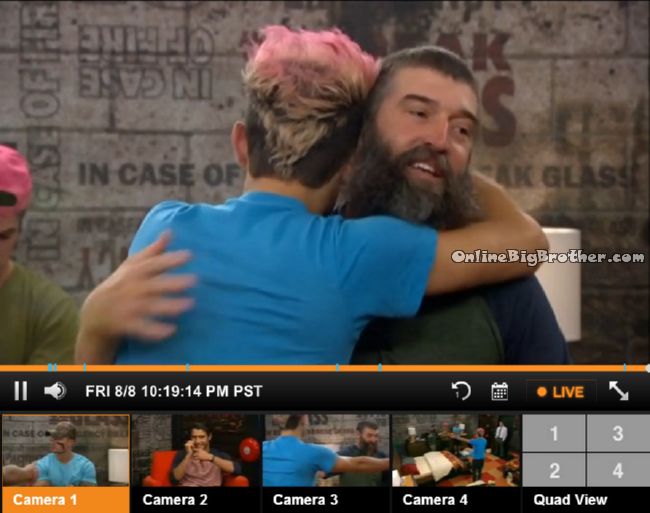 Donny comes in Frankie tells him he's a youtuber and internet personality
Donny – Cool deal cool deal
Frankie says his grandfather dieing had a HUGE affect on his game it took his centre and threw it over there.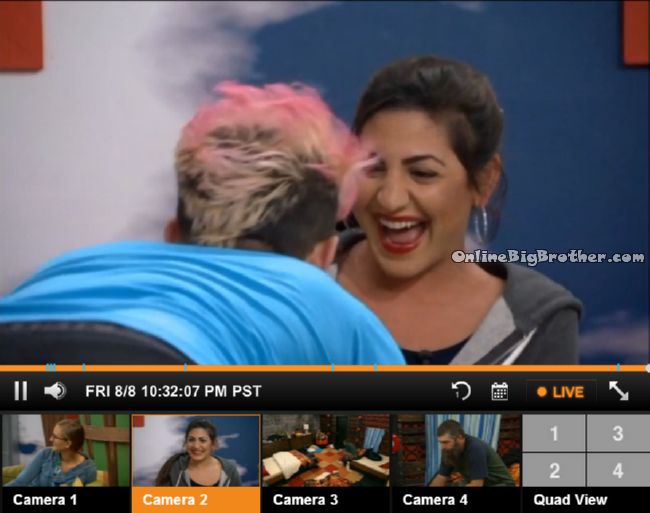 10:30PM Frankie tells the girls his big secret…
I'm a youtuber and a Social media Mougal.. I have 1.5 million followers.. I've been hiding this secret every day it's been eating my soul when my grandfather passed away me centre when away..
My sister is Ariana Grande
Nicole – OH MY GOD
Victoria starts screaming.. OH MY GOD I'M GOING TO KILL YOU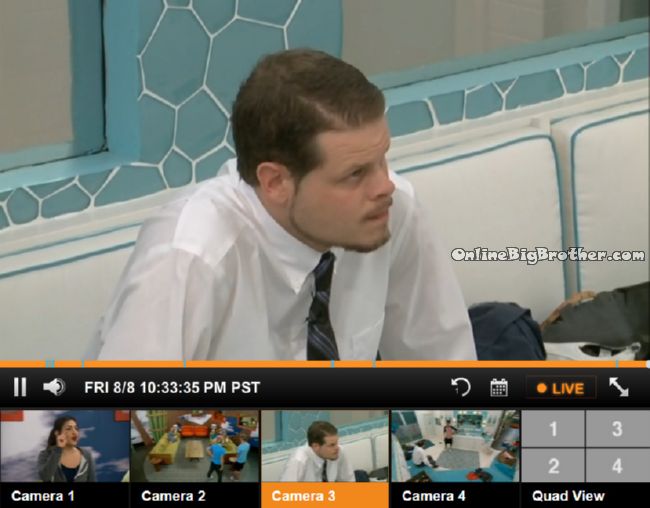 10:33pm Bathroom Cody and Derrick
Derrick wonders if they can get Nciole up.
Cody – Nicole doesn't trust Christine at all and Christine is scrambling. Cody adds everything they tell CHristine goes to Nicole.
Cody says what Frankie did was good of him
Derrick agrees but say Frankie did at all for strategy.
Derrick – Victoria… now he owns her.. she will never vote him out
Cody – she wants to know him out the outside
Derrick – it was pure strategy
Derrick says they will find out where Christine's head is at if Donny wins POV and one of them goes up..
Derrick – I didn't come here to meet a pops star's brother.. i am who i say I am .. I left my family for 90 days..
Caleb comes in says one of them has to win the HOH… They start talking about Frankie's Sister. Caleb wonders if he has a chance for a date. Derrick tells him he doesn't have a chance. Cody asks what if she's not a "Christian Girl"
Caleb says he's only interested in CHristine country girl
Alliances 
"The HITMEN" – Cody & Derrick
Team America = Donny, Derrick, Frankie
More polls here https://www.onlinebigbrother.com/big-brother-compendium/big-brother-16-polls/
[polldaddy poll=8233586]