POV Holder:
?
Next POV
Aug 9th
POV Used
?
POV Ceremony
Aug 11th
HOH Winner 1:
Nicole
HOH Winner 2:
Christine
Battle of the Block Winner
 Frankie/Ca;eb
Next HOH
Aug 15th
Original Nominations:
Nicole's Noms (Caleb & Frankie) Christine's Noms (Zach & Donny)
Final Nominations:
?
Have Nots
?
POV Players
?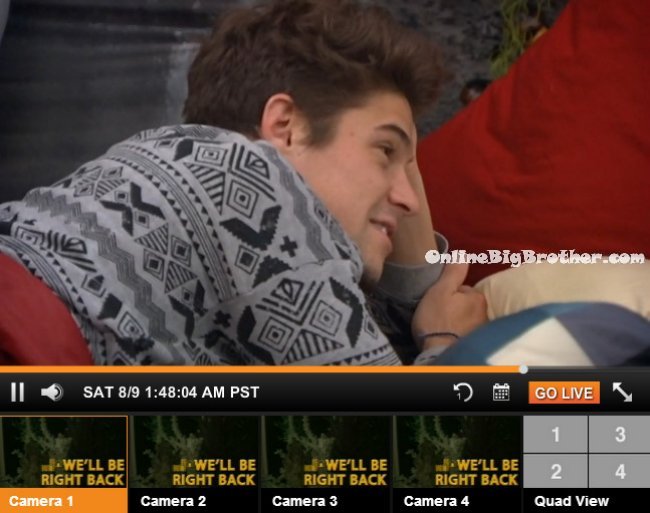 Take Advantage of the FREE 2 day Trial to watch all the drama!
1:50am Caleb and Zach are in the earth room talking. Zach says I am going to try for that veto but if I don't win it I'm not going around apologizing to Christine or Frankie. It would be a good game move but its not me. Caleb says you're a grown man. Zach says and I won a trip to Germany. Caleb says Donny's won 4 or 5 veto's and he's looked at as a bigger threat. He's looked at a huge competitor. He's not a number for anyone. Zach says if I survive this week. Caleb says if Donny wins veto again .. Dang! Zach says today f**king sucked. I feel like such a jamoke! I trusted Frankie with so much information. Caleb says its the game you never know what you're going to do. Zach says its just a game. Zach says isn't it crazy he knows Justin Beiber. Caleb says his sister can't even walk you up to Justin Beibers door. Zach asks what is a social media personality. Caleb says its a person that shows their different personalities on social media. He's an entertainer. Caleb says if you want to hate him, then hate him. Zach says I f**king love him. He is one of the coolest people I have ever met in my life. Even before he told me all that stuff but last week he was plotting to get me out. Frankie joins them. Frankie asks are we going to a game. Caleb says I think it would be a pre-season game. We would probably be up in a box. Caleb tells Frankie there wasn't anything I didn't like you about you as a person. I just wanted you out because you targeted me. I was hurt by it. Caleb and Frankie start talking about his sister. Caleb then starts relaying his conversation with Zach to Frankie about how he is the coolest person he's ever met but that he is mad at you for what you did. Frankie says I'll give him a day.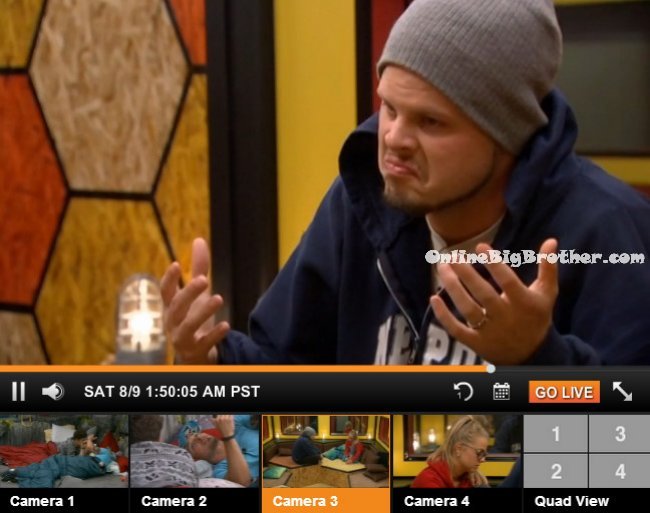 In the hive room –
Derrick says unfortunately you made a mistake and put up Caleb instead of Zach because I can tell you one thing if you had put up Zach, he wouldn't have won. Because Zach was telling him before the comp to do what? What did Zach say to Caleb? Caleb you going to play? You didn't hear him saying that? Now he was smart enough to realize. Nicole says I said that to him too. Caleb says if Zach was up there he would have sat up there.. Derrick says Caleb heard about NFL trip and second guessed himself. Do I think he potentially let Frankie will.. absolutely not. I think he thought Frankie was going to loose but I can tell he's not upset about the fact. Nicole says oh no he's not. I didn't expect him to throw it with the NFL Trip. Derrick says not the trip but getting out of the house for the day. Nicole says I want to know who told Christine that you were her target. Derrick says I don't even want to say because its pointless. Derrick says there is no doubt in my mind that someone will go to Christine and tell her that you or I tried to backdo*r her. I am not going to soak over that fact that Frankie has a huge advantage over us. Nicole asks Derrick if he can find out where Cody stands. Derrick says I think you two are back and forth. Nicole says this sucks that I am in this situation .. if she finds out that I had this plan to not have her stay HOH then she could put me up. She has said that she would put up Victoria. Derrick says the only thing is that Victoria trust you and has your back so long term its bad for our game for her to go. Nicole says we wouldn't have to vote her out. Derrick says she looks at you in a very positive light. When you're saying you don't have votes, I would count her as a vote for you. Nicole asks do you think Cody is going to tell her that I was going to backdo*r her? Derrick says I don't think so. Derrick says keep an eye on Victoria because she is down that she can't win America's Faveorite.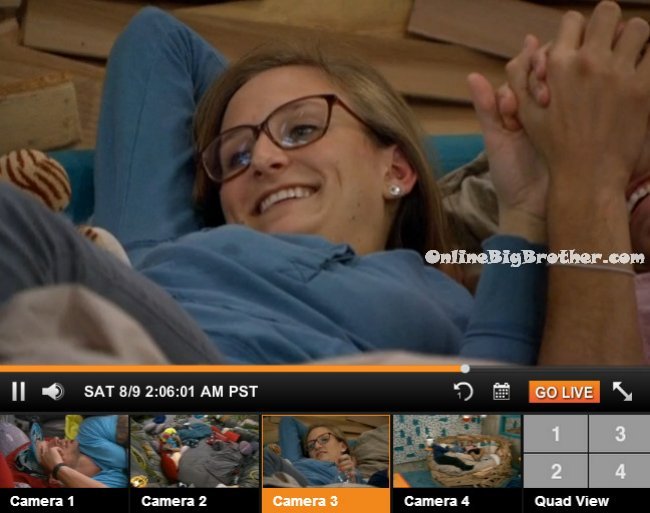 2am Derrick heads up to the HOH room – Derrick asks Christine where her head is at with what happened. Christine says I am going to let people vote how they want to vote and if the veto is used Victoria is going up. Derrick says cool, cool. Derrick says by the way I am Justin Beiber cousin. What is your perspective on it? Christine says I don't really care and don't really know who she is other than Tim was listening to her. Derrick says from a fan perspective it would be a great move. He alone has 1.5 million followers. I even feel slighted because we all come here thinking we come on an equal playing field. Its like what you said Cody its not who derserves it, its who earns it. Christine says either way there was going to be a famous gay guy in here. Because the other guy they almost chose was in mine. He owns / started Uberfax. Big Brother cuts the feeds. When they return – Derrick says I think after he sees what Caleb attempted to do. He felt bad about the Amber thing and I think they both wanted to go on the trip. Derrick says I would love it if I didn't go on the block and personally I would like the noms to stay the same. Christine says I don't think anyone would use it except for who's on the block. I am hoping it stays the same. Derrick asks if she would like it for Donny to go? Christine says I honestly don't know. Derrick asks do you think that Zach trust you? Christine says no, Zach is going to try and send me home. He already put me up. I didn't put her up and now I have a perfect backdo*r option (Victoria). Derrick says this has been a great season because people are being exposed for lying out their a$$es. When Frankie came out I thought we were going to be punked. Cody says I started laughing. Derrick says great job he had me fooled. Do I think he is a millionaire? No I don't. I think he is doing alright. It doesn't change the fact that he's been lying to everyone. Victoria joins them. Derrick tells Christine and Cody to get a room. Cody says your jealously oozes out of your pores. Cody heads down stairs.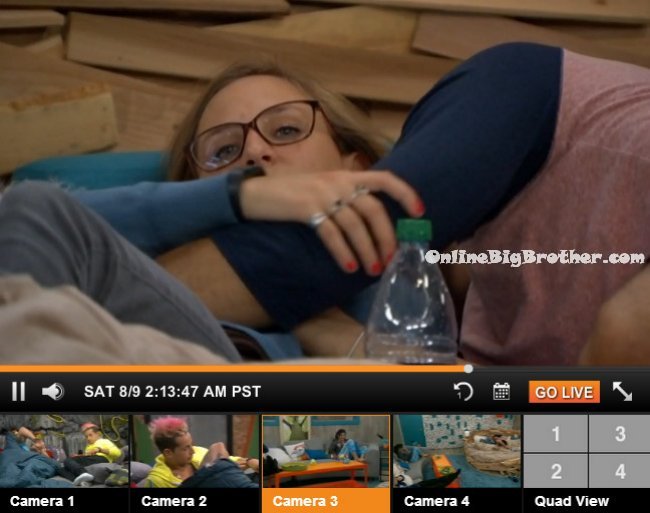 2:15am Cody sits with Nicole at the bar and says I know I never questioned you. Cody asks are you and Christine on good terms? Cody comments on how Nicole's HOH pictures are still up there and how when Frankie was HOH he's were up there all week. Frankie joins them. Frankie talks about how outside the house he never had time to create and now inside this house he has 4 or 5 new characters.
See what they can't show you on TV! -Try the Big Brother 16 live feeds for FREE!
2:30am Zach is trying to get into the diary room to talk because he wasn't ready to earlier when they wanted him to. He says he doesn't want to be woken up at 6am. Caleb talks to Zach heading into the diary room. Caleb tells him that Christine has said that she is thinking of putting up Victoria if the veto is used. Caleb says I don't trust Frankie, I trust him as far as I can throw him.. and that's about as far as this couch.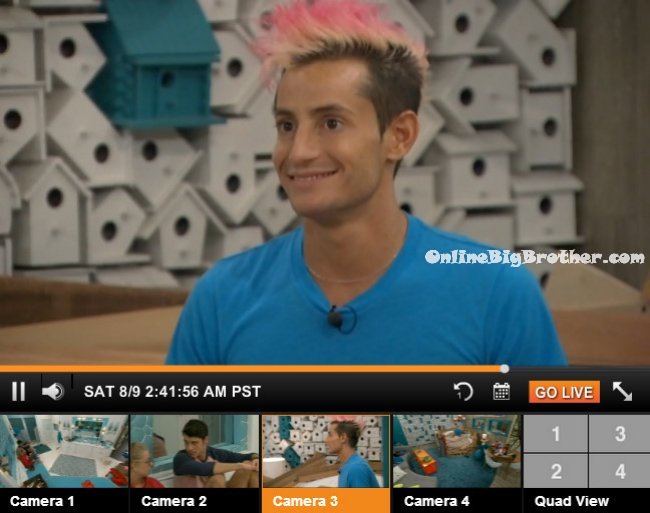 2:35am – 2:55am Up in the HOH room –Christine says this morning it sounded like spur of the moment. Frankie says I went to Caleb this morning and asked him 3 times if he was going to throw it. And I explained to him that if he throws it, it is very likely that he will go home because I am not going home. I knew what I was going to do next and I knew most likely everyone would forget about what I've done. Christine says look at the sparkles. Frankie says exactly look at the sparkles, don't look at the knife! I didn't know if it was going to work but I had something planned. Frankie says I am going back to my philosophy that the target will present itself. Frankie says I think they all want Zach to stay but if he keeps acting like this they'll want him to go. Frankie says Zach is acting so wounded. Its my fault I did this too him. Some people just aren't made for this game. Frankie says your husband thinks Ariana is hot and I think he is hot. Christine laughs. Frankie comments on he wondered if Frankie was actually gay. Christine says Caleb said Frankie's sister was up and coming. Christine says no not up and coming … she's here! Frankie says Cody said my sister was just below Beyoncé and I was like no above her. Frankie says what a great day. Frankie says we're going to be targets every week. Christine says I think I am going up next week.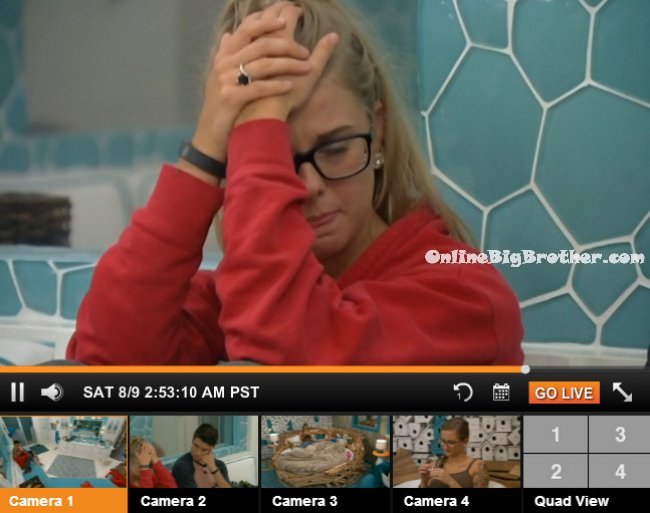 2:40am In the bathroom – Nicole asks Cody do you think I should be worried. Cody says to be honest I don't know. I don't think she is going to put you up or me up. Nicole says I thought we were fine and then she just looked pissed. I do want to trust her again. Please don't throw me under the bus. I can't go up, I can't afford that. Cody says I think she's going to put up Victoria. Nicole says I just don't want anything to be made up. It seemed like she was upset at me again. Cody says I think Christine is just irritated that Frankie is going to be sleeping up there all week. Nicole says she said that she won't backdo*r me. Cody says I don't think she would. Cody says I feel like you two go back and forth. I just have no idea what she repeats to Frankie. Nicole says oh my god and Frankie doesn't like me. Cody says I don't know how tight she is with Frankie or if its just a front. Nicole says I wanted to talk to her tonight .. if she puts me up I will be pissed!! I will BLOW UP HER GAME!! Cody says WHoa! Nicole says she initiated the whole thing .. all I am asking you as a friend.. do you think she is putting me up? Cody says she said to me in front of Derrick that she is putting up Victoria. Nicole says if I am up against Donny will you vote for me to stay? Cody says I will vote for you to stay. Nicole says so you are most loyal to Derrick in this game. Cody says we're close. Nicole asks you're not working with Frankie are you. Cody says I can't trust Frankie. Nicole says I never felt comfortable around Frankie to say anything to him. Cody says
3:15am
In the kitchen – Derrick, Nicole, Zach Victoria and Caleb talk about Frankie being a social media personality with over 1.5 million followers. Zach says the fact that Frankie's sister is a international superstar he was rich before that and his backup plan was donating money to charity. Zach asks who would you vote for in the end someone competing for charity or someone whos here for the money. Caleb says I would vote for the person that won the most competitions. Derrick says it could help him or it could hurt him. Zach says I believe he is a social media personality and I believe he is playing for a charity. And to be honest I would probably vote for him to win. He is doing a good deed and I am doing one by voting for him. Derrick says Frankie was on the way out the door and now he's staying. Zach says until I blew it, now he's staying. Zach says if you're voting out someone who is fighting to donate to kids in Africa .. how bad does that make me look. I am here to buy a car and move out of my parents house. How bad does that make me look. Derrick says you're going to look like a hero for voting him out if he is lying about it. Cody says I am just getting frustrated that everyone is still talking about it. I don't give a f**k why anyone is here. Zach says fine I will go into another room. Derrick says I am not basing my vote on anything but what happens in the game.
3:40am Caleb tells Zach I don't think you're Christine's target. Zach says I've been cursing around tonight. Zach says I am just going to shut my mouth this week. Caleb says the only thing you can do is make it worse. You can go up to her tomorrow and apologize about the way you've acted. I hope I get picked tomorrow. Zach says I hope you do too. Caleb says I would be pissed off if I was sitting next to him. Zach says dude you have my vote.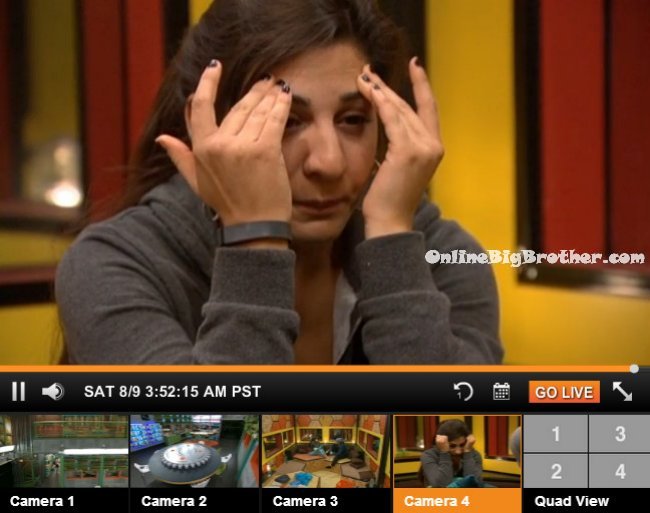 In the hive room – Victoria starts crying to Derrick. Victoria says I need this money! Derrick asks why? Why do you need it? Because of your Dad? Victoria says its bad .. my mom working till 3 in the morning. Its never been this bad. My sister .. we really need the money. Derrick says we can't worry about getting to the end at this point. If you're in the end and I'm in the jury then I am voting for you. You have to enjoy it ..and you have to relax right not. We're only half way .. how hard was it to get the first 7 people out? Victoria says hard! Victoria says I don't think I can do this if you aren't here. Derrick says this wasn't a guaranteed opportunity for either of us. There is nothing you can do other than what you're doing right now. Derrick says if you get picked in the veto then you need to go out and win it. Cody joins them. They talk about Zach being pissed about the Frankie situation.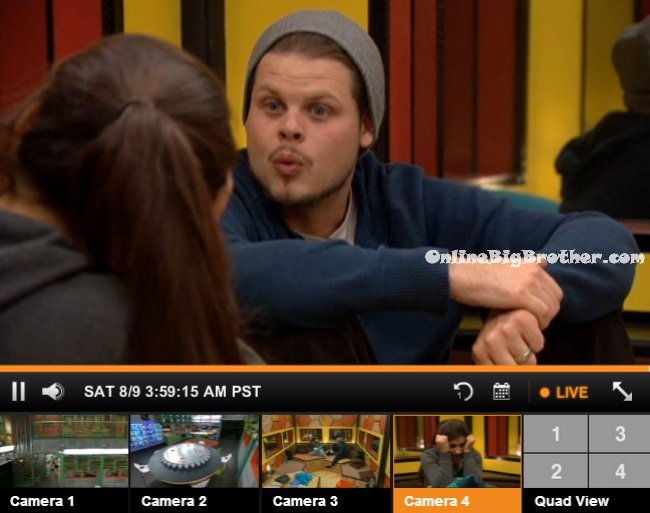 4am In the bathroom – Nicole and Cody are talking. Nicole asks so what do we want to do.. like have each others backs? Cody says yeah like if you win HOH they I will support your decision and not put you up if I win. Derrick joins them. Cody comments that none of our names came up from Christine. The only thing I am worried about is Frankie getting into Christine's ear. They talk about Frankie being famous and having a famous sister. Nicole says that he is guaranteed getting America's Favorite. Derrick says he lied to us the first 48 days. Cody says everyone knew he was backstabbing everyone.. and I thought he was going to explain his actions but what he did was talk about his sister and clouded everything else that he did. He didn't explain one thing that he's done. IF I win HOH he is going up. Derrick says I think he is lying about what he is going to do with the money. Maybe even if he doesn't win his sister will match the money to build schools in Africa. Derrick comments about how Caleb is voting for who wins the most competitions. Nicole says news flash people who win comps don't make it to the end. People who are strategic and make alliances make it to the final 2. Cody leaves. Derrick and Nicole continue talking. Nicole says at this point in the game I don't want to keep being in this position. I am Frankie's biggest target. He needs to go! Nicole says if I stay this week .. this is awesome. Next week I can play in the HOH and I think it will be endurance. Derrick says and you would have a good chance at winning it. Derrick says Christine putting up Victoria is a good move because Victoria isn't going to win HOH to come back after her. Derrick says and think of this she said she wouldn't backdo*r you and so if she does would you ever vote for her? Nicole says no. And Hayden and I would convince jury members not to vote for her either. Derrick says the game has changed now because you have to think about jury members.
WATCH the next 48 hours for FREE – Big Brother 16 Live Feed TRIAL!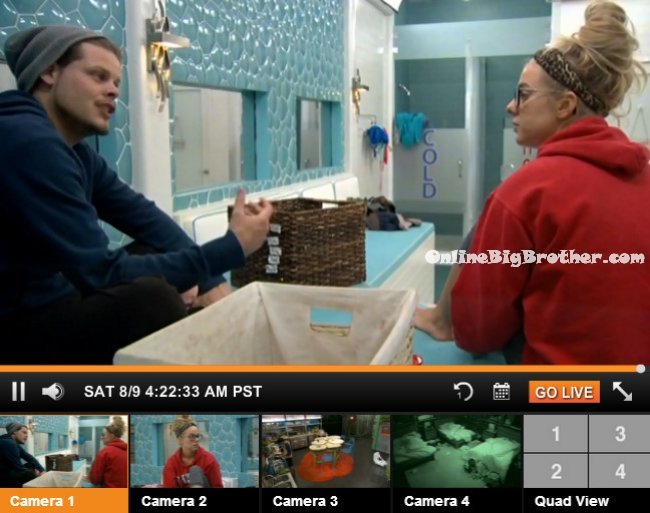 4:30am – 5:15am In the kitchen – Derrick and Cody are talking. Derrick and Cody reassure each other that they're loyal to each other. Derrick says thats how you make it to the end being loyal. Cody asks did Nicole just come to you asking to make a deal with you. Derrick says yeah. And she was asking about you. Cody says she doesn't trust me. Derrick says she keeps feeling me out for information. Cody says she knows she's f**ked. Derrick says if she goes on the block, if she wins HOH, whatever at least we know she wouldn't put us up. Cody says the only reason she came to me is because Hayden told her to trust me. She came to you because she trusts you. Cody says if they win the veto, Victoria is going up. Derrick says I don't think Frankie trusts us any more. I told him that telling the truth actually makes him a bigger target, he already has money. Cody says I would never use that, because I don't want to give him the satisfaction. Cody says moving forward we need to win comps to keep safe. Derrick says we need to start with winning the veto tomorrow and keeping safe. They talk about Donny being a POV competition beast. Cody says f**k that I'm winning it tomorrow. They head to the bathroom. Cody says man Amber was hot! Derrick says we need to be careful that Nicole and Christine don't make up and start working together again. Derrick says that Frankie hooked Caleb.. he told him he could take him to meet Justin Beiber.. and he can get him in the studio. Caleb is going to make decisions based on outside the game rather that what happens inside. Derrick says that the more Christine talks the more its going to bite her in the a$$. Cody says I think Christine is a f**king liar. Derrick asks has Donny talked any game with you yet? Cody says no. Derrick says that concerns me because I thought once Hayden went he would come to me or you. Nicole isn't alone like she says, she has Donny. Cody says if I win HOH I would put up Frankie and Donny with Christine as my backdo*r. Cody says these HOH .. I don't give a f**k if I win them or not because all they do is get me to show my cards, get blood on my hands and have the potential to go up if I lose Battle of the Block. Cody and Derrick head to bed.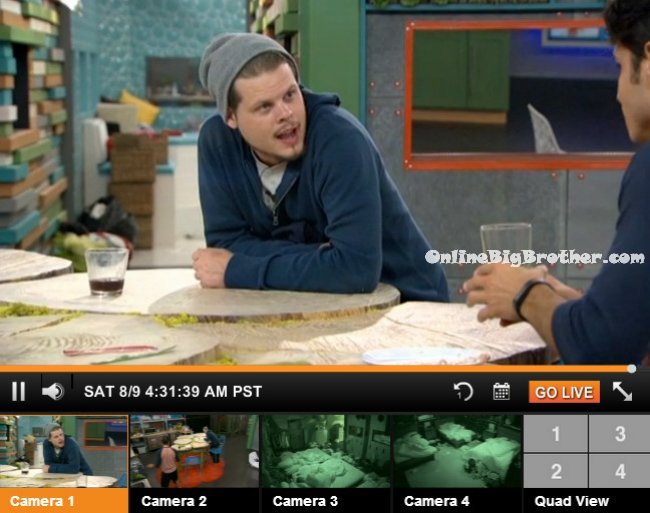 Alliances 
"The HITMEN" – Cody & Derrick
Team America = Donny, Derrick, Frankie
More polls here https://www.onlinebigbrother.com/big-brother-compendium/big-brother-16-polls/
[polldaddy poll=8233586]