POV Holder:
?
Next POV
Aug 9th
POV Used
?
POV Ceremony
Aug 11th
HOH Winner 1:
Nicole
HOH Winner 2:
Christine
Battle of the Block Winner
 Frankie/Ca;eb
Next HOH
Aug 15th
Original Nominations:
Nicole's Noms (Caleb & Frankie) Christine's Noms (Zach & Donny)
Final Nominations:
?
Have Nots
?
POV Players
?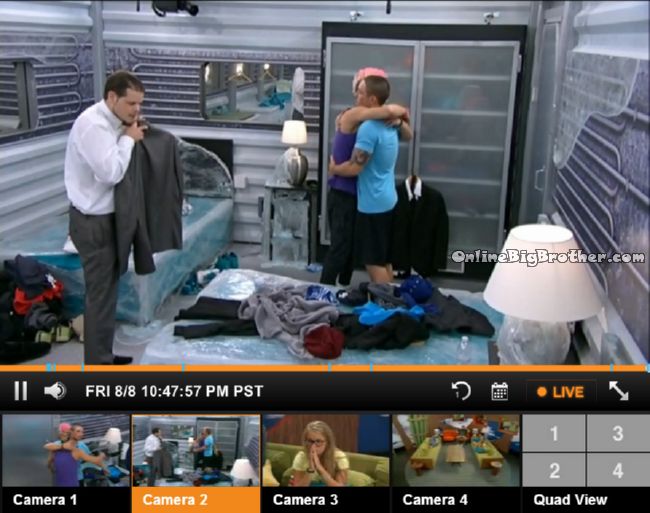 10:46pm Derrick and Frankie Have nots
Derrick says he knows why Frankie is team america
Derrick – I told you why I was here.. I'm here for my daughter
Derrick explains that Cody told him that Frankie wants him and Zach out that is what caused this divide between them
Derrick says he's got a obligations to work with Frankie because of team america "You got a lot of Damage control"
Caleb come in and hugs him Frankie.
Frankie denies some of the lies he's being accused for says Nicole made all this up.
Caleb – she said you backed her into a corner and told her if you didn't lie to caleb you were going to put her up
Frankie – No does that sound like me.. obviously she was lying
Claeb says after Frankie's BOB performance and coming clean has really
Caleb – When I get out here I will have to check out you sister I've never seen her"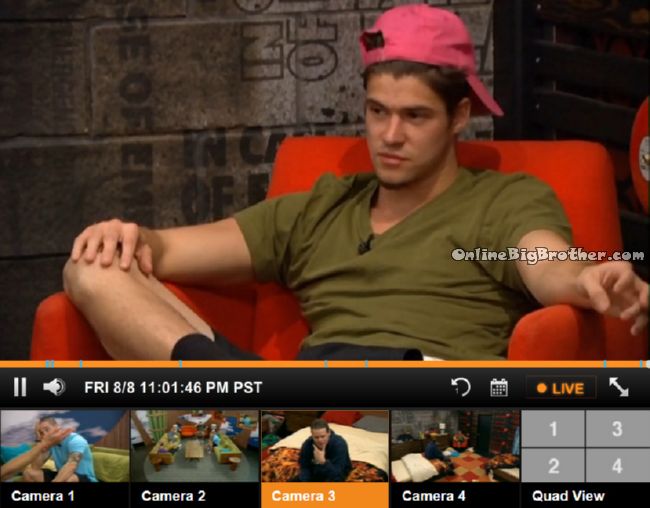 10:51pm FIREROOM Derrick, Cody and Zach
Derrick is getting annoyed by Frankie's news "People are getting starstruck out there"
Zach – A hour ago everybody hates him now they're s***ng his d1ck
Derrick – doesn't change a fact he literally was playing all of us
Victoria comes in "I'm confused now"
Victoria – I'm a HUGE fan of her
(Derrick and Zach are the most worried about frankie"
Victoria – whats a matter zach
Zach – Frankie f**d me talking sh1t about me all this time making fun of me..
Derrick – where did you hear this
Zach – Nicole
Victoria leaves
Derrick – we're f***d they are going to love him.. Caleb is going to meet Justin bieber.. In a way I didn't leave my family so he can make it to the end vause his sister is famous.. just send me home..
Derrick – I don't think he should have been allowed to play by himself.. as a person he's a good dude.. it is what it is.. hwwe just gotta play"
Zach if I win the veto or we're f***
Derick donny isn't one of us
Zach what if DOnny wins the veto .. we're f*** D
Derrick ya then one of us are going home..
They agree Frankie will win America's favorite. Derrick is poissed becuae Fnrkeai is realssing all these truths but he's omitted certain facts..
zach – everyone is on his d1ck
Derrick- ahh if he's on the block next week it'll hurt him
Zach – why am I wasting my time
Derick I feel defeated
Zach – he's playing this game for school in Africa who's going to keep me over him. dude for real
Derrick laughs..
Zach is certain he's going home.. Derrick think Zach is fine against Donny he's go the votes Derrick can only promise Victoria as a vote if they are not up against Frankie. Victoria will not vote out Frankie.
They agree they lost Victoria and Caleb tonight to Frankie. Derrick hopes they can get them back.
Derrick says if Donny wins the Veto Derrick or COdy are going up, "That's worst case scenario it'll be either COdy or myself up against you.. once of us is going home perdion"
Cody comes in "Who's the liar"
Derrick – I think he's being straight f***g honest he's got a following he doesn't want to look sneaky it tarnishes his images
Derrick Thinks everyone is lying.
Cody agrees they lost Caleb.
Zach – F** Christine"
Derick – the problem is she's HOH
Frankie comes in asks Zach to give him a hug Zach says no.. Frankie leaves
Cody – you gotta play the game dude
Zach – I'm not going ot su*k his d1ck"
Cody – Who's s*cking d1ck..
Zach – he's got mad bread his sister is hot as f***
They agree it was better one person than two during the BOB competitions. THey wish Caleb would have done the comp by not doing it he helped Frenaki
Derrick – Easier with one person than two
Derrick says they have a chance to convince CHristine to put up Nicole.
Zach says Christine is playing COdy..
Cody – She's the f***g liar but she's the HOH
Derrick tells Zach he has to mend things with Christine. Cody thinks the plan is to backdoor him.
Derrick wants them to try and get Nicole nominated, .
Caleb comes in..
They agree the best case scenario is Veto isn't played and DOnny goes home.
Caleb says the girls are already
Derrick says as a big brother player what Frankie just did was outstanding.. Frankie knew he was done in the game so he Hopes there's a couple guppies in the house that will decide to keep him because he will hook them up outside the house.
Derrick reminds them they still have Victoria in their back pocket but if it's against Frankie they don't. she's starstruck.
Zach – Victoria is a f***g bimbo she's dumber than a box of rocks
Zach – I don't care if your sister is Hillary Clinton what the f***
They start talking about the pre season football game that Caleb won he also gets a slop pass for the trip.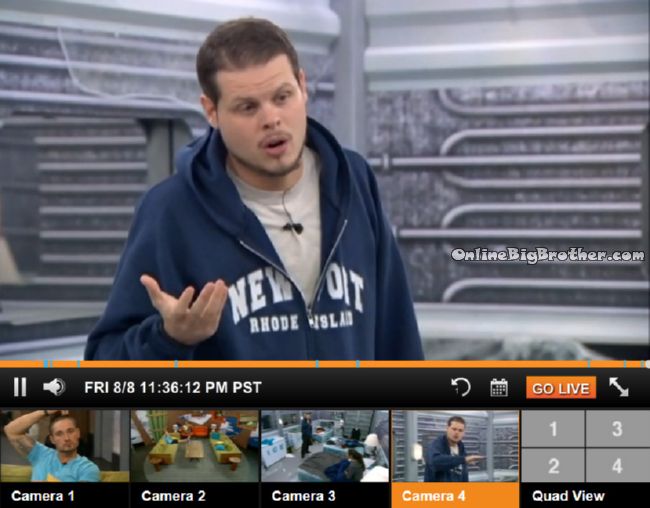 11:33pm Have ntos room Victoria and Derrick
Victoria is confused about where the house is she wants to know what is going on.
Derrick says Zach is upset because he thought he had a chance at America's favorite. Derrick Adds they really don't have a chance anymore..
Victoria says she's a normal person playing for herself and he's playing for charity, "Nicole feels bad."
Victoria – is he still everyone's target
Derrick – yes.. that was his last move.. he even said this is his dan ghoosling speech
Derrick says Frankie is in the game for the fame to build up more followers
Victoria – is he still a tafet
Cody yes we're still in the same game.. it's the same game..
With a live feed subscription you can go back and watch any event that has been shown. Use our site as an index and watch only the parts worth watching.
Try It Free! Subscribe now to the official BB16 Live Feeds
11:48pm Frankie and Caleb
Frankie – I'm sorry for being deceitful..
Caleb says he had Frankie's back 110% until I found out he threw him under the bs.
Frankie says he was 110% with caleb up until that moment.. and I have your back 110% now.
Caleb – and that is more so what matters now more than anything
Frankie says he's closest to Caleb he is his brother "I offer for you to stay with me and my family when we get out of here that's all real.. it's reall "
Derrick comes in Frankie says he's not working with Christine or Nicole they are lying to him and spreading rumours,
Freaknie – Shes a mess out there
Derrick – she's a mess because she's worried of the haters for putting up Ariana Grande's bother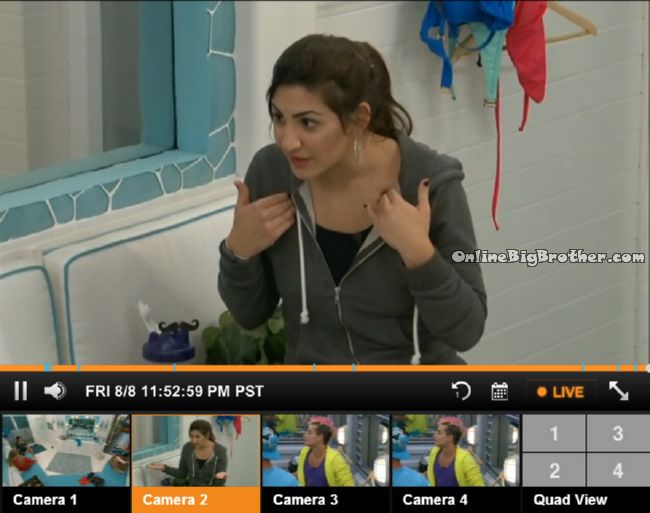 11:52pm Bathroom Nicole and Victoria
Nicole is worried that she'll have a bunch of haters because she put Frankie on the block.
Victoria says she talk a lot crap about Frankie in the DR then says how much she loves his sister Ariana Grande.