| | | | |
| --- | --- | --- | --- |
| POV: | Tyler | Next POV: | Aug 11th |
| POV Used | YES | POV Ceremony | Aug 13th |
| HOH: | Haleigh | Next HOH: | Aug 16th |
| Noms: | Kaycee Rockstar and Angela Kaycee | Have Nots | |
Big Brother Spoilers Rocks thinks she's staying.
random suntanning shots.. A lot of this happened today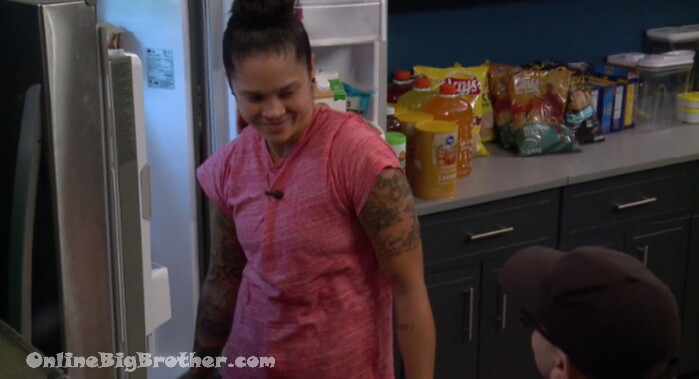 2:10pm KAycee and JC Storage room
Kaycee says Rock was sad to her in the geometry room.
Kaycee gives him the retell about losing it rocks the other day when she came at her about being the Hacker, "She didn't think I was going to stick up for myself.. she was shook"
JC – she's so going home..
Kaycee – she really thinks she has the votes to stay..
Kaycee -t the fact that she thinks she has the chance to win this blows my mind..
KC mentions how rocks told her said Kaycee was going home.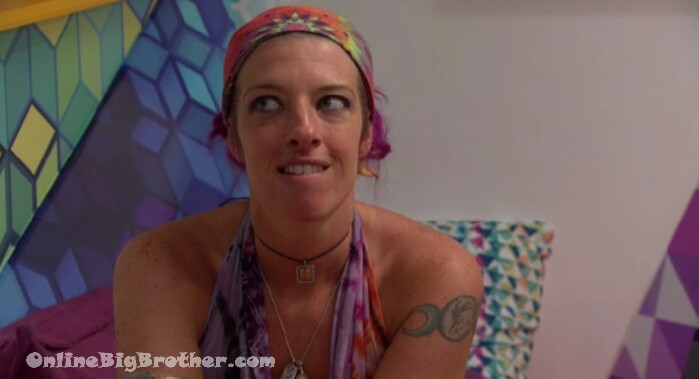 2:25pm Rock and BRett (Buckle up for the stupid)
Rock – as you know you weren't my target this week
Rock – if I win HOH I would put Tyler next to Angela on the block
Rock – then I would say well Tyler will win the veto .. exactly and he can't use it on Angela
Brett – true .. that's a valid point
Rock – that is my plan.. I would put Scottie up in his place but the target would be Angela moving forward..
Rock – My name is Angela.. I'm the real Angela in this house
Rock says she's due to win the next HOH she's been really close.
Rock – I want to stay here..
Rock – Kaycee drew a line in the sand and refuses to work outside that line, she works with Angela and that's the person she works with. I am adaptable.. I don't have any lines.. I have me staying here as long as I can
Rock – I see you have that too
Brett – I get that
Rock – we're all going to be picked off eventually
Rock – Tyler did something really f*ing stupid he was offered safety from not just me and not just Haleigh but 2 other solid people so 4 people.. he's following her (angela) around like a little puppy he will take every little out so that she can stay
Rock – I want to put them next to each other and I want to send her home
Rock – I can't play the same game..
Brett – everyone got their own style
Rock – I can't play the flirt game.
Rock says he means what she says that everyone should know what it feels like to be on the block so if she wins HOH..
Rock – the other Angela has been able to play a real passive floater game as a fan of the show I don't respect that. Lets just stand by the pool and flirt and blend in
Rock says her next targets are Tyler and Angela.
Rock says after her POV performance she's fired up to win competitions.
Rock says if she stays this week and he votes to keep her he's safe next week from here even as a renom.
ROck – my goal is to be the first and last Angela standing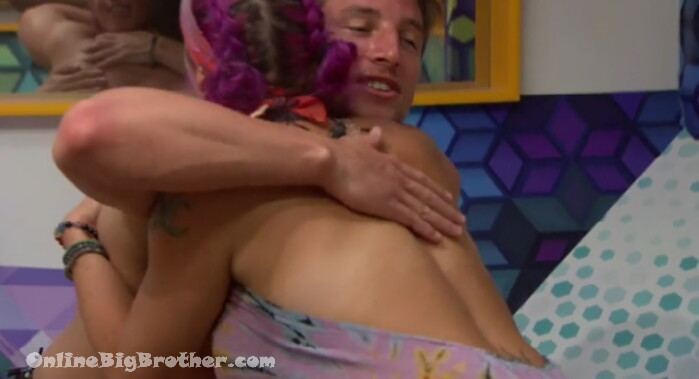 They hug it out….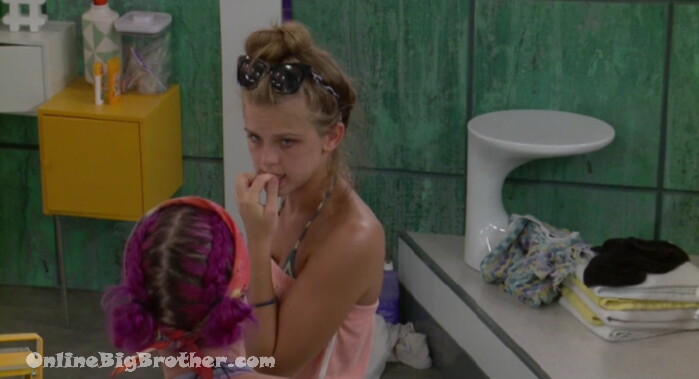 2:57pm Rocks tell Haleigh her talk with BRett went well..
Rock _ I told him even before I was nominated he wasn't my target.. I told him if I win HOH I will pout up Tyler and Angela..
Rock – I talked to Scottie
Rocks says she's telling people Scottie is the replacement nomination and Scottie knows this.
Haleigh tells her they need to figure out who the hacker
Rock thought it was Scottie..
Halegih – Brett right after said I think Rock is fine she just needs to keep her cool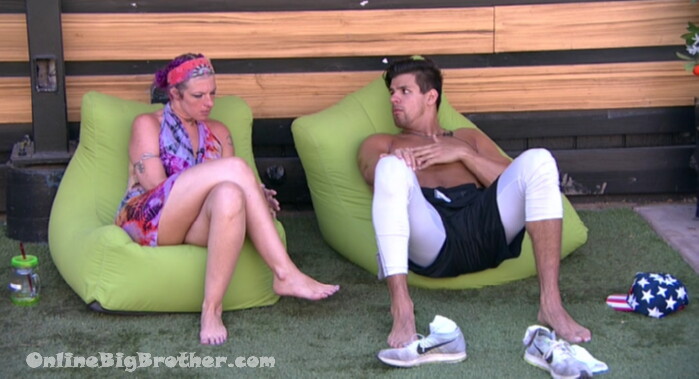 3:02pm Rock and Fes
Rock – you going to handle JC
Fes – yeah you going to talk to him
Rock is going to tell JC that he;'s putting Angela and Tyler up
Fes – he likes Tyler thought
Rock – I'll say Angela is the target and Scottie is teh replacement nominee
Fes – he would like that because he doesn't trust Scottie..
FEs is going to pitch to BRett if Rock leaves Brett is the next person with the noms times nominated he'll be the pawn next.
FEs – tells JC that Haleigh breaks the tie, does he want tot be on that side when Haleigh breaks the tie..
Rock – I feel good about Brett don't say that to anybody..
Fes – one vote gets cancelled..
Rock – maybe Sam's
Fes thinks there's something between Scottie and Tyler.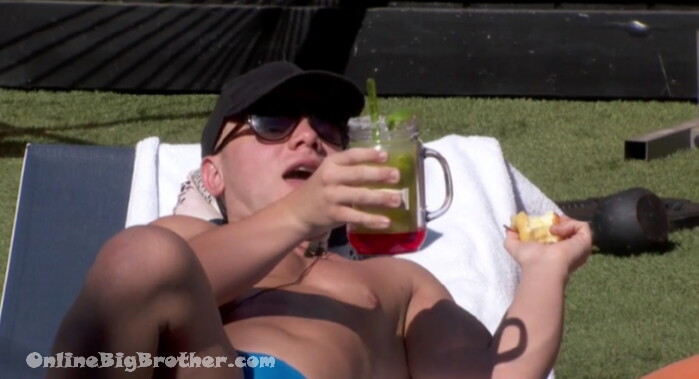 4:13pm JC and Tyler
Tyler – Me, Anegla and Kaycee that was her list..
JC says Haleigh is playing a horrible game.
Tyler – she can win Competitions though..
JC says any competitions with letters Haleigh does well in
T – she has Scottie and Fes after this week
JC – Fes won't do anything
T – Scottie and HAleigh were just pitching to me you were sketchy and you are always confused come Thursday and you flip you vote.. They are on to you
JC says Fes is shopping around the idea that ROcks is the universal Pawn
JC – cancel fes vote..
T – this vote might be unanimous if Scottie is afraid.. Scottie and Sam..
JC doesn't believe Tyler is the hacker, "I also think you have the second app"
Tyler – you are so stupid..
Sam comes out out brings JC a margarita..
JC – wow babe you are something else in this life..
Tyler asks him if he has the power app why would he not use it to get off the block.
4:26pm Sam and JC
Sam says the Hacker is going to cancel her vote from a loving perspective.. "that's just a guess"
JC – what if your's isn't the one that's cancelled..
Sam – dots in the cup I reckon..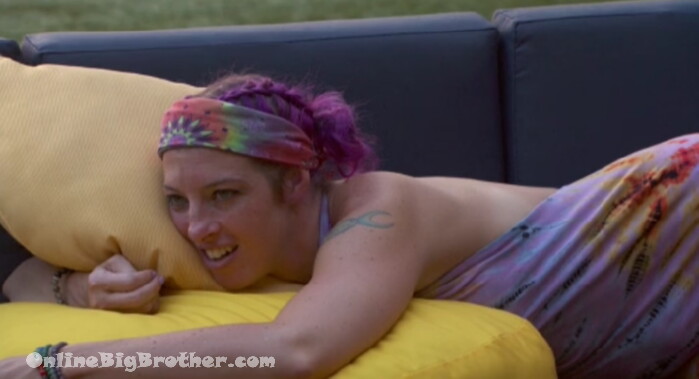 4:58pm Rock and fes
rock – how come nobody ever targets your big a$$
Fes – you really bringing up right now I'm on your team..
they laugh
Rock – Stupid b1tch.. Not you .. miss f* around.. (here we go again)
Rock – I feel solid about 3..
Rock says she doesn't feel solid about JC and Scottie
Rock – I haven't talked to JC yet. DId you talk to him in the pool
Fes – right now he doesn't want to talk game becuase of the Hacker will cancel votes..
Rock – so JC will vote for Kaycee to stay
Fes – JC never knows what he's doing until the last minute..
Fes – he always wants to be on the right side of the vote..
Fes – you only need 3
Rock – four
Fes – because one is cancelled.. the tie goes to us.. JC knows that he won't want it 3-3
Fes – I'll talk to him I just don't want to push him.. he gets scared and freaks out
Rock – I can't believe that stupid b1tch is still here..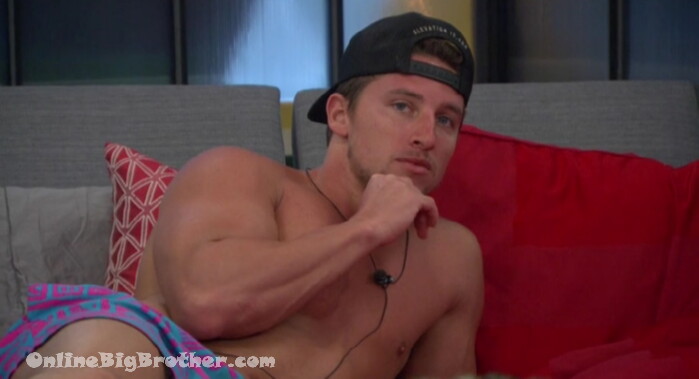 5:04pm Haleigh and Brett
Halegih calling Kaycee a floater says they don't talk game at all.
Brett says he's shocked the hacker never made a bigger move.
haleigh – I'm thinking maybe Angela won .. she knew if Kaycee was on the block and won the veto she would take herself down and pick Tyler to play because Tyler has won every veto he's played in. If he wins he's taking her down and he doesn't get backdoored. that's just a risky move..
Bret t- she feels comfortable on the block with Rockstar and she doesn't stir the house up..
Rocks comes in for a bit..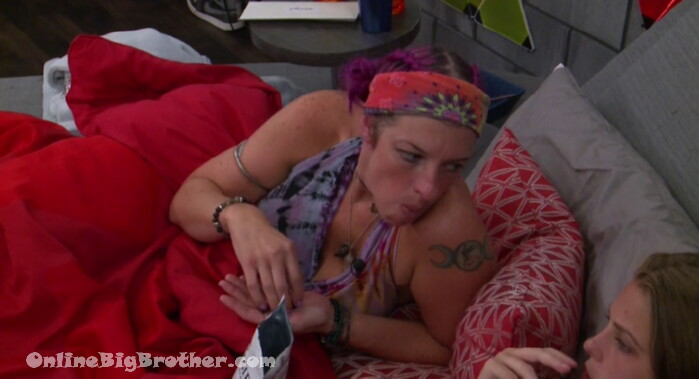 5:17pm Brett leaves.. HAlegih and Rock start speculating that maybe Scottie is the HAcker.. Rock – I told Sam to tell people she's voting for Kaycee. Haleigh – WHY? Rocks – I can change that.. becuase of the hACker"
Rock – we only need JC or SCottie..
Haleigh – you have JC's vote.. I think he likes you and he thinks you are a pawn.. easy to put up
Rock – what about kaycee.. they are the only non straight people in the house.. it's a big deal
Haleigh – I don't think JC caress bout that.. he also thinks Fes is gay..
Rock – true
Haleigh is surprised Kaycee is so pissed for being on the block.
Rock isn't
Rock expected hair flips from Angela.. "whatever one in this house doesn't realize.. when you are on the block everyone avoids you like the plague .. you walk into rooms and everyone gets quiet.. "
Rock says when you are on the block theirs no way to act so people aren't f*ing talking about you. Rock wanted KC to know she's there for her if she needs to talk.
Halegih says she hopes Tyler not using the veto on Angela screws up his game.
Rock – he follows little girls around like a puppy so he's stupid.. she's not even that pretty
Haleigh – she's really not
5:33pm Rock and Haleigh
Haleigh says that they will be ok. there is a general consensus in the house that kAycee is going home.
Rock thinks she's getting dragged on the internet for being called Blockstar (LOL that's not why. You are the most toxic person this season)
Rocks – in a parallel universe you and Scottie have a showmance..
haleigh – Scottie's cute.. I like Scottie.. I like Scottie a lot bu
Rock – not attracted to him
Ha – well there's that
Rock – expect the expected..
Rock back to calling Tyler a little boy following around the girl..
Rock keeps impersonating Angela twirling her hair..
Rocks – I said in the DR I don't like to talk about Sex workers but…
Haleigh – do you thins they are a thing.. I think we're just being stupid
Rocks says that's the last time she compares answer with the enemy (During POV with Tyler)
Rocks – I don't know who he felt ok with that.. he wouldn't have been up there
HAleigh – he doesn't care
5:44pm Rock and Sam
Rock says "we" need 4 votes.. so when they cancel one out they have 3 and haleigh will break the tie for them.
Sam – whos we
Rock – well me..
Rock tells her to go ahead and tell people her vote. She thinks JC is on the fence and she really needs his vote.
Sam says keeping her vote to herself is her thing.
Sam says she stinks. Rocks smells her armpits says it's pheromones. (see the gif in comments)
They end by comparing each others stomachs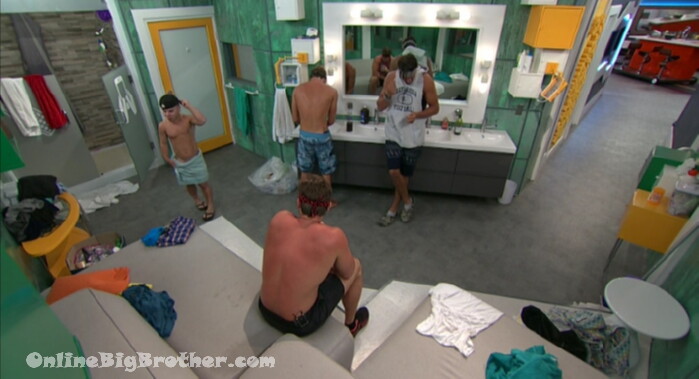 6:00pm JC, Fes and Brett
Fes says if you want to see Rock snap call her BLOCKSTAR.
Fes says Sam made it up and said it the other day Rock didn't like it at all
Fes calls JC a mini Jason Statham
JC – you look like a mini a$$ my d1** (huh)
Fes – a mini a$$ my d1** .. you must have one pretty d1** boy
JC – f*ing amazong better than yours for sure
Fes – get the f* outta here boy
JC – it's not dry that's for sure
Brett – DRY
Fes – mines been dry for 51 days
JC – Get the f* out with that dry a$$ d***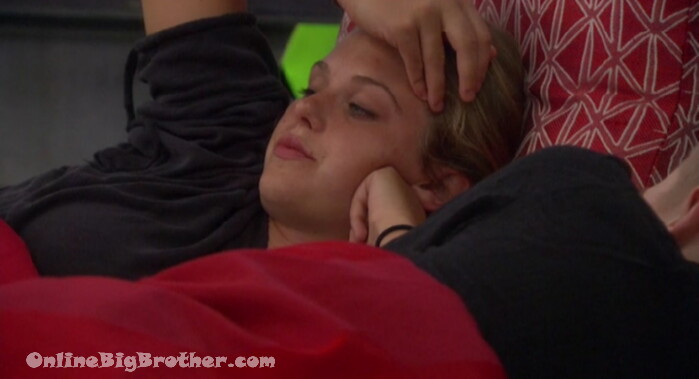 6:30pm Scottie and Haleigh
Haleigh – the hacker put Rock up because it was an easy move.. and it was a big f* you to me
Halegih – I have Brett to an extent
Halegih – I don't know where Sam's head's at I think she's playing me
haelgih doesn't believe what Sam is telling her.
Haleigh is certain she's going up next week, "I haven't put myself in a good position I'm not stupid"
Haleigh – Tyler doesn't want a deal
Scottie says they will se him and Brett as the swing votes so he's expecting to be campaigned to pretty hard.
haleigh – JC is going to do what he thinks the majority is doing
Haleigh says JC wantted to keep Bayeligh but didn't want to be on the wrong side of the vote
Scottie – I don't think he wanted to keep bayelgih
Halegih says JC knew that Bayleigh wasn't going to use the power on him.
Haleigh goes on about JC wanting to be with the majority. Scottie says JC wants to be with the power
Haleigh – you remove one of their people you remove their power..
Ha – I hope people see the benefits of keeping ROck over KC..
Ha goes on about Kaycee being a stronger physical competitor who has been throwing competitions.
ha – She's floating to the point where not one person would not consider her to be on the radar ever.. she will float until final 5 .. she's not caught up in any of this still (Drama with her and Tyler).. she's still getting out of this clean. .she's going to float.. socially she's best friends with everyone in the house.. she will float to final 5 if she stays no one else will take a shot at her..
HA – ROCK will continue to have a target on her back, she will continue to be a target because she cant' keep her mouth shut.. and rockstar hasn't won a comp.. granted neither ha Kaycee.. I just hope people think rationally about it..
Scottie says Angela and Tyler may have some sort of deal
Ha – I'm sure
Rocks joins them.. "how about someone reveals Angela an Tyler's showmance"
Haleigh – I don't think that will work.. they aren't in a showmance
Rocks – they do things under the covers like stuff and things..
Rocks says there's lots of giggles every night coming from Angels and Tyler's bed. She fakes giggles.
Rocks says she has Brett, Sam, Fes, Scottie .. four.. one gets cancelled 3
Halegih – we just need to lock those in ..
Scottie says either him or fes will get Cancelled.
Haleigh want to get all the votes to keep ROCK in a room.
Scottie- what we need to do is call a housemeeting.. say we all have to cast our votes right now.. JC would immediately just walk away
Scottie bring sup a joke again that they need to plant hickeys on Tyler so that they can say Angela and Tyler are in a showmance.
Rocks – Angela is a professional.. she wouldn't leave hickeys no one would understand (Rockstar has been calling Angela a sex trade working in the Diary room )
Haleigh – those 4 i'm all solid.. you feel solid about Sam I feel solid about sam.

Haleigh counts their new super alliance
Haleigh – 6 is a good number, I trust you I trust Fes
Rock – well 6 is the number I offered Tyler
Haleigh – I trust Brett and I'm working on trusting Sam
(LOL I wonder if Scottie figures out he wasn't part of the 6)
Rock – I am confident I have Brett.. (his vote)
7:25pm Rocks is convinced that Angela and Tyler are a couple. She says it must have been true love. She's going to call it out during her eviction Speech. Halegih says tha'ts a bad idea.
Rock mentions how JC is always telling her to be calm when she's on teh block she can't wait to see him on teh block.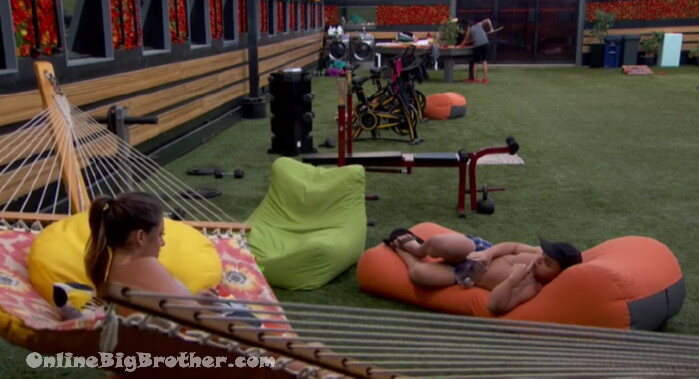 7:17pm JC and Angela
Talking about ROckstar going up to KAycee and saying "i'm, sorry you are going home"
JC – she's so sure she's staying
Angela – how do you think she's going to leave will it be a Rachel style or a Bayleigh style
JC – she's going to cry.. I cannot wait..
They agree they wanted to get Bayleigh out more than Rockstar.
JC – Sam is something else..
JC says if people hadn't listened to him Bayelgih would still be on the block she would have used her power and both Angela and Tyler would be on the block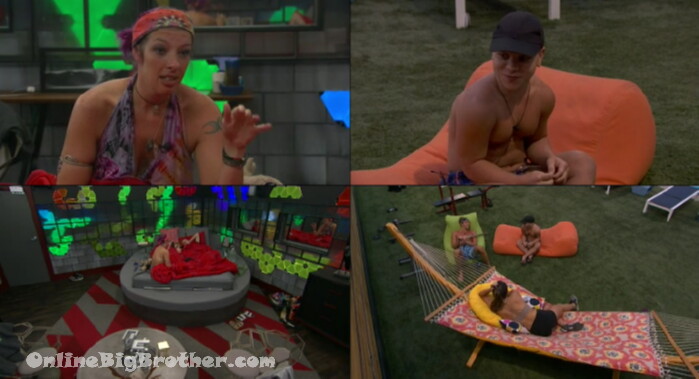 7:45pm chit chat..
When feeds came back after the POV Ceremony. Rocks finds out Tyler didn't take her Awesome Deal. #BB20 pic.twitter.com/uIexepkkbT

— OnlineBigBrother.com (@bigbspoilers) August 13, 2018
Amazon Canada
Amazon USA