Quick Big Brother Spoilers
Head of Household: Monte
Nominees: Indy and Alyssa
POV Players: Alyssa, Indy, Monte, Terrance, Joe, Kyle and Daniel (Michael is the host)
POV Winner: Daniel & Kyle
Veto Ceremony:
Havenots: Turner & Jasmine
Lock your ranks in before midnight
Festie Besties:
Turner & Jasmine
Joe & Monte & Terrance
Daniel & Kyle
Brittany & Michael
Alyssa & Indy
Nicole & Taylor
12:00 – 1:00 am Chinese Checkers game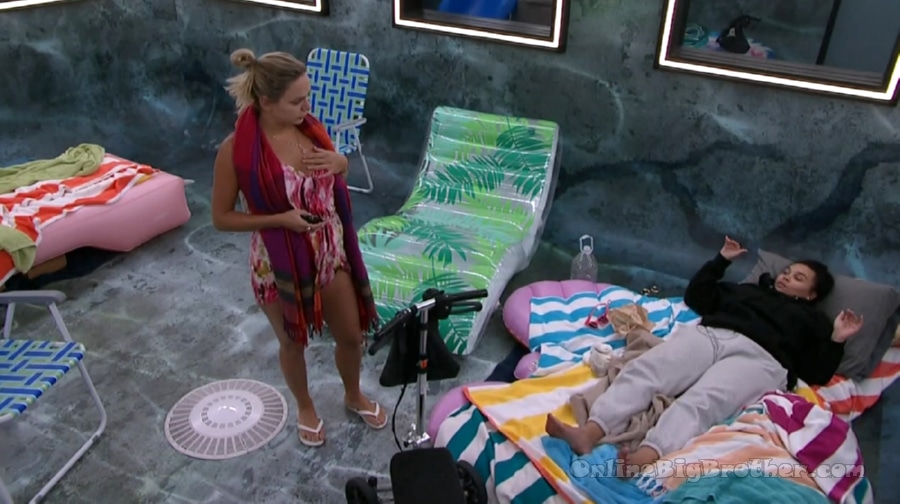 1:13 am Indy and Jasmine
They're talking about making this "thing happen" between Monte, Joe, Terrance, and themselves
Indy – we need to pay attention to Terrance because Terrance and Nicole are really close
Indy – I won't change my relationship with Nicole at all. I'll keep her close
Jasmine – same with Alyssa… for me.
Indy – it's the only way we are going to survive. I literally never lied to you. From what we are finding everyone has lied to us.
Indy – we're f***ing bada$$ how those kids can play us? I'm so pissed..
Indy – this f**ing kid. I love her but she's a f***ing kid and she's playing me she's playing with the wrong person. I'm going to f** her a$$ in the game.
Jasmine – she said she thought you were a good competitor
Indy – I love her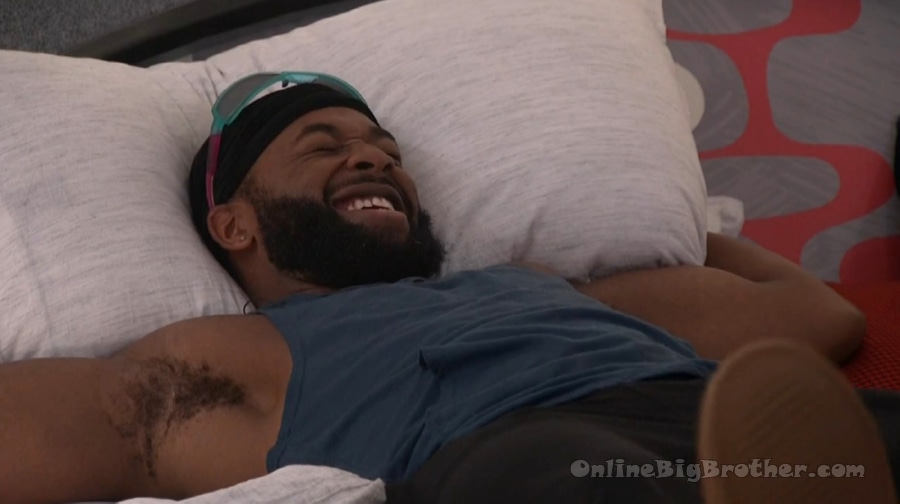 1:35 am Monte and Joe
Monte – damn I got a case of the hot a$$… you know when you fart and it's hot
Joe says it's called a "Shart" a "sh1t Fart"
They go back and forth about what a "Hot fart" is actually called.
Monte – Nicole is saying 'she looks too comfortable ' she's walking around with her comments
Joe – The girl literally does nothing I almost hate that she feels uncomfortable when she's comfortable. All she does is laugh with us ..
Monte – The thing is Nicole likes her humour
Joe – Taylor is actually really funny
Monte – Nicole was the one that was tight with her and now can't stand her
Joe – hates her
Monte – ridiculous
Joe – that's what is weird to me.. I thought they were in an alliance.
Joe – Paloma said something along the lines that Taylor going to pay for not working with me
Joe – Paloma maybe tried to recruit Taylor to work with her and Taylor took that the wrong way or took that as an 'I don't want to work with you I want to work with other people'
Monte and Joe agree coming into the season they didn't want to be in a one gender alliance
Monte mentions how Joe was onto Ameerah early on.
Joe says that Ameerah really doesn't want him working with Brittany.
Joe says game wise he would pick Brittany over Ameerah, "Brittnay is significally more loyal, more of a straight shooter, less controlling"
Joe wonders what Nicole is going to say to him.
Monte – It'll be the same she's saying to brittany and mihacek
joe – No she's saying she wants to work with them.
Joe points out that the girls really do think they are clowns. not as much Monte but joe and Kyle are seen as "tied for Dummies"
Joe – Turner is underestimated and MOnte is middle ground..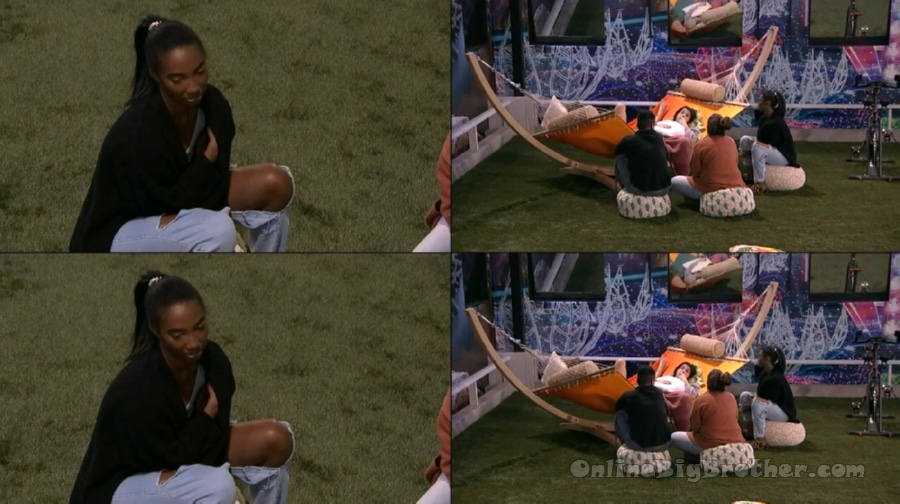 2:40 am Hammock chit chat.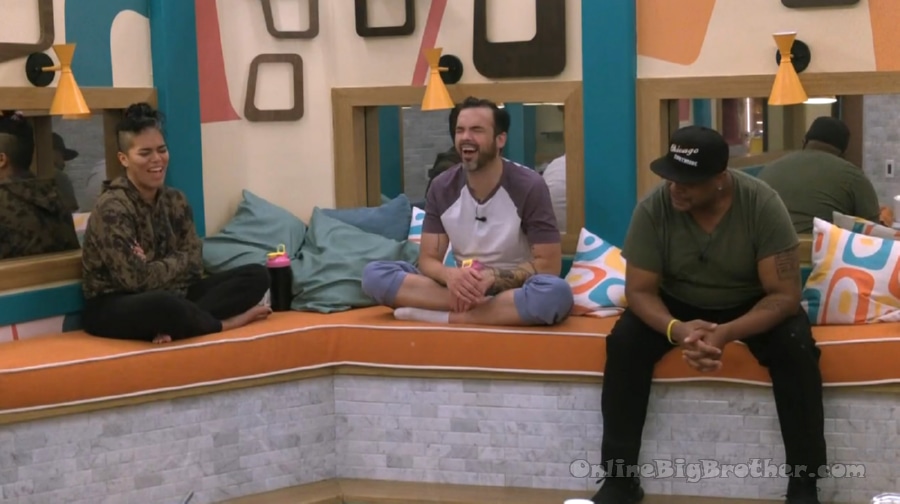 2:52 am Nicole, Daniel and Terrance
Nicole is bent out of shape becuase she thinks her big secret about being a cop has been spilled. Monte said something like 'I respect law enforcement'
Nicole – thanks Joe
Terrance thinks Monte was just referencing a rap song.
They start talking about Turner having a Tesla
Daniel – you don't need the money like I need the money
Terrance- he had to sell it back.. he said it didn't make sense for him to have it
Daniel wonders why Jassmine is so worried about people knowing she has a press on nail business, "Who cares"
Nicole says Turner and Jasmine were alternates last year.
Daniel – make sure you get Brittany and Jasmine's votes
Nicole – I don't think I'll get Brittany's vote
Daniel – she's going to vote for Taylor?
Nicole – she's a wildcard
Daniel – she's voting for Taylor to stay? you are making this up
Nicole – the way she ended the conversation she wasn't like I'm team Nicole all the way
Nicole says that Brittany made it sound like she's hanging out with Taylor because they both feel they are outcasts and that I make her feel that way
Nicole – she's not going to vote for me.
Daniel -s he's pissed because they forced her to vote a certain way last week so if you use that. Vote for me we got you back. we'll take you to the end. All three of us can take her to the final 4.
Nicole – Ameerah never talked shit about Monte.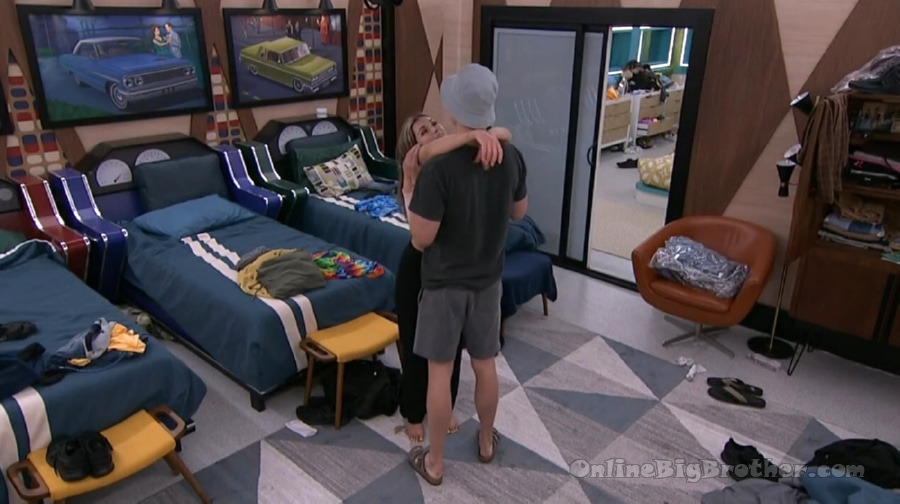 3:05 am Showmance?
Kyle – you can't.. stop..
Kyle – you are are so hot.. you are the hottest girl. Like in casting they were like lets find the exact match the exact person he wants to date and lets put her in the house and that is how Nicole came into the house
they laugh
Kyle – we can't.. we can't.. Alyssa.. you know the show you know it's not good for our game.
Alyssa kisses his back
Kyle – I can't I can't do it.
Kyle – you know it's bad for our game you and I dong anything alone like this
Alyssa doesn't think so.
Kyle – with this group of people it 100% looks bad. People are crazy in this house. They are looking for the smallest thing to use.
Kyle – stop it.. you are so cute.. you are so freaking cute. Alyssa
ALyssa keeps trying to kiss him on the arm Kyle replies with some "no no NO"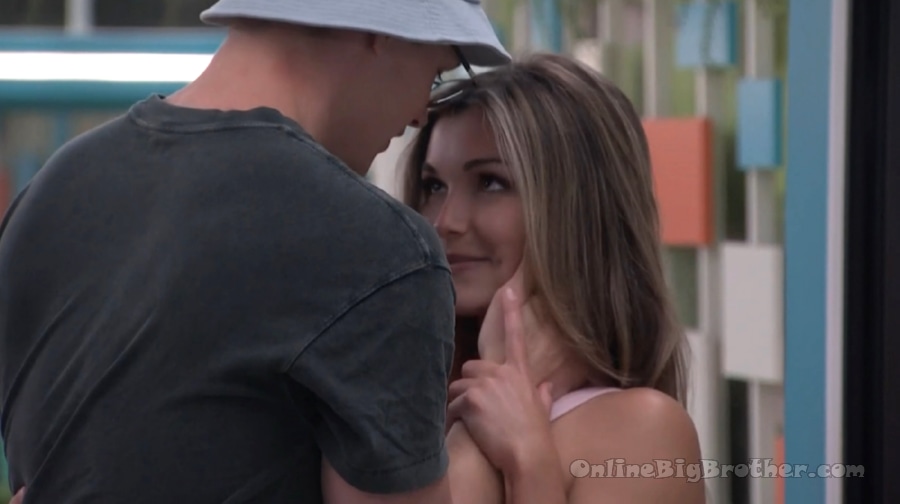 3:10 am Alyssa and Kyle
Kyle – I need to take another cold shower..
Alyssa – you are so boring
Kyle – you won't regret it
Kyle – you are so funny and such a great person..Alyssa.. I like you
Alyssa – I like you to
Kyle – I don't want to ruin your game..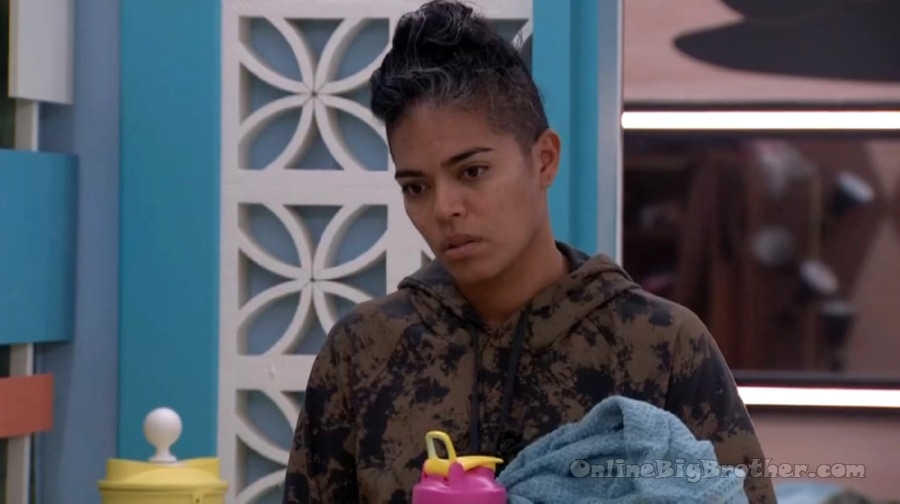 3:26 am Nicole and Daniel
Daniel – I honestly think they wanted to backdoor me and Kyle
Nicole – I don't think that's true
Daniel – they were PISSED that I won
Nicole – They were pissed because they want you to use it
Daniel – Kyle wants to use it on Alyssa. It was supposed to be me..
Nicole starts wondering about votes.
Daniel thinks they can get Jasmine's vote. They'll point out to Jasmine that the other side will walk all over her, "Ride with us and leets fg**Ing go change the game"
Nicole – you think Turner
Daniel – F*** Turner, he's done. He's so weird now. He's been so weird to me. He's not the same person.
Daniel says he's not sure about Michael either "he's been up there way too much it's more than just game"
Nicole – kyle too
Daniel – but Kyle was boys with them but Michael. This week is now one of the boys.
Nicole – Jasmine is adamant that I'm not going anywhere. I just want to know if I'm going home or not.
Daniel – the key votes are Jasmine and Kyle right now and if you can get Michael great. I just don't really trust him.
Nicole – when Indy and Jasmine find out I was part of Po's Pack they'll be really mad
Daniel – I thought you said they already know
Nicole – they don't know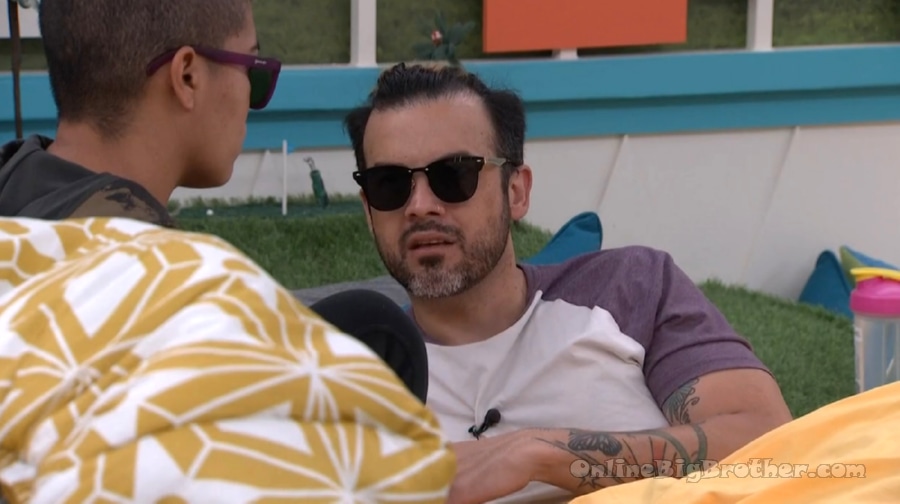 Nicole says the one reason she thinks they can convince Michael is both he and Terrance keep saying "Get them not to use the veto"
Daniel – I don't want to use the veto. that's Kyle's thing.
Daniel says they were both honest about their vote last week. "We were both f**ed over"
Daniel – I will drop Kyle the option of not using it and how that can work. I already broke it down for myself. That will be after the fact BRO you are throwing away your game if you don't ride with us.
Daniel – I have to slowly lay it in throughout the day
Daniel goes on about how everyone was pissed that they won the veto. He pointed this out to Kyel already and warned Kyle they were the backdoor plan this week.
Daniel – they're walking around this house like they have BIG a$$ d1cks. Like they wrote this show
Daniel – joe is the worst f***ing liar. I'm done with that sh1t.. f** off dude.. alone? you don't leave those guys' side.
Daniel – I do think I can get Kyle.
Daniel plans on spending the entire day tomorrow with Kyle.
Daniel will sell Brittany the angle "you want guys to run this town then go vote with them or do you want to make a change in the game a fan of Big Brother?"
Daniel – if you go home I'm next so this is just as important to me. If this doesn't change this week we are not winning no matter how long we're in here we are not winning the damn game. It has to change now.
Nicole – should I come clean about Po's Pack?
Nicole – it's funny how she's prancing around here like her sh1t doesn't stink
Daniel – Taylor
Nicle – yeah
Daniel – every week.. every week there's another reason for her to prance around. It's too much. Be happy your safe for sure be cool but like. It's because Monte is in on it with her and she thinks he's the king for f***ing five and a half days. CHILL
Nicole – part of me wants to go up to her and be like are you safe?
Daniel about Monte "that guys a joke in this game.. He's so fake I can tell when he lies."
Nicole – I'm fine.. really I am it's just funny. All of this is comical. I've been watching this show forever and it's like. I thought I had hit the jackpot by aligning myself with them
Daniel – I thought it was bullshit
Nicole – still having you and Terrance and protecting you guys with that alliance
Daniel – yeah sh1t blows up. if you watch the game you know shit blows up.
Nicole – I just love how public enemy number one is staying here and i'm leaving
Daniel – no you're not. get your head in the f***Ing game.. you are ruining my game right know
they laugh.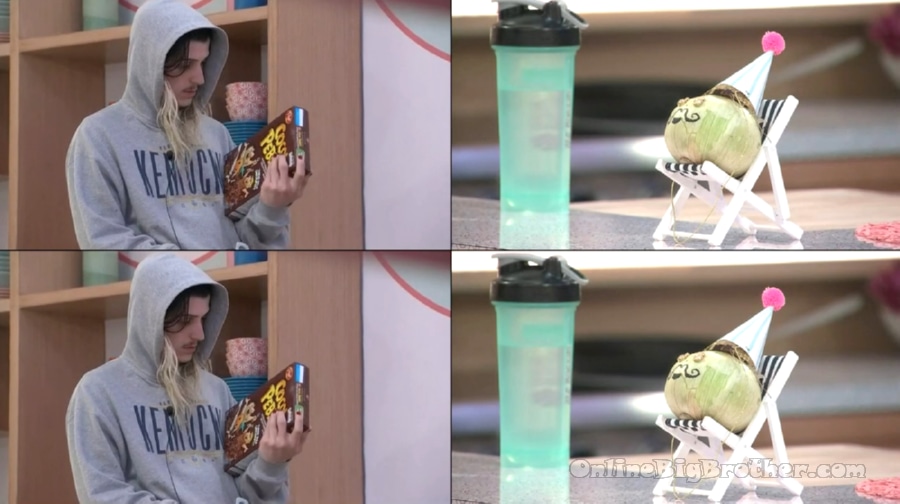 4:08 am Turner checking out the coco pebbles before bed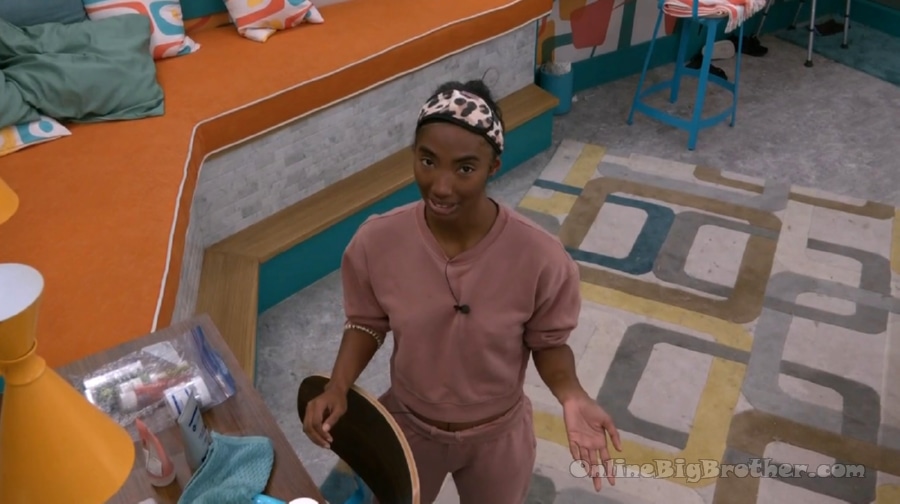 4:16 am Taylor alone talking to the camera
"because that I have an alliance I trust now I actually can enjoy this time and relax… you can never be too comfortable in the big brother house but the free moments you do get to be a human being it changes your entire experience. I got to be a human being today and be reminded there are people here that care about me"
Taylor goes on about how the first 3 weeks were "HELL" for her
Taylor says her speech is going to be "Scorching" it'll be about the person she's sitting on the block next to who used her and manipulated her
Taylor – I will be a good soldier and pack my bags agani but it'll be the last tiem i do it.
Taylor – I can't believe Nicole is POOCHING herself right now.. Chaos
4:40 am Everyone sleeping.
7:42 am Zzzzzzz
9:40 am zzzzz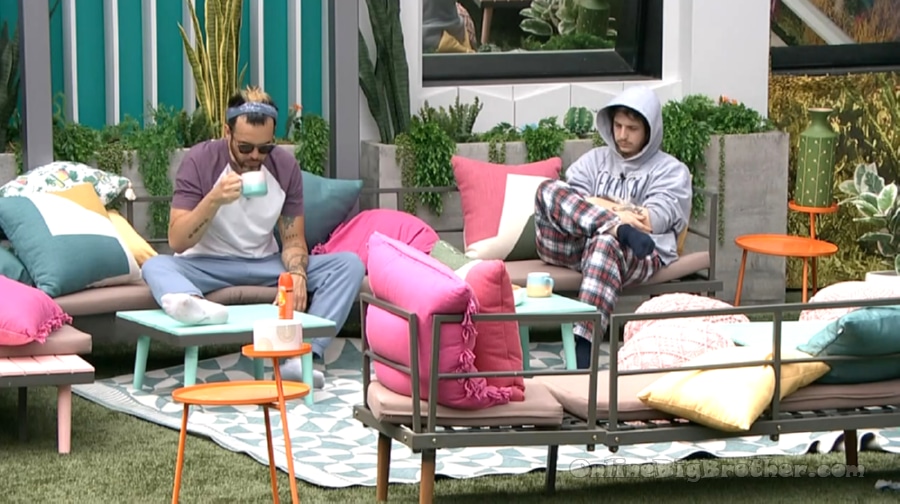 10:30 am Houseguests getting up
10:40 am Taylor and Nicole
Niocole says if they go up it could go either way She would like the two of them to go talk to Monte and offer him a deal.
Nicole – if we're talking real shit. i thought I could trust Ameerah and it's clear that I couldn't I'm finding things now over the last couple of days there are things she said behind my back
Nicole – who else has she told things that aren't true in regards to me as a player in the game. I thought we were all on the same page.
Taylor – the only way the veto doesn't get used is Kyle is convinced that Alyssa staying isn't good for his game. Daniel obviously does not want to use it to keep you off the block.
Nicole – we still haven't talked since veto
taylor – For obvious reasons
Nicole – For obvious reasons

11:13 am Jasmine and Indy
Jasmine brings up Taylor this morning saying "whats the point of getting up if I'm about to go home"
Indy – I feel bad but the time has come.
Indy – your check has arrived my friend. time to go. time to pay your bill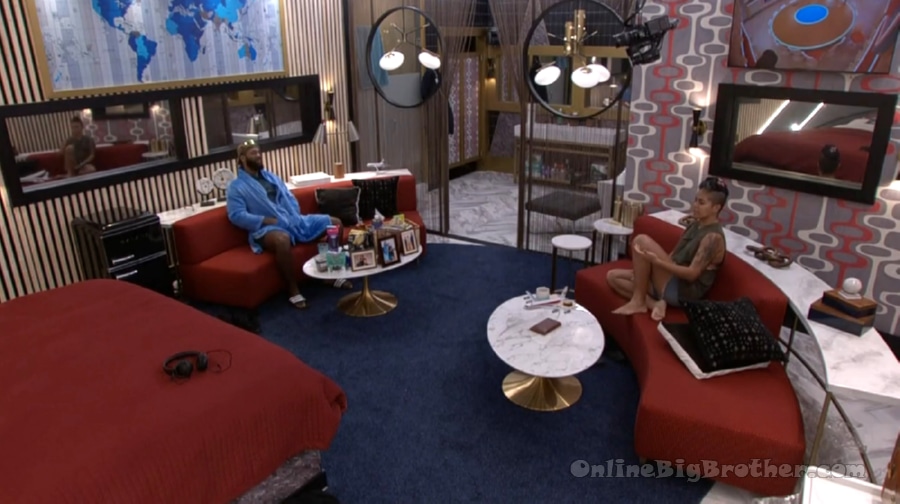 11:20 am Nicole and Monte
Nicole – I really wanted to talk to you about Ameerah.. I'm finding out a lot of things…
Nicole – I want to know if there things she said Bou me and my game
Monte – Not to me. Ameerah and I rarely talked one on one
Nicole – I play a really honest loyal game with integrity.. almost as a fault.
Nicole goes on blaming Ameerah for saying things that damaged her game.
Nicole doesn't want to be nominated but.. "Do you really want someone like her (Taylor) in the jury"
Monte asks if there are people in the house that would vote for Taylor to stay. Nicole says absolutely.
Monte asks shocked.
Nicole – I'm honestly scared to go on the block I'm being honest with you
Nicole – if she's here and you guys don't have something going she will f** you in the end.. she will not vote for you in this game she will not put you in the position of feeling comfortable because she always going to be there lingering it's just who she is (WTF)
Monte – you don't have to convince me, Nicole
Nicole – I want this relationship to work. I want to work with you and prove my trust with you
Nicole is worried about the house voting keeping Taylor over her.
Monte asks her where this is coming from.
Nicole – with her sitting on the block I don't know what she is capable of
Monte – do you think she's been the one who allowed herself staying to stay this long or do yo think other people have been sorta meandering her along and saying 'OK there's a bigger target this week'
Nicole – she's a good shield so the longer you guys keep her the longer you guys go along.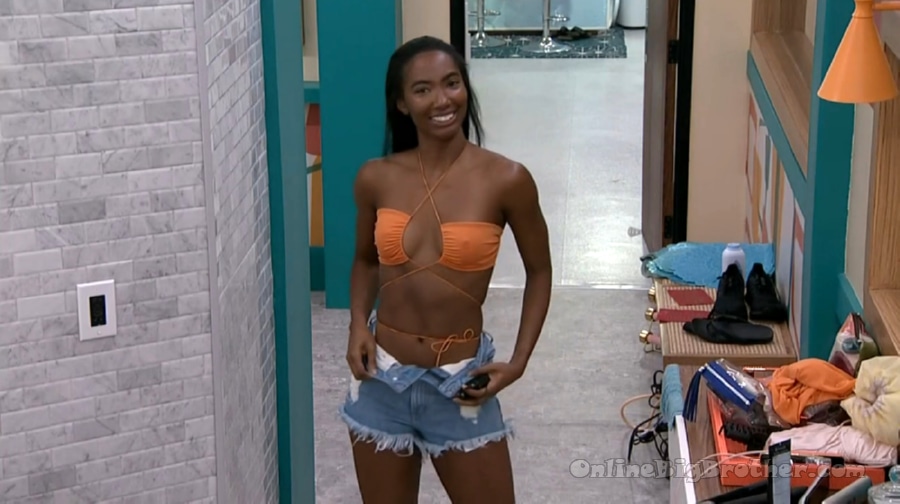 11:51 am (Just throwing this energy out there but another showmance?)