Quick Big Brother Spoilers
Head of Household: Monte
Nominees: Indy and Alyssa
POV Players: Alyssa, Indy, Monte, Terrance, Joe, Kyle and Daniel (Michael is the host)
POV Winner: Daniel & Kyle
Veto Ceremony:
Havenots: Turner & Jasmine
Lock your ranks in before midnight
Festie Besties:
Turner & Jasmine
Joe & Monte & Terrance
Daniel & Kyle
Brittany & Michael
Alyssa & Indy
Nicole & Taylor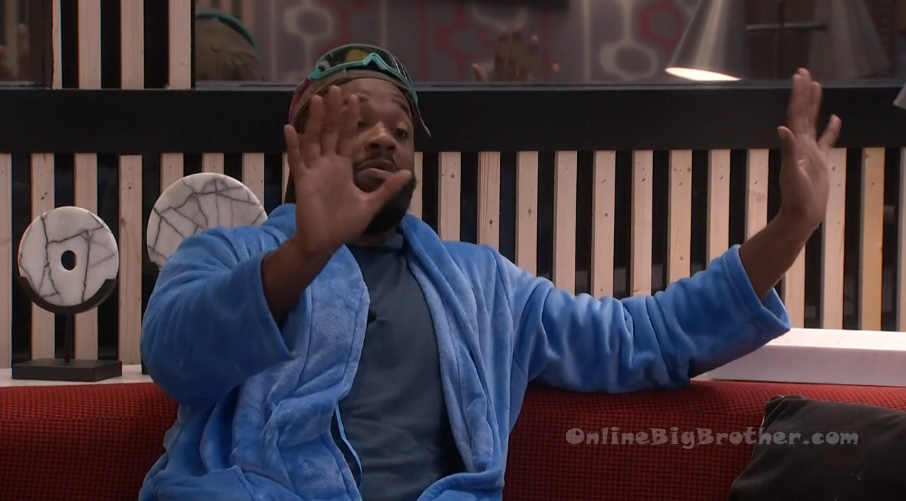 12pm HOH room – Nicole and Monte.
Nicole – I know that they talk.. and talk.. and talk.. and talk. And I know how Taylor can be. So for me I hope that she isn't planting seeds in this womans head. Like saying sh*t and putting doubt in her because when it comes to anything that has been going on between Taylor and I am not.. like to me its comical. I am also the person that can read bullsh*t across the f**king room so it just cracks me up. There is that sense of humor when it comes to it so that .. it all solely has to do with me getting on that block next to her. Monte – MMMmmhhmmm… MMMmmmHHmmm.. I understand but being on the block and you're not even on the block yet but the potential of it just brings up a lot of paranoia. I think Taylor ..like you feeling like she was lying to you in that moment definitely sparked some doubt in making you think that she had some backing this week. I mean maybe she does…. I don't know. Nicole – its not even like she is like oh I have the votes to stay .. its more like.. Monte – you reading in between the lines? Nicole – yeah. Like her body language is so f**king off. Her ummm.. I've seen her vulnerable in this game so when I see her bullsh*tting I am just like .. uh huh? Yeah I get where you're coming from. Like I am not listening. Its like in one ear and out the other. I am just like keeping tabs on all the sh*t that she is saying to me .. like lie ..lie.. lie.. lie …lie.. Monte – I mean you know her better than I do. Nicole – but that's the thing… is I don't know her at all. Monte – yeah that's what I was about to say .. do any of us know her? Nicole – it is what it is.. obviously I would love not to be on the block and then go back to the drawing board next week to get her out of here. Or we just figure out .. you know just go with the flow and see what happens on Thursday. Monte – I care about you and I do what to consider you opinion. You were the first person I talked about who I would be putting up on the block after I got HOH that night .. I valued your opinion we broke down .. and who was the best option? Indy and Alyssa.. I've been pitching that to everybody .. I even got Indy and Alyssa to feel okay about it. If there is any alternative that is feasible and that wouldn't have me screwing myself I would want to hear it. Nicole – well when I talked to Brittany this week .. after people were like oh what lies did she tell you? Like I am sure whatever she told you isn't true. And then five minutes later they're all sitting together. Y'all are good because if I don't like someone .. I'll be damned if I am sitting next to them. I get that its the game but that's not the way I play my game. Monte – yeah. Nicole – I will probably talk to her again today. Monte – its politics. Nicole – I mean if her and Michael were to be the replacements .. I am voting her out. For sure! Monte – I mean that.. oh boy… Nicole – I like Michael, I am not voting him out. Monte – I am worried that people will get funny idea about that situation. Nicole – and vote Michael out. Monte – and screw Michael over. If that happened on my HOH .. now I'm looking like a f**king .. you know what I'm saying because that wasn't communicated with anybody. And I do still have time before the POV ceremony.. but when you talk about shields Michael has been a competition beast. Nicole – right but now he has her so if we want to keep working with him its best we keep her over Taylor. Monte – exactly! Monte – I know Indy… Nicole – she is f**king ride or die with you. Monte – yeah she has made that clear. Although I did catch her not telling the truth. She pretty much told Joe and I that a guy was looking to target her back when Jasmine was HOH. And Joe and I look at each other and we're like what guy is talking to her telling they're targeting Joe? And then she recently told me that it was Ameerah. So she just confirmed that she lied. Nicole – this is what I am saying ..its the little f**king things that she was planting.. she tried to set doubt in me to not trust Daniel. I doubt a lot of things with her… like all the conversations she said she had with you .. I don't know if she really had them. Monte – I doubt it. If there are 7 – 3 vote there are people (the other 3) that will fall in line and vote Taylor out. Like why would you risk being exposed? You're really in a safe position here. Nicole – and like you said in the storage room.. my life is in your hands. I want to fight for you. I want to fight for us. Just know I have your back and its the truth. Monte – and vice versa and if you hear anything fishy going on just come back and we'll lock the door and talk about it. Nicole – okay.
12pm Hammock – Kyle and Indy.
Kyle – I am completely invested in the game so I am also worried about that. I do like her (Alyssa), she is awesome. Indy – she is awesome. She is so cute. Oh my gosh. Indy – and you are too. Kyle – so I tried to talk to her and be like hey we shouldn't do it but I think we're just naturally attracted to each other so its hard. Indy – yeah its something you can't control. Kyle – I don't know what to do. Indy – I would kiss around.. just go in my room. I can stand by the door. Kyle – laughs. Indy – Im the mall security guard. I think you can do it and nobody know. Kyle – yeah. Its hard in this situation.. outside of here it would be so easy. Indy – yeah you go to the jury house and that would be perfect. Then you guys can live the dream and skinny dip the pool. Kyle – maybe we'll skinny dip here. Indy – you don't even want to kiss, you're not going to take off your pants. Kyle – I know. Yeah she is fun though. Did you talk to Monte about the veto? Indy – yeah and he said we going to use it. I think the house is aligned and I trust Monte. Kyle – he's wanted Taylor gone since day 1. Indy – I trust what he is doing and putting me up.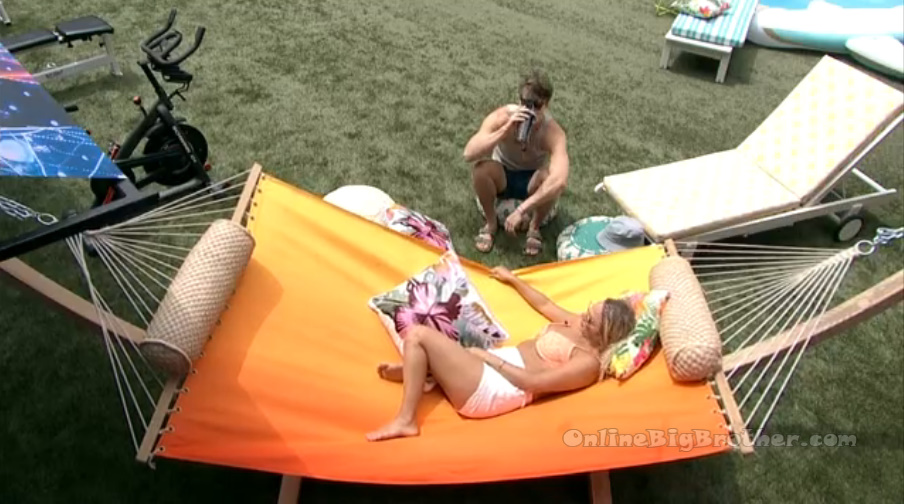 12:56pm HOH room – Joe and Monte.
Monte – I just had an hour and a half conversation with Nicole.
I wanted to see if she was expressing her concerns about going up on the block. She was actually a little bit more reserved. She wasn't very aggressive about pushing for her not to go up on the block. I just talked her though it to calm her down about going up on the block. I was really looking for her to say that she was fine with Indy and Alyssa going home but she never said that. Joe – and it doesn't make sense Alyssa is her home girl. She's trying to re-recruit Terrance. She has Daniel. It would make no sense for the to try to evict someone that she actively trusts. Monte – she thinks Taylor has more backing than people think. And I was like who? She said she is tight with Brittany. So I was like you're basing this on your conversations with her!? Joe – to me Taylor is just acting like a normal house guest now. Monte – I don't want to give Nicole any reason.. I don't play an sympathy with Taylor. I was like maybe she is playing reverse psychology, maybe she is making you feel like she is comfortable just so that you get paranoid.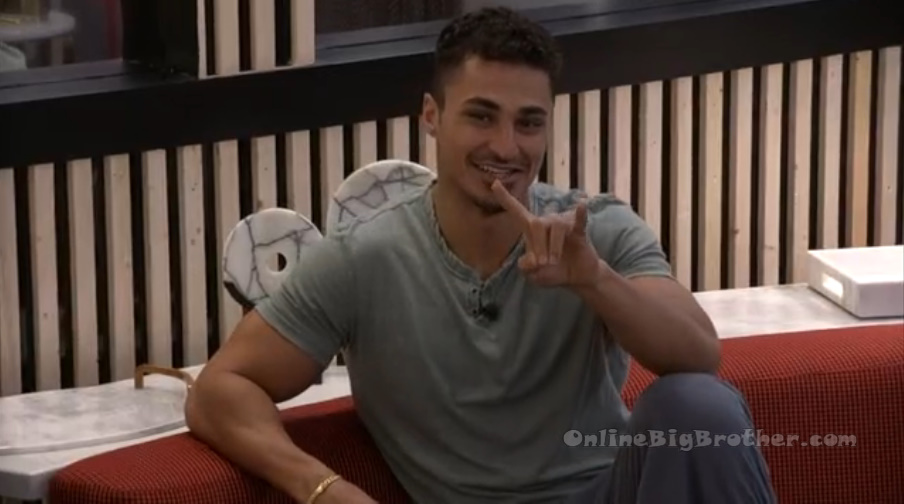 1:16pm HOH room – Taylor, Monte and Joe.
Monte – I was just telling him about the conversation I had with Nicole. Joe – it all has to do with her (Taylor) anyway. Taylor – debrief me. Monte – She really didn't want to go up on the block and said that she thought you had more backing. We went through the votes and she was really comfortable with at least 6 votes. I said if not you and Taylor ..then who? She brought up Brittany. And I told her that I did not want to put up Michael and Brittany .. I could not let Michael potentially go home on my watch. Taylor – we will talk later but I am ready to go savage beast mode in my speech. Joe – are you going to hint that you're staying in your plea for votes speech? Taylor – Oh I'm going to blow that sh*t up in the moment. You thought I was wrapped around your finger. I heard you should have won an Oscar. Monte – oh SH*T! Joe – oh yeah!! Taylor – you knew what you were doing when you sat next to me. I hope you treat me better outside the house than how you treated me in here because all I wanted to be was your friend. Joe – that will be a juicy live eviction. Monte – that will be good for tv! Taylor – I am hoping I am the second speech. Daniel will be livid. Nicole will be livid .. and then we go into the HOH battle.
1:30pm Backyard – Terrance, Nicole and Daniel.
Nicole – its sad the power that they have. Daniel – if it doesn't change this week. Its done! The season is over! Nicole – yeah, 100%. Terrance – say what now?! Daniel – if it doesn't change this week, the season is over.. they steam roll it. They win it. Those two big dudes win the game. None of them are taking any of us to the final two. Nicole – and they're using Michael as a shield to win competitions. Daniel – because he's a bada$$. Nicole – Michael/Brittany, Turner/Jasmine are not going to go against the grain. That's four people they have on their side 24/7. Daniel – I don't see Jasmine on their side.
1:45pm Bathroom – Daniel and Terrance.
Terrance – I think she is just over reacting. Daniel – she is definitely paranoid and last night I told her you got to stop! Terrance – she has to stop! Daniel – in here (in her mind). Terrance – Trust me I know how that sh*t feels. Daniel – yeah yeah I know. Terrance – I've been there ..but she's got to chill out. Daniel – just between me and you, will you 100% vote for her to stay? Terrance – yeah, yeah. I am not going to do what she did. Daniel – its just scary because if Taylor stays .. they will just steam roll the whole house and it is so easy for them to just pick us off.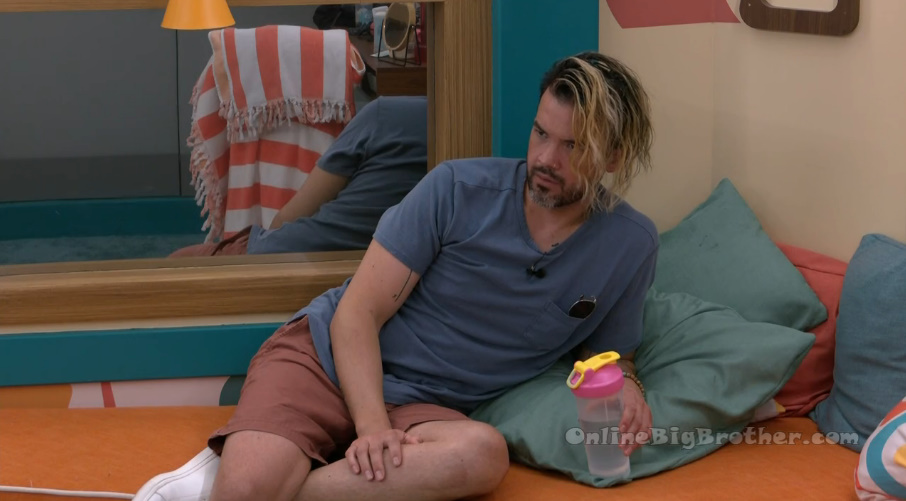 2:37pm HOH room – Nicole and Kyle.
Nicole – I feel its just scary.. the idea of going on the block. Kyle – yeah. it sucks either way. I mean Monte seemed to make it pretty clear that he had a backdoor option. That it was you and Taylor. I think he told Daniel first. I think it makes sense. That's what the plan is moving forward. were you aware of it coming when he made the speech? Were you on board? Nicole – well yeah, I mean I was on board from before he made nominations. Kyle – I think everyone knew. Big Brother switches the feeds. Kyle – I honestly don't want to stir up anything because Monte made it clear there is a backdoor plan. Taylor is the backdoor target which everyone could assume. At the end of the day I want to be on Monte's good side and I don't see any benefits of not using the veto. Other than people would be just like what the hell are you doing? Nicole – I don't want you to have a target on your back. I am only one person, I can only protect you for the foreseeable future. Kyle – how do you feel about Alyssa? Nicole – she is just super sensitive. She can't hold water. Even Turner told me things that she told him and Turner and I don't even talk game. Kyle – I know. That's where I am a little nervous. Nicole – asking you not to use the veto is where I wanted my conversation in a direction I wanted to go but I feel like with you I just want you to know that I have your back. You can trust me. I will always be transparent with you. I've never lied to you. And I think in order for you to go far in this game you need to have people that you can rely on. Kyle – for sure. Nicole – I feel like as if we go back in time and look at PO's Pack .. I have your best interest at heart. Big Brother switches the feeds.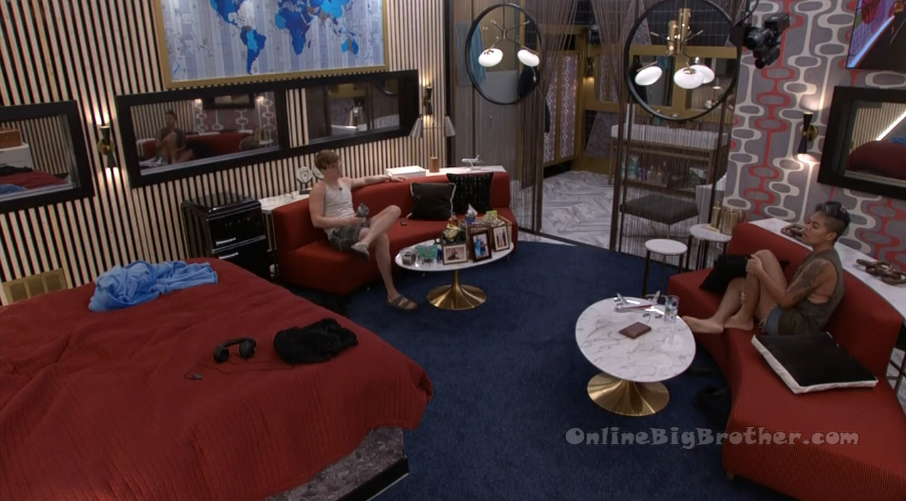 3:04pm Living Room – Daniel and Jasmine.
Jasmine – You know what I was scared after .. I was scared that people thought I was in it. I was not in it. Daniel – I didn't think you were. Jasmine – I did not .. I was hurt! Daniel – even if you were I wouldn't care. In the current state besides my vote.. that Ameerah knew about .. there are six other people that lied straight to my face and those people are currently in power. I feel like they're trying to flip… Like Taylor has been up in that room more than I have and I was HOH! I respect the fight but like is it on the up and up? Jasmine – that's what I am about to find out.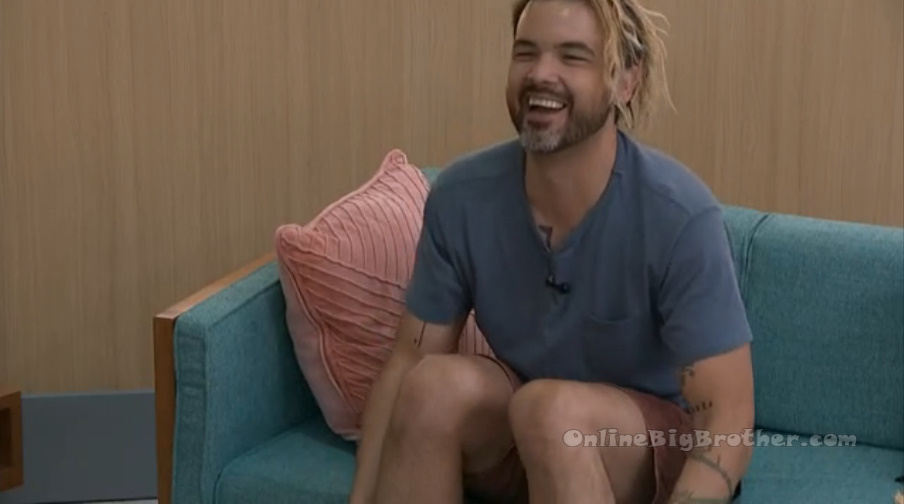 3:10pm – 3:24pm Bedroom – Daniel and Alyssa.
Alyssa – I just wanted to touch base because we were the ones blindsided last week. If you were ever so kind to use the veto I would really appreciate it. I don't expect it to use it but i really appreciate if you would. But I know you using that puts your closest ally in danger. But she is someone that I trust and the only person that stuck with me, Indy, Jasmine. I want her in this game and I want you in this game. I don't want any more blindsides or secrets. If you were to use it I will do everything in my power .. you have my word on my family that she is staying from my power. Daniel – thank you. I obviously want to use it. The other six lied to my face. What that vote told me was that I could trust you, Indy, Jasmine and Nicole. Me with the sympathy vote so that is 5 of us. Its so obvious to me that Joe and Monte are going to steam roll this house. If we don't make a change this week .. we are all losing. We have to resist whatever they're doing to shut that sh*t down. If we don't make a change this week we are f**Ked! Alyssa – You know where I'm at. Daniel – thank you so much, we have to do this. Alyssa – absolutely. Daniel leaves the bedroom. Alyssa looks at the camera – I am voting out Taylor 100%! That just changed my point of view.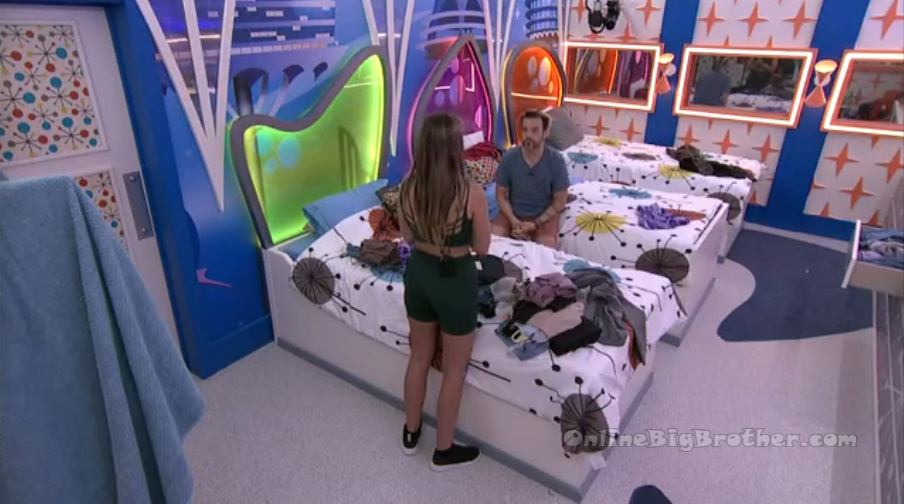 3:27pm – 3:45pm Backyard picnic lunch.. Turner and Jasmine (havenots) are annoyed because some of the food was their left over HOH food that they were saving till they were no longer havenots.