Quick Big Brother Spoilers
Head of Household: Monte
Nominees: Indy and Alyssa
POV Players: Alyssa, Indy, Monte, Terrance, Joe, Kyle and Daniel (Michael is the host)
POV Winner: Daniel & Kyle
Veto Ceremony:
Havenots: Turner & Jasmine
Lock your ranks in before midnight
Festie Besties:
Turner & Jasmine
Joe & Monte & Terrance
Daniel & Kyle
Brittany & Michael
Alyssa & Indy
Nicole & Taylor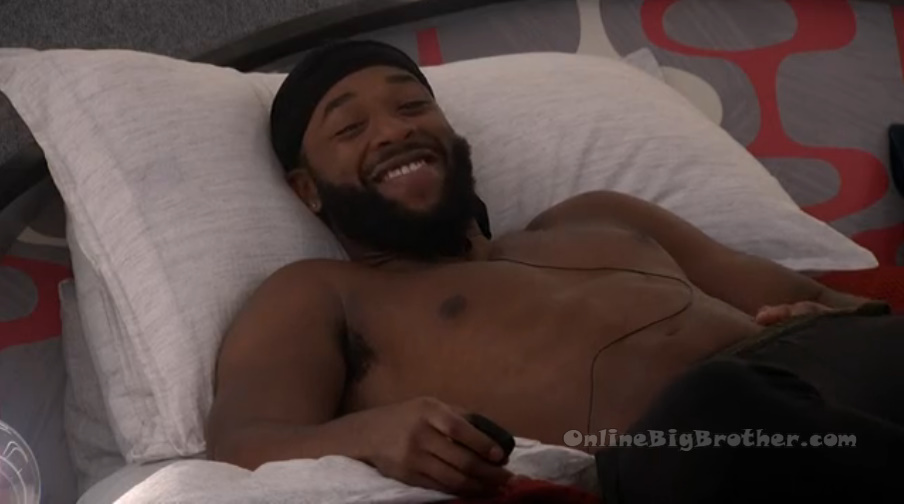 9pm HOH room. Monte, Michael, Taylor and Joe.
Taylor – She's (Nicole) dropped a hint to Terrance too. Monte – really?! Were you talking to Terrance on the hammock? Taylor – yeah. Monte – what did she say .. I mean what did he (Terrance) say? Taylor – he said that she is not really feeling like going up and like she is nervous after Ameerah and all that stuff and that is as much as he knows. He is trying to get me to blow up PO's pack some more and really pin that on Nicole so that house will flip against Nicole and want to get her out. Monte – LOOK AT TERRANCE WORK!! Joe – did Terrance ask you how you found out? Taylor – I just said look I overheard it. I didn't give him too many details. Joe – yeah, yeah. I love Terrance but he is only against them because they betrayed him. Its not like he was left alone and we can.. Monte – with the whole Nicole thing. I am hoping she comes up to me because when she does this is perfect ammunition for sharing with Alyssa and Indy. Joe – saying that she (Nicole) tried to leave you guys up. Monte – because at that point its obvious that she is trying to risk their game for her game and that just creates a whole other wedge and hurricane on that side of the house. Taylor – and once she goes up I'll just let her POOCH herself! Monte – just POOCHING herself. Joe – she literally POOCHED herself! And she pooched herself just sitting with you. She literally yelled at you the day before and then sat with you like that's my shield. Monte – that's karma! Joe – she is literally wild for that.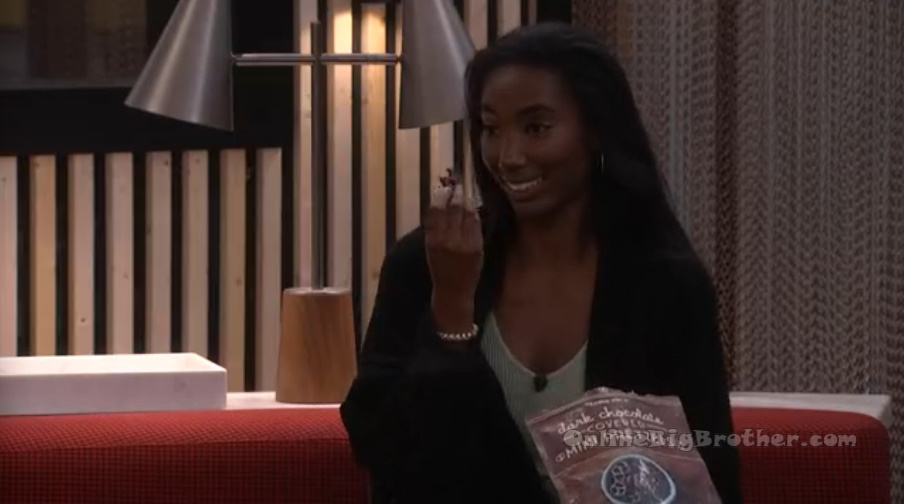 9:15pm Bedroom – Joe and Terrance.
Terrance – I'm covert. So Nicole and them think that the votes are shifting or some sh*t like that. She is paranoid, I'll say that. She feeling like she is about to get popped off. Joe – Mmmmm.. really?! Terrance – I am just letting you know. Why would she feel like that? Terrance – I don't F**King know. Joe – I mean she was pissed that you were here. Terrance – maybe you would understand it .. she said last week before I left whatever happened in that back room .. with Indy and Alyssa. Whatever that conversation was when Monte was back there it exposed something and they said something in front of Indy. I don't know all the details of it so I don't know f**k about it. Joe – I don't know the details either. Terrance – when she went out of the room she said she can't F**King trust anyone. Joe have they tried to get you on their side? Terrance – yeah I am not f**king with that. Next week you and I need to gun for the HOH! Joe – you save my a$$, I'll save yours.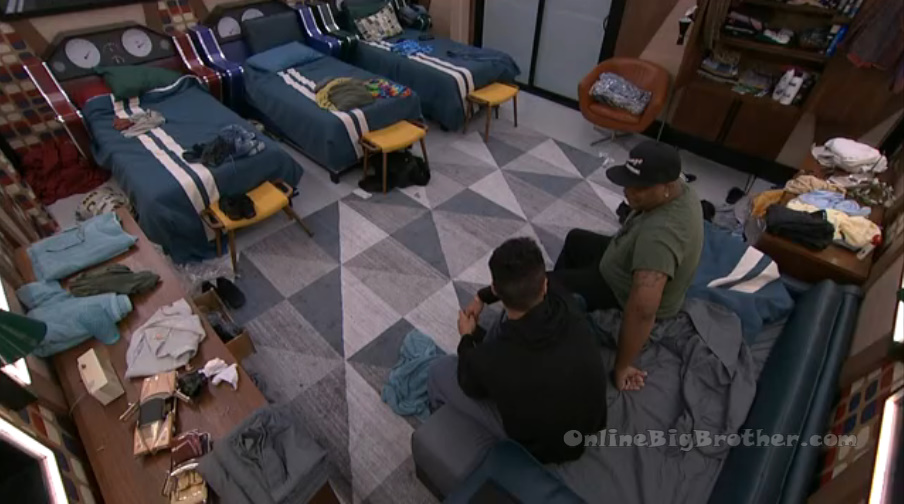 9:20pm Outside the HOH room – Nicole and Brittany.
Nicole – if I were to go home .. okay fine! But if I don't go home would you be okay with me picking you and Michael as my Festie Bestie going forward? Brittany – ummm.. yeah, I am curious your reasoning picking us over anyone else. Nicole – I feel like I am closest with Michael other than Terrance and I feel like we could be a force going forward because we're strong competitors. I got second in the HOH comp. And I think that with Michael and I we would be able to keep the three of us safe. And you guys are your own thing but I would just like to go as far as I can in this game and I think I could do that with the two of you. Brittany – yeah that makes a lot of sense. I don't have any problem with that. Have you been able to talk to Michael. And for me I always think power in numbers. And I also want to talk to you about the vote with Ameerah and how that all happened. Brittany – if it helps you I did not know until like 15 minutes before. I found out that she (Ameerah) had been throwing my name around. And I found out that she was in PO's Pack so it seemed like she wasn't exclusive with the Girls Girls. Nicole – At this point I feel like I have to just trust Monte .. and trust the process. Big Brother switches the feeds.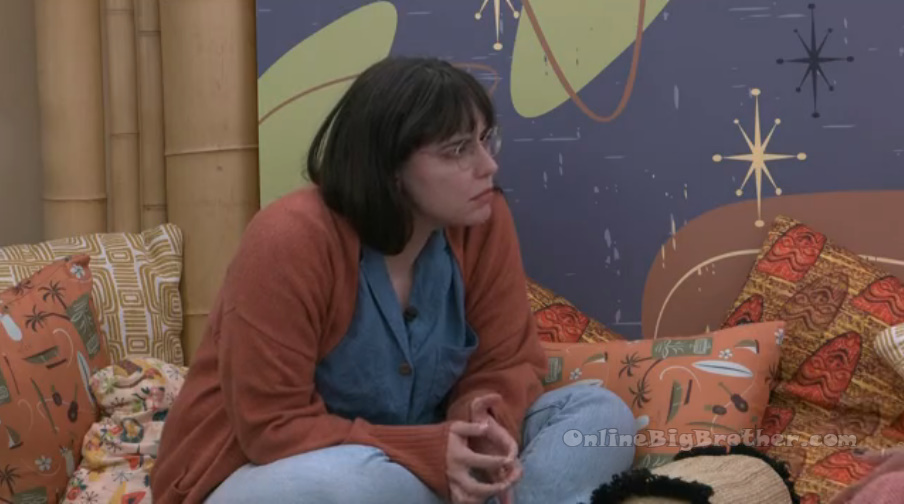 10pm Backyard. Terrance and Kyle talking about life and not getting married too early before you're able to experience life.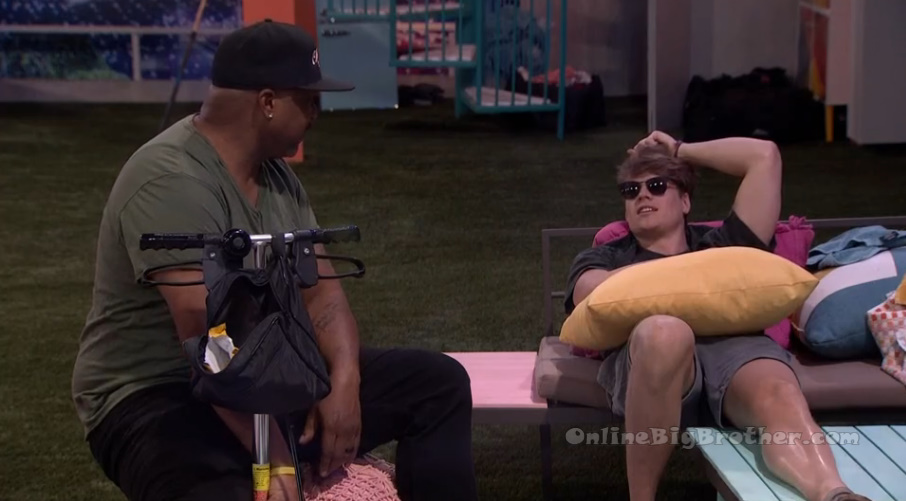 10:20pm Kitchen – Nicole and Michael.
Nicole – you know what is funny, I should always trust my first instinct. Its like the conversation Brittany and I just had .. I don't know, I don't know .. I am such an idiot! I think I am more disappointed in myself that I didn't see it. Michael – I think a lot of people are feeling that way.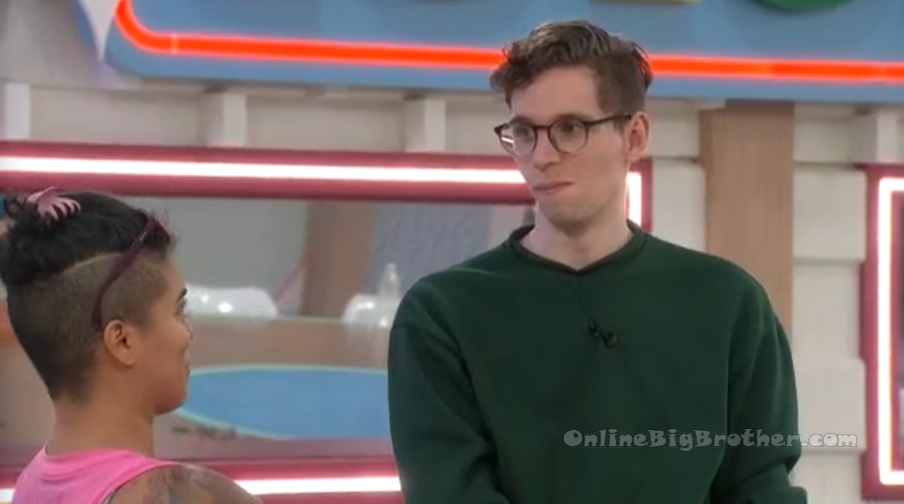 10:37pm – 10:50pm Backyard – Jasmine, Daniel, Turner and Indy.
Turner – I just want to tell everyone .. Did I tell you guys my real job? Who gives a f**k!? I just don't care to hide it anymore. Who cares?! Jasmine – if you do, I will. Turner – I own a thrift store. Jasmine – I own a personal nail business. Daniel – sick. Turner – yeah who cares. Daniel – why would you hide it. Turner – because I know for a fact not this case but pervious casts .. like oh you own a store.. you must be a trillionaire dude! No, 90% of what I make is bills .. not what I make. Daniel – anyone can say anything .. it would not affect how I play the game. Turner – it would on other seasons. Indy – I talk about my non-profit all the time. Jasmine says hers is called Press on Honey. Turner says his is call The Rug Shack. Terrance joins them and they tell him.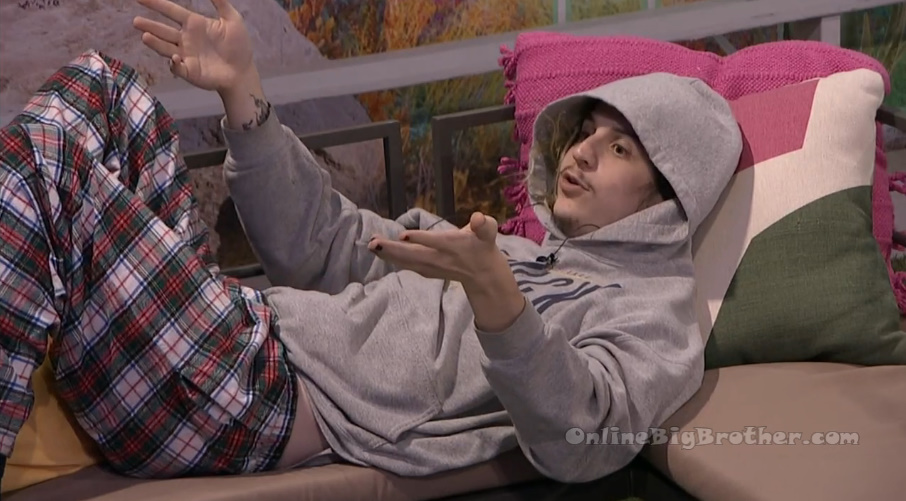 11pm – 12am Joe, Michael, Taylor, MOnte, Kyle and Brittany are still playing the game.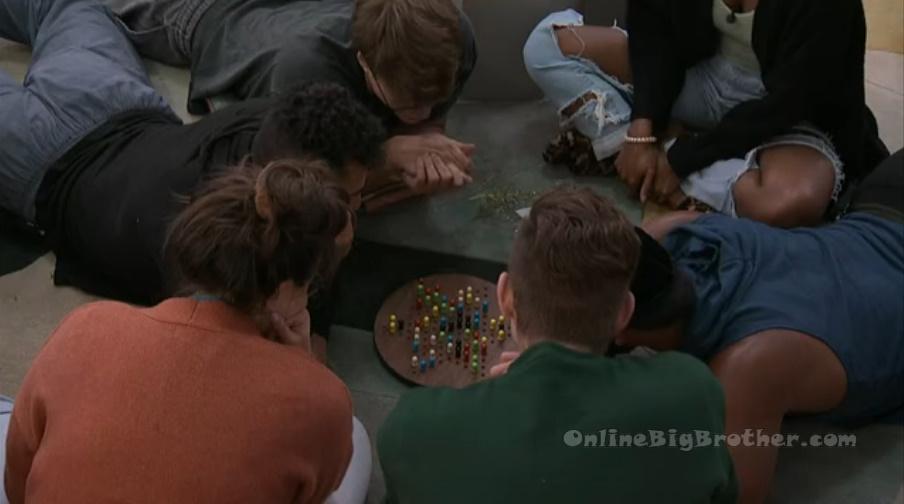 12am Backyard – Alyssa, Turner, Terrance, Jasmine, Indy, Nicole
Jasmine and Turner both realize they were alternates for last years cast but then got on this year. Turner – the two year cast process sucked a$$!