| | | | |
| --- | --- | --- | --- |
| POV: | Faysal | Next POV: | July 7th |
| POV Used | NO | POV Ceremony | July 1st |
| HOH: | Tyler | Next HOH: | July 5th |
| Noms: | Sam, Steve | Have Nots | Brett, Kaitlyn, Scottie, Winston |
8pm The big brother live feeds return after being blocked for the house guests to have a 4th of July party.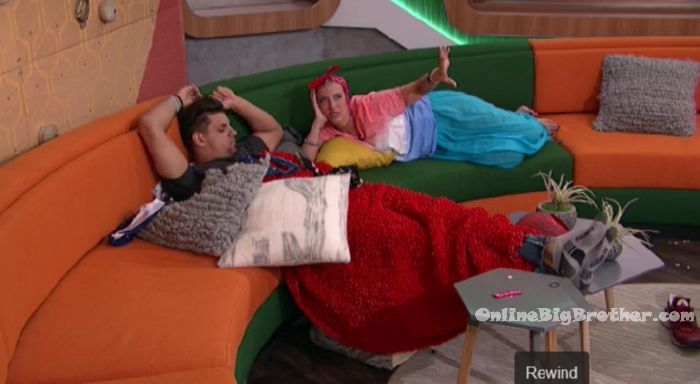 Living room – Faysal and Rockstar. Rockstar – it definitely was a game affecting punishment like they said. Its better for our game to do Steve because he also comes with Scottie. But like it just sucks.. its a stupid.. Faysal – The way I look at it .. is if anyone was thinking about keeping Sam on our side for long term… I understand long term but for the short term its better to keep Steve because we need to keep the numbers. So if someone wants to spice it up and keep Sam it might just screw one of us and make one of us go home next week. Whereas if we keep Steve and Scottie .. we could worry about that way later. Rockstar – Tyler should made a big move not only that a smart move. I think they're all working together but I don't think they're all that committed to each other. Faysal – who? Rockstar – the four. I think we could easily get Rachel. Easy! Winston is super sketchy and gets on my nerves.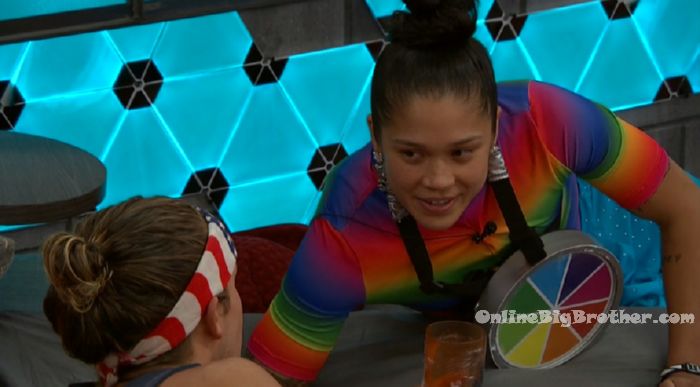 8:20pm HOH room – Tyler and Kaycee. Tyler – I have a plan to tell Kaitlyn that I know who has the power. And that the power is to cancel out a vote and that person gets two votes. I know who has the power. Kaycee – who? Tyler – Sam. She is staying regardless. You can't tell anyone. Kaycee – I'm not going to say sh*t. Can she save herself? Tyler – yes. She can also use it on someone else.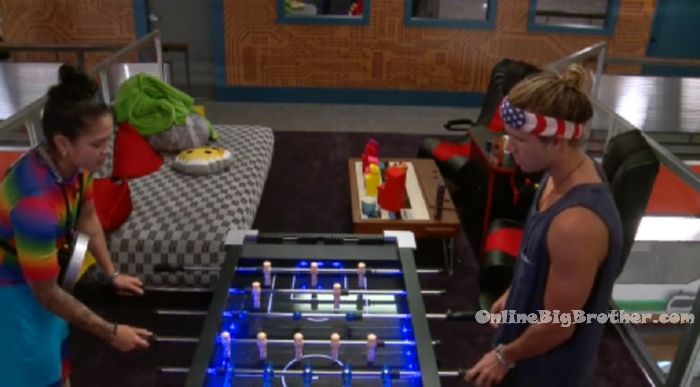 8:25pm Bathroom – Rachel says that Brett makes her nervous. Because he is so smart witted and fast. He is faster than me. He is so on top of my game JC – on top of your game… wait do you have a game? Rachel – Brett makes me nervous and he knows that. He probably makes a lot of girls nervous. Brett – you should clarify why I make them nervous because that's not a good thing to say. Rachel – you make them nervous because you're intimidating. In a good way.

9:40pm – 10pm Bathroom. Winston and Brett. Winston – Rachel is hell bent on keeping Sam now. Because quote – JC said that Haleigh is definitely voting for whatever JC votes. WHO THE DIED AND MADE JC KING?! And Rachel gave me a little attitude and said we all need to come to a consensus. I said we would talk later.. I am going to need you help up there to convince them. Winston – Did you catch when JC said "her". That's for "her" to tell. So its a girl, I think its Rockstar. I am scared now! I need her out.. she sis scary.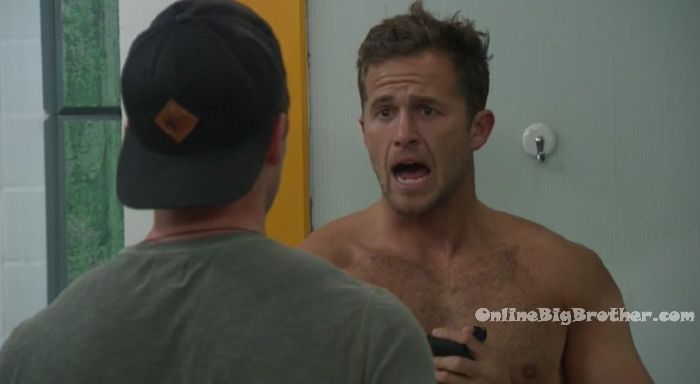 10pm Lounge room – Haleigh & JC are talking. JC – I have thought a lot about it and I am voting to keep Sam. Tyler joins them. JC – Lets say hypothetically .. Swaggy wins HOH. Do you think he is going to come for you or me? Because we kept Sam, rather than Winston or Angela that actually wants him out? He is not stupid for a move like that. Tyler asks what the first part of the conversation was? Haliegh – I want to keep Steve and he (JC) wants to keep Sam. JC – but if you guys both tell me to keep Steve, then I am going to vote for Steve because I am going to be loyal to you guys. Haleigh – I am voting to keep Steve because I know where ever Steve goes, Scottie goes too. I have been talking to Scottie and he talks with Steve and I know he is not with them. And I really think he could be a number for us if we needed him. I don't know where Sam lies. JC – that's the thing we know for a fact that Sam doesn't lie anywhere but we know for a fact that Steve is with those people. You realize what people you are messing with, you're messing with Steve, Scottie and Scottie is one hell of a competitor. Haleigh – yeah and why wouldn't you want them on your side. JC – Fezzie and Swaggy.. those four crazy a$$ people on my side? They're going to save between them. We're going to be like the little pawns. Do you want to be a pawn in this game? Haleigh – I don't think we're pawns. JC – when they were talking up there about the veto and they wouldn't let us in the room.. don't be naive because then I am just going to walk out and vote however the f**k I want. Haleigh – don't act like that. Well Tyler was there, so what do you think? Tyler – no one wanted anyone in because it was a meeting with just the veto players. JC – who would be better for our game? Tyler – I honestly think either. I have a good hold on either. Neither of them have said anything about you. That's why I am not super worried about it. JC – no matter who stays, next week none of us are going home. Tyler agrees. JC – we can move forward in this game. We just have to be smart about what we do. If we keep Steve, we won't be able to control him. Sam is could sit here right now and we can use her even as a pawn.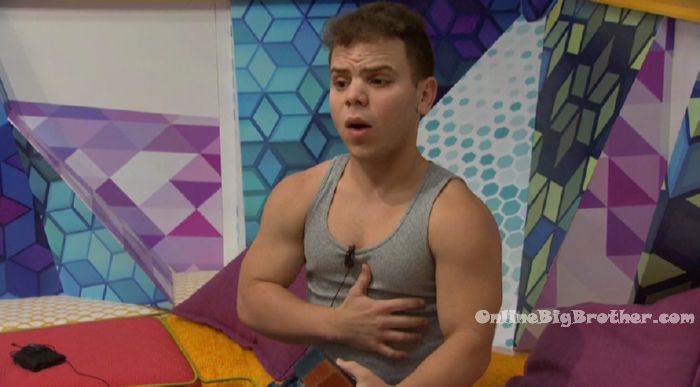 Swaggy and Scottie doing catwalks out side the HOH room. Rachel & Kaitlyn join them and start doing catwalks too.
10:23pm HOH bathroom. Tyler and Angela. Tyler – he (JC) is down there trying really f**king hard. Angela – JC said that he is going to vote however you and Haleigh vote. Tyler – he is not. He was down there preaching to Haleigh why she needs to vote for Sam to stay. She was throwing back at him why she needs Steve to stay. And I was like either way I think all three of them are good. I was trying to tell JC to shut the f**k up. I literally told him before stop trying to get Haleigh. She is a lost cause and its going to make you a target with that group. She is a trapped in this Swaggy / Fezzie mind bubble and she won't come out of it. She is a lost cause. But he is still pushing, pushing, pushing and its making himself a target. Angela – and she is just going to run back to them and say that. Tyler – he is already a target in Rockstar's eyes. Angela – okay so we vote for Steve to go. Tyler – yes a million percent. Tyler talks to Rachel about his plan to get Kaitlyn to vote for Sam to stay.
10:40pm Steve has a card from big brother. All the house guests gather in the living room to hear what it says. Steve reads the card:
"Dear house guests, Everyone at POP has stars in their eyes for you, even Orwell. (the owl) Happy independence! Enjoy these cookies on us. Your friends at POP!"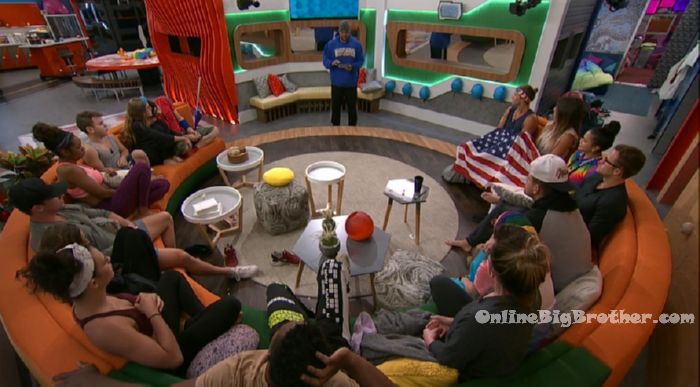 All the house guests cheer and say thank you. Steve goes to get the cookies. Steve – that's it guys I've got nothing else for ya.

10:50pm Storage room. Tyler and JC. Tyler – they said that on purpose trying to get you to do sh*t just like you're doing. Jc – what did I tell them. Tyler – you told her you're voting for Sam pretty much. I have a plan in place for tomorrow, that's why you need to chill. I've got them up in my room right now, they're fine. JC – alright.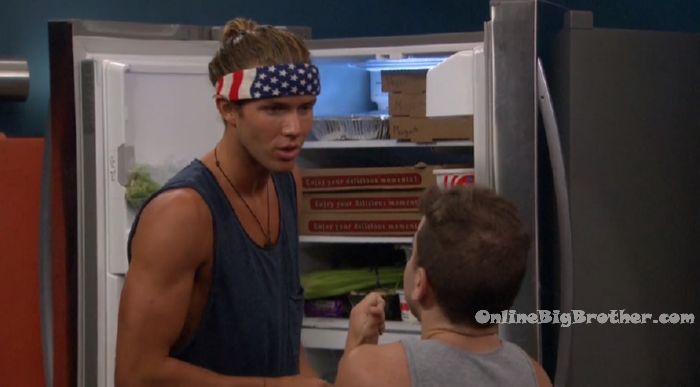 11:10pm Storage room. Tyler and Sam. Tyler – Kaycee feels like she is stranded out in the middle of the ocean. She needs a good reason to vote for you to stay. Sam – she is the only one that is not voting for me? She is but she needs a better reason and she has pull with a couple other people and I think you should tell her (about the power). And she is trustworthy. Sam – I already love. What about Kaitlyn. Tyler – I might just lay it out there like I know who has the power on that side and if you don't vote for Sam to stay its going to f**k you up. Sam – so I need to tell Kaycee. Tyler – you don't have to but I think you should. Sam – ok, I trust you.
Rank the houseguests!
Easiest way to Rank the house guests use link below