POV Holder:
Frank
Next POV:
Aug 11 (Saturday)
POV Used
NO
POV Ceremony
Aug 13 (Monday)
HOH Winner:
Frank
Next HOH:
Aug 16 (Thursday)
Original Nominations:
Wil / Joe
Current Nominations:
Wil / Joe
Have Nots Cod fish/Candy Canes
Joe, Shane, Danielle, Britney
Last Evicted Houseguest
Janelle
3:04pm Cam 3-4 Ashley and Wil Watch with FlashBack FREE TRIAL!
Wil is saying that Jenn has released that Boogie wasn't looking out for her. She feels like she's been just following what boogie has been feeding her. Wil is confident that Jenn is on their side. He deconstructing things Frank has said and twisting them to make it sound like Frank wants him to stay in the house.
Wil and Ashley are starting to think Wil is safe this week. (Crazy)
Wil tells her if she wins HOH she has a lot of options she can put up Boogie and Dan and if POV is used put up danielle.
Ashley: 'that would be sick!!" (Team tits yo )
AShley: "I am definitely putting up boogie and dan.. 100%.. "
(I predict the HOH comp involves a gravity Bong)
Ashley: "one of us needs to win hoh.. we can do some damage to them"
Ashley thinks they have a good chance of winning some type of america's choice comp or a crap shoot . Will agrees thinks if he stays in the game he 2 of them have a good chance of winning the Head of Household.
ashley asks him if he's had a chance to talk to britney. Wil is hoping they can find some time tonight. He points out that Danielle seems to be glued to her right now.
Ashley: "All of a sudden danielle is walking around thinking she's buddy buddy with boogie and dan..she doesn't understand they will stab her in the back .. She thinks she's going to go memphis with him " (Biam ashley just figure it out)
Ashley can see that Dan is trying trying to break away from danielle
Ashley: "What the fuck is up with Danielle.. Oh Ashley be happy.. what the fuck are you talking about"
Wil: "YES.. What is her problem.. is she guilty about something"
Ashley: "Ya… she's feeling bad about something"
Wil shares a story about how she saw him this morning and she gave him a look then moments later Dan walks in and she all, "HEY DAN!!!"
Ashley: "me to.. The same exact story happened but it was with Boogie."
Wil: "what the fuck is up with taht"
Ashley: "She's trying to do what britney does… which is hide behind all these guys "
3:34 bedroom Frank, Boogie and Dan
(Boogie is suffering from a ear infection he's all messed up)
Frank is talking about if he gets a pandora's box and it allows him to take out 2 people he should try and evict Wil and Brintey. Dan:"Is that what it is?" Frank: "No i'm just speculating"
Frank gets called into the Diary Room
3:48pm Cam 1-4 Ashley and Wil
they are chatting about Britney with all the guys.. Ashley continues with the theme that Britney is just a meat magnet with the guys.
Wil about Britney: "What does her husband think… Here's my harlot wife with all these gentleman" Wil and Ashley agree that Britney is really good at being your best friend if you have HOH.
4:03pm Cam 3-4 HOH Frank and Dan
Frank is worried if Britney is in Jury she can really spoil things for them. Frank would like to get her out soon. Dan thinks if you wrong Britney she can be dangerous in the jury if you, if she gets going on the negative train she will get a lot of people to follow her. Frank is really promoting that Britney and Shane need to go soon and he's hoping that there is a pandora's box that will make it happen.
Dan: "what are your thought for this week are you still.."
Frank: 'ya ya ya.. I've seen ashley and Wil eating lunch it could be a problem"
Dan: "You've spoken any game with Joe"
Frank says not really .
Dan is thinking they might want to get another HOH out of Shane . Dan doesn't think shane is the type of guy to strike.. (Nice)
Dan: 'So where are we at with Wil gone"
Frank: "once wil is gone jenn will gravitate back to mike and I "
4:25pm cam 1-2
Britney asks Shane what seasons of Big BRother has he watched. Shane watched most of 11 and 13 up until Dominic left. (in case you haven't noticed Shane was really pissed when Dom left in BB13)
They chat a bit about casting and players that make it far int eh game taht have no idea what the game is about. Britney tells them that both hayden and Lan were not fans of the show. Hayden was cast to be on survivor but was pulled and placed on Big Brother.
Britney tells them she went to open casting call, so did Lane.
4:41pm backyard Cam 1-4 Shane, danielle and Britney
Britney is saying that Ian will never put up Boogie and Frank, She is worried about how good of a spot he is in.
Shane: "do you think he knows we have a final 4 "
Britney: "no !"
Shane:" Lets keep it that way"
britney and Shane talking about how wil threw their entire team under the bus and they both want him to go.
Britney: 'He's so freakin wishy washy.. "
Shane: "FAKE.. I just hope joe doesn't make a deal with Frank and Boogie.. he told me he's going after ashley and jenn…"
Britney: "If the veto gets played I can see him backdooring a big player just to make a statement.. I can see that happening" (This is all assuming Joe wins a HOH comp)
Britney what do we do if we win HOH next week .. do we stay true?
Shane wants to be true to the silent 6 he wants to pur up Ashley and Joe but if the POV is played they will make a move.
Ian joins them.. starts beating the floaters drum.. He wants floaters out nothing but competitors allowed in the game. He's going to target Joe then Jenn followed by Ashley until it's just the hard core players standing. Britney of course calls him out on all this tells him why do they want to get the weakest players out so they guaranteed the lose in future comps? She adds that it's in their best interest to stack the house with players that are easy to beat.
They start chatting about getting out floaters, Ian mentions how Matt wasted the Diamond power of veto on Cathy.. (Even though Ian is hammering away trying to get all these floaters out )
Shane asks IAn if he wants to win the HOH this week. Ian says if it's Shane, Boogie and him he'll stay in it but if it's Shane, Britney and himself he'll toss it to them. Ian doesn't need the HOH he boasts that there has been many great players who never won the HOH (dan and ian had a discussion about this last night) Ian: "I don't giove a fuck.. the pictures a letter will do next to nothing for me.. "
5:05pm T!T$ Cut them some slack they've been playing a heavy duty game lately and need time to rest.. Big Moves
5:51 Cam 1-2 Backyard Shane, Ashley, Brit and Jenn.. Planes flying up ahead
Britney: "Their hating.. patrolling.. trying to catch me ridin dirty"
5:54pm Cam 1-2 Backyard
Shane: "Did you see Ian come out of the Shower today… he shaved his chest and he had a mound of pubs hanging over the towel. .. I felt bad for him .. He didn't even know it.. I didn't want to embarrass him. " ( I think shane is meaning that Ian shaved his chest yet left his pubes unshaven.. resulting in Ian having the Bushy Look)
Wil:"Oh my god the hawks are circling us..
Shane: "JODI"s dead.."
Wil: "JODI"s dead.."
Shane: "She's dead"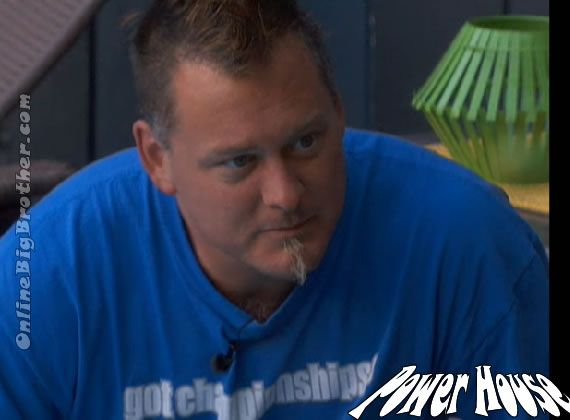 6:05pm Cam 1-2 Joe, Shane and Brintey
Britney saying to Joe if they vote to keep him they want protection next week if he wins HOH. Joe: 'If I Win HOH i'll put up Ashley.. I need you to all know I still need a home.. I don't want to go into next week as a loner.. cause you all know what happens to a loner.. "
Ian joins them..ASks them what is up. Joe explains that he's campaigning for votes.
Shane: "Nothing I wouldn't do if I was on the block" Britney and Shane leave and Joe starts in on ian for Votes…
6:11pm Cam 3-4 Arcade room Wil and Ashley
Wil brings up that someone is saying that Wil and AShley are targeting Shane.
Wil is feeling that it's hopeless.. he points out that last week everyone wanted Joe out but now it's all changed"
Ashley: 'They are targeting our team and making up a big fat lie"
Wil: 'Yup"
Ashley: "everyone is so fake in this house"
Wil: "They are.. It's like they are all so bored they are trying to drum up stuff.. the bottom line is joe is a liar, a fake and going around spreading lies and tall tails"
Wil really hates to see Ashley going solo next week with them all targeting her.
Ashley: 'They are all so super tight and really best friends now.. good job Frank.. you know how many times we saved him.. "
Ashley says the thing that pisses her off is the blatant lies.. They voted Janelle out last week because of it and now they are finding out that someone else is spreading them. (The lie is that Wil and Ashley tried to get Shane backdoored)
6:29pm Cam 1-2 Hammock Ian and Britney
Ian is confirming with her that he wants Dan to win this next HOH. But will not drop out until he knows either one of him, Dan or britney are going to win it. Ian hasn't been too impressed with Boogie's game this year he says that all Boogie has done is hide behind Frank.
Britney: 'Wats the algorithm.. Janelle was evicted.. Feeds cuts.. (What does Brit do for a living.. comsci? )
Britney really wants to win HOH for all the perks, Letter from home, treats, bed etc… . Ian doesn't care about all that. He's not even thinking about his family or home right now. britney tells him they are more than halfway done the season. Ian wishes it would go on longer.
Britney tells him she's worried about him and Frank. Ian tells her not to worry but next week is not a good week for him to turn on Frank and Boogie it's too early.
They start going over date and times of Big Brother 14 events..
Share it YO!!
Tweet