Quick Big Brother Spoilers
Head of Household: Monte
Nominees: Indy and Alyssa
POV Players:
POV Winner:
Veto Ceremony:
Havenots: Turner & Jasmine
Lock your ranks in before midnight
Festie Besties:
Turner & Jasmine
Joe & Monte & Terrance
Daniel & Kyle
Brittany & Michael
Alyssa & Indy
Nicole & Taylor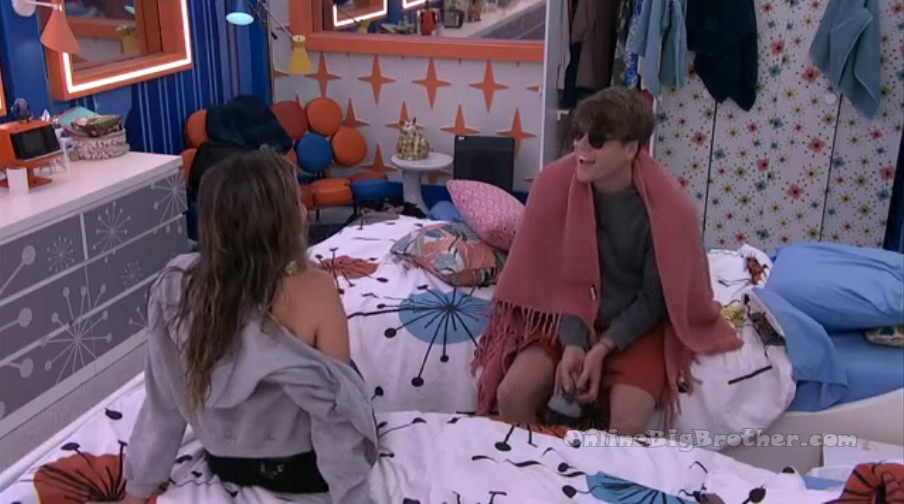 10:26pm Bedroom – Kyle and Alyssa.
Kyle – how are you feeling. Alyssa – Okay. I haven't really talked to Monte so I should talk to him tonight. Kyle – I still feel super bad and I'm sorry. Alyssa – well thank you. Kyle – I feel bad, I really do. Alyssa – you feel bad because of why? Kyle – just the whole Ameerah thing. Alyssa – because you didn't tell me or do you feel bad because.. Kyle – both. She is your best friend and I knew what that would do to you and that sucks. I feel bad because our trust isn't going to be as strong. Alyssa – yeah. I appreciate that and like I was like we're not on the same page and I feel like I look like an idiot. It happened and its fine. I still think you're like semi cool. Kyle – I am really not. I am kind of a loser outside of this game. Alyssa – no, but it was just kind of a lot. And Turner told Jasmine I knew this was going to happen which is not true. He never told me that. Kyle – are you being real?! They keep telling me these things and I am like there is no chance that, that is real. Alyssa – Tuner told me in front of Indy and Brittany. Kyle – there is no way that can happen. Alyssa – I appreciate you telling me that. I just hope that we win the veto. Do you think if Monte won he would take us off? Kyle – I think so. Alyssa – do you really think so though? kyle – he can't be like the point is to backdoor someone and then not use the veto? And everyone would be like what that hell. That's the same with Joseph and Terrance. Alyssa – I do appreciate you telling me that. I understand. I was just like okay well you don't see me like I see you .. like a partner. Kyle – yeah and I f**king screwed it over and all of America hates me. Alyssa – thanks for saying that because it makes me feel like you actually care about me. Kyle – this game is just so hard, it sucks like and it sucks like why did I have to come and like catch feelings for someone like why can't it just be easy? No one else is having this issue. No one else likes anyone else in here. You have no idea how much self-control it takes to just sit here and not like.. Alyssa – like what? Kyle – so I was coming in here.. do you want to read the bible? Alyssa – like what Kyle? Kyle – stop, I'm a weak, weak man. Alyssa – that makes two of us. Kyle hugs her. Kyle – you're awesome, okay I have to go..
Bedroom – Indy and Michael.
Michael – I just want to thank you for yesterday like I didn't know you were mad at me. You were very gracious towards me. Like I know you were upset and I didn't realize that you were mad at me. So I apologize if I didn't seem.. Indy – I was not really mad. I was mad at her, at Brittany.
10:55pm The house guests are hanging out in the HOH room chatting..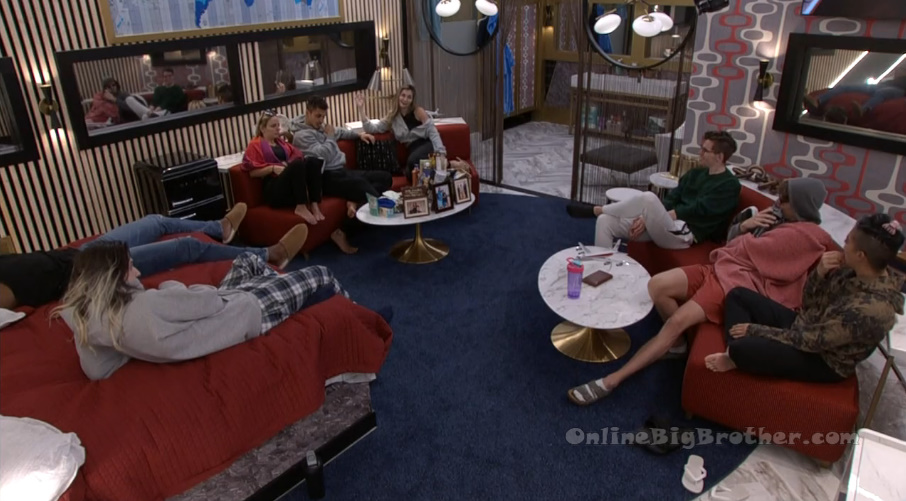 11:25pm – 12am HOH room – Kyle, Taylor, Michael, JOe, Monte and Turner.
Monte – I guess all we're missing is Brittany. Kyle – she's slumped though. Michael – Brittany had a rough day. Kyle – oh really? Why? Monte – I think just missing home. Michael – I think so. And Brittany is pretty nervous. Joe – why? Michael – because we're the only pair and she thinks the girls are mad at her. Taylor – and they are. Michael – and if they win they're going to put us up and they're going to vote her out. Joe – really? I think you and me are (targets) especially now after putting up Alyssa and Indy. Monte – I am pretty sure I've dug our own grave. Monte – did you talk to Indy at all today? Michael – yes, a little bit. Taylor – about her joining us. Joe – I am just thinking of waiting till the veto comes in so that we can be like we plan on going in that direction where they stay up. Michael – yeah that might be a conversation to be had after the veto. Monte tells them about his talk with Indy today and how he reassured her that it would be very unlikely that she would go home this week.
Joe – I would normally feel so f**king bad for Nicole or Alyssa but its hard for me to feel bad for Nicole when she's done this exact situation to Taylor so it is literally like I can't sit here and then feel bad for you because you're getting a taste of your own medicine. Kyle the thing that pissed me off the most was when for example Nicole and you … she was using that relationship and going back and feeding us the information and making fun of that she was using that relationship. Then the next day she blows up on your saying she was trying to be you friend and then tears you down and I am like no that's not how this works.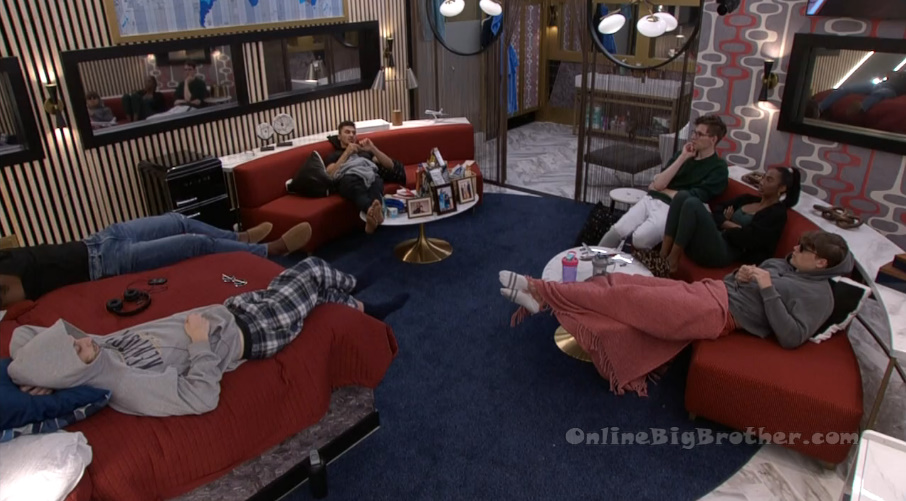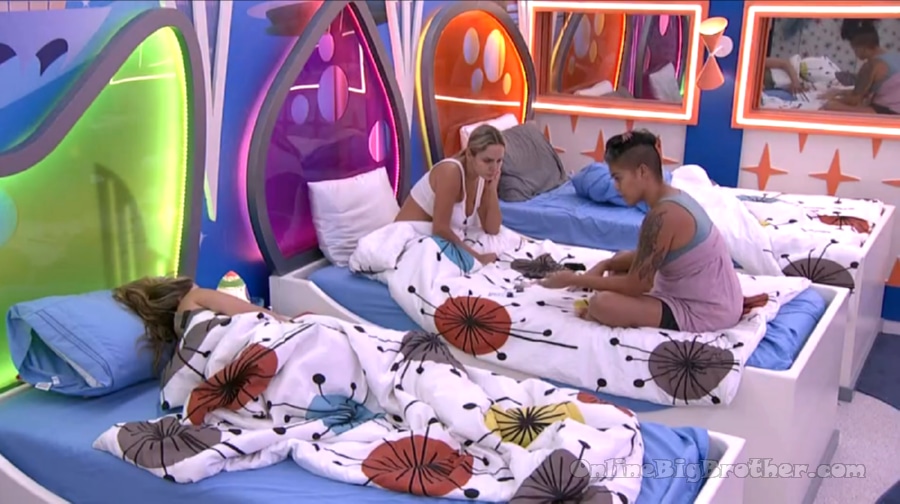 12:20 am Indy and Alyssa with Nicole talking crazy
Nicole says she and Ameerah didn't have an alliance
Nicole – neither one of you is going home. I feel you are not going anywhere.
Nicole runs through scenarios "The plan is for one of us to win HOH we get HOH we need to have a clear understanding of who we want as a target so whether that means Brittany or Turner"
nicole – obviously we want to keep Michael and Jasmine safe.
Nicole – I'm pretty sure we want to keep Michael and Jasmine safe
Nicole – you will want to put up Monte, Terrance, and Joe. The main reason why if you and Indy are HOH you pick them as your nominees going into the veto is you now have 5 people playing in the veto to make a decision for you. With that being said they might pick on the person in a team to fill in for the 6
Nicole – If I stay which festie bestie should I join?
Alyssa – Michael and Brittany.. Michael will win veto
Indy – and Brittany is going home
Alyssa "We just have to make it through this week then three of us get to fight for HOH"
Alyssa – do you think it'll be a double eviction on Thursday they usually do one before Jury
Nicole – no double eviction after Festie beastie
Nicole thinks there will be a battle back.
Nicole – the person going home will compete against Ameerah and POOCH.. they come back.. target immediately nobody was going to want her in here.

12:49 am sharing "ghost" stories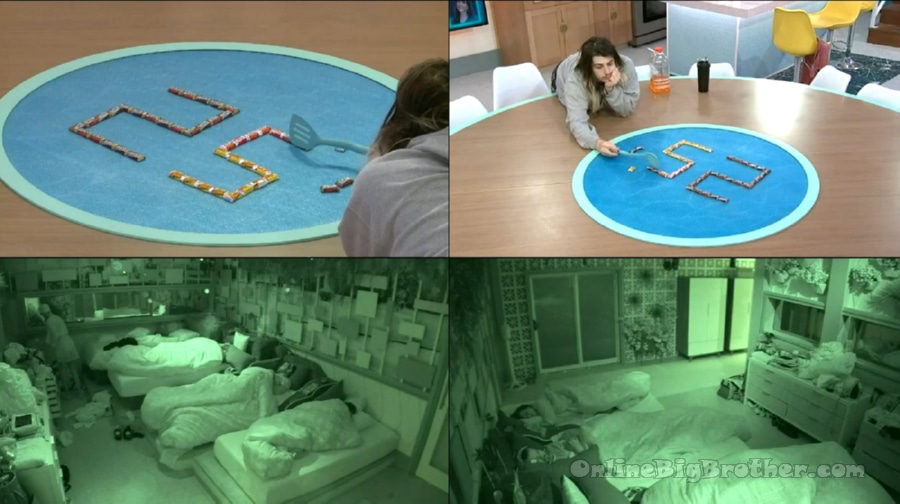 1:35 am everyone has gone to bed other than Turner.
1:44 am Turner called into the Diary room.
1:51 am everyone sleeping
6:03 am Zzzzzzz