Quick Big Brother Spoilers
Head of Household: Monte
Nominees: Indy and Alyssa
POV Players: Alyssa, Indy, Monte, Terrance, Joe, Kyle and Daniel (Michael is the host)
POV Winner:
Veto Ceremony:
Havenots: Turner & Jasmine
Lock your ranks in before midnight
Festie Besties:
Turner & Jasmine
Joe & Monte & Terrance
Daniel & Kyle
Brittany & Michael
Alyssa & Indy
Nicole & Taylor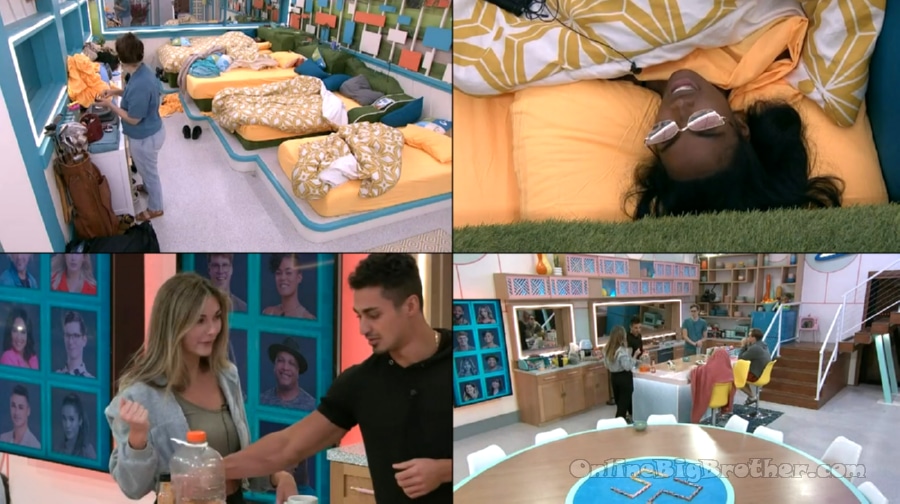 8:00 am houseguests waking up for the day
8:30 am Feeds down for Power of Veto player picks
POV Players: Alyssa, Indy, Monte, Terrance, Joe, Kyle and Daniel

9:00 am Jasmine and Alyssa
(Jasmine is generally complaining about Turner not doing things for her because her foot is still healing)
Jasmine – I've never meant a person not inconsiderate it's more doesn't think of anybody else. The hospitality part
Jasmine – Somebody that leaves their coffee mugs .. doesn't care about the next person. I don't know I don't understand.. like they never ask Hey can I grab your batteries? How about you wake me up when you are in there. They never ask HEY want me to fill up your floaty? never trying to be helpful.
Jasmine – if it was ME in that position with someone that couldn't move around it would be completely different. It irritates me.
Jasmine – I understand that the person is also on slop.. it's pilling up the inconsiderate.. it blows my mind. they won't make it in Mississippi.. Anything like Yeah you want me to help with your floaty. Hey, do you want me to bring your scooter down.. Try to maybe wake me up.. What else? maybe


Indy and Nicole join them. indy says Alyssa doesn't ask the guys to do anything Indy is the opposite the guys should do everything.
Jasmine – joe will do everything I ask.
Indy – you know why? Then we end up doing everything for them
Nicole – that is why I don't do dishes anymore and that is why I don't want Michael to do the dishes anymore. They take advantage of him
Jasmine – I can't believe I've lost 3 pounds..
she goes on about her new diet schedule once off slop. She lists off all the things she'll make.
Jasmine – usually when I don't eat I gain weight
9:00 am Daniel hitting the cardio …
9:15 am Britt and Kyle
Britt – how are you doing?
Kyle – it's starting to hit me that this is going to be a long freaking summer.. I kinda just want to be alone right now.
Britt – It's like you miss home and want to be here at the same time. I keep a lot of it in. The game never turns off.
Kyle – It's tough
Kyle says he's going to take a break from the game today.
They talk about how hard it is to find a place to be alone in the house.
9:22 am Monte and Turner briefly.
Turner is feeling sick from the slop.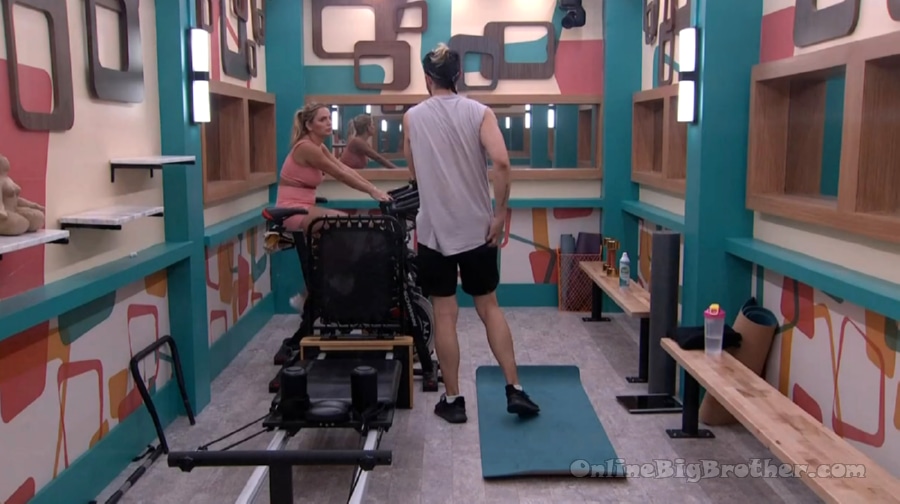 9:26 am Indy and Daniel
Indy – if you win it you will save us?
Daniel – yeah.. I already told Monte. me and Kyle we have no reason not to.
Indy – thanks just making sure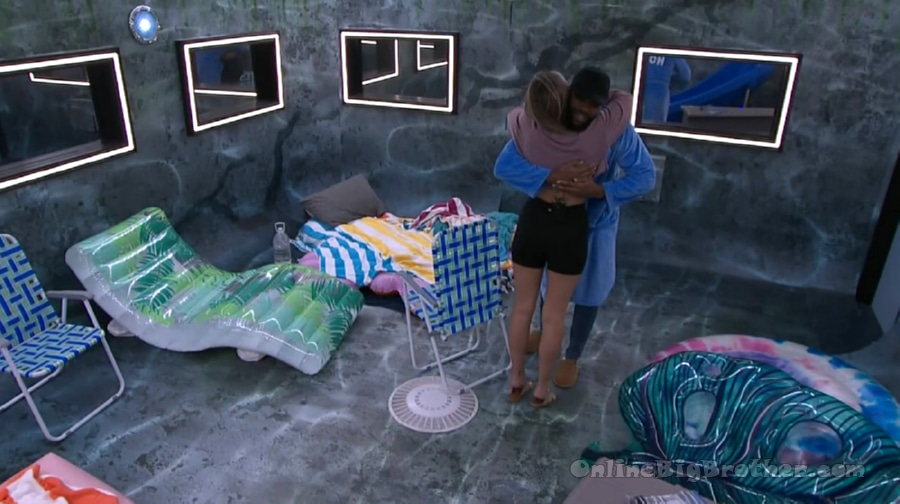 9:31 am Monte and Alyssa
Alyssa starts with a hug
Monte – I wanted to get out there publically that you guys are not my target I don't want you to stay on the block. It really good that Kyle and Daniel won because I know they are going to use it
Alyss a- that will make me so happy.. Indy and me are going our hardest
Alyss a- your target is Taylor
Monte – Yeah.. 100%
Alyssa Nicole is a bit concerning too but we can cross that bridge when we get there.
Monte – why is she concerning
Alyssa – for the past couple days she's been coming back saying 'my purpose in this game is be with the girls to fight for the girls to be a strong female leader'
Alyss a- then I see her go and talk to everybody else and I kinda think she's playing both sides of the house. That is a bit concerning to me.
Monte – okay..
Alyssa – I've seen her look me in the eyes and lie to me.
Alyssa says she wants to work with Monte going forward.
Monte – at this point I don't have any reason to want Nicole out. I've never heard anyone say she has me as a target. I will let you know if anything changes I don't want anyone to be blindsided. I know how that felt for everyone last week it wasn't cool.
Monte – I was the last one to get the information.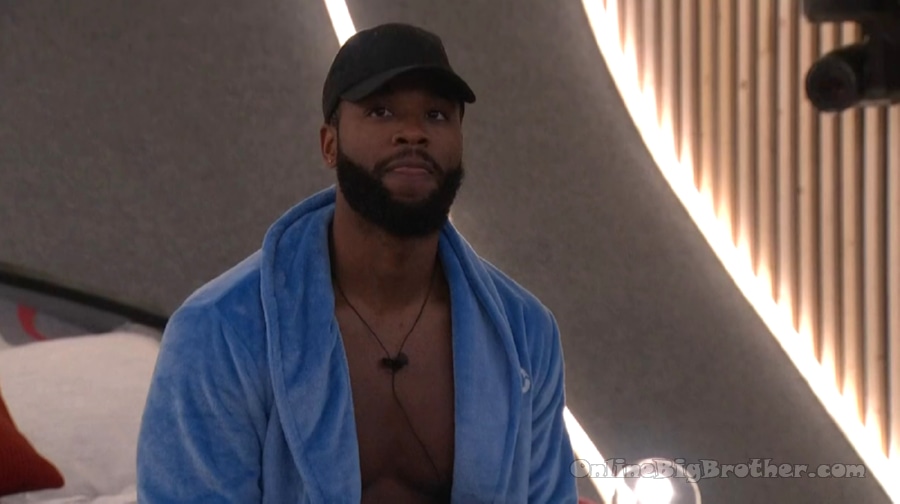 9:37 am Monte and Turner
Monte tells Turner about his conversation with Alyssa, 'the weird part is she's telling me "Yo I've been noticing that Nicole is this that and the third and I'm not sure I can trust her'
Monte – Indy said the same thing when she walked in yesterday saying she can't trust Nicole.
Monte – I know the both of them have been talking to Nicole. I think they are trying to pull out of me if Nicole is my target.
Turner says he's been throwing up from the slop "I was spitting up a bunch of stuff.. there was blood in it.. every time I eat it I want to throw up"
Monte – the girls are trying to pull information out of me. If Alyssa Believes it truly is Nicolle. I don't think she would be as bold to stay on the block .. that would be foolish.
Monte – I'm not sure what this information will do to help her. I don't know if she's just playing the social game were to make sure she's good and on the right side of the vote. I just told her if my target chances I'll let you know and I probably would just so I can get a unanimous vote.
Kyle joins them.
Monte – we were talking about your lover
Kyle – Nicole?
They laugh
Monte goes over his conversation with Alyssa.
Monte says he's trying to Decode what Alyssa's plan is.
They see Indy coming up. Monte and Kyle curse.
Monte – I tell you these women are like hall monitors
Indy joins them..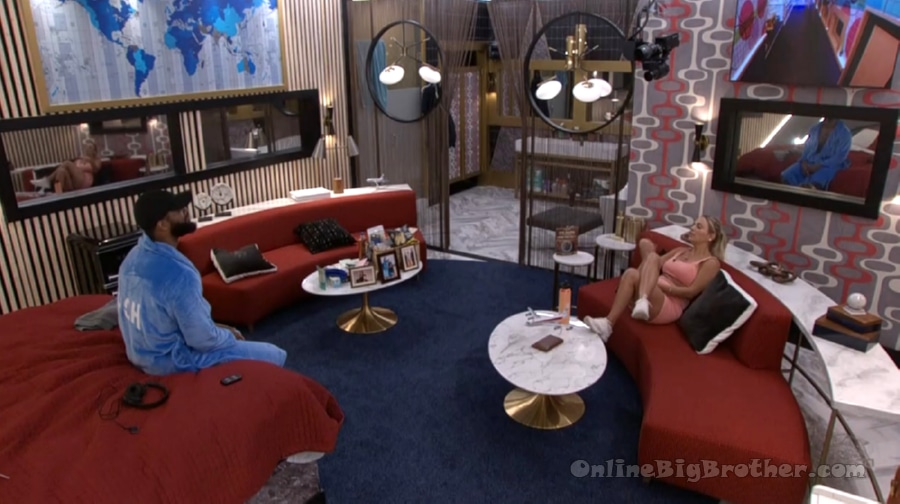 9:47 am Indy and Monte
Indy tells him she doesn't trust Nicole. Indy says last night Nicole was trying to make plans for the next 3 weeks.
indy has some information for him from what went down during Jasmine's HOH.
Indy – swear you don't say this to anyone.. swear to god..
Indy – Daniel came and said why don't we use this opportunity to put one of the BIG guys and try to put Joe. I was like I'm not doing that. I won't vote who was next to him.
Monte – who was in the room?
Indy – Me, Jasmine, Nicole, Daniel, Ameerah, Michael and Alyssa I guess..
monte- If Nicole and Taylor are up, who would you rather leave? Right now Taylor has always been my target because I know if she wins HOH she's made it very clear but what's worse is when you don't see somebody coming. What I'm gathering from all of this is you believe that Nicole is somebody who is a snake in the grass that might come up and bite my ass
Indy – yeah, Not yours directly but maybe Joe. She's getting so close to Terrance.
Indy would vote Taylor out and maybe Nicole the following week.
Indy says for him to take Nicole out this week "Wouldn't look good" like Turner HOH "Didn't look good" (LOL)
Monte – I want a unanimous vote this week. If anything changes you are going to know about it I don't want you to be blindsided

Monte – This information is helpful for next week for sure. I'll keep that in mind. I can't do anything next week I won't be the HOH. So you telling me to keep this between you but what Can i do next week with this information?
Monte- keep it in my mind and pray to god she doesn't come after me and Joe. Hopefully, Joe or Terrance wins HOH.
Indy – Talk to Joe about it. I just don't want him making a big deal about it.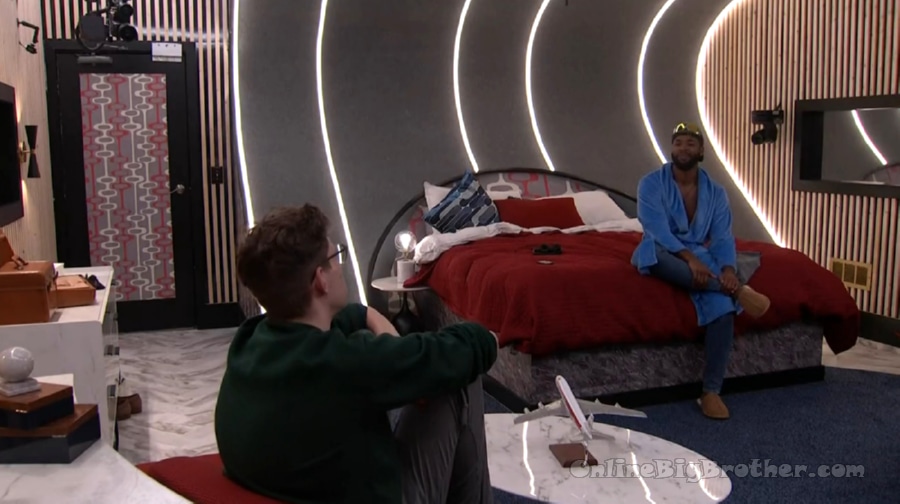 10:27 am Monte and Michael
Monte filling Michael in on his Alyssa and Indy conversations. Highlighting that they both are saying they don't trust Nicole. He includes the part where Indy said Daniel had mentioned putting Joe up during jasmine's HOH.
Michael says Daniel was involved in a lot of conversations but doesn't remember Daniel saying that. That doesn't mean he didn't.
Monte says Indy names Michael as a person in the room when he said it.
Michael – Daniel is the person on the other side that I would most like to see out. it would be easy to say YEAH he did it but I don't remember. In all honesty, he was more like ok I'm here if that's what you guys want to do. I don't remember him being a driving force.
Nicole joins them.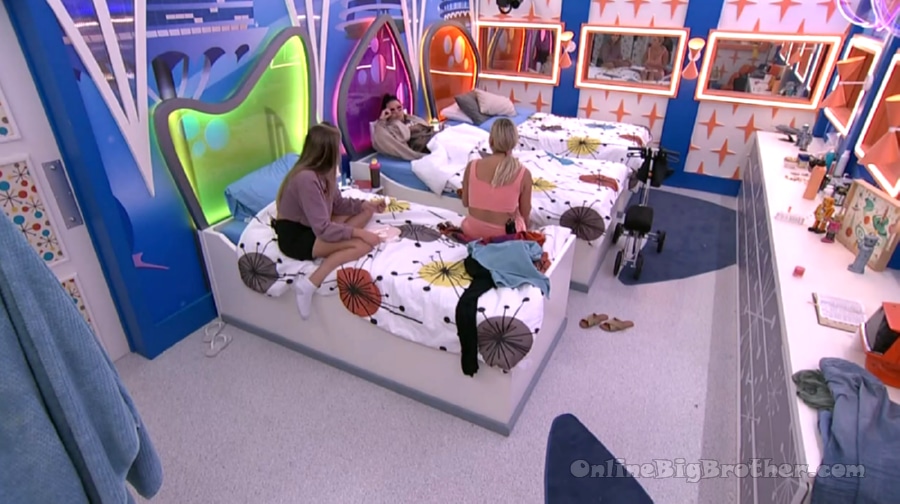 10:41 am Indy, Jasmine and Alyssa
Jasmine tells them Joe is goign to use the veto if he wins it.
She regrets saying anything about her business to people because joe is saying that Ameerah told him jasmine is loaded.
jasmine starts talking about her press on nail business.
Jasmine – if people had such a big deal about it then maybe they should get off their ass and actually do something for themselves. if they are so concerned about other people doing the same. Also, you don't make money in the first four years of your business (HUH?)
Alyssa – running a business is hard
Jasmine – I don't even have any employees that's how small I am.. what the f** yo
Alyssa is pacing around "I'm so anxious"
(Jasmine really talked up her business, in the beginning, talking about big-named celebrity endorsements)

10:43 am Daniel and Joe
Joe is going over a conversation he had with Monte. Of course, it's filled with bullshit
Says Monte put the girls up because he wants to backdoor Taylor.
Joe – if you look at this veto setup however goes up is coming down.
joe – he was like I don't want to people up I don't trust
Joe says Monte and Taylor have been waiting for whoever wins HOH first to take the other out. "Whoever gets HOH first your a$$ goes on the block and vice versa"
Monte wants Taylor to go. "Since day one this girl gotta go"
Daniel – I'm fully on board.
Joe – he's very close to Nicole
Daniel – yeah she's a hommie
Joe – the whole house LOVES her too (LOL)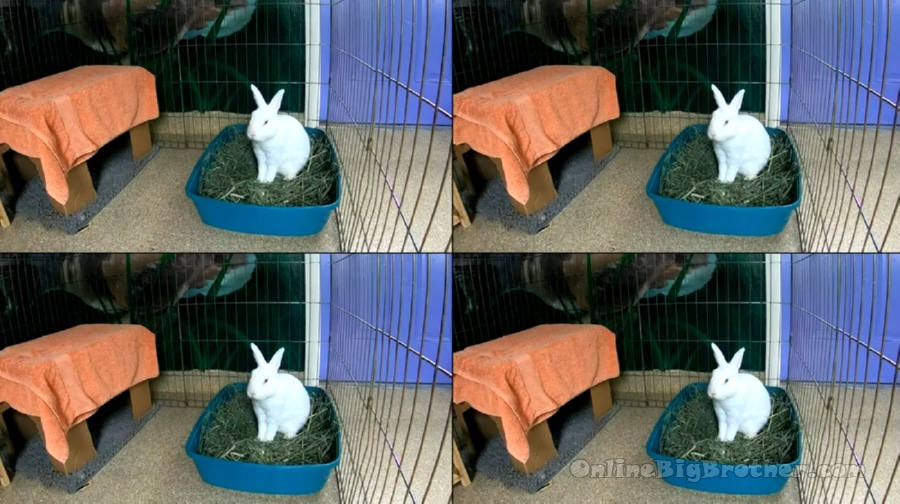 11:10 am Feeds go down for Veto competition
1:10pm The feeds are still blocked..