POV Holder:
Corey
POV Competition
July 16th
POV Used
YES
POV Ceremony
July 18th
HOH
Paulie
Next HOH
July 21st
Roadkill Competition Winner:
Tiffany
Original Nominations:
Tiffany, Natalie, Corey
After POV Nominations:
Tiffany, Natalie, Da'Vonne
Have Nots
James and Natalie
CBS All Access: Live feeds are only $5.99 per month – Try it FREE for 1 WEEK!
Big Brother 18 Alliances Help Guide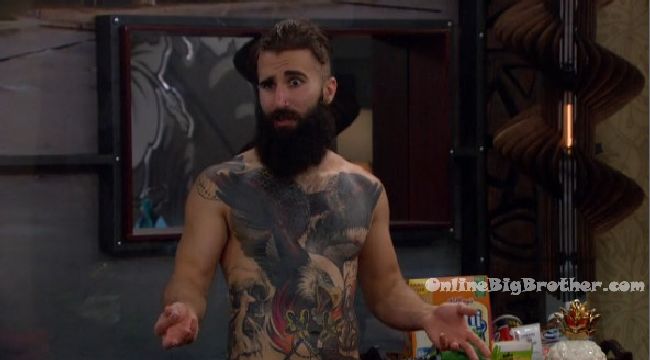 12am HOH room – Paulie, Corey, Nicole and Michelle are talking. Michelle says that Bridgette is rescuing the Gorilla (Tiffany's Stuffed animal). She (Tiffany) was like I'm just going to assume it slipped through the cracks. I didn't hide it. Day did. Nicole says some people are doing these high school pranks. Its the only thing she has. Paulie says she did it to herself. Between our crew and their crew we have 4 comp wins and they have 4 comp wins .. which means we need to tag them out BRA! Paul, DaVonne and Z join them.

1am Backyard – Frank and Bridgette are talking. Frank says that Tiffany is really goofy. He says that Tiffany was asking him why does no one want to be around me? I said its nothing personal. One they thought last week you were going home and they felt a little awkward around you but the main reason is they're just young caddy immature girls. Now that I'm 32 I see it more. I want to send Zakiyah home next week too. Bridgette says she's horrible. She's been playing it up to the camera all day and I f**king hate it. I want to vomit all over her. Sorry not sorry! I liked her at first and then all of a sudden she came out of her shell. They're getting really cocky. Frank says James is willing to go as long as we have the votes and if we don't have the votes then we vote Tiffany out. Day is still going to come after us. Honestly I just want to flip it. I need the confidence boost after last week. Next week we put Day and Z up next to each other. Got an issue with it, too bad you should have won HOH. I would rather go out in a blaze of glory.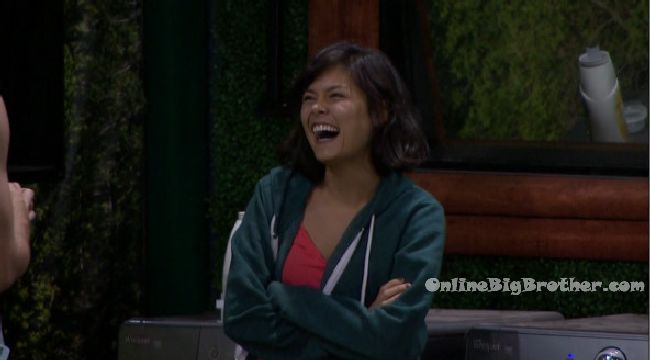 Natalie tells James she is sorry she was mad last night. I was jsut word vomiting everything in my brain. I'm not going to talk like that in front of other people. I feel like other people are just trying to break us a part by telling you that. James says they want us to just be happy. Tiffany joins them.
1:10am James talks to Paulie in the bathroom – Paulie says that DaVonne has lied to me about things. She said that Tiffany offered me a sibling deal and she has never offered me a sibling deal. I know that was a lie. James says Tiffany told me the same thing about Day .. like that when she was trying to pull me in for votes. Day named dropped me .. saying that James doesn't trust you. He's gunning for you. James tells Paulie he isn't coming after him. They end their conversation and Paulie heads up to the HOH room and tells Corey, Nicole, Z about how he was telling James Day said he was coming after him. I was like dude are you coming after me? He was like no, she's just saying that. And I'm like she didn't even say that.. I'm just messing with him.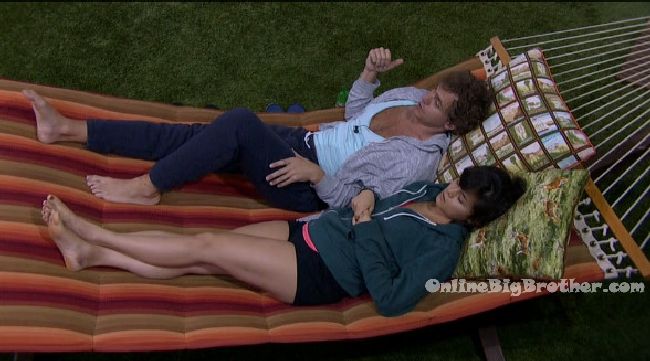 2:35am Backyard – Frank, Paul and Bridgette. Paul tells Frank you need to get to five or else I don't think homeboy will break the tie. Frank says oh I know he will. I'm pretty sure about that. I don't think he will now but I'm going to keep pushing. I'm getting close. I'm going to have Tiff talk to Michelle tomorrow. Paul says alright well let me know. Bridgette says everything happens at 2am on Thursday. Paul says oh I know PISSED. I found out after the fact. I feel guilty because maybe I could have helped her. Bridgette says it was my HOH and I feel bad but Bronte I will get revenge. Paul asks who made it flip? Frank says I'm fairly certain it was Day. It was a big f you from Day. Paul says I have somewhat of a plan if I win HOH. Frank says as long as its not us. Paul says I might need your help. Frank says if its a bomb a$$ plan I'll put my work boots on and go to work! Paul heads inside. Frank talks to Bridgette on the hammock. Frank says I'm interested in what his plan is because he mentioned the two couples a couple weeks ago. We could throw it to Paul or James I think. I had much worse odds in my season so I feel confident. Bridgette says James, Tiff and Paul aren't coming after us. Frank says I give Day props for her lie but I just want it to bite her in the a$$. Bridgette says they were talking about doing a prom next Tuesday .. I was like b***h you won't be here, better do it tonight! Bridgette asks what f**king benefit does she (Day) have to anyone right now she can't win sh*t, she's not smart, she's got loose lips! GOODBYE! Tiffany has bigger targets than Paulie, she wants to go after the girls. Frank says I'll take Tiff to final 2 .. I'll win for sure. Bridgette punches Frank.
2:40am London bedroom –
Pual heads into the bedroom and Nicole and Corey crawl in on the floor. The sneak up beside Big Meech's bed. Paul throws something of the bed and Michelle wakes up asking what that was? Nicole and Corey jump up and run out of the room.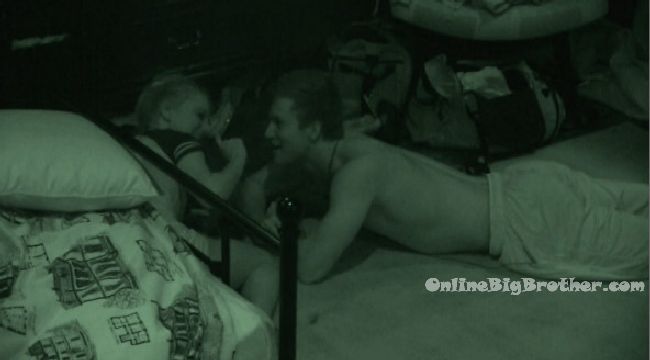 3:20am Nicole then sneaks into the havenot room to scare James. She crawled on the floor and makes some noise. Natalie asks for James. Nicole tells Natalie its just her, she trying to scare James. Nicole goes over to James' bumper car and shakes his arm. James doesn't wake up. Nicole gets up and leaves saying it creeps her out James didn't even wake up.
See what they can't show you on TV – CBS All Access: 1 WEEK FREE Trial!
3:45am Nicole and Corey under the sheets. Nicole says stop… stop.. Corey asks why, what am I doing. Nicole says you know how I am. Corey about what? Nicole says awkward stuff. You're the worst. Corey asks why? I have no idea why. Nicole says god. Corey you're no fun.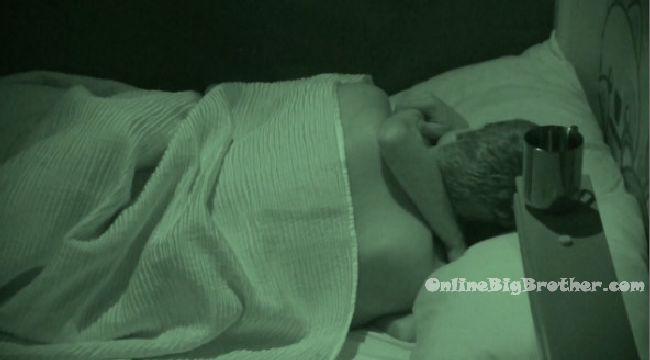 4am
All the house guests are sleeping..
[polldaddy poll=9471428]
[polldaddy poll=9473607]