POV Holder:
Corey
POV Competition
July 16th
POV Used
YES
POV Ceremony
July 18th
HOH
Paulie
Next HOH
July 21st
Roadkill Competition Winner:
Tiffany
Original Nominations:
Tiffany, Natalie, Corey
After POV Nominations:
Tiffany, Natalie, Da'Vonne
Have Nots
James and Natalie
CBS All Access: Live feeds are only $5.99 per month – Try it FREE for 1 WEEK!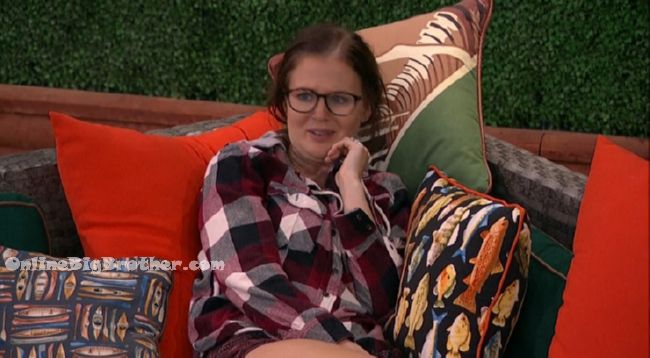 8:12pm Michelle, Da'Vonne, Nicole (Wandering around) and PAul (Corey working out)
Michelle – Nicole did you hear that apparently Tiffany hides in the Bumper cars to talk to the live feeders
Paul – I do it in the safari room
Da'Vonne says she does it in the bedroom
Michelle now saying she needs to start.
Da'Vonne – she looked high and low for the gorilla (Da hide Tiffany's stuffed Gorilla)
Paul saying they need to win Back to back HOH's these next two weeks.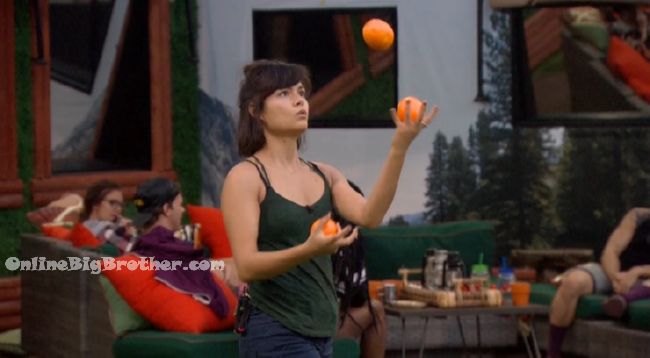 8:25pm Nicole, Paul and Nicole
Nicole feels bad about the gorilla being hidden asks what if that was Tiffany comfort
Michelle doesn't care points out that she only seen Tiffany with it today.
Michelle – ok live feeders Tiffany is going home whether you like it or not
Nicolle – look how big COrey is… wow.. hehheheeh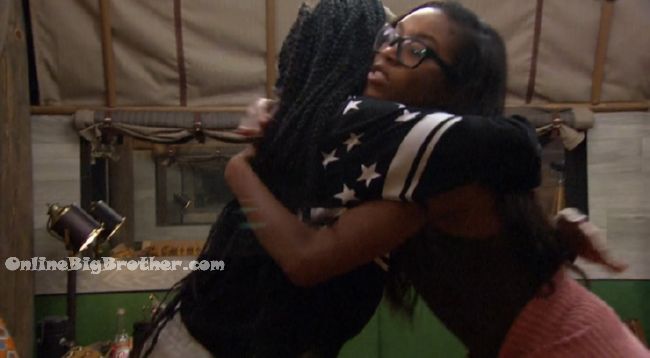 8:25pm Da'Vonne and Zakiyah
Da'Vonne I had a talk with Paulie about the situation of the five and he told me he shot it down no need to worry.
Da – He still trusts me he's still sticking to it being us 5, I did express to him I was insecure about it..
Zakiyah – I'm over it that's good.. I'm glad.. I woke up in a f'ed up mood (DA laughs)
DA'Vonne – I was bad.. I hid Tiffany's Gorilla… She be looking for over an hour
Zakiyah – AHHH that is funny.. – where you put it?
Da'Vonne – In the seats in the corner…
Venting about Frank and Tiffany.
Zakiyah – be cool
"We're good we're good"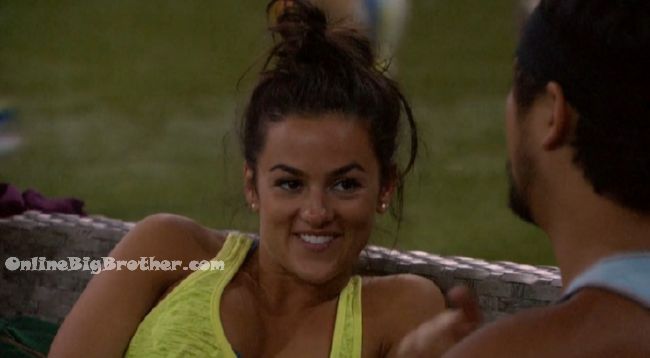 8:41pm Natalie and James
Natalie trying to wink.
Chit chat… Natalie says she's 34 DD. She's thinking of getting them up a size.
James – they're like cantaloupes.. They're really nice.. I don't want to be a creep I try to keep it.. It's hard because they're right there.
James tells her not to get them bigger
Natalie – So I shouldn't get them bigger
James – that's up to you
Natalie – so that's a yes.. If I get it done it'll be in secret because my mom will kill me..
James – are they natural now
Natalie – yes, I'm really blessed (laughs)
Natalie admits her current chest is fake. Then goes back saying no they are real. (ugh)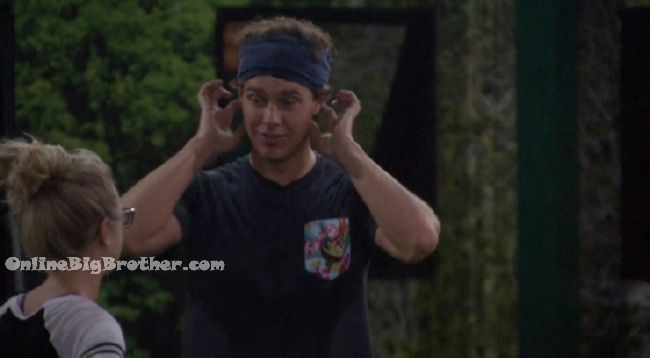 9:01pm Nicole and Frank Working out
Frank – me, Paul, Bridgette for sure.. I'm pretty sure I got James and Michelle to
Nicole – I will do it
Frank – you have to confirm with Michelle so she feels good about it
Frank Paul is 100% onboard..
Frank – she (DA) feels like a wounded animal and she's nervous..
Nicole says if he has the numbers she's in but if he doesn't. She'll let him know if she thinks he's go the numbers after talking to people.
Frank says if he doesn't have the numbers he's out too
Nicole – you won't tell her if she stays I was in on it
Frank – NEVER
Nicole – I'm going to talk to some people.. Michelle.. I'll talk to her
Frank – she wants Tiff out but she'll go with the numbers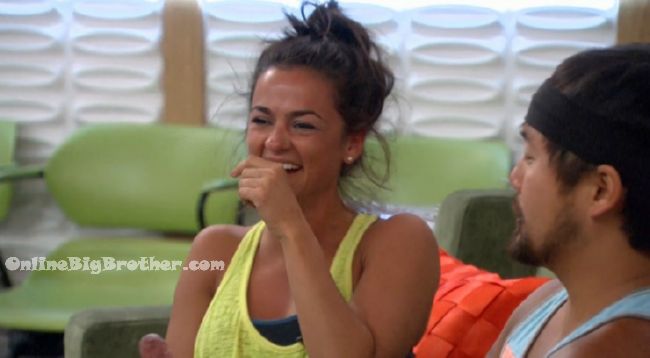 9:11pm James and Natalie
James says Frank is wanting them to work out with him because he's going to talk game.
Da'Vonne has made some frozen popsicles with tea.
James and Natalie enjoy a Popsicle. #BB18 @DawgsBigBrother pic.twitter.com/MKOhgf9o1e

— OnlineBigBrother.com (@bigbspoilers) July 19, 2016
9:32pm HOH Corey and Nicole HOH
Nicole says James talked to her today about Natalie and him distancing but now they are all giggling again..
Frank and Michelle working out..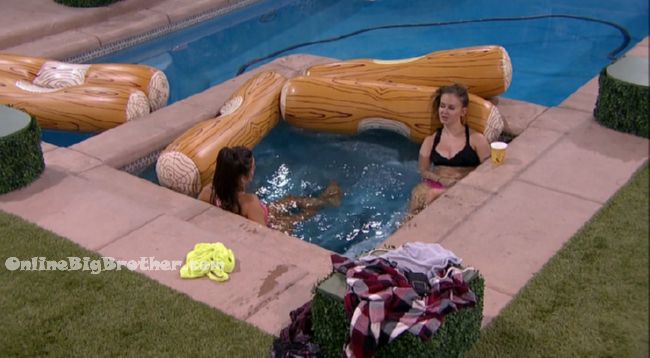 10:01pm Michelle and Natalie chit chatting
in a couple minutes Zakiyah and Da'VOnne joins them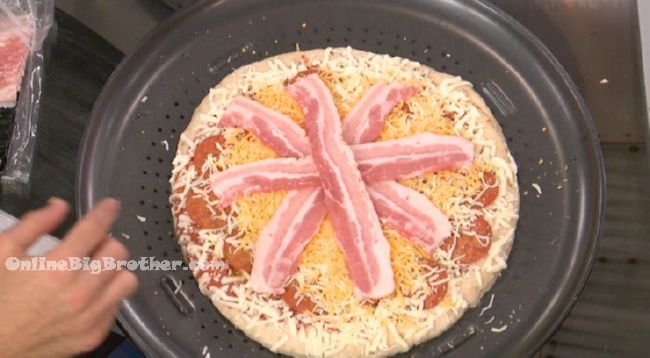 10:04pm Paulie and Paul making a pizza
Paul – friendship meal number 2
Paul "have you ever had poutine"
Paulie "no I've never been queefed on by a Russian prostitute"@DawgsBigBrother pic.twitter.com/9HY6jNs53n

— OnlineBigBrother.com (@bigbspoilers) July 19, 2016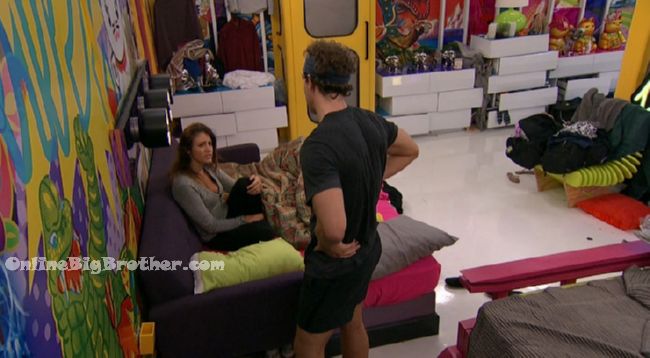 10:09pm Frank and Tiffany
Frank thinks there's a chance to be 7-1, "No Joke"
Frank says the best thing to do is stay positive. Da's been sleeping a lot he's been pointing that out to everybody. Hints that she shouldn't be sleeping.
Tiffany – I'm just exhausted..
Tiffany – just to be honest Frank it makes me feel really awkward I know that apparently no one wants to be around me why would I want to try and be fake.
Frank – I know but…
Tiffany – why does no on want to be around me
Frank – it's not that .. it's not that .. There's a lot of immature catty people in this house.. that's what it come down to for real
Tiffany- if you do this for me Frank I will get everyone in that jury house to vote for you
Frank – We'll get there.
10:26pm Corey and Nicole Pool table
Corey – you act like I didn't like last night when I really did… . after last night why would I not want to cuddle with you
Nicole – I don't know that is why I was confused.
(See what happened last night here.. )
Girls in the hottub
10:55pm Frank, Corey and Paul Pool side
Frank is talking about them going into lock down tomorrow at 6am. 2 Days of Lockdown before live show.. Pissed
10:55pm Michelle and James James saying he talked to Natalie and they smoothed it over. Michelle is glad, 'She seemed a lot happier"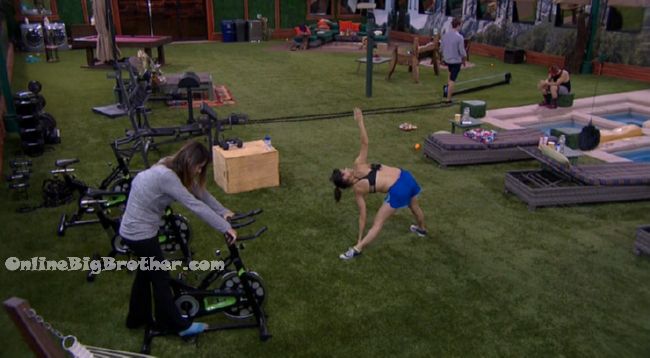 10:56pm Bridgette and Tiffany
Bridgette – I'm going
Tiffany – I can't imagine if she (Michelle) was in my position how she would react. And they all say I'm a crier..
BNrdigette – I dunno
Tiff – you don't think she's act crazily
Bridgette – I don't want to say anything I just hope one day she grows up a little.. thats all you know just hope for the best with these people no matter what the f*** happens like they're still like human beings it sucks they haven't grown up yet and I hope to god one day they do .. you know.. I can't handle it.. sometimes I just escape somehow in my head.. you know."
Bridgette – I think i'm going to stay up all night tonight .. have some time alone from everyone.. Bake
Bridgette – I'm going to bake some cinnamon rolls tonight
Tiff look at you..
Bridgette – get my aggression out with the rolling pin
They decide to make a fort with some smores and pretend they are camping ,.
Tiffany – have you seen my gorilla.. those f***ers too kit..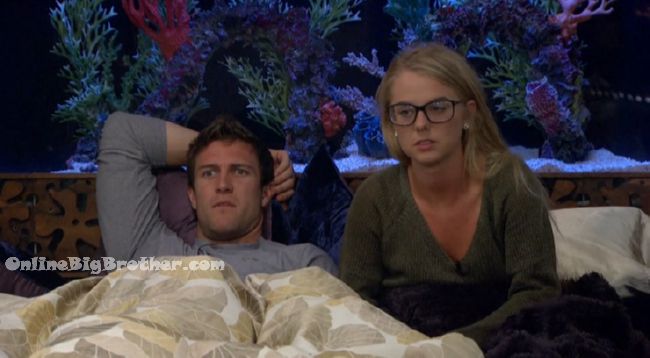 11:08pm HOH Nicole, Corey and Paulie
Nicole says Da told Tiffany about the showamnces and Da teaming up. Corey never remembers having that conversation why would he want Da in their alliance she does nothing for their game.
Paulie wants to Get Tiffany out.
Nicole – she was mad at you guys for not giving that Veto
Corey – she was being shady.. why did she want it anyways
Nicole- she knew she was going up
Paulie says Da'Vonne would have voted against Corey if he was on the block
Corey – she's too shady
Nicole – same
Paulie – I was always on board with that.. PAule even noticed it
Nicole – since Day three I had a gut feeling I can't trust her
Paulie – Frank won't work with Da..
Corey says if he wins HOH he'll put up Da and Bridgette or Natalie any combination, "I might put up Bridgette and Natalie"
They agree Da always puts the target on their backs.
Corey says Michelle is all about not having Da in their group.
Paulie says if Tiffany wasn't so attached to Frank now Da should maybe go home.
Paulie – Even if Da wins she won't make a deal with Frank otherwise everyone will be gunning for her..
Paulie – the fact that Frank is pushing Da'Vonne this week means we should get Tiffany out (HAHAHA wasn't this the reason to get Bronte out and keeping Tiffany so that Frank and Tiffany will never work together and will target each other)
Corey and Nicole say Frank will make a deal with Da'Vonne he'll have to.
Paulie take some credit for "clipping" Natalie and james. Saying the stuff they did worked Jame sand Natalie are not close.
Nicoel says that was temporary they are back together again.
11:14pm James sand Frank
James says he's onboard if Frank has the numbers.
11:39pm HOH COrey, Nicole and PAulie They are worried of Da Stays she'll be dangerous. Nicole says Tiffany did not hear about the showmance alliance by eavesdropping Tiffany found out by Da telling her.
Corey – I don't know why Da got brought into it
Corey says Z and her were so close. PAulie should have gotten Zakiyah closer.
Corey says Da blew them all up.
Michelle and Zakiyah joins them says Bridgette found the Gorilla stuffy..
at around 11:40 Zakiyah, Paulie and Michelle start to b1tch about Bridgette and Tiffany. They all agree Bridgette needs to stop making cookies because they are all gaining weight. Zakiyah says she threw some of the last batch of cookie leftovers away.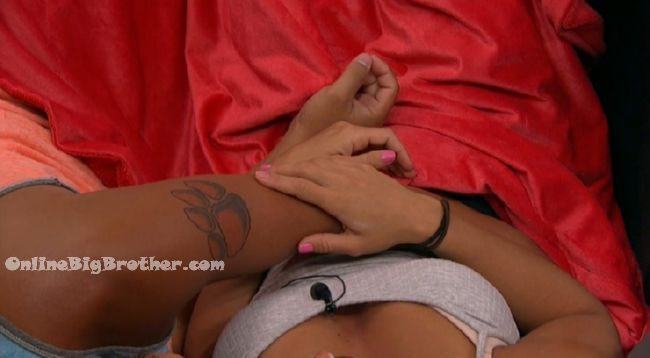 11:53pm back to cuddles..
11:58pm Bridgette is making food chatting with Frank. Tells him Michele was very upset today she got her microphone and got in trouble from production.

[polldaddy poll=9473607]
[polldaddy poll=9471428]