POV Holder:
Corey
POV Competition
July 16th
POV Used
YES
POV Ceremony
July 18th
HOH
Paulie
Next HOH
July 21st
Roadkill Competition Winner:
Tiffany
Original Nominations:
Tiffany, Natalie, Corey
After POV Nominations:
Tiffany, Natalie, Da'Vonne
Have Nots
James and Natalie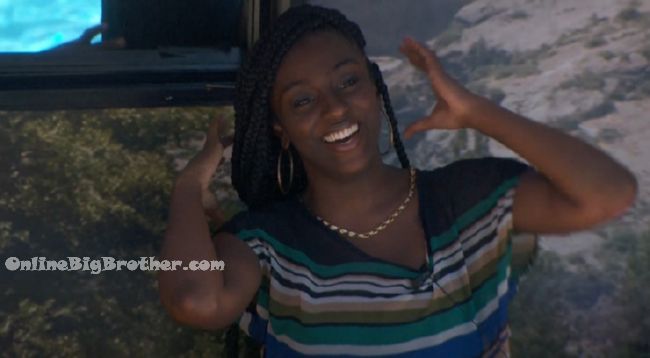 Corey used the power of veto saved himself. Tiffany the roadblock winner Nominated Da'Vonne as the replacement.
11:49am Right after the Veto Ceremony Tiffany, Bridgette, Frank and Nicole
Tiffany – Pissed
Tiffany – did you see the shade she threw me..
Tiffany – first she whipped her hair at me.. Hurt me.. Snapped her hair.. I sit up like that and she goes Hairs not long enough b1tch
Nicole – No way… I couldn't hair
Tiffany – she's scary bro
Nicole – thank you for not putting me up
Tiffany – I told you the f***g truth about everything..

11:54pm Tiffany and Natalie
Tiffany – don't leave me ok.. I'm going to get so much shade thrown my way.. did you hear what she said to me .. you look good up there Nat.. she was whipping her hair at me saying your hair's not long enough b1tch..
Tiffany- you can tell it's going to get real personal and stupid
Tiffany – I'm nervous right now.. I on't like confrontations..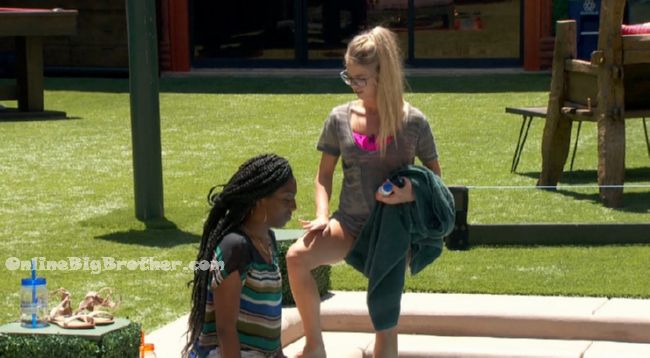 12:00pm Da'Vonne and Nicole Backyard
(other houseguests (Tiffany, Frank, Michelle) in the backyard within earshot..
Da'Vonne – I thought people wanted me to explode.. That's not my style not this season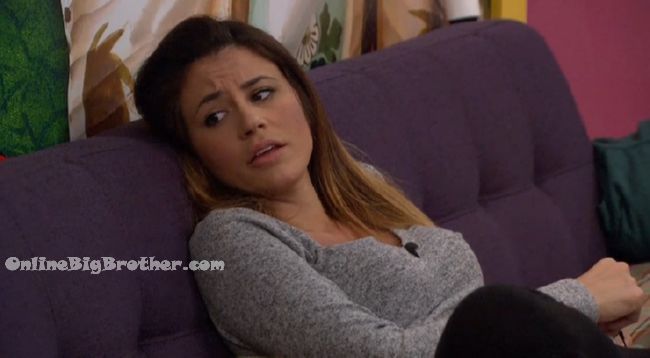 12:45pm Frank, Bridgette and Tiffany
Tiffany says Da is getting really cocky she's acting certain that she's staying..
Bridgette is going to go to the backyard to sun tan
Frank reminds them that one person from their group has to always be around the other group so they can't talk freely.
Tiff asks about Paulie. Frank isn't sure says he's going to talk to Paulie in a couple days. If there's a few people on the fence maybe they can use Paulie to help and convince. Frank mentions that Paulie watched his season and told him he values Frank's judgment.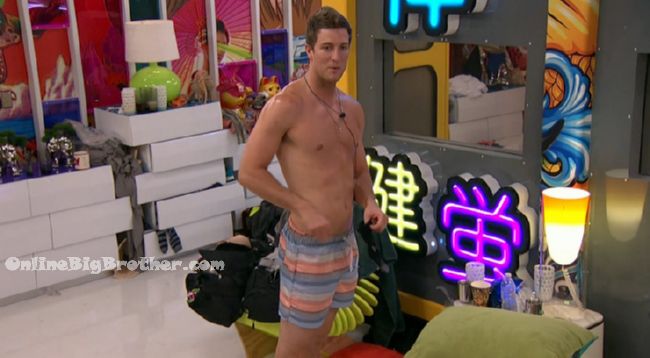 Corey comes in says he was asked by lulu lemon to be a model 5-6 years ago. Corey threw the card away because he didn't think anything of it, "I have a tone of lulu lemon now I had none at the time.. "
Corey leaves..
Tiffany says Michelle will be clinging to Da and Da will be clinging to Michelle
Frank – I'm going to f** that sh1t up
Tiff – she has t know how much Da lied to me.. I almost want to talk to her..
Frank says they'll see maybe later today or tomorrow.. "Friggin BIG MEECH"
Frank – I got to win some HOH's and POV… I really think I would have crushed that Ice cream comp.. that's right up my alley..
Tiff – did you throw that one to Bridgette
Frank – No I was really nervous to..
They start talkign about the other houseguests..
Tiffany asks him what he thinks about Paulie. Frank says Paulie is hard to read. Tiffany says Paulie's real self is a lot more Italian machismo "That's what comes across with his crazy eyes.." Tiffany thinks Paulie has an agressive side..
They agree Zakiyah is a waste she's not going to vote against DA and they don't want to force her
Frank – I would love to make it 7-1, I'll be happy with 4-3.
Tiffany – she's going to blast me on twitter.. why did she lie so much.. she talked so much shit about my sister on twitter.. calling her loony toons crazy.. calling her junkie.. she apologized after..
Frank – I don't get down with the social media scene..
Frank says production liked that about him they told him they don't want so much social media activity and petty drama with their hosueguests because after all it's a family show "People make themselves look like a$$es"
Cameras switch to backyard…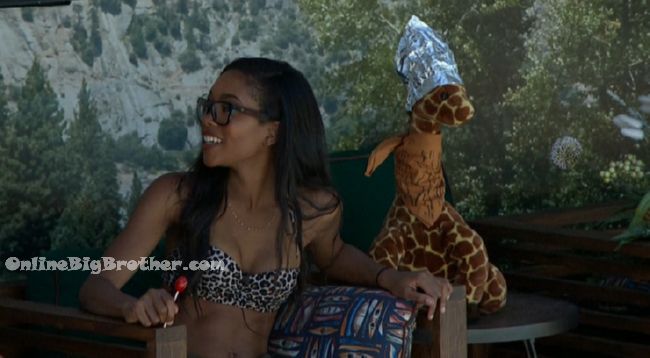 1:30pm Zakiyah's, Raffe, Nicole and Da'Vonne
She was told by the Diary Room to not bring the giraffe anymore.
Zakiyah says the Giraffe's name is "Raffe Ryan Christoper Calafiore"
Adds that is Paulie's full name is "Paulie Ryan Christoper Calafiore"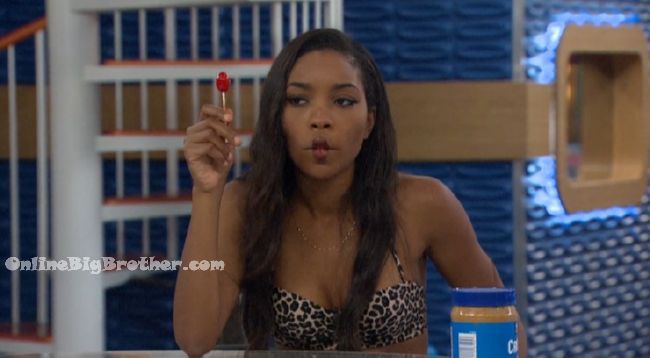 2:09pm Nothing going on.. Zakiyah dancing around acting extra happy..
Some more Zakiyah dancing.. Da doesn't look too interested.. #BB18 @DawgsBigBrother pic.twitter.com/tv5bEgPO8Z

— OnlineBigBrother.com (@bigbspoilers) July 18, 2016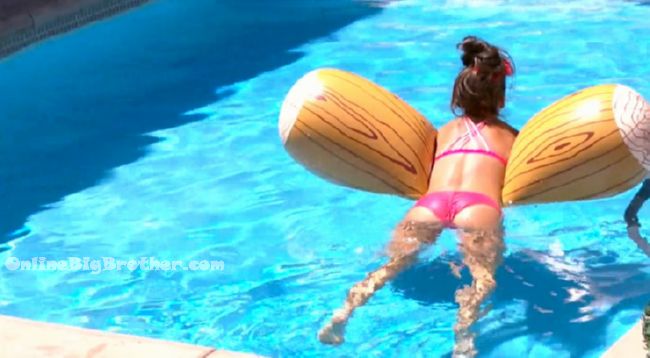 2:34pm Natalie in the pool…
Paulie is there to.. he says he find it sexy having two people who are desired by everyone else but only desire each other.. that is sexy to him..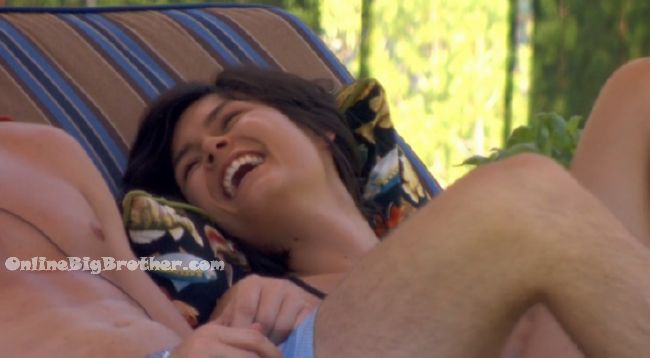 2:18pm Backyard Bridgette and Corey
Bridgette saying someone told Nicole that she stuck her tongue out to her. Bridgette says she never did that, she says something so childish as that wouldn't be something she would do, "I've never done anything mean to anyone"
Corey – I wouldn't worry about it.. I think she (Nicole) was worried that you were mad at her over the ice cream thing
Bridgette says she had forgotten about that..
They start chit chatting..
Corey – what does your boyfriend do
Bridgette – he's a yoga instructor
Corey says he's never been to a class but he's done them on YouTube.. "I'm just not flexible.. I need to start stretching more before I get into this"
Special bonus Spoilers
If you subscribe to the live feeds you can "Flashback" to any time during the season and start watching. Lets you go back and rewatch conversations etc..
There's a lot of buzz going around about Corey and Nicole getting intimate Handy's etc… 7/18 8:57-9:10 Cam 3-4
Corey did share with us last night that he was "In Heat"
In case you missed it some of this went down last night. Cam 3-4 8:57am 7/18 #BB18 @DawgsBigBrother pic.twitter.com/Gu1toa5k0z

— OnlineBigBrother.com (@bigbspoilers) July 18, 2016
[polldaddy poll=9471428]