POV Holder:
Corey
POV Competition
July 16th
POV Used
YES
POV Ceremony
July 18th
HOH
Paulie
Next HOH
July 21st
Roadkill Competition Winner:
Tiffany
Original Nominations:
Tiffany, Natalie, Corey
After POV Nominations:
Tiffany, Natalie, Da'Vonne
Have Nots
James and Natalie
CBS All Access: Live feeds are only $5.99 per month – Try it FREE for 1 WEEK!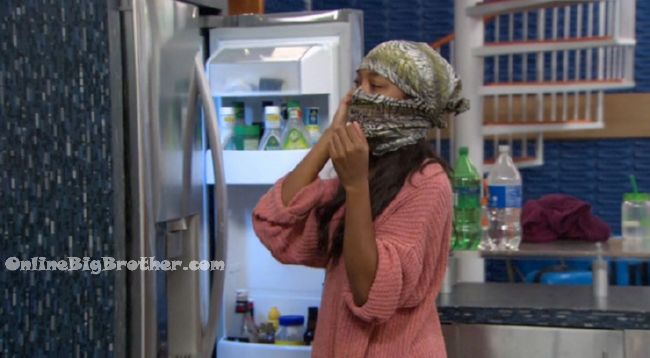 10:04 Zakiyah morning head dress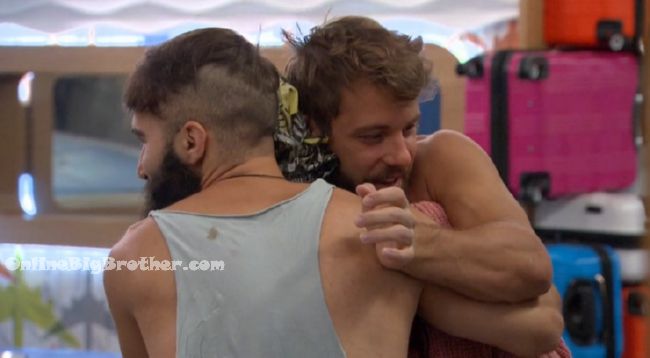 10:16am Paul, Paulie make a PP sandwich for Zakiyah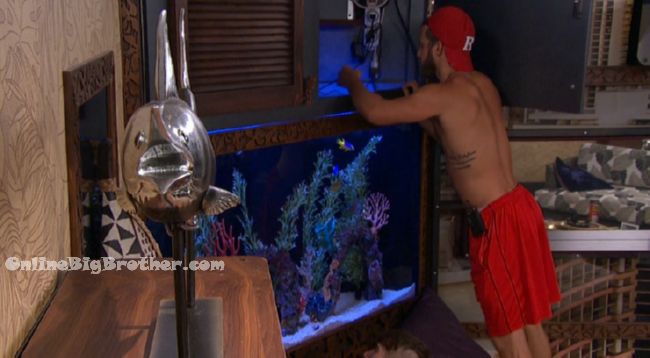 10:17am In the HOH PAul and Paulie
Paul says when they were on the bench and Corey was freaking out.. "He's was like dude I want one of the girls to go up"
Paul mentions this was in front of Zakiyah
Paulie – not smart to say in front of the girls
Paul agrees – "Saying shit like that could ..
Paulie – Backfire on us especially with the girls talking about a guys alliance.
Paulie doesn't think Zakiyah heard him otherwise she would bring it up to him
Paul – Works case scenario Frank wins HOH and goes after Da
They agree Corey is fine now that he's not on the block.
Paul says after this week they are down to 6-5, they go over the boots
Paulie – In a perfect world there will be 4 vs 4
Paulie wants Frank, BRidgette and Da'Vonne out. Paulie adds that Nicole would go after that
Paul questions if Corey will be down for that.
Paulie says if he wants the money he'll have to make a choice. Paulie says he likes Zakiyah but that won't change his plans to win. Says if you like the person inside the house and you have a connection that will be there when you get out.
Paulie thinks it's ideal for a girl you win the next HOH so they are all free to play during the Double.
Paul thinks the girls will back down from putting Frank up.
Paul asks about James and Natalie
Paulie thinks
Paul – when will the girls raise an eyebrow
Paulie – they'll panic at 4 -3
Paul – who will the girls go after..
Paulie – when it's 4-3
Paul – Nicole is smart player she'll put you and me or me and James.. She won't put Corey up that's for sure..
Paulie says if Corey wins the HOH and they are down to 4-3 he would put Zakiyah and Michelle up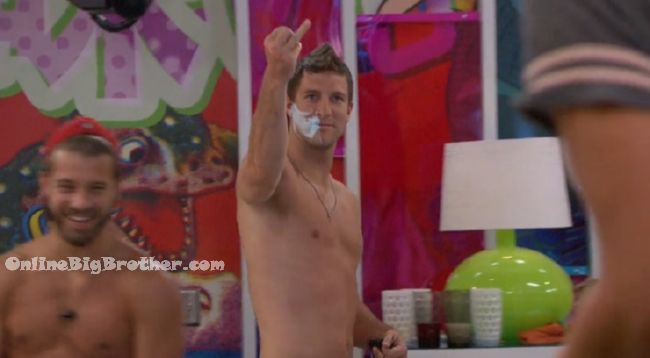 11:08am Paul and Paulie pull a prank on Corey with shaving cream
In case you missed it Paulie and Paul pull off a prank on Nicole/Corey #BB18 @DawgsBigBrother pic.twitter.com/8cwlxBSdgG

— OnlineBigBrother.com (@bigbspoilers) July 19, 2016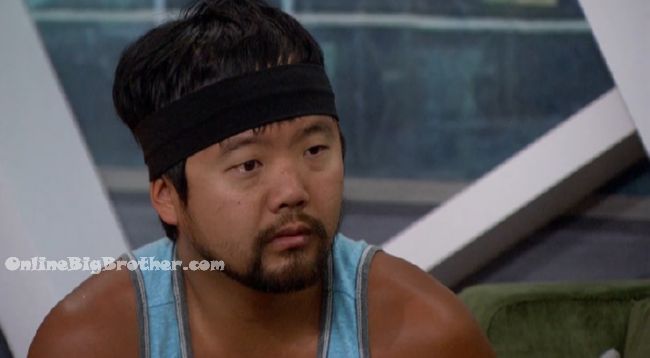 11:51am Da'Vonne and James living room
Da saying that the showmances (Nicoel/Corey/Paulie/ZAkiyah) were up all night talking about "I wonder if this is is the love of my life.. They are never going to choose one of us over them"
Da – I'll tell you more later
Da'Vonne – it's bad.. I was watching it's horrible…. Nicole gone…
Jame s- you got to win HOH
Da – i'm just trusting you got my back like I got yours
Jame s- All i can do for you this week is make sure we get Tifany out.. If I win HOH I won't put you up or nothing.. I think you're good..
Da – I'm not worried about this week
James- we shouldn't be worried about next week either
Da – I'm more worried about later in the game
James is worried that people are wanting to cut the showmance and he knows him and Natalie are on that list somewhere
Da – Nobody is afraid of Natalie.. Nobody right now is afraid of you.. People fear Paulie.. People fear Nicole/Corey
James – you know we have a double eviction coming up
Da – Bridgette/Frank
Da says at one point they have to take out the showmance..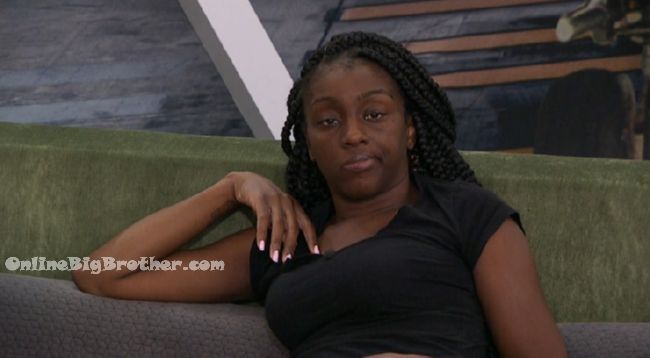 12:11pm Nicole, Da and James
Nicole – I was really into man buns for awhile..
James is scared to see what the comp is like this Thursday
Da leaves – Whack whack whack..
Nicole – what is wrong with her
James- she is paranoid
Nicole – that's not a good way to act when you are on the block.. She acts mad all the time.. Doesn't make sense..
Nicole – I know it's not hard not to me..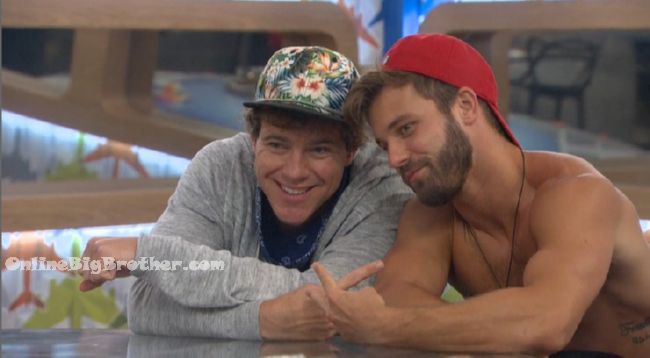 1:10pm HOH pictures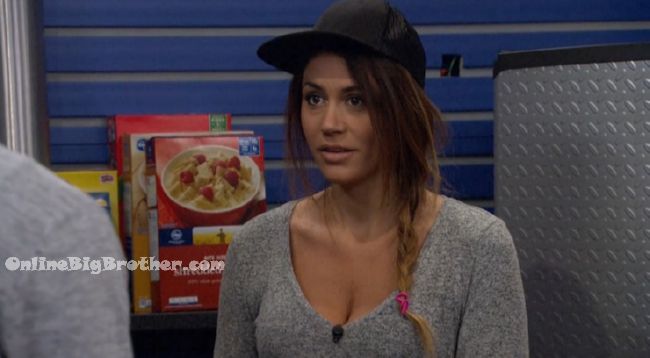 1:13pm Tiffany and Frank Storage room
Tiff – I have a really good idea.. We can bait her.. We can do this really crazy thing.. You know in the safari room there's chests.. You can be like Nicole I can prove to you now.. Day you know what I'll make a deal with you i'll make sure everyone votes and say you know how you were going to vote Corey out.. You would be our extra vote if you make sure to vote Corey or Nicole out next week or something like that.
Frank – she won't talk to me like that.. She barely looks at me .. She doesn't even talk game.. I think we're close without it
Tiff- you think
Frank – I do
Frank – I wouldn't worry too much.. Just keep your chin up ..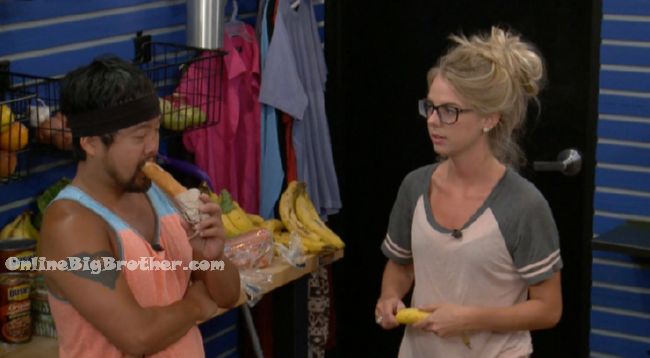 1:55pm Storage room James, Zakiyah and Nicole
Zakiyah is pissed because Natalie has been flirty with Paulie. (During the HOH pictures and generally all the time)
Nicole doesn't like how Natalie calls Corey sexy.
Zakiyah – do what's best for you game or whatever…
Nicole thinks that James would be the one upset about this not them.
James isn't upset – they are just taking pictures
Nicole now saying she doesn't mind Natalie calling Corey sexy, "I take it back I find it funny"
Zakiyah says she's not taking pictures this round..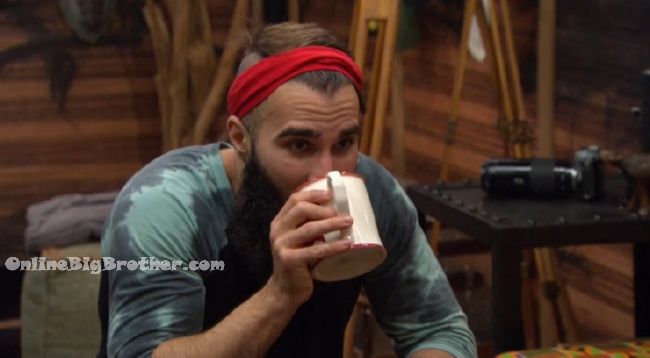 2:06pm Paul, Zakiyah and Nicole
Zakiyah still going on about Natalie taking pictures with Corey. Zakiyah is making a point not to participate in the pictures today
Paul – Ohh girls
They talk about having kids and how good of a father Paul will be. Zakiyah says her mom doesn't want her to have kids until the mom turns 50 because she doesn't want them to call her grandma.
Zakiyah – I gotta get a man.. I gotta get a man first.. I really want to be in a relationship again
Nicole – I have to make sure it's the right guy this time..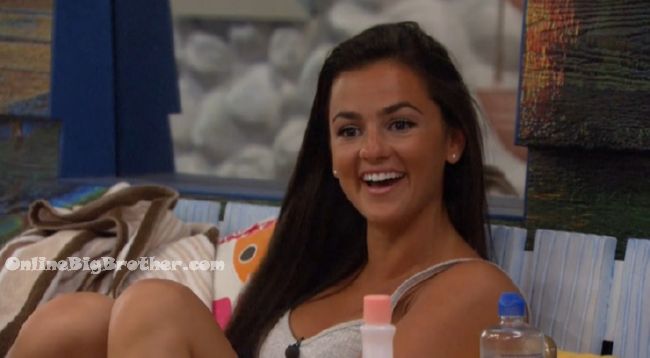 3:16pm bathroom Natalie and Da'Vonne (Talking about Dating etc)
Natalie is telling them the man thing she looks for in a guy is their personality. She says she's been on dates with super hot guys and they were horrible and dates with nerdy guys and it was great.
DA'Vonne says after their daughter was born she broke up with her boyfriend 10 months after.
at 3:29pm they head upstairs to the couch near the chessboard.. more chit chat about relationships.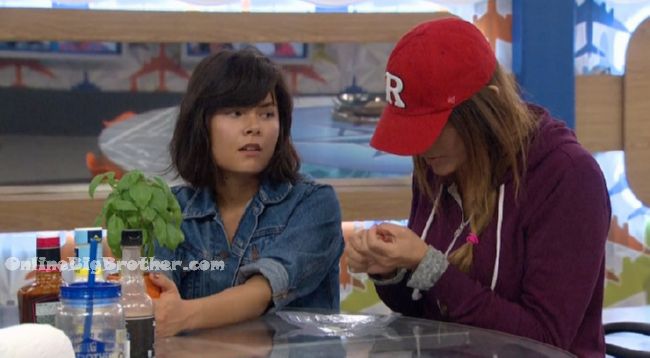 3:43pm Tiffany and Bridgette
Talking about Natalie and Da'Vonne spending so much time talking. Tiffany says Natalie is closer to her than DA'Vonne
Bridgette says when she put Tiffany on the block last week Natalie was pissed because it was another girl
Bridgette says Da'Vonne has been going around saying how much see needs the money for her daughter.
They move over to the Storage room where Tiffany tells her about his plan to bait Da'Vonne, "I didn't realize Frank and Da'Vonne weren't talking.. I was just thinking out of the box stuff"
Bridgette – rsiky
Tiff – very risky.. I'm trying to be creative.. there's so many options this house is a fun house..
Tiff is going to just talk to Nicole not game.
Bridgette agrees this is the best approach.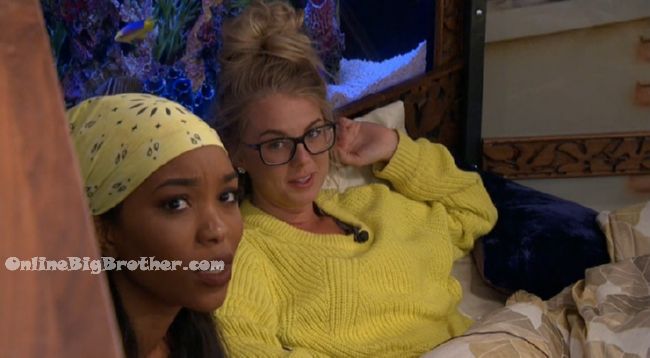 4:12pm Zakiyah and Nicole HOH
Nicole says Frank and Bridgette are called Fridgette.. Michelle made it up.
Zakyah says she left the downstairs "Once I saw Bridgette's little a$$ down there.. (looks at the camera) Don't be fooled Bridgette ain't no innocent female, She's sneaky, She's mischievous, She a little snake, she kinda resembles one..
Nicole laughs..
Zakiyah – I'm not a bully.. I use to get bullied like a mother.. She's sneaky.. .
Nicole is trying to say Bridgette is mean because she told Paul she wants revenge on the girls.
Zakiyiah – Girl get outta here… she's going home
Nicole – I want her going home soon.
Zakiyah – She's mean.. she's not slick.. she's mean… she's not the underdog.. Cannot deal.. I don't want to deal anymore
Nicole – she's not a underdog..
(for someone who watches the feeds this was funny to hear.)
Zakiyah is so glad she in the house with some genuine people like PAulie, Michelle, Nicole and Corey.
Nicole says Zakiyah will be in her wedding..
Nicole – do you think us 4 can go far
Zakiyah – you're the only ones I trust
They agree the fatal 5 alliance was premature.
Nicole brings up that Da knows that Zakiyah is upset with Natalie why is she spending all this time talking to her.
Nicole says the split of the house will be – Da, Frank, Bridgette, JAmes and Natalie vs Nicole, Zakiyah, Paulie, Corey, Michelle with Paul being the swing vote.
Nicole says James is very close to Da'Vonne he'll never vote her out. Da'Vonne is trying to pull Natalie in.
Nicole says Da'Vonne has to go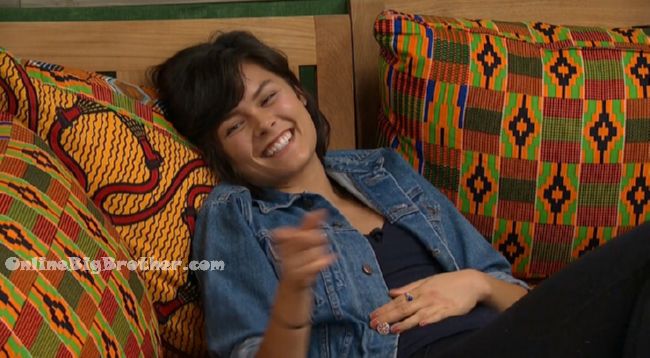 4:31pm Bridgette and Frank in the safari room
Frank says she should talk to Nicole on a personal level they are both nurses. Bridgette says she tries Nicole won't talk about it, "She won't share ER stories.. she won't talk about work" (Not to yo she won't)
Bridgette – I'm passionate about life and work
frank – and she doesn't seem to be
Bridgette – nope… I think that intimidates her a little bit .. I thought she would be just as enthusiastic about nursing as me I mean that's my life I f***G love it..
Frank doesn't think Nicole will be a nurse forever she doesn't seem to interested in it.
Bridgette says the other day when her and Nicole were doing surgery on the Giraffe. Bridgette made a joke about it and Nicole didn't laugh, then she went inside and everyone was crowded around, Nicole used the joke and the group laughed.
Bridgette cannot undertsand why they don't talk to her
Frank telling them they need to stop working out so much, "That's what got you painted in this box"
Bridgette – they were all ignoring me way before that.. it was me Nat and Bronte and all those girls wanted nothing to do with us
Frank – they are now sacred of you
Bridgette – let them be scared of me.
Bridgette – they sent my friend home.. out of all the girls in the house I connected to Bronte the most
Bridgette says all the girls have turned their backs on him
Frank – when they turn their backs it means they can't see you coming
They agree Tiffany is really funny when she gets out of her shell
Frank – Tiffany is so goofy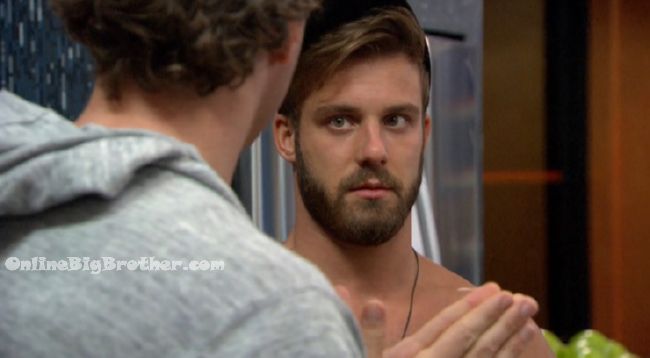 4:40pm Paulie and Frank Kitchen
Paulie says unless Frank has the votes he shouldn't chance it to keep Tiffany.
Paulie says all the girls were in his HOH room.. he's worried about a girl alliance
Paulie – they are trying to put you and I against each other..
Frank – I'm on the cups of getting it 7 to 1 unless people are bull-shiting me..
PAulie wants Da'Vonne and Tiffany out but Tiffany first, "Da'vonne next she's starting some sh1t"
Frank goes on about Da'Vonne pulling in Natalie today, "She doesn't even have a vote.. she's thinking long term"
Paulie – she already has Michelle.
Frank – Paul is on-board
Frank – Tiffany is literally on the island she only talks to me and Bridgette because we're the only ones that'll sit in the same room as her .. nobody wants to work with her.. she's this wounded animal
Frank says if DA'Vonne is in jury and they are in the final 2 against a girl they are going to have trouble winning.
Paulie – I want to go after Da I just don't know if this week is the week to do it or next week is the week to do it
Frank – if a girls that's not Bridgette wins HOH two guys are going up and we don't have the numbers to do what we want to do
Frank says he feels 100% to Bridgette and Paulie and 99% with Corey.
Paulie says everyone that is close to Da'vonne wants Corey and Paulie to be wary of Frank, Paulie is getting more and more convinced that Da is trying to have the guys fight.
Frank – she's trying to spread her sh1t out in case she stays Tiffany's not.. She doesn't have her hooks into anybody.
Frank says Tiffany is a easy person to send home.
Frank – only 2 people will be butt hurt with Zakiyah going home and that's Zakiyah and Michelle and they won't be winning any competitions.
Paulie says information is reaching Da'Vonne he's trying to figure out who it is.
Frank warns that Da'Vonne in Jury is dangerous.
Frank says him and Shane won most of the competitions his season he wishes they would have worked together.
Paulie says Cody's group won most of their competitions.
Frank now saying that Da might have her hooks into Nciole, With Da gone Zakiyah is lost will suck onto Paulie and Nicole will have Corey.
Frank says they have 4 votes for sure if what Paulie is saying about Corey is true, They need to talk to James that will give them the 5.
Frank says Tiffany is PISSED at the girls, "They stabbed her in the back"
Paulie – they saved her
Frank – they're mean girls… Paulie.. they ignored her..
Frank goes on to explain that Da had lied to Tiffany.. Tiffany realized the rest of the girls were in on it.. they changed their minds the last minute to use her, they talked shit about her all week, Lied about her staying.. 'They're mean girls'
Special Spoiler
This was emailed to us from CBS today..
The feeds will be down for longer than usual later this week, but it will be worth it! Tune in to Friday's special "Battle Back" episode at 8/7c on CBS to see which evicted Houseguest will return to the game!
No idea what this means in terms of times and dates.. gotta love CBS. I suspect the feeds will be down from Thursday until after the bonus show on Friday. Looks like we get some extra sleep on Thursday night.

[polldaddy poll=9473607]
[polldaddy poll=9471428]