| | | | |
| --- | --- | --- | --- |
| POV: | Tyler | Next POV: | Aug 11th |
| POV Used | YES | POV Ceremony | Aug 13th |
| HOH: | Haleigh | Next HOH: | Aug 16th |
| Noms: | Kaycee Rockstar and Angela Kaycee | Have Nots | |
Big Brother Spoilers Rocks up to her same old tricks.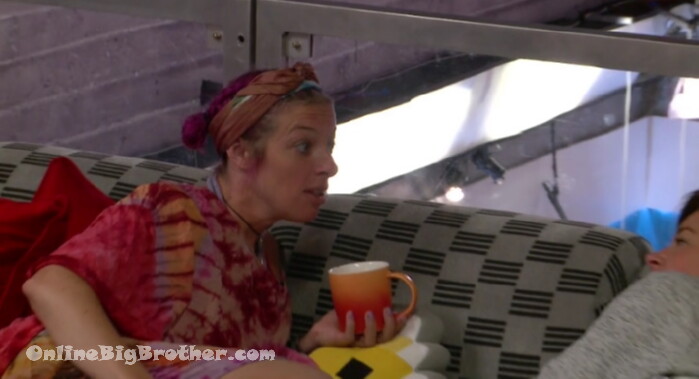 11:29am Rocks and Sam
Rocks – I don't mean to be such an evil b1tch
Sam – I know you're not really
Rocks – I just want to win so bad.. This spoiled rich girl has a $35000 dollar apartment in LA and bought herself a range rover and probably has a trust fund and her dad dreams of owning a marina one day (damn him for having dreams)
Rocks – bought a f*ing boat.. a whole marina..
Sam – I thought that was Brett you were telling me about
Rocks – I don't know which one it was. but .. out of the two of them they have a lot of f8Ing money (LOL.. rocks is the worst glad I saw it from week1)
Rocks – maybe she owns the yacht and he owns the marina
Sam says Angela's dad doesn't own a boat
rocks – his friend owns a boat
Sam – mmmhmm
Rocks – anyways you don't get a 3500 dollar apartment by yourself
Sam – yeah she has
Rocks- I know..
Sam – it's because she works .. models (BOOM Mind blown)
Rocks – Models done't make that much money. I know models in Baltimore that travel around the world and they make like $1500 dollars maybe a month
Sam – I don't think that she's as villainous as you imagine
Rocks – I just thinks she's a b1tch like she's not nice to me she's refused to work with me throughout this game on multiple occasions
Sam – I know I know I know STOP
Rocks – anyway she doesn't
Sam rests her hand on Rocks leg
SAM – JUST STOP
Sam – you don't need to convince me of one thing
Rocks – i'm just talking out loud because that helps me get rid of it .. If I had a journal I would right it all down and get it out..


Rocks – I'm not a jealous vindictive spiteful person but I am human and I do have human thoughts
Sam – I know it bothers you that her name is Angela and you name is angela .
Rocks – She comes from Money and she doesn't have any kids and she doesn't really need to be here and she has people serving her like a f*ing princess
SAm – I don't see that.. I don't get .. what do you mean by that..
Rock – she has Tyler and KAycee's undieing loyalty .. he turned down safety from 4 people until final 6 to just follow around Angela like a lost f*ing puppy.. he' was stupid
Rocks grumbles that Angela beat her in the HOH on the math question, "HAHAHAHH"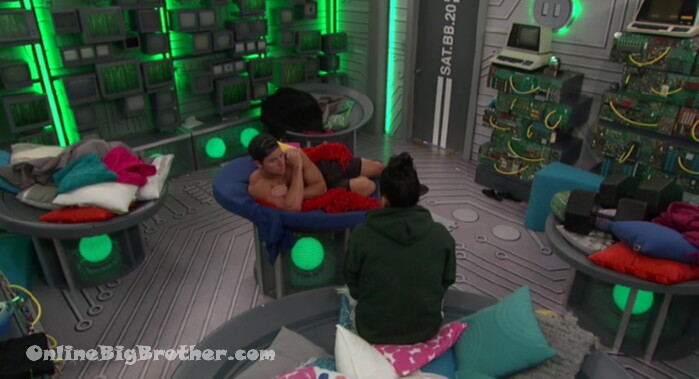 11:59am Kaycee and Brett
Kaycee wanted Scottie to hear that Fes was sleeping upstairs last night.
Brett says with Scottie he doesn't want to vote out Rockstar because that will break Haleigh's trust.
brett – I need to convince him that she has a final 2 with Fes anyways sh'es just loyal to him he really see the showmance
B – he thinks Rockstar and HAleigh are close and Fes/JC are close
K – it's like he doesn't want to believe it
B – right
K – I was telling Angela to haleigh and Fes probably have this plan OK we'll be the first showmance to make it all the way to the end.. she probably telsl him we have to separate ourselves.
KL – I go with the guys you go with the girls.. how can he nowt f*ing see that he's with them all the time
B – I know
Brett says Scottie is 75% Rock staying 25% kaycee
Kaycee goes over her pitch, "we're always had a unique relationship.. I know you are really close to Rock.. umm.. you know of course I would like to stay here.. umm.. I'll respect whatever you do"
Kaycee – I'm not trying to get his vote
B – it's more where will he fall if you stay you know what I mean what will happen so you can talk to him ..
Brett brings up telling SCottie there's 2 guarantee stays for Kaycee to stay Tyler/Angela but for ROCK there's only 1 guarantee stay vote and that is Fes. So the hacker is going to cancel fes out
Brett – it's leaning towards.. dude.. we don't want to vote on the wrong side (this is what he said to Scottie)
Brett – me and you come in.. we land on the right side
Brett says Scottie thinks it will just be a tie at best if they flip.
Brett – he doesn't want to break it off to Haleigh.. so you need to show him her loyalty is with Fes not him
Kaycee says Rock is very confident she is staying
Brett – she thinks she has my vote
KAycee mentions how nice Rock is to her now. Kaycee puts up quotes "She knows I'm going home"
Brett brings up helping rocks with her eviction speech.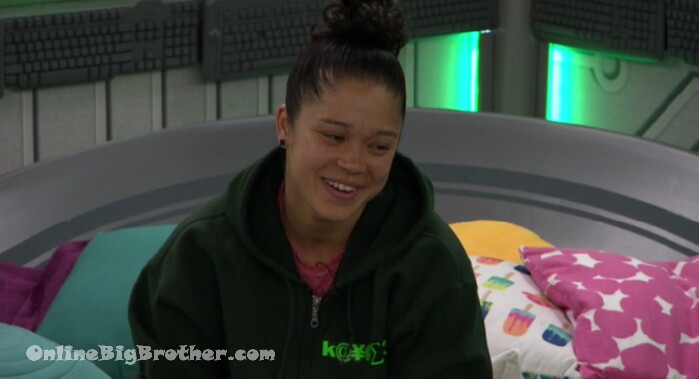 Brett says he wants it to be like she doesn't pitch it to Scottie that he figures it out on his own that haleigh is with fes once Rocks leaves.
Kaycee says the other side is in Sam's ear telling her they have teh votes.
Brett has no clue where Sam lays in teh house. Brett hasn't told her about his voting because he's not sure if she'll run up to the HOH and tell Rock and her crew.
Brett says Sam told haleigh and Scottie she's keeping rockstar
Kaycee – I have a very good feeling it will be 5 to 1, for sure..
Kaycee – JC for sure
Brett – just trying to get a read with Sam, I'm not sure iof this is a good opportunity to build that bond
Kaycee suspects Sam is getting irritated by Rocks.
Brett – I don't know they've been weirdly close this week
Brett is going to say after the votes Shake out that he found out that Rocks told Tyler that she's still gunning for him
Brett – and I'll have Tyler say Yeah she made a pitch that she wasn't going for tyler she was going for me
Brett – JC will blame it on Scottie
Kaycee thinks it will get to the point where JC can't hide his vote.
Brett – they are opening up to me.. I'm like what the f*
Kaycee says fes told JC if Rock goes JC become the pawn in the house.
Brett – Fes has been gunning for me since day one
Kaycee says Scottie or Fes is going home next week
Brett mentions that Scottie kinda wants Fes gone to
Kaycee doesn't see that happening in the near term.
KAycee will put up Haleigh and Fes veto is used Scottie goes up
Brett – I'm thinking I would work with Scottie and put him up as a pawn.. I would tell him you are the pawn. I might ut Sam up cause I want to control it.. once I use the veto take Sam off put up Fes
Brett says fes is still stuck on avenging Swaggy, "Dude none of these people are here anymore.. they're all Sheeples"
Brett – so fes was pitching hard to backdoor me ?
kaycee – that is what JC told me .. Halegih didn't want that
They bring up how this week worked out perfectly for them.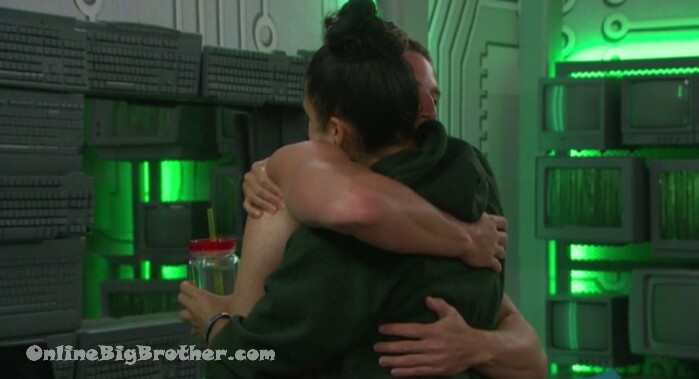 They hug it out..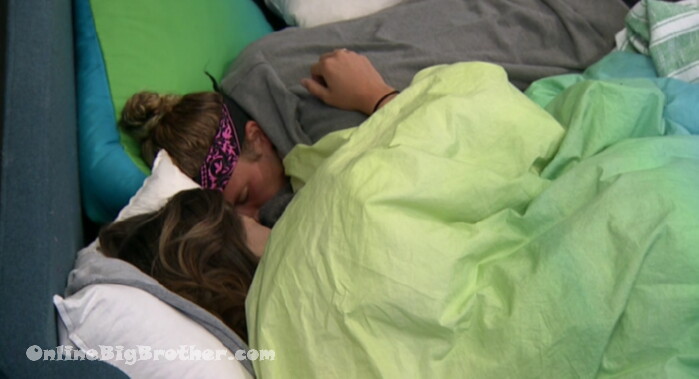 12:03pm Angela and Tyler getting closer….. (They better keep it in their pants until after Rock is gone)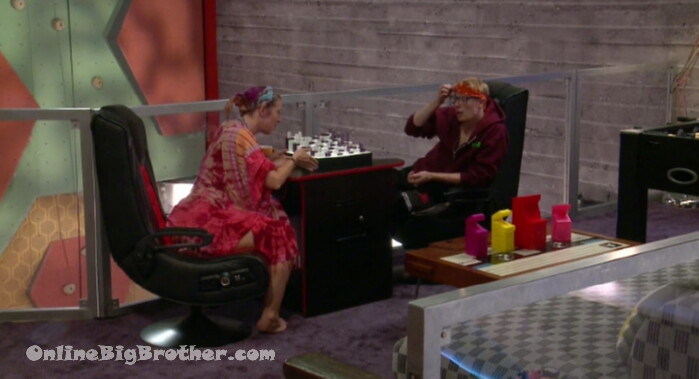 12:05pm ROcks and Scottie Chessboard
Rocks telling him that Fes broke the sink in the HOH the entire seat broke off the wall.
Scottie – that's impressive.
12:54pm Sam is working the fields..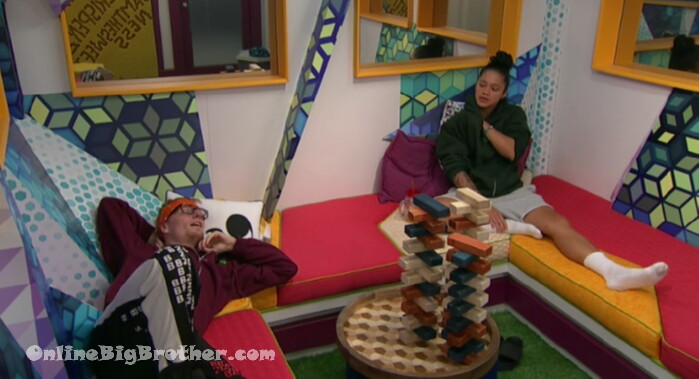 1:09pm Kaycee and Scottie
Kaycee's one on one "WE've had a unique bond.. we've always been the middle kids.. I know you are close to Rockstar.. of course I want to be here.. I still ahve a lot of fight to be here"
Kaycee – I care about you and respect your decision
They agree they both find it hard to trust people in te house.
SCottie says day 2 he had a talk with Tyler and Swaggy and just a few hours after Swaggy had told Baylegih everything he had said.
1:41pm Brett and Angela
Brett – I grow more hair on the right side over my left.. my right pec has more than my left my right cheek has more than my left
Angela – the things you notice when you have nothing to notice.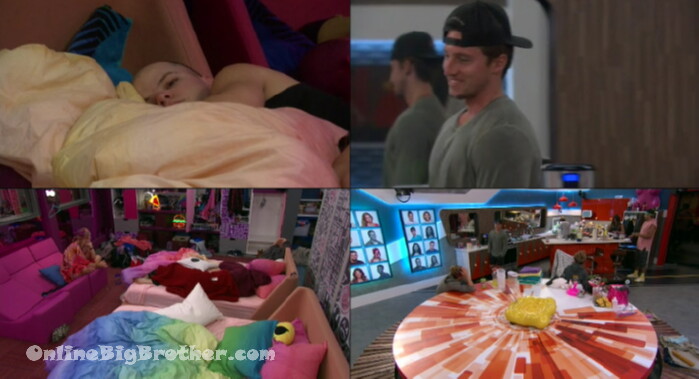 2:20pm Slow
Amazon Canada
Amazon USA