Head of Household Winner – Tyler
Have nots – Bay, Janelle and Enzo
Nominations – Janelle & Kaysar
Power of Veto Players are -Janelle, Tyler, Kaysar, Cody, Bayleigh, Memphis
POV Host: Christmas
Power of Veto holder – Cody
Power of Veto Ceremony – Cody Doesn't use the power of veto Nominations stay the same.
Safety Suite – Enzo wins Christmas is his plus one.
Live feeds —-> Grab your Live feeds here. Try it free.
Rank the houseguests —-> Big Brother 22 Ranking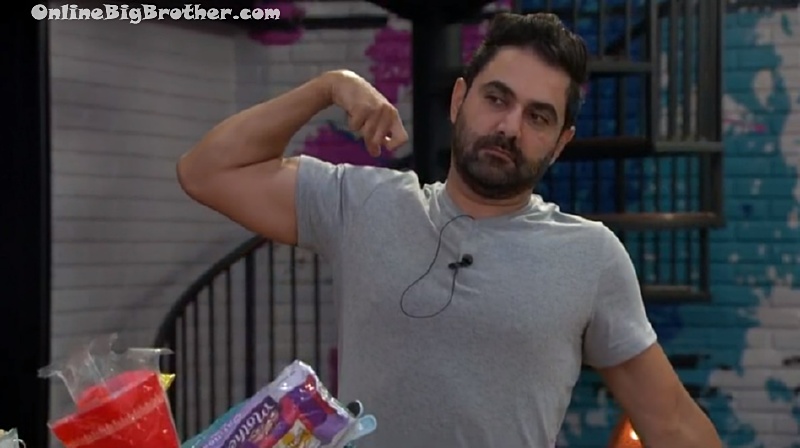 9:33 am Kaysar and veteran allstar David
Kaysar asks about his Vote. David says he won't know until 3 on Thursday.
David – I'll probably be voting for you to stay but you're probably coming after me which sucks
Kaysar – who's coming after you
David – you
Kaysar – Didn't I talk to you the other day trying to figure something out? what are you talking about?
Kaysar – you forget the conversation we had
David – Yeah, but trying to talk with someone with low credit
Kaysar laughs "Dude take it easy there"
David – there's no secure loans in BB
David – If I win HOH I'm calling a house meeting people are being dirty ..
Kaysar – yeah it's pretty bad
David – I really would
David – there's only so many time you have a voice that can be heard and respected
David – my voice is typically not heard or respected.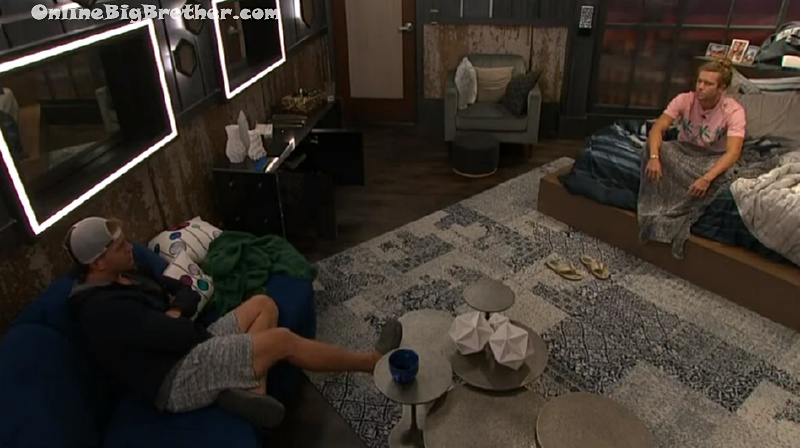 10:35 am Memphis and Tyler
Tyler is pushing for Janelle to go this week says she's the harder target.
Memphis agrees "She's not going to lay over she's not going to die.. she's fighting tooth and nail. "
Memphis – I'll talk to the committee today how many votes do we need 5 or 6
Tyler Says they have 6 votes to evict her on lock.
Tyler counts Nicole, Cody, Sh1tmas, Memphis, Dani, and Ian.
Memphis wants to avoid having to talk to Enzo or David about the vote this week
Tyler Adds that Enzo will do what Cody wants.
Memphis will talk to Nicole to make sure Ian will vote out Janelle.
Memphis brings up how he's telling Janelle whatever she wants to hear to keep her calm.
Tyler agrees this will prevent Janelle from throwing "Hail marys"
Memphis- I talked to the other girls said HEY it's time for you to step it up.. Christmas was like I'm ready i'm ready
Memphis – I don't want these girls to think.. everyone has to get their hands dirty a little bit
Memphis – Alright guys we've carried the last three weeks we need you guys to step it up.. I don't want them thinking they can throw. if you take someone like Sh1tmas.. she has a great rapport with everyone in the house. A girl like that can be like I don't need this I can play it safe.
Memphis says the girls have to take the heat off them "we need to take a break"
Memphis goes on about spreading the heat around to everyone that's the only way their awesome 6 person alliance will make it to the end.
Adds that if they get all the heat they'll find their a$$es on the block together.
Memphis – If everyone is playing to win I'm confident that we can control every HOH (Sounds like a fun season give them the money lets move on)
Tyler – we're 3 for 3 so far
Memphis – there's no reason we would lose any HOH unless people are throwing it
Tyler – we're going to roll through this whole thing 6 is such a solid number
Tyler warns about the "Floater ties" asks if Nicole will pick Ian over Memphis
Memphis says they need to get Ian out early that is a decision they don't want Nicole to make
Tyler – sorry you'll lose you side warrior
Memphis – we keep Ian and Enxzop enough to sway the votes..
Memphis says in three weeks they can get rid of Ian.
Tyler says the other side is trying to rally the girls. (the other side.. lol)
Memphis – when Janelle leaves.. that's three they are down.. there's only 5 girls left.
Tyler – we're in a solid position
Memphis says if the girls won HOH they would put up Kaysar and David "Something easy they won't put up a girl"
Tyler says Kaysar has got to go.
Memphis – when she leaves he's on his own
Tyler talks about Kaysar trying to form relationships with people after Janelle leaves.
Memphis – I'm not doing sh1t bro
They talk about the guys pulling all the weight in their alliance.
They agree they should try and get Nicole or Dani to win this next HOH.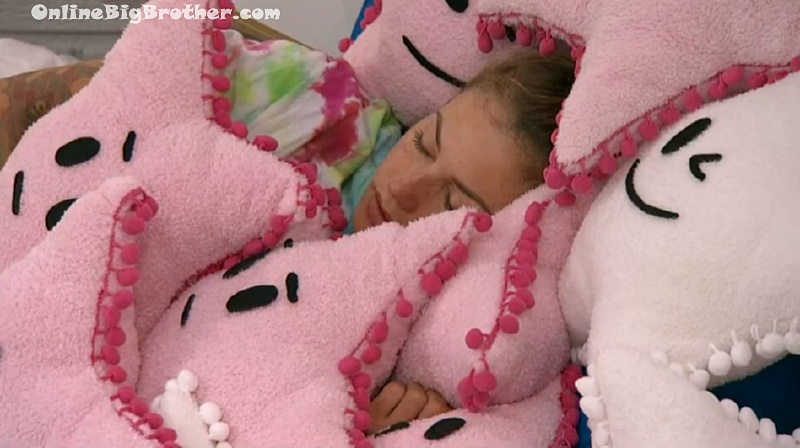 11:03 am Fun feeds…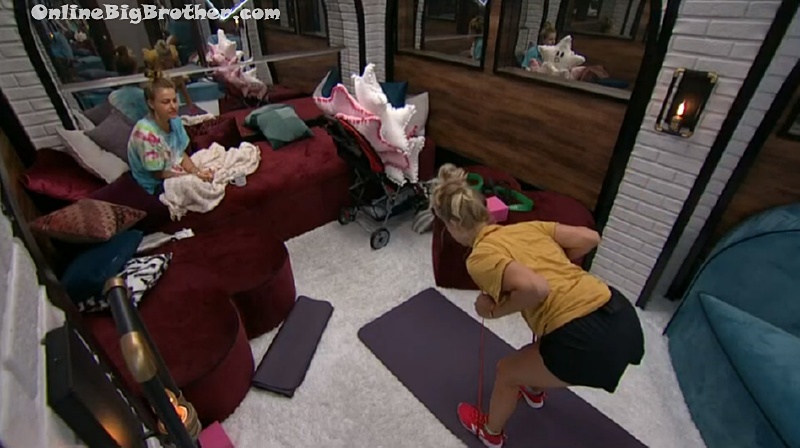 11:50 am Nicole and sh1tmas
sh1tmas is giving her pointers about working out in between talking about Janelle.
sh1tmas – she's (Janelle of course) is going her rounds.. saying I don't want to wait for the last minute
sh1tmas – she talked about Nicole.. she was like … she (NicA) lost her mind
sh1tmas – she was like she's insane.. she's like literally lost her mind.
sh1tmas – I was like that's not nice to say (Coming from you sh1tmas that's f*ing rich)
Nicole – she said she (Nic) lost her mind
sh1tmas – yeah Nicole.. she s like She's not OK
sh1tmas – I was like she was really upset.
Nicole – that's so bad.
sh1tmas says Janelle denies everything that NicoleA was saying about her setting NICA up.
Nicole – I can't believe she said she lost her mind that's crazy ..
sh1tmas – especially with the live feeders..
Nicole – nica isn't here to defend herself.
They talk about Janelle knowing that it was NicoleA that told NicoleF "All that stuff"
They go back to working out..
Nicole – sometimes you don't need to be super fit but it helps..
sh1tmas says that Janelle thinks her and Dani are on the verge of repairing their relationship
Nicole – ohh really.. it could be true I don't freaking know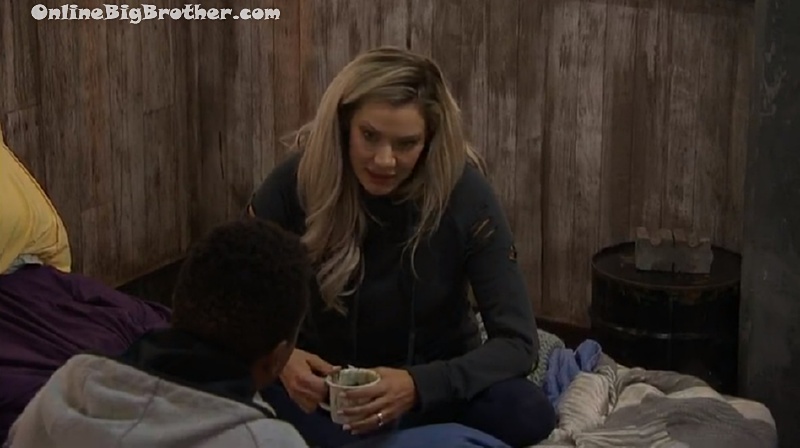 12:40 pm Janelle and David
Janelle talking about Memphis' HOH where she told him "dude I'm friends with NicoleA she trusts me"
D – when you came to me during the first week when people were trying to figure out who would go.. At the time I liked Keesha and Kevin I had an interest to get to know everyone in the house..
David says he took the time and energy to get to know Keesha and Kevin.
David – you came to me (week1) to see where my head was with the vote.. and you said, Kevin
Janelle – that is what I heard in the house
David – the week later when you said Keesha was my friend
Janelle – I understand that I was the one with the votes though
David – that was a complete flip of energy and intent you came to me said Kevin right.
Janelle – It's week one I'm not putting my neck on the line for Keesha I can't did you seriously expect me to put my whole neck on the line when the whole house wanted Keesha out ..
David – taht was days before there was a push to keep Keesha that came from you and others.
David says he felt that she was manipulating him to say a name that ultimately led him to believe I wanted Kevin
Janelle – I just thought the votes were going that way from what I heard everyone was voting Kevin
David – no.. you planted that
Janelle – you wantted to keep Keesha
David – I am a rookie trying to get to know two people Janelle the idol come to me says kevin.. Yeah Kevin why would I not go with what you are suggesting.. I don't know who to play this game.
Janelle – everyone was telling me Kevin Kevin Kevin
David – but a week later you said Keesha was my friend.
Janelle – I asked everyone and everyone said Kevin. It's not like I was singling you out I wanted to be on the right side of the votes. Keesha was my friend she's super old school like me..
Janelle – the house didn't want Keesha to stay they wanted her to go
D – I was the dummy because instead of asking me what I thought you led with who you think I wanted..
Janelle – I did think you wanted Kevin because you NicA and him hung out all the time you guys were together all the time.
D – then a week later the person that was close to the people that stayed were on the block
Janelle – yeah, so you're mad at me because I hung out with NicoleA?
D – I feel like I was a target because of a lack of experience and association that wasn't game related.
Janelle – with Memphis?
D – what are you proposing
Janelle – I told you yesterday I'm not coming after you. You are upset with me because I wanted NicA to stay If I was in your shoes I would be hurt as well
D – I wanted NicA to stay too (ZOMG)
David says there was a rumour that got out with the intent to change the vote.
Janelle – NicA was always going to go there was no rumour for anything. I talked to Da a lot and she and I maybe talked about the possibility of keeping NicA. I'm sorry if the rumor came from that we went over pros and cons of both
D – a rumour was put together with the intent of switching the votes.
Janelle – I know you don't want to tell me the rumour so I can't defend myself
D – it doesn't need to be said
Janelle – do you understand. I wish you knew how close I was to NicoeolA she told me everything that is why she had a mental breakdown when she went on the block.. She thought I did that to her she thought I was the reason she was on the block. She truly believed that and it's sad it couldn't be further from teh truth
D – ok
Janelle – you believe I had her nominated.
D – that part doesn't matter
Janelle – matters to me I'm not like that I don't play like that she was my friend period
David isn't convinced
Janelle – it's really sad that you believe that and really sad at the way that went down.. I told Kaysar that is the worst I ever felt in the house
Janelle says she was working with NicoleA 100% "It was Kaysar and Nicole"
Janelle offers him 3 weeks of safety and if he gets nominated and picks her for veto she'll use it on him
David – keep in mind I was very close to NicoleA I spoke with her every night and I trust what she expressed to me in terms of her perspective on decisions that were made that affected her (ZOMG she was batsh1t crazy)
Janelle – David, she damaged my name in this house she told everything and completely blew up my game and threw me under the bus to everyone.
D – last year people tried to get Nicole and she was honest and they flipped it on her that is where the trauma comes from
D- she had a similar experience this year but she didn't stay
Janelle – but I didn't do that
D – either you did not do it or you didn't stop it with someone you were close with (ZOMFG)
Janelle – I didn't stop it happening? you were pissed at me because I tried to get her to stay how is that not trying to get her to stay
D – I'm not pissed at you because you were trying to get her to stay
Janelle – so you're mad at me because I tried to keep my friend that damaged my name to you and said I was betraying her..
D – I'm not mad
Janelle – you're not willing to work with me because I helped NicA is that what you're saying?
D – that's not what I'm saying
Janelle says she would take a deal like that "it's a pretty good deal"
Janelle – I'm alone in this house everyone hates me so if you keep me I'll be on the block next week
Janelle again tells him that everything NicoleA said wasn't true
David – that's to be determined.
Janelle – okay
D – I know you want to stay
D – I don't trust you. Last year I made a deal day one
Janelle – with who
D – Michie.. I made a deal and was gone like that
David starts talking about being an African American male
Feeds flip to Kevin
When we're back … .
Janelle is telling him it's a week to week game after Kasyar goes she's on her own. Bring sup her, bayleigh, Da'Vonne and him work together.
D – I can't say .. I don't know if I see it that way. I don't want to be associated based on the credit you've built in the house so far
David doesn't take her deal.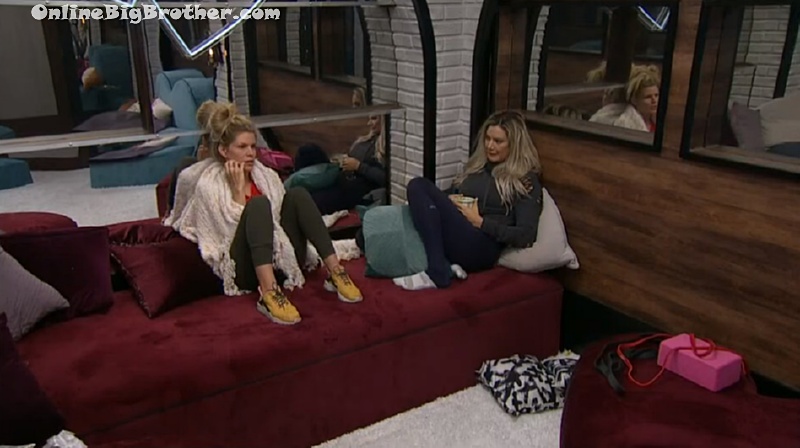 1:30 pm Dani and Janelle
Dani tells her to work on Cody, Enzo, and Christmas
Janelle says she thinks Christmas will vote with the house.
Dani – she's close with Nicole though
Janelle – has Cody asked you
Dani – he asked which way I was leaning I said I didn't know yet 50/50, He said he was still waiting for you and Kaysar to talk to him
Janelle – I'm not even going to talk to Nicole and ian I know they want Kaysar to stay it's better for their game. David I have no Idea I went to him and he's so mad at me.. He seems like a nice guy ..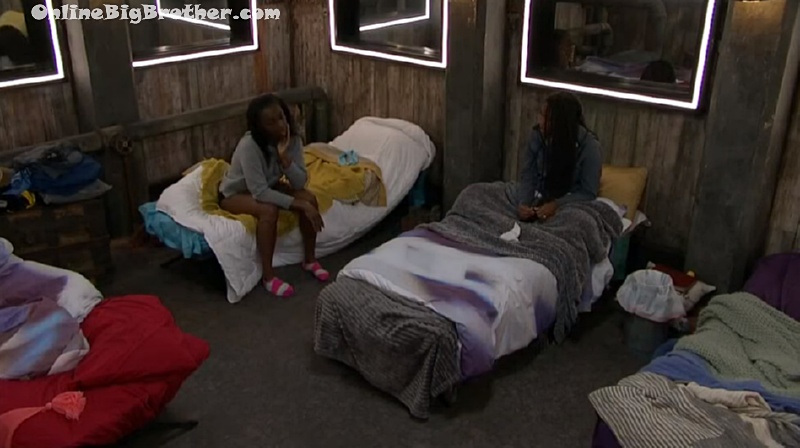 1:45 pm Bayleigh and Da
Da brings up that she was checking up with Tyler to make sure them three are solid. Mentions he keeps bringing up how they have to make sure their 6 is solid.. he's all about their solid 6.
Da – I don't know what's going on I don't feel connected no mah
Bayleigh says that Dani and Cody are super tight..
Bayleigh – what if Kasyar stays who is he coming after
Da – not one of us
Da'Vonne says Kaysar doesn't trust Kevin. She doesn't see him putting up a Nicole and Ian
Bayleigh – at least with her we know who shes is coming after
Bayleigh brings up Kasyar telling her that Tyler told him that he doesn't have anyone and told him the whole house wanted Kaysar and Ajenlle up.
Da says Kasyar isn't going to get power and "go small"
Bayleigh – he might not get power that's the problem.
Bayleigh is worried if he stays and then he doesn' get power "We got to put him up"
Da'Vonne – we gotta put him up (of course you have to the 6 the 6 gotta stay with the 6)
They agree it'll break their hearts putting Kaysar up.
They talk about David "Lots of problems"
Da'Vonne – that has become a major problem.
They talk about the conversation Janelle had with David (Janelle gave Da a debrief)
Da says that David has been going around telling everyone he wants to just make it to Jury
Da' he's not playing to win
Bayleigh asks if David knows how to play the game
Da'Vonne – nope..
Da – Ian wants her (Janelle) outta here 100%
Bayleigh says Enzo would be up for keeping Janelle
Da – I don't know
Da'Vonne – she's outta here.. her only hope is if she can flip him (Cody) she has to have the right verbiage when she's coming for him
Da'Vonne brings up how bad David wants to be part of a "Guys thing" because last season the guys rejected him.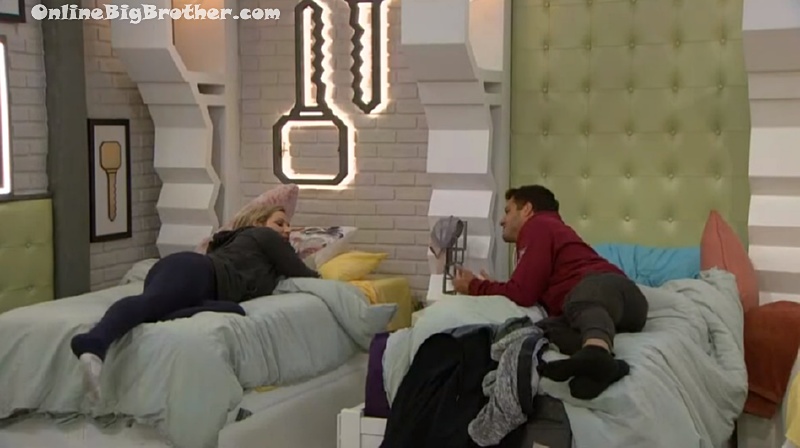 2:00 pm Janelle campaigning to Cody
Janelle offers her wedding ring, if she gets a power she'll do what the house wants.. etc.. . Starts telling him about her David conversation.
2:00 pm Kaysar and Christmas (Memphis comes by to flex for them)
They're talking about NicA. Christmas says when you look at the big picture it doesn't make sense. NicA wasn't a threat and they were supposedly working with her.
Christmas says she's much closer to Kaysar than Janelle.
Kaysar – I'm a straight shooter and I'm fair you do what's best for your game. Ther'es social aspect and a game aspect.
Christmas – who is Janelle like totally against
Kaysar- Nicole that's why they had the blow-up
Kaysar- people I'm closest to is You, Bayleigh and Da'vonn I don't trust anyone else as far as I can throw them
Kaysar says David is allied with the other side.
C – What about Dani
K – she's playing both sides.
C – did she mention my name to Janelle I'm trying to figure out where I fall into the house too
Kaysar says it came from Dani.
Kaysar says he's had to tone down his game from last week. Kaysar tells her he's not down and out right now it's half an act half him really tired from last week.
Kaysar – not to be an a$$hole I'm one of the smarter people in this house.. I can do a thing or two and run circle around some of these people.
Kaysar says everyone telegraphs in here.
Christmas – would you go after big targets or floaters
Kaysar – last week BIG targets now I'm not sure I would have to give it some thought. After last week I realize I need to conserve my energy be calm and win some DAMN comps.
Christmas agree.
Kaysar says the powers have been locked. says Kevin transfers information for "money" she's floating
Kaysar says that Dani is playing a social game.
Kaysar says Cody and Dani work the rooms for the team. they are driving it because they have the numbers.. When you ask they say it's the house you think it's teh house but ti's them driving the vote.
Kaysar says you never want to be the odd person out so the vote goes their way.
Kaysar says the votes Janelle has locked are Bayleigh or Da'Vonne "That's not going to get her over the hump"
Kaysar – they (Cody/Dano/NicF) want her out and they have the votes.
Kaysar – if they win again it'll be a continuation of this week
Christmas thinks Kaysar has the votes to stay but Janelle is campaigning really hard "She's got a good pitch"
Christmas says it's highly likely that Janelle is not going to stay so after Kasyar stays they need to talk again and decide what their move is.
Kaysar thinks that Kevin "who is off base about everything" influenced by NicoleA he spun her up with conspiracy theories and made her go crazy. (he was the main one, Da'Vonne helped out along with the entire other side of the house)
Kaysar stresses "Do not give Kevin any info"