Head of Household Winner – Tyler
Have nots – Bay, Janelle and Enzo
Nominations – Janelle & Kaysar
Power of Veto Players are -Janelle, Tyler, Kaysar, Cody, Bayleigh, Memphis
POV Host: Christmas
Power of Veto holder – Cody
Power of Veto Ceremony – Cody Doesn't use the power of veto Nominations stay the same.
Safety Suite – Enzo wins Christmas is his plus one.
Live feeds —-> Grab your Live feeds here. Try it free.
Rank the houseguests —-> Big Brother 22 Ranking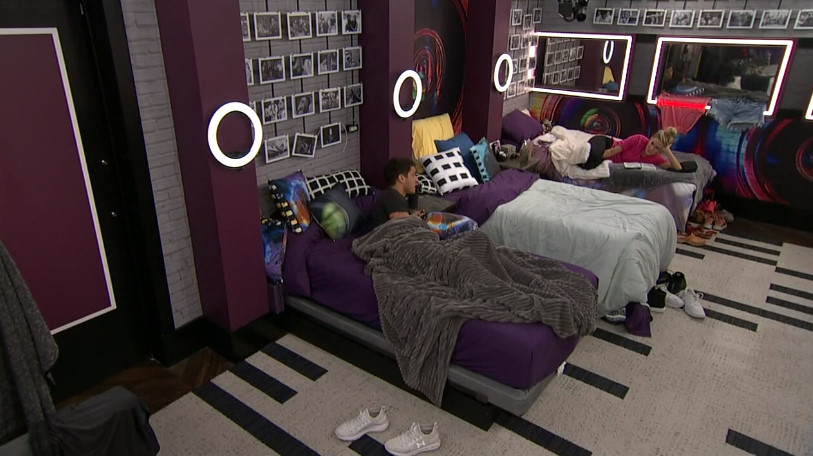 7:10pm Bedroom. Dani and Cody.
Dani – who is your 3 order of evictions? Cody – I think Kaysar has to go right away and then I think like.. I think .. to be honest because Christmas said this .. thinking about who I would rather not have in jury. The first five go right home. The next eleven go.. Dani – possibly. Cody – or the next nine leave. So right now its Janelle.. she is going to leave. Dani – the next three. Cody – Kaysar, DaVonne.. and then see how it plays out from there. Dani – but who would you want to go after? Cody – honestly I love Kevin but I wouldn't mind if he went. Dani – he is just a number on our side if DaVonne is gone. Cody – you don't think he would be bitter? Dani – I don't think he would. If someone were to use him as a pawn he would be pissed. I think in the end game .. I think Kevin will vote clean. I think 75% of people have a little bit of bitterness. Cody – I don't like that DaVonne is running around spewing about guy alliance. That is a big problem. Even though we're in an alliance, I'm in 12! So alliance members have to go. She is someone that will maybe get into a Christmas ear. Like women strong.. and if Christmas turns .. she might throw us up. I don't fully trust Christmas like that. Dani – I think she would go after Tyler first. Cody – I don't think she can be easily told what to do. She could snap at any moment and isn't easy to work with. Dani – only one female has ever beat a guy. That's crazy. Cody – how many times has a girl sat next to a guy in the end? Dani – a lot. They say that girls get really bitter and guys don't want to be beat out by a girl. Guys get away with a lot more in this game. Dani – who are you the least close with in the house?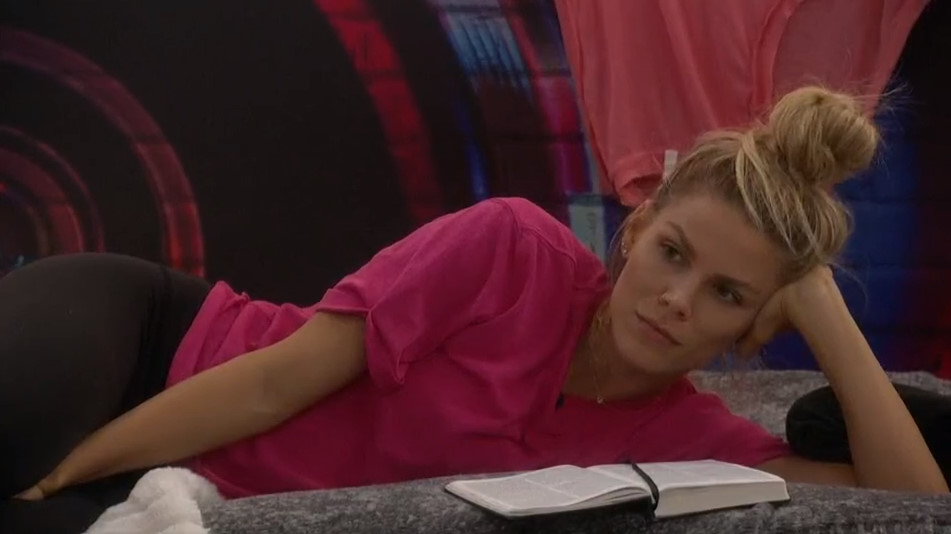 7:35pm Storage room. Janelle and David.
Janelle – I wanted to talk to you.. is that okay? David – yeah. Janelle – I'm on the block obviously and I wanted to see where your head is at with things. David – I don't know. Janelle – you're not sure yet? David – no I don't know. Janelle – what are you basing it on? David – I mean .. you were campaigning and leaving me out .. I am just basing it on the same thing. I'm going to see how the house is going to feel. Janelle – Umm okay well I definitely voted for you to stay. David – yeah, I know. I feel like at that point it was .. I don't know .. before then it was like lies and stuff going out there. Even at some point .. you were using or manipulating Nicole. Janelle – Nicole Anthony!? David – yeah. Janelle – NOOOO… look listen .. On my kids I did not manipulate poor woman! She had a mental breakdown. Like I have never done anything bad to that woman in my life. I promise you! She blames me for her being nominated but that couldn't be .. I didn't have anything to do with it. Like I told you last week, I don't have anything with Memphis. Like he is his own .. person. Like I didn't have anything to do with that. David – Like the two of you working together .. is know. I just know where my head is at regarding that. I am just evaluating the situation as it comes along day to day. Between the two of you I don't know what would be best for my game. If anything you guys had intent to get me out which was best for your game at the time. Janelle – this Nicole Anthony thing .. she was blaming me, blaming me, blaming me. And I am like I didn't do anything. David – well regardless..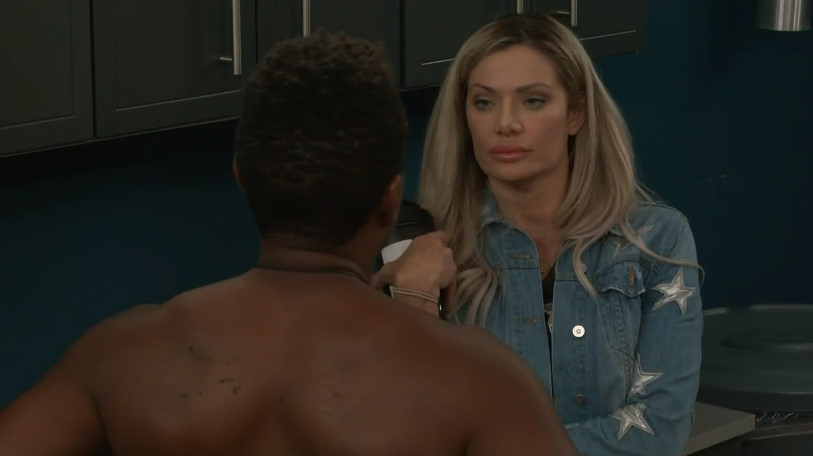 Janelle – I didn't do anything to that girl. Moving forward .. I am definitely not going after you in this game. If anything ..me, you, Bay, Day could get something together and work together in this game. David – but where is the level of trust that I can have working with you? Janelle – if I am working with you .. its 100%! Like I will tell you everything. David – yeah but there is not historical reference for me to think that that can be true. Janelle – okay .. why!? David – because you've lied before. Janelle – to you?!! David – yeah. Janelle – about what!? David – I don't want to go tit for tat on it .. on what particular thing is a lie because you're going to deny it. Janelle – I would like to know. David – it doesn't matter at this point. Janelle – if it doesn't matter then let me know so I can at least defend myself. David – I think the intent of you trying to find out about the lie is to maybe argue against it. I think it doesn't matter. I can't give you what you want to hear right now and there is no sense trying to find a path to that. Janelle – sure. So you think I lied to you? David – I think you spread lies, rumors and speculation throughout the house and my name was involved in it. Do you deny it? Janelle – deny what?! David – that lies, rumors and speculation were spread by you. Janelle – lies no, speculation yes. Because it was speculated in groups that you were with certain people. David – but what if that speculation that you tell as a truth has a lie. Janelle – how is speculation a lie. It was whatever. David – none the less .. it hurt! Janelle – I get that. David – I make an effort to make people comfortable here and then boom my name was thrown out to get me out. And you were part of that effort. How am I now supposed to be enthusiastic about working together. Janelle – I get what you're saying but its a week to week game .. Nicole Anthony was convinced that I was backstabbing her. This girl had a mental breakdown and truly believed that I had this mastermind plan to get her on the block and manipulate her which is not the truth. David – regardless just understand my situation and where I am at. I need you to understand that I can't just trust what you say. Janelle – I hope we can bridge that gap and later on that we can work together. David – that is something that will be evaluated at that time but right now this is where I stand. Janelle – you will have to vote one of us out or whatever.. but I am not coming after you .. I never would.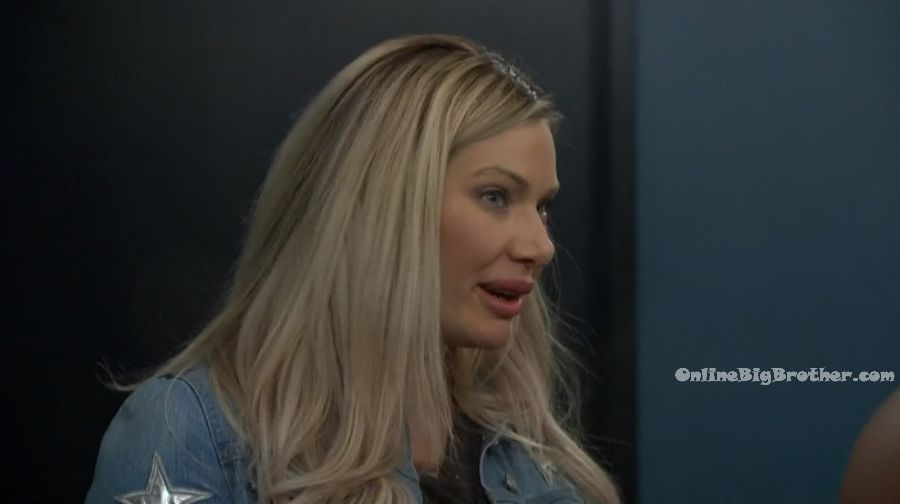 8:20pm HOH room. Bay and Janelle.
Janelle – David is pissed at me. Bay – what did you do now?!! Janelle – I asked him like what are you thinking for the week. And he said you spread lies and manipulation about me. Nicole Anthony has ruined my name in this game! I was like WHOA Buddy! He was like you wanted me out. I was like I was friends with NicoleA.. And he was like ohhh were you!?!?! Bay – no he didn't?!! Janelle – he is pissed at me. It was a really weird conversation and I do NOT think I have his vote. I mean he has got to vote for one of us.. so whatever. I was like friends with Nicole period! I did not advocate for either of you to go up period! He is really weird. Bay – yikes! Janelle – I think you would have to work on him. Bay – its like pulling teeth to talk to him. Janelle – he is a weird one. Bay – I would agree with that.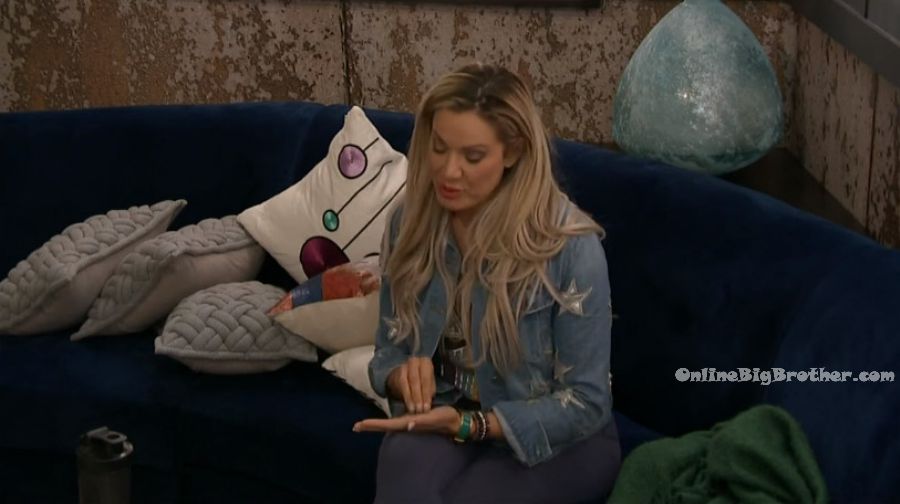 9pm – 9:10pm HOH room. Bay and Tyler.
Bay – Day is my number one girl but I want a number one guy too and I feel like you would be a really good candidate. But I didn't know if you were already taken because I know that you and Dani are really close. Tyler – Dani and I are not as close as she is making it out to be. Bay – I just don't want to be steppin on any toes. You're out going HOH .. all the decision are made and so now you know that I don't want anything from you. Tyler – and now you know that I am about the six too. Bay – we had our little talk and the six is there .. and now once this week is over I won't have anyone outside the six and you won't either. I know that its going to be a real friendship.. even when the game is over. Tyler – I know that. Bay – I am very excited for us. Lets make this a thing. I don't know if it needs a name .. so think about it.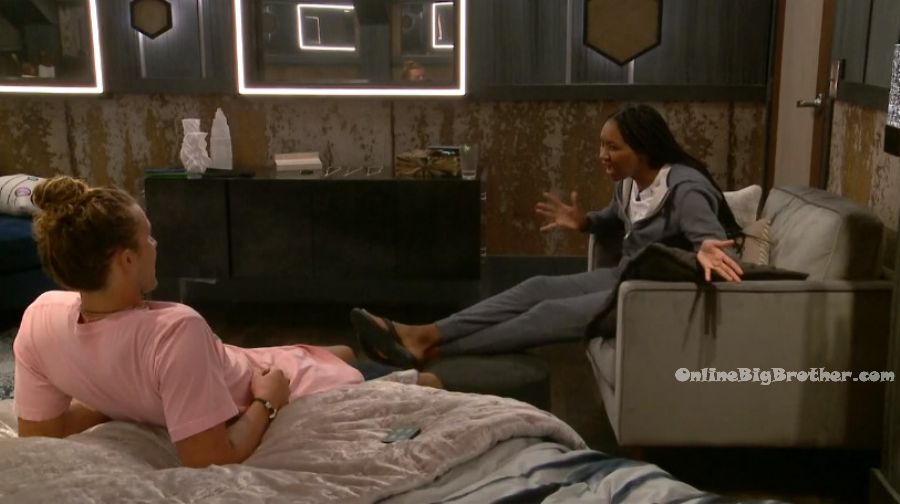 9:22pm The house guests are sitting around chatting about random things..
9:50pm Lounge room. Christmas and Janelle.
Janelle – You know I want to work with you. I know I am on the block but I definitely think I could benefit your game. If I would have gotten HOH things would have obviously been a lot different. I lost by one point. Christmas – it was pretty close. Janelle – bigger picture .. when it is time to make a move .. you can count on me to help you out. Christmas – I wasn't surprised that Cody didn't use the veto. Janelle – yeah, why would he. Christmas – I wanted to talk to Kaysar because I do talk to him a lot. Janelle – I want to work with you. I would love to work with Bay and Day. Janelle – I need 6 votes and Kaysar needs 6 votes. I for sure have 2 votes right now. Christmas – is it the girls (Day and Bay). Janelle – I haven't talked to Day yet but I have Bay and Memphis. Coming in .. I didn't think I would win. I was coming in for a cameo appearance. But going out week 3 is really lame.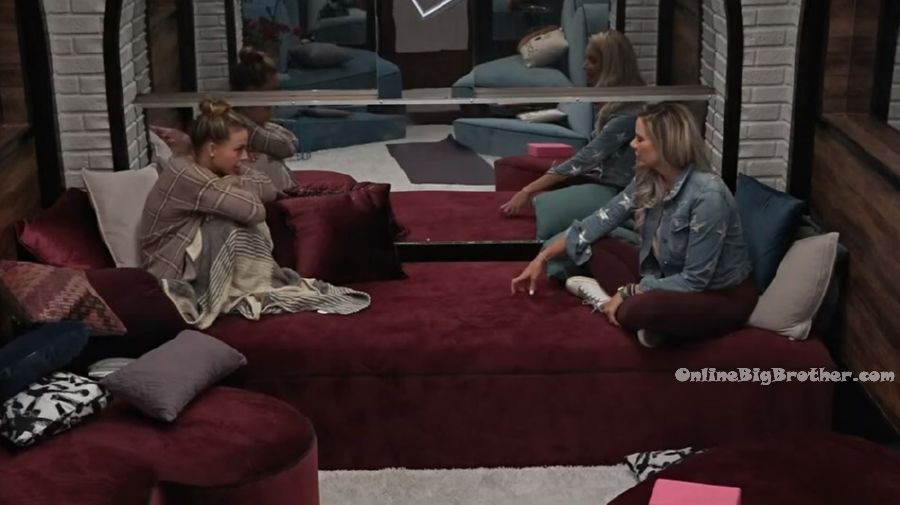 10pm Bathroom. Kaysar and Day.
Kaysar – I don't know what is true anymore or who I can trust. I talked to Tyler and he said that the entire house came up here and said Janelle and Kaysar need to go home. I am not giving up. I am not going to campaign against her. Day – you don't have to campaign against her but you can campaign for yourself. Day – you tapping out is not good for me.. I don't like it. I don't like it at. Kaysar – this is it.. this will never happen again. I am just processing this. I am not down and out .. I am just laying low. Janelle tells Christmas about the conversation with David.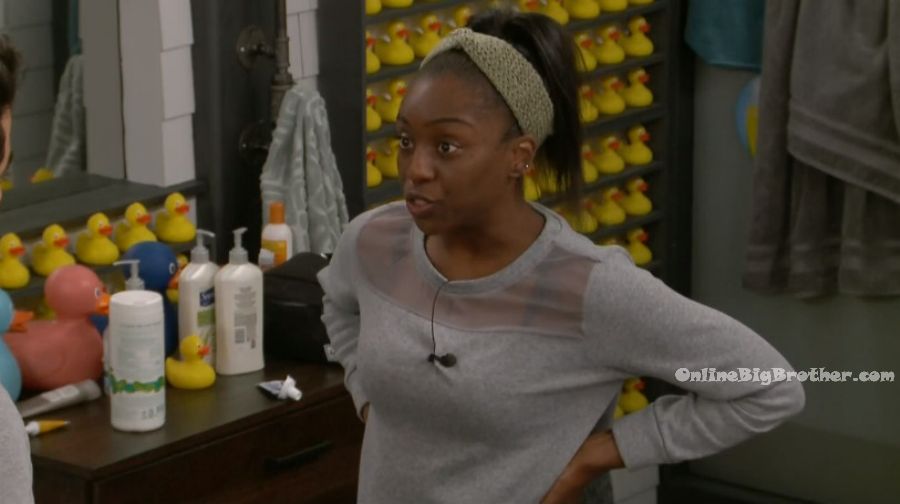 10:30pm – 10:40pm HOH room. Bay and Day without Tyler.
Bay – She (Janelle) said that Memphis is a lock. Day – for her? Bay – yes. And she said that if she gets 5 votes, Dani will be her sixth. She is scrambling. She said that she is going to try and offer Cody something. Day – but are you throwing her a vote? Bay – no. Not unless its discussed.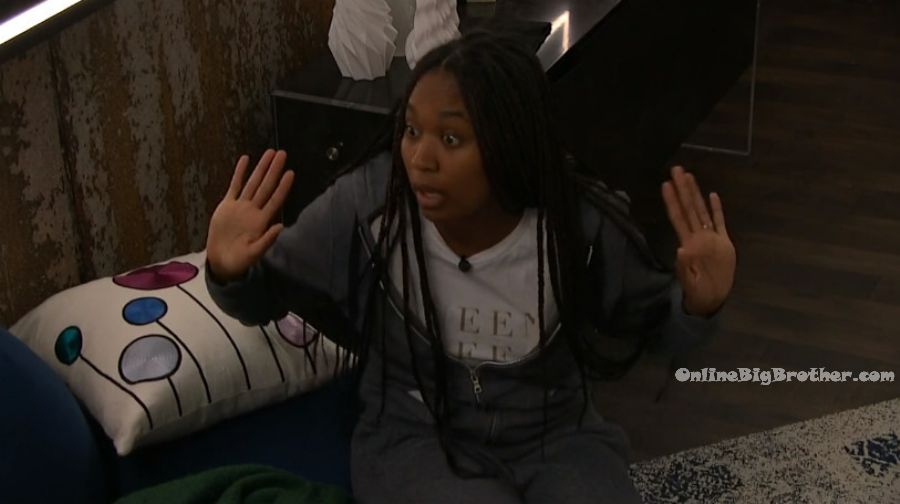 10:50pm HOH room. Cody and Tyler.
Cody – at what point do we let Memphis know? That Bay is trying to backdoor him. Do we wait until he becomes an HOH or Christmas becomes an HOH? And then say it to him so that he pushed it at Christmas? If we say it to him and he pushes it to Christmas it can go one of two ways. She is either going to get really irritated by him or like okay this is the alliance . this is what I got to do. It will come down to when did she say it to you. And we will have to bullsh*t it a little bit because she said it yesterday. Tyler – Memphis needs to stay in here as long as possible because he is going to build himself a target. I just don't want it to be the case where it is Christmas on the block against Bay. Cody – and I don't foresee the HOH where that would happen. My doomsday scenarios is Bay wins HOH, Kaysar comes down and she tries to backdoor Memphis. Tyler – and Memphis is on the block with? Cody – some pawn. Cody continues to talk about this and that scenarios. Cody and Tyler discuss the possibility of a battle back or not. Dani joins them. Dani – it would be irresponsible of them to have someone leave and come back. Cody – once you leave the bubble you have to keep getting tested.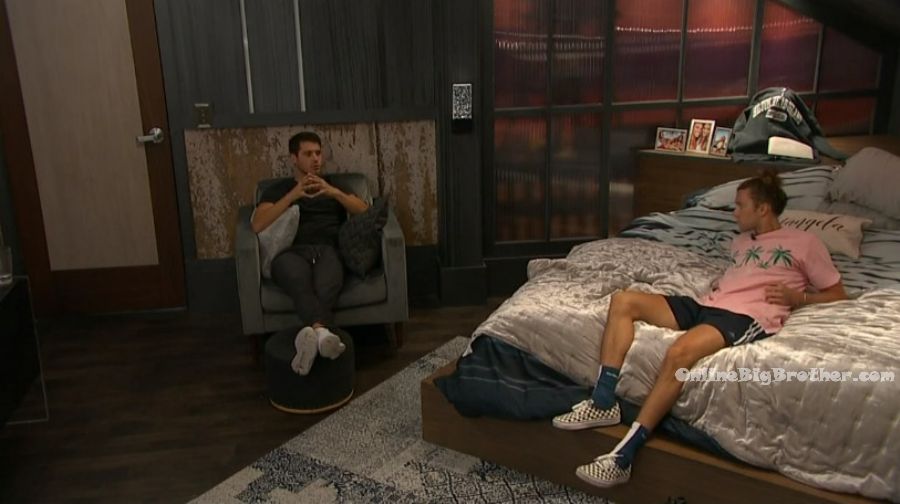 11:40pm Backyard – The house guests are hanging out.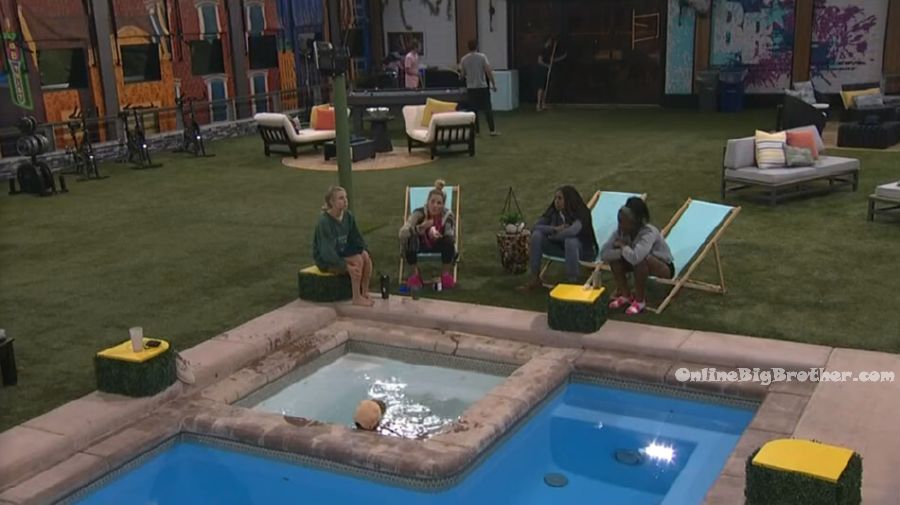 11:54pm Bedroom. Nicole and Dani.
Dani – if we get rid of Janelle, then get rid of Day.. Bay has nobody and she would come to us. The moment anyone says my name.. they're out of here. Say your name, they're out of here. Say Cody's name, they're out of here. No one is freaking saying Enzo's name so who cares. Literally that is what we have to go by. If people are saying our names .. you're out of here! Bay is starting to talk about Cody .. she she is very high on the list now. You do realize that Christmas can't stay around that long right? As we go along she is going to be a threat to us but also the guys. I would rather keep Tyler longer because I trust him more and he trust me more. Her whatever .. she is way closer to you. Every week someone has to go but as long as its not us I don't freakin care. Nicole – I can't believe she (Janelle) is going to go. I just want to sleep till Thursday. Dani – this is the quickest she has gone. I don't even understand what she did.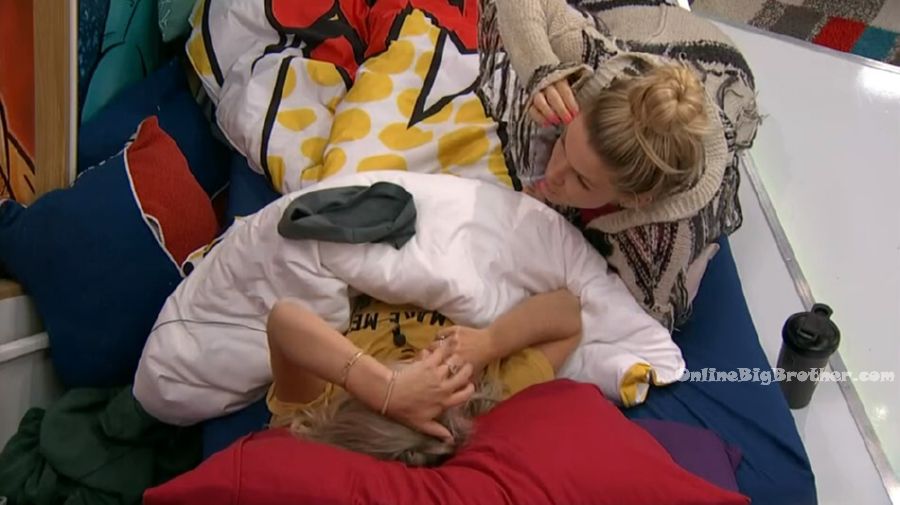 12:30am HOH room. Tyler and Day.
Day – you are someone in the house that I would like to work with. I think it is solid what we have but ..I am not stupid. And I know that there is some other sh*t happening. For now I am good with the dynamic of us three. Tyler – I am good with it too. Like me, you and Bay? Day – yeah. Tyler – I am too. Bay talked to me with the idea that I am linked to Dani super tight. But we just eat the same things. I am all about the group. And I am so so down to battle to final six. Day – that is what I was telling her .. I love you.. I love her and that is where I feel the most comfortable. And don't get me wrong I am solid with the six.. I am down for the cause.. but when we get there.. Tyler – you don't have too .. as long as we talk it out now .. I don't want to get sixth place. I have you.. I need you in this game.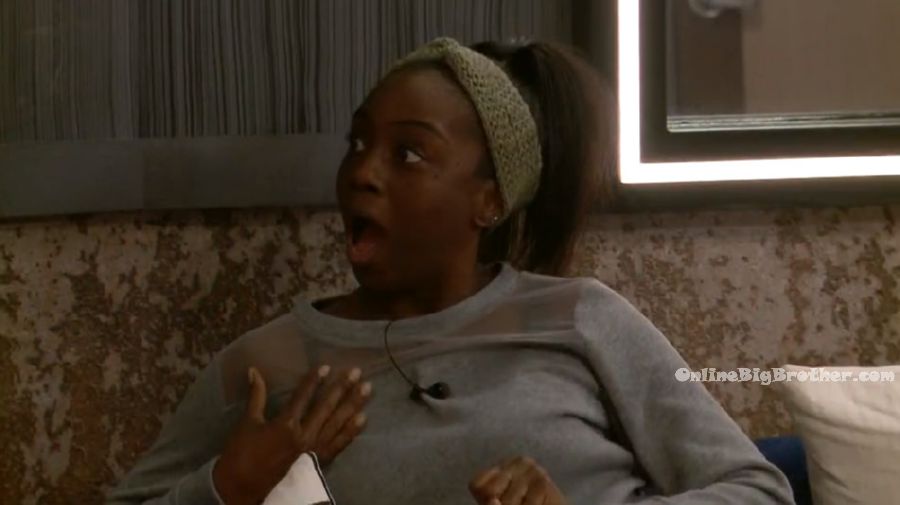 1:10am – 1:40am Hammock. Kevin and Dani.
Dani – she is very smart and very good at this game. Kevin – what was her pitch to you? Dani – I am going to go on the block every single week. Its an easy week for everyone. Which is not true when you have a big come back like that. When you're a big player and you stay. That is not how it works .. you know what I mean?! You come back with vengeance ..you know what I mean. Kevin – but who would she go after? Dani – I don't know .. NicoleF I imagine. And she keeps talking about how someone (Kevin) has been smearing her name around this house and can't stand them but won't say who. Kevin – oh interesting. You know how I feel about her. I've expressed it. And I am very supportive of what I think the house is doing. Dani – as far as I know everyone is leaning to getting her out. I feel like her being in here doesn't benefit anyone. Kevin – I feel like she is going to find an angle. Dani – she is good at this game .. she isn't going to just lay down and die. This week or if she were to stay next week or whatever.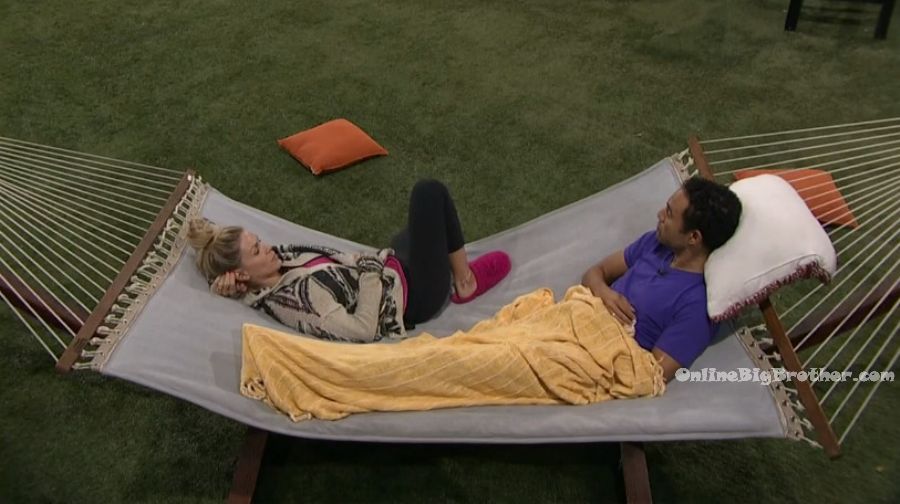 1:40am – 2am Hammock. Dani, Kevin and Ian.
They talk about what BB alumni they would have liked to have gotten a second chance to play on this all stars season. Dani thinks that they should have only picked returnees from BB8 and after because everyone before that had their chance to come back already. Janelle joins them. Kevin tells her that she was the reason he chose to come back.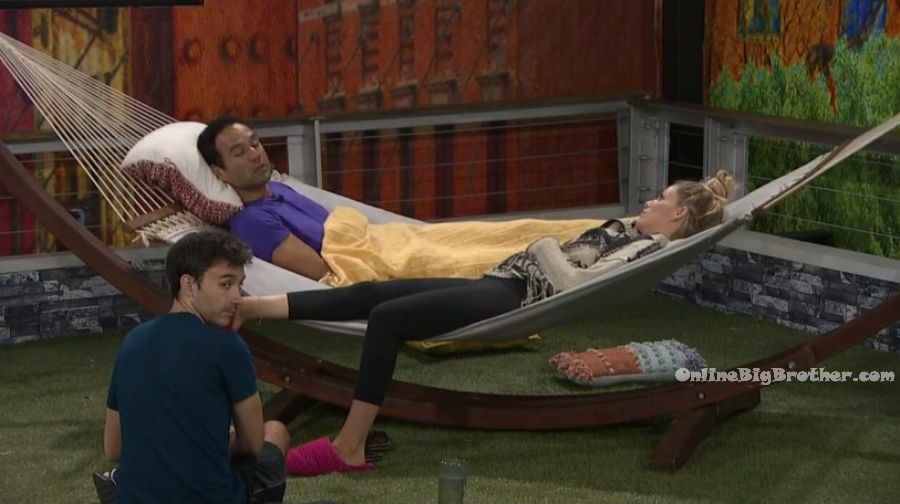 6:56 am sleeping yo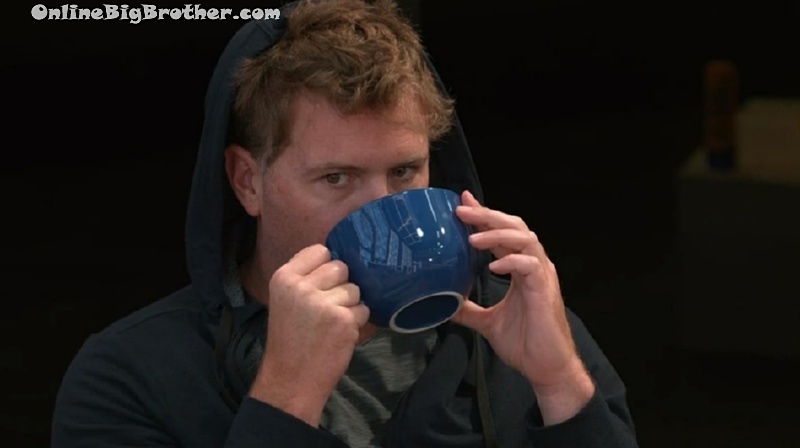 8:23 am Memphis up.
Show your support by making a donation.
If you're enjoying our live feed updates this season, please consider donating.
Any amount is greatly appreciated! Your donations go directly to paying the fees required to run this site.