Head of Household Winner – Tyler
Have nots – Bay, Janelle, Cody and Enzo
Nominations – Janelle & Kaysar
Power of Veto Players are -Janelle, Tyler, Kaysar, Cody, Bayleigh, Memphis
POV Host: Christmas
Power of Veto holder – Cody
Power of Veto Ceremony – Cody Doesn't use the power of veto Nominations stay the same.
Safety Suite – Enzo wins Christmas is his plus one.
Live feeds —-> Grab your Live feeds here. Try it free.
Rank the houseguests —-> Big Brother 22 Ranking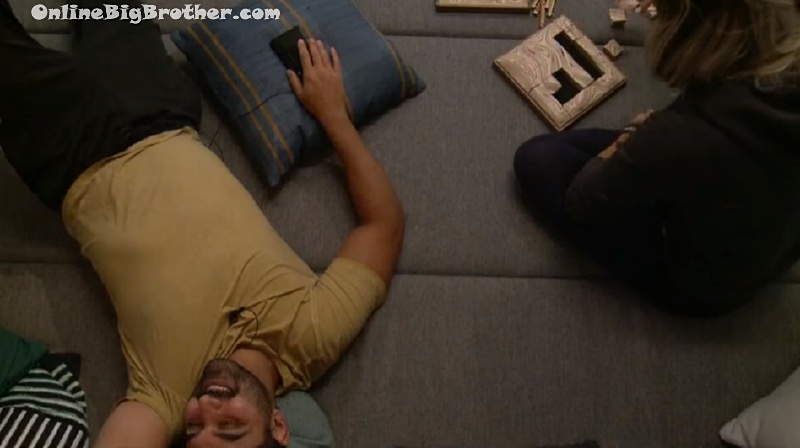 3:10 pm Janelle and Kaysar
Talking about how NicoleA destroyed their game
Janelle – now that the day's gone by I'm like F**ing pissed at Nicole Anthony after I talk to people
kaysar – more is coming out
Janelle – everything, basically it was all me I was the one that conspired to get her on the block
Kaysar – are you serious
J – hey
Kaysar – that's so crazy she single handly ruined our game.
Janelle – that's why when we were sitting out on the hammock and you said it's just not going to happen and she flipped out. That was a crucial error that is when she spun out of control.
Janelle – she went crazy on us.. absolutely nuts
Kaysar – honestly my entire time. Everything that I have seen on this show that was one of the most bizarre things I've ever been a part of
Janelle – I never want to speak to her again at this point .. I did nothing but try to help her and she went f***ing crazy .. I'm pissed now.. What the f**
J – Did David say he's keeping you? that what I thought
Kaysar – he thinks we're both Liars
J – because of NicA. I talked to David he was so hostile.. he was like just so you know NicA told me everything
Kaysar – she thought we prayed on her and we're some wretched people that destroyed her life.. you know I thought of all the way I could get voted out or way things could go wrong this was never one of them that could happen.
Kaysar – I'm sorry this just sucks
J – you try to help someone out and you get screwed over
Kaysar – the extent we tried to help her out we put everything on the line to help her out and it was exhausting.. up to 30 minutes before the eviction.
Kaysar says he talked to Christmas and she told them Nicole told everyone if she stays and wins HOH she would vote them out so Christmas was like I'm not going to keep her at this point "She's off the reservation"
j – I didn't know she was off her rocker
Kaysar – Christmas was like we can't form an alliance with someone that is deteriorating in this house week 2
Kaysar fills her in that Christmas has a good relationship with him and she said that Janelle has some very good campaign points.
Kaysar – she asked me if I voted to keep you will Janelle be upset. I told her Janelle is not that type of person
J – that NicoleA made me out to be
Kaysar adds that he told her about the problem Janelle has with NicF that goes back to the amazing race and Rachel Reily.
J – I don't trust NicF if people trust her here that's on them.
Kaysar – she asked about Dani.. I said Dani is aligned with that side of the house but is playing her own game. Maybe one day she'll be a free agent.
They talk about Da'Vonne spreading information. Kaysar says Christmas was wondering how you can work with Bayleigh without Da'Vonne "Its not possible"
Kaysar asks if Da'Vonne is still a poker dealer.
J – not anymore
Kaysar – says a lot about her.. she's smart. she wins a lot of these games she beats people at chess.
J – she's not a player she's a dealer.
Kaysar – doesn't matter you still have to see trends..
J – If you're a dealer? you're dealing cards that's it.. playing poker is a lot different.
J – David likes HATES me
Kaysar – he didn't tell me that.
J – I can read his body language
Kaysar – he called me a liar and I started laughing ..
J – he was like you spread lies throughout the house .. I was like ohh f***
Kaysar – you are in an alliance with someone else, of course, I would vote you out what do you think I'm stupid.. that is how the game works I have nothing against you. Yo think I'm a liar you are carrying a lot of baggage from last year.
Kaysar brings up David going on about last year's America's favorite player went on the block.
Kaysar says David thinks Janelle was the mastermind to destroy NicoleA
J – I know it's crazy ..
Janelle brings up Cody "he's always nice to me"
Kaysar – he's like that with everyone that's the problem
Kaysar goes on about how dense David is. David called him a liar and when Kaysar asked him why he said it was because he's friends with Janelle.
They can hear NicF's whiny voice downstairs
J – god Nicole's voice is annoying
Kaysar – that side of the house controls the votes this week.. (every week)
Janelle says if David isn't voting for her she's getting evicted.
Kaysar says NicoleA probably feels bad
J – She should feel bad I never said a bad word about her
Kaysar says Nicole will feel very dumb when she watches.
Kaysar – but the damage has been done
J – the damage has been done. What is your plan long term if you stay?
Kaysar – I need more information about what is going on with that side.. I'm going to try and break David he's the weak link. I'll use Ian he's also ready to defect. HE's the closest to them so eventually, he'll get information and feed it to me.. every morning he wakes up and says he doesn't like the way things are going
J – no one does
Kaysar – I can work with Christmas.. I would like to work with Bayleigh but the whole Da thing makes me uneasy.. I won't formalize anything with ba and Da'Vonne yet.
Kaysar – Tyler seems to think he can trust me but he wants me to prove myself.
Kaysar knows this is his way of asking him not to go after Tyler next week
Kaysar mentions that David wanted safety and targets from him for next week Kaysar told him he has no idea. "which I really don't"
Kaysar says he can tell she's sad
J – I'm not sad.. sorry I got my period.. the look is discomfort.
Janelle says if she stays she'll go after floaters target David.. "he doesn't deserve to be here he's too crazy he's absolutely nuts.. someone like that in this game is extremely dangerous he doesn't think logically I would not work with him if I were you"
Kaysar – he's going to end up blowing up his own alliance eventually.
Kaysar asks if she's sure she heard her name outside the other night.
Janelle is certain and Cody heard it too. Feeds flip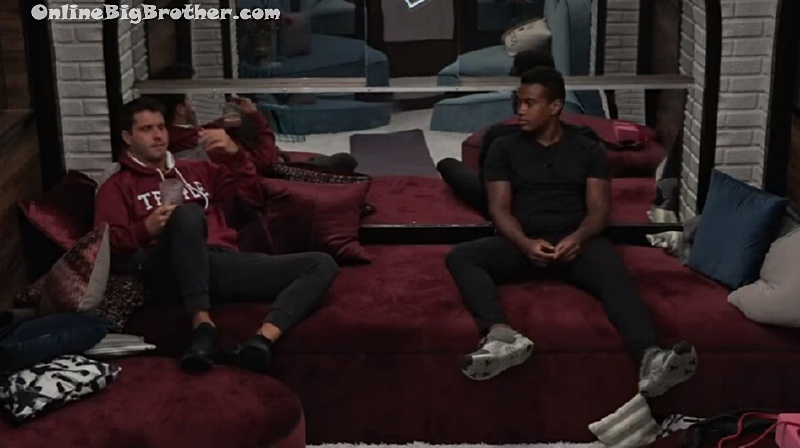 3:54 pm David and Cody
David is talking about his one on ones with Janelle and Kaysar.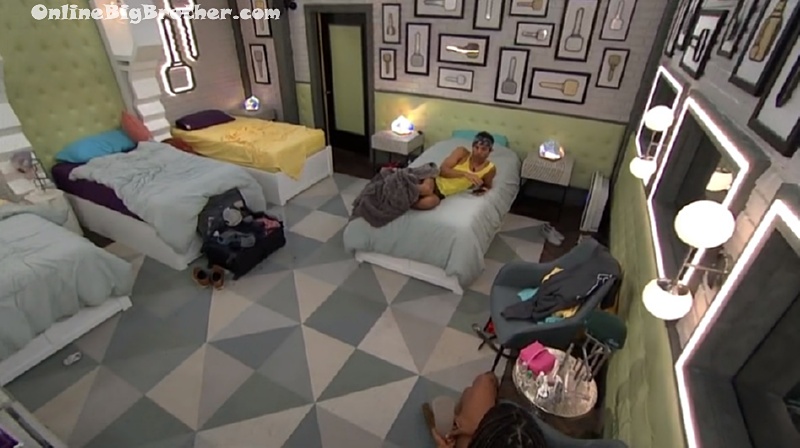 4:12 pm Kevin and Bayleigh
Kevin – you're not worried about being a pawn?
Bayleigh – why do you keep asking me that..
They begin to try and define the term "Floater"
Kevin says like in life he is never brought into a group.
Bayleigh – you wouldn't consider yourself a floater
Kevin says he doesn't consider himself a floater during his season he was always with his same group of four.
Kevin says there's a group of people in the house but he's not being included.
Bayleigh – why aren't you including you
Kevin – I can be a loyal vote
Bayleigh – can't other people can.
Kevin – what are other factors
Bayleigh – comp wins.. veto wins.. that kinda stuff.
Bayleigh says she's trying to win HOH and she'll put up Kaysar and someone else.
Bayleigh says she wasn't close to David or Da'vonne prior to coming on the show. She met Da'Vonne once before.
Bayleigh tells him that J/K was really telling the truth about NicoelA they weren't trying to screw her.
Kevin – that doesn't make sense to me
Bayleigh says Memphis isn't in an alliance with J/K
Kevin – that doesn't make sense to me (100% of what you say doesn't make sense to me)
Bayleigh – we should have won week one now no matter what we do we don't have the correct numbers
Kevin – unless we win HOH
Bayleigh – exactly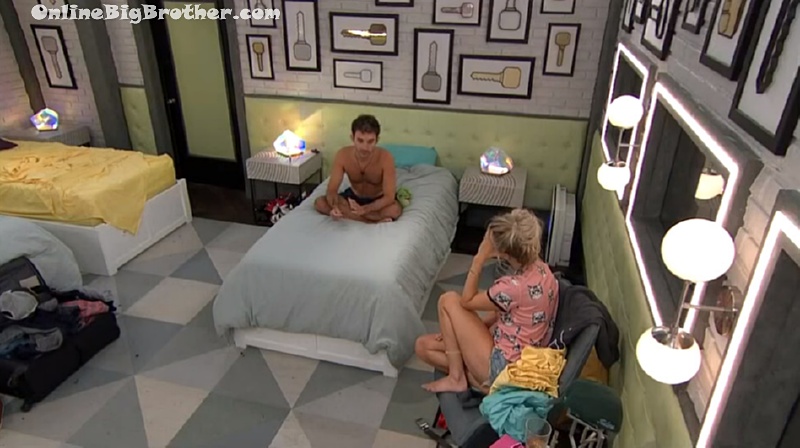 5:11 pm Nicole and Ian
Ian – Janie has to go it's 100%
Nicole – yeah
Ian – cause.. we need to be very careful how we talk about it we don't want to put the idea in anyone heads that we should keep Janelle around her targes are known.
Nicole says she's pretty sure Kevin is the one Janelle is talking about.
Nicole doesn't want Kevin to flip. "Earlier he was 50/50 but now he just said he wants her gone because of that comment"
Nicole – Da'Vonne is trying to get him to flip
Nicole – they need your vote
Ian – no way they're not getting it
Nicole – anything you tell Kevin he'll tell Da
Nicole says the people that are voting to keep Janelle are bayleigh, Da'vonne, and apparently Memphis but she's not sure that it true.
Nicole – I don't think it's true because he told Janelle that.. she thinks she has Kevin too but I think I squashed it.
Ian says now that he's in the key room he's realizing its Bay, Day, Kevin then David. " she was making a hard sell to David. Da'vonne told me David had no chance of flipping.."
Ian adds if Janelle gets Memphis she'll just one more vote to flip.
Nicole – David told me he's getting her out.
Ian – we have Christmas
Nicole – yes..
Ian – and our votes
Nicole – yes, we have siz.. right 6 we need 6.. honestly I think it will be 3 to whatever ..
Nicole – I want her to think she is staying so she doesn't cause any drama
Ian – the person she's going after is Kevin
Nicole – and me, She said she's going after floaters.. if she's going after me she's going after you. It might be us deep down
Ian – I think it is us
Nicole says Kevin will flip before David flips.
Ian is certain if they are on the block and the nominations stay he'll be the one evicted.
Nicole – it's me, you, Dani, and Cody we need to start getting closer to the other group.
Feeds go to stars
When we're back Ian saying if the house sends Janelle home the house is making an error, 'that's a problem, Kaysar I'm actually been buddy-buddy with"
Nicole – Christmas likes Kaysar better
Ian – everyone likes him better except maybe Bayleigh
Nicole – they know she's a threat so they think she's good for their game.
Nicole adds that Janelle was talking about her, Ian, Dani, Cody, and Tyler. "That makes all the people mad at her so they think they're doing themselves a favor so thank goodness she said that stuff" (you can thank NicA and Da'Vonne)
Nicole says Janelle will be really working on Enzo these next 24 hours
Nicole counts the votes their four-plus Enzo and Christmas.
Ian = Enzo is close to Cody and Tyler. The pole group
Nicole – it'll be a close vote.. the house is split
Ian – we aren't going after Bayeligh and Day they're not going after us right?
Nicole – I dunno
Ian – I'm kinda worried a bit
Nicole – If one of us wins we have a big decision to make. I'm open to what you think I just want to win first.
Ian – here's the best case. Janie goes, Kaysar or Tyler get the twist power. I've been trying to groom Kaysar with information the blowback won't be on us it will be on the people that voted out him
Ian thinks it will be a fan vote at some point. "If Janelle stays she's winning it and how's taking the brunt end of it.. us"
Ian – do you think Enzo is that solid?
Nicole – yeah
Nicole – I can't see them switching it they feel like I feel she needs to go
Ian – how do you feel about Kevin
Nicole – I don't know..
Ian – how you feel about David
Nicole – I like David a lot. Kevin will do with the majority Nicole will do what Da'Vonne does.
Ian – this game started with obvious pairs, Me/you, Bay/Day, Janie and KAysar
Ian – whichever pair stays unbroken will control this game.
Nicole – Me and Christmas are close
Ian says Cody wants Kasyar out next.
Nicole – we're breaking one up this week.. next week will be the hardest part of this game if we make is past next week.
They talk about what they would do if they win HOH. Nicole will put up Kaysar with a pawn. The veto gets played they put up Bayleigh. Ian says that is his plan as well.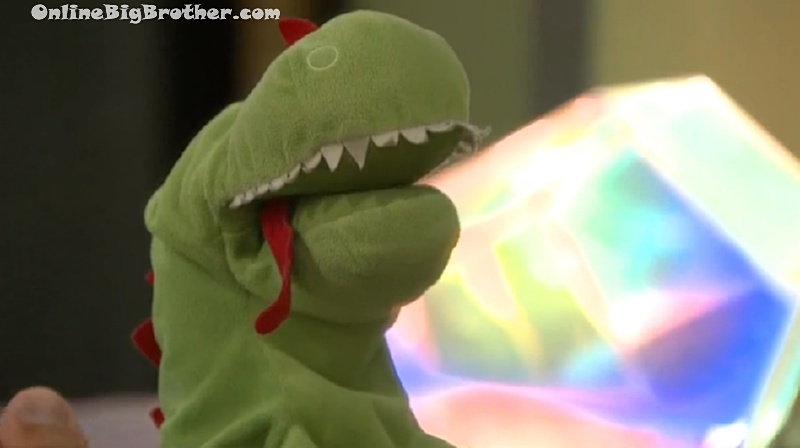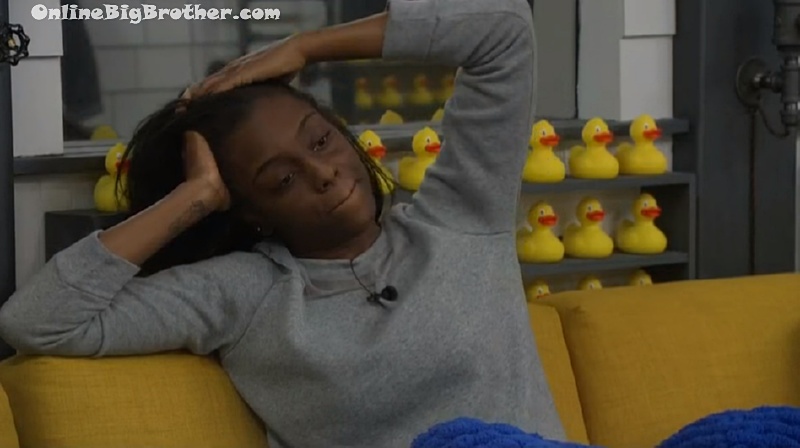 5:35 pm Da'Vonne, Kevin and Janelle
Janelle – David, that man hates me. He looked at me and said I don't trust you. NicoleA I don't know what she did to that mans brain but it was bad
Da'Vonne- wow
Janelle – I'm working on Dani and Cody that's my only hope
Da'Vonne – hows that going
Janelle – it's promising
Kevin asks if they're jealous of his booty
Da'Vonne – you don't have any
Janelle – you really don't have a butt.
Kevin leaves..
Da'Vonne brings up her and Kevin talking about David's big butt.
Janelle says David hates her "it's NicoleA I'm telling you "
Janelle – when you're going down and you're pissed off you want to take out people for revenge..
Janelle says David told her that he talked every night with Nicole and she warned him about Janelle, 'It's bad Da'Vonne"
Da'Vonne says so she's trying to do damage control because of NicoleA last week and trying to get votes this week. "that's a lot of work"
Janelle – I wasn't even HOH.. Daivd oh my god that man ..
Da'Vonne – he's close to Kaysar.. mmmhmmmm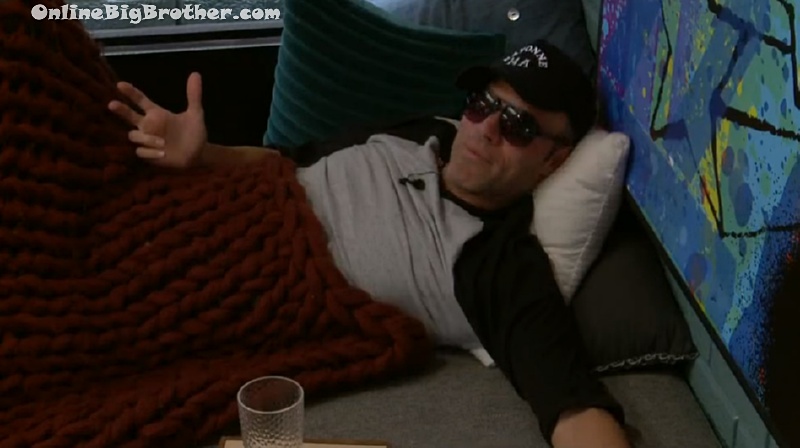 6:13 pm Enzo and Janelle
Talking about people in foreign countries that recognize them from their Big brother seasons.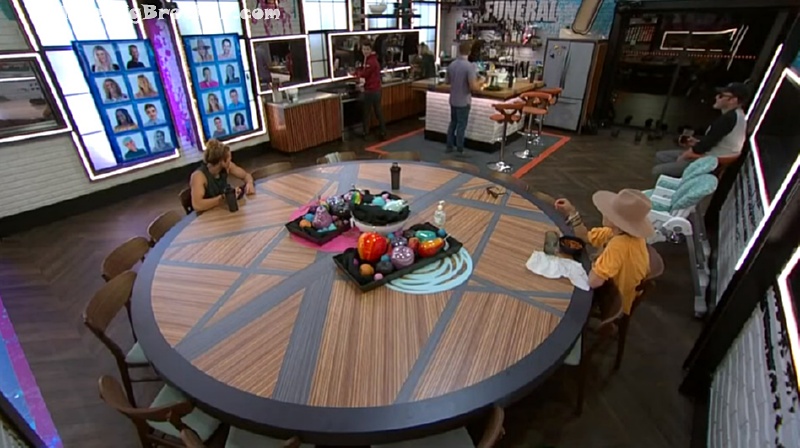 6:40 pm
Enzo today feels like a Wednesday but its'a Tuesday
Enzo – I'm lasting three minutes on the f**ing wall.. (The house thinks HOH is "the wall" endurance.)
Enzo – tomorrow I'm prep cooking at 6 in the morning (tomorrow midnight he's off slop)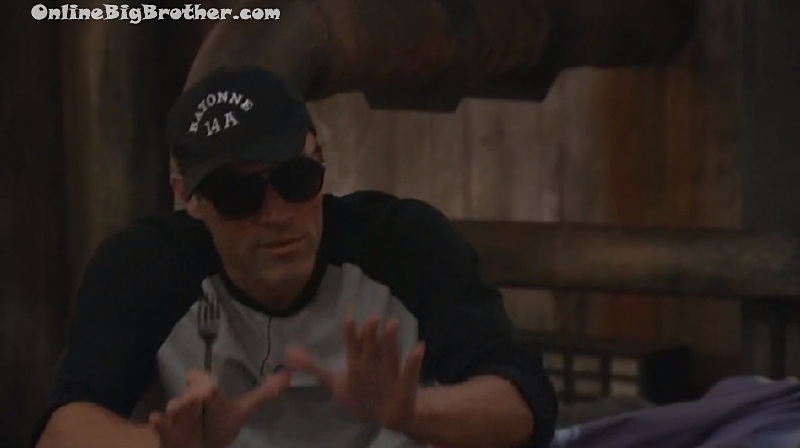 6:52 pm Janelle and Enzo
Enzo says he hasn't heard anyone say anything about her saying things about me
Enzo – I like you Janelle I don't think you have the votes to stay ..
Janelle asks if he's with Cody
Enzo says they have their own game.
Janelle says she's not after Cody she's after the little minions in the house
Janelle – long term I really want to work with you.. Big picture long term I will be good for your game.
Janelle – I had to play this game with Kaysar… it's like if you came in here with Hayden. I couldn't be like I want Enzo because Kaysar might say I want to be with Ian
Enzo – yeah I like Kaysar a lot
Enzo says he likes Jaenlel more than Kaysar but likes them both.
Enzo tells her he wants her to stay but he's not sure she has the votes.
Janelle points out she's a large target that can't win comps.
Janelle – If I can lock in 5 votes would you be interested.. if I can get 5 handshakes will you be six
Enzo – I like you a lot and I like you more than kaysAr.
He's not going to say anything because 'You know how this house is"
Janelle says the 3 votes that are locked against her are Ian, nicF, and David they hate her.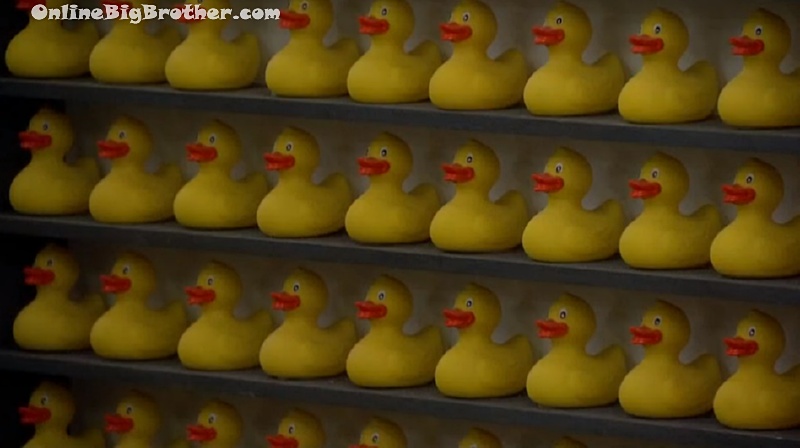 I'm out …