Quick Big Brother Spoilers
Head of Household: Turner
Nominees: Brittany and Michael Ameerah and Terrance
POV Players: Nicole, Taylor, Michael, Brittany, Turner, Jasmine, (Joe is host)
POV Winner: Michael/Brittany
Veto Ceremony: Brittany/Michael us the veto and Turner puts up Ameerah/Terrance
Havenots: Alyssa & Indy
Lock your ranks in before midnight
Festie Besties:
Turner & Jasmine (She's also safe)
Joe & Monte
Daniel & Kyle
Brittany & Michael
Alyssa & Indy
Ameerah & Terrance
Nicole & Taylor
How Nominations will work: One pair will be nominated
How the Veto Player Pick will work: Turner/Jasmine, nominated pair, and drawn pair
– If one of the pair wins the veto, the other is also safe.
– If the nominated pair comes off the block, Turner would nominate another pair.
– Eviction: One of the pair on the block will be evicted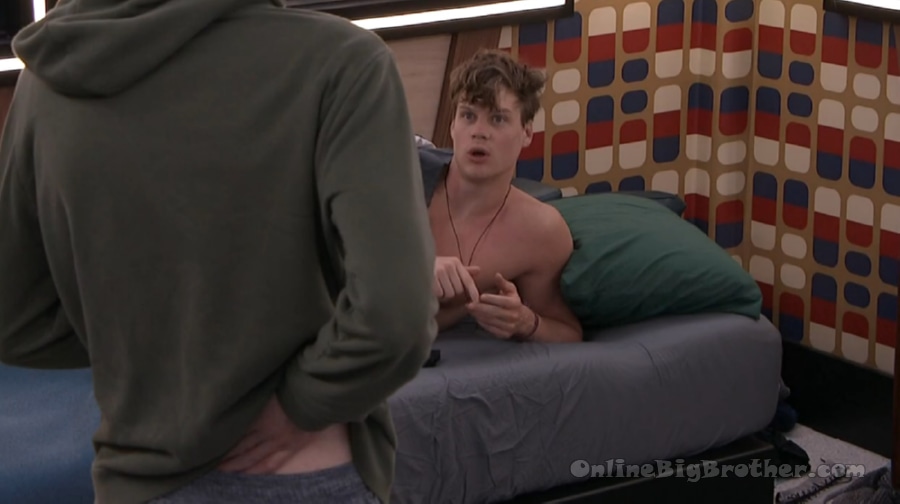 10:20 am Kyle and Michael
Michael – I did talk to Brittany about it was was like 'I don't care'
Michael – she's like 'the girls had an alliance week on'
Kyle says all their dirty laundry will get out this week so they should air it before.
Kyle – Po Pack.. I'll just say POOCH set up three other alliances.. be ready for that.
Kyle – We just need to get to Joe, Turner and Taylor to share that. Even if it's just one of us that shares that I think we're fine.
Kyle – today is going to be wild.. Lets hope it works
Michael – I had a dream he put her up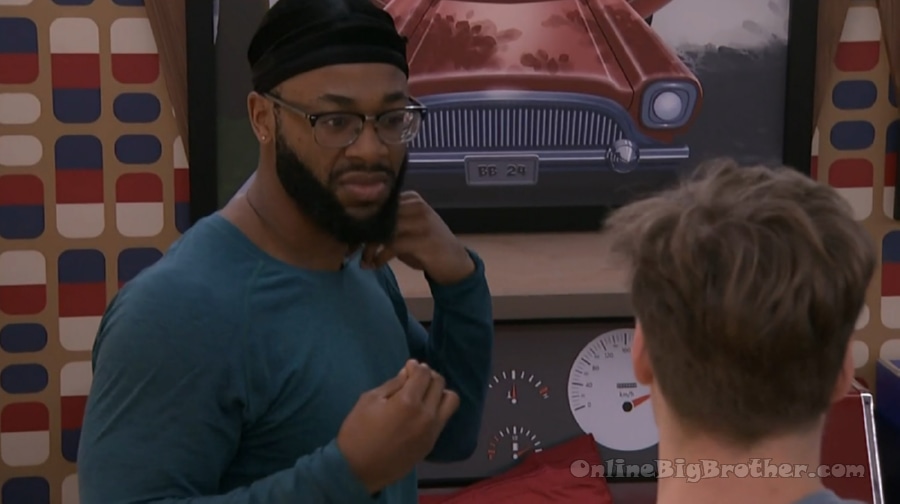 10:38 am Monte and Kyle
Kyle saying that Ameerah will go to Joe, Taylor and Turner saying they were working with them the entire time don't trust them.
Kyle – We got to beat her (Ameerah) to the punch and air all that out
Kyle – HAve a little chat with Taylor one on one kinda explain.. If we can do t as a group that would be best. Joe, you should probably talk to JOE. Michael already talked to Britany. Treat it like the Oasis.
Kyle – I'm going to say we had the Oasis that POOCH threw together we had the PO PACK that Paloma threw together. Everything Changed once JAsmine won HOH and they started using us for information and then.. POOCH made a bunch of other alliance apparently I was in that I didn't know about.
Monte – Copy that
Kyle – Taylor, Joe and Turner we got to tell all three of them.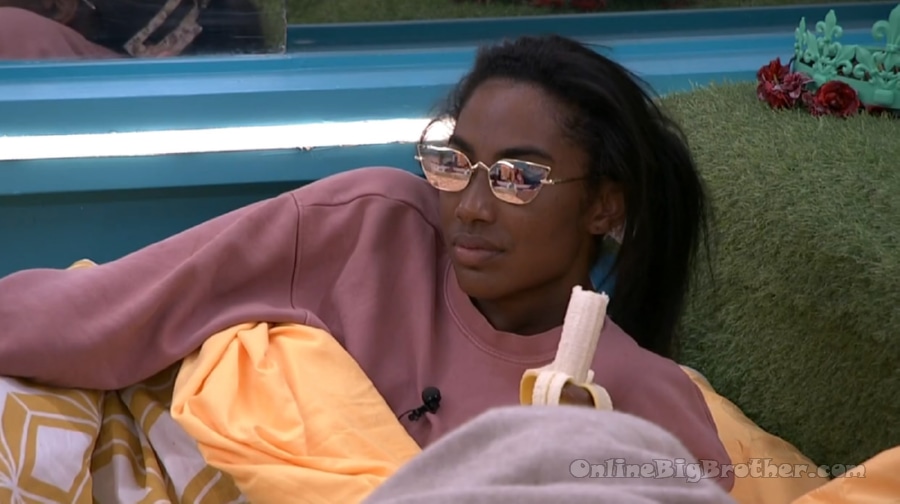 11:09 am Joe and Taylor (Hard to hear)
Sounds like JOe it warning her "After today they will all start" hounding her for a vote.
Joe – Do what you do best
Taylor – I'm going to lay here.
11:30 am Joe and Brittany
Brittany over heard Ameerah and Alyssa talking they were saying "I wonder what is going on in this house"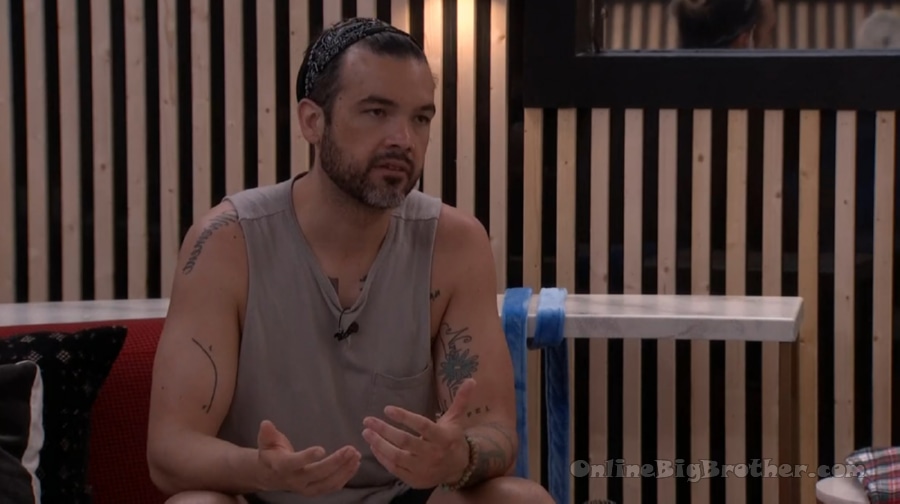 11:48 am Daniel and Turner
Turner – I do not think I'm putting Taylor on the block. I do not want … Dude I've thought about this 1000 hours in the past couple of days. well not 1000 hours but you know.
Turner – I've been in one on one's with people. The things they say about Taylor is disgusting. Not yourself.. I'm just telling you this cause I f*** with you. You are not going on the block.
Turner – I hope you're not mad
Daniel – yeah
Turner – people are calling Taylor a b1tch.. they are saying F*** her.. I cannot what people are saying about this gitl
Feeds flip.. when we're back.
Turner – I'm telling you a head of time you're the only one I'm telling ahead of time because like.. I don't want you to take it personally. I don't want you to think this is random. Whatever you need to do you can prepare for it.
Turner – I cannot add to the dogpile of this girl. I will live the rest of this game feeling like dogshit If I knew I participated.. Dude seeing someone in bed all day!
Turner – I just can't and even make it 1% worst.. Putting her on the block even if it's 2 days will give her added stress.
Daniel – whoever goes up we'll touch base..
Turner tells him he's not going up.
11:52 am Feeds cut..
12:57 am Feeds return.. Veto was used Terrance and Ameerah on the block.