Quick Big Brother Spoilers
Head of Household: Turner
Nominees: Brittany and Michael
POV Players: Nicole, Taylor, Michael, Brittany, Turner, Jasmine, (Joe is host)
POV Winner: Michael/Brittany
Veto Ceremony:
Havenots: Alyssa & Indy
Lock your ranks in before midnight
Festie Besties:
Turner & Jasmine (She's also safe)
Joe & Monte
Daniel & Kyle
Brittany & Michael
Alyssa & Indy
Ameerah & Terrance
Nicole & Taylor
How Nominations will work: One pair will be nominated
How the Veto Player Pick will work: Turner/Jasmine, nominated pair, and drawn pair
– If one of the pair wins the veto, the other is also safe.
– If the nominated pair comes off the block, Turner would nominate another pair.
– Eviction: One of the pair on the block will be evicted
State of the house
They were up all night but not much game talk went down. Looks like the Leftovers were able to hide their intentions for Monday's Vero Ceremony. The plan is still for Brittany/Michael to come down from the block and for Turner to put up Ameerah/Terrance. Ameerah is the target and has no idea she is going up. This will likely be a drama filled day.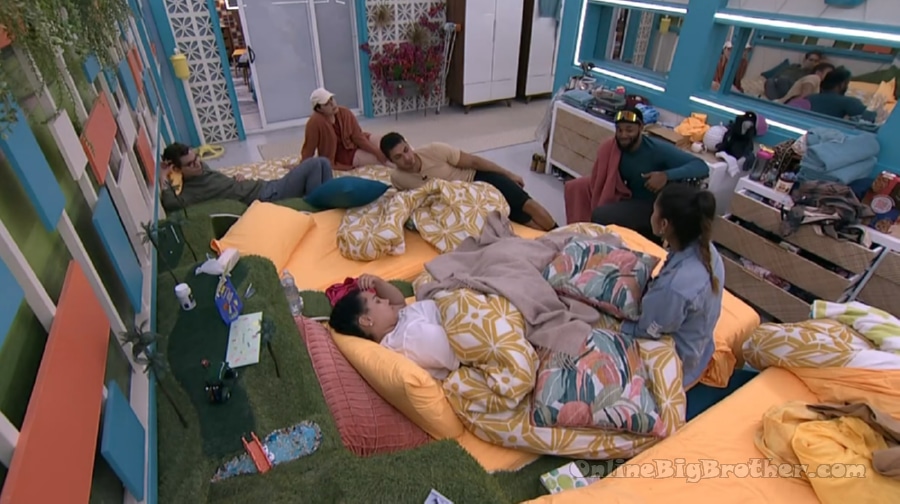 1:56 am Chit chat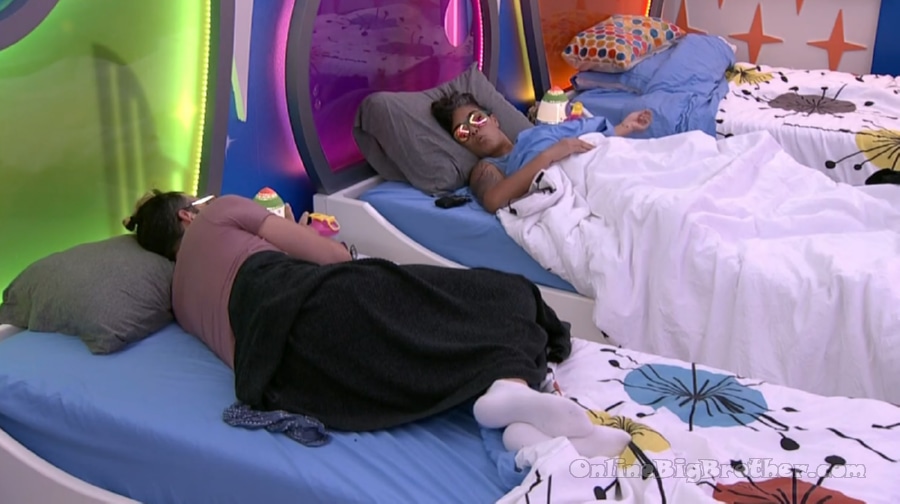 3:26 am Nicole and Daniel
Nicole – I have confidence that I have support in this house and If I didn't feel that support I wouldn't have done what I did.. I f***ing Threw a comp
Nicole – I threw a comp to get on the block.. that's POOCH 9.0
Daniel – no yours is strategic
Nicole – everything I do is strategic. That is why earlier when we were talking to Ameerah The point I was trying to make strategically for us as the females of the house we cannot put up a female. Strategically if it ends up failing we can't have it fall on us in order for us to make it further in the game.
Daniel – same thing is going to happen with the guys too
Nicole – that's what I'm saying let us take the jabs at the guys and you guys take the jabs at the girls
Daniel – I agree once you take a jab at the guys they're coming after you
Nicole – Correct, we need to get rid of the girls first so it's better for their to be guys in the next head of house hold (ZXOMG)
Nicole – as much as I want her to win HOH I don't think it's wise for a female to win HOH
Daniel – you think she'll put up bigger dudes?
Nicole – no
Daniel – Ohh you think she'll put up girls
Nicole – yeah.
Daniel – are all the girls on the same page.
Nicole – Not Indy.
Daniel – yeah she's the one going home
Nicole – Correct
Daniel – so who gives a shit. Why is that bad?
Nicole – we just feel so close to her that's why
Daniel – that's not a good reason. you need more reason than that. She sucks at this game she's going to ruin your approach to the game.
Nicole – we're trying to keep the friction down and the drama down. She's a very dramatic player.
DAniel – in that case we can't put anybody up ever. She's riding with the guys it's obvious
Nicole – She's trying to ride with the guys
Daniel – she'll be a number for them I guarantee you she will side with them.
Nicole – No you're right
Daniel – in that situation it show the loyalty for Alyssa.
Daniel says the house won't keep Indy
Nicole – not a chance. Alyssa will stay there's no question in my mind about that.
Daniel – if by chance Ameerah wins it's still no threat
Daniel – if she makes it to jury she's not voting for a girl.
Nicole – the fact that she was talking shit about me or tryign to like make me look liek a target
Daniel – how?
Nicole – she started telling Ameerah, weren't you close
Daniel – she's jealous of the attention.
Daniel says Alyssa isn't jealous because she's hot and confident. "Indy is older not that attractive and doesn't know who to play this game"
Nicole – she needs to go
Daniel asks her if she's going to try for the next HOH
Nicole assuming Taylor is getting evicted on Thursday "I'm a solo I don't have anyone else in this game I don't have a beastie"
Nicole – Listen I'm a savage bitch
Daniel – Ameerah said she'll do she has to do so ..
Nicole – We're not assholes we're strategic b1tches
Daniel – only one person wins this game
Nicole – I know who I want out of this house and Indy is one of them.
Daniel – yeah
Nicole – I want Brittnay out of this house to
Daniel – today was fine but she'll be back tomorrow.
Nicole – she'll be back tomorrow when she's off the block.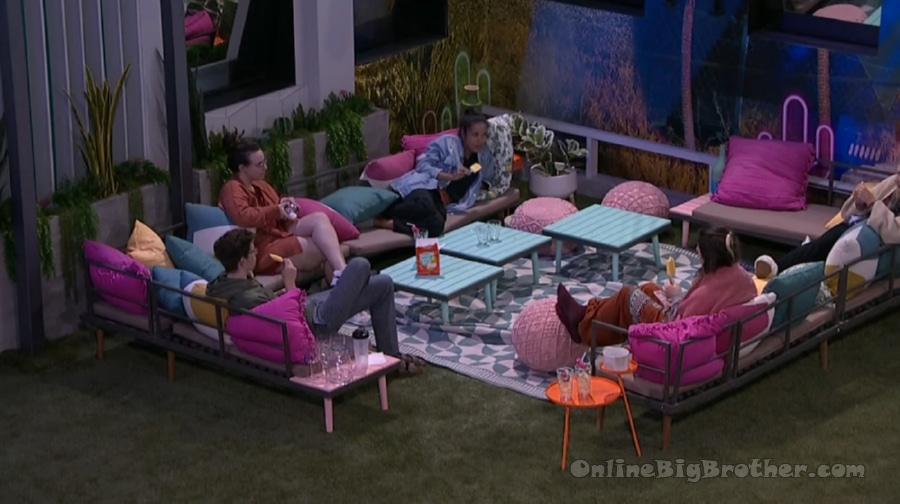 3:30 am Chit chat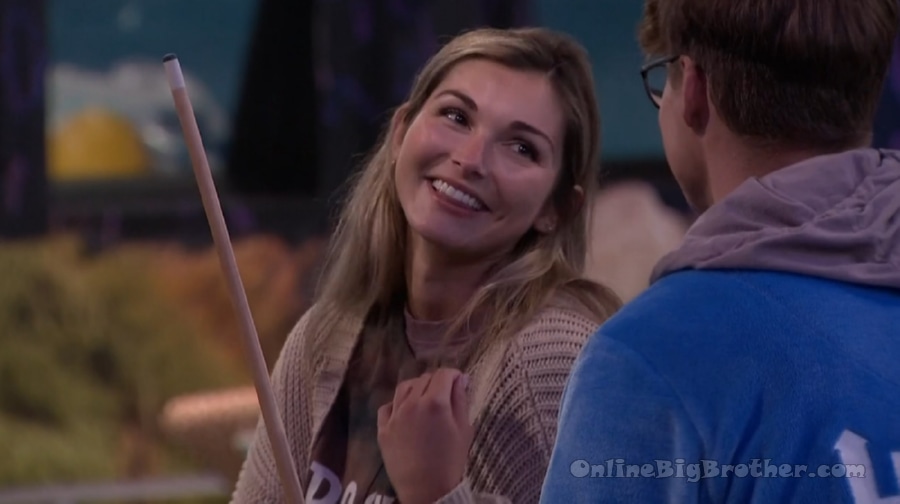 3:50 am Alyssa and Kyle chit chat about relationships (they talk for about an hour)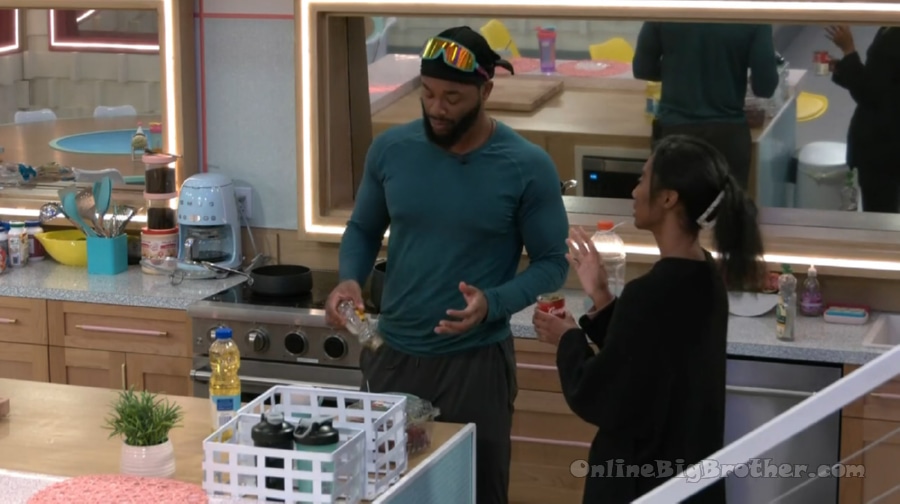 4:00 am Joe, Monte and Taylor
Taylor – When everything blows up tomorrow there will be so much mud thrown. There will be that will try to recruit me back to the girls.
Taylor – My loyalty is here PERIOD
Monte – thanks I appreciate it.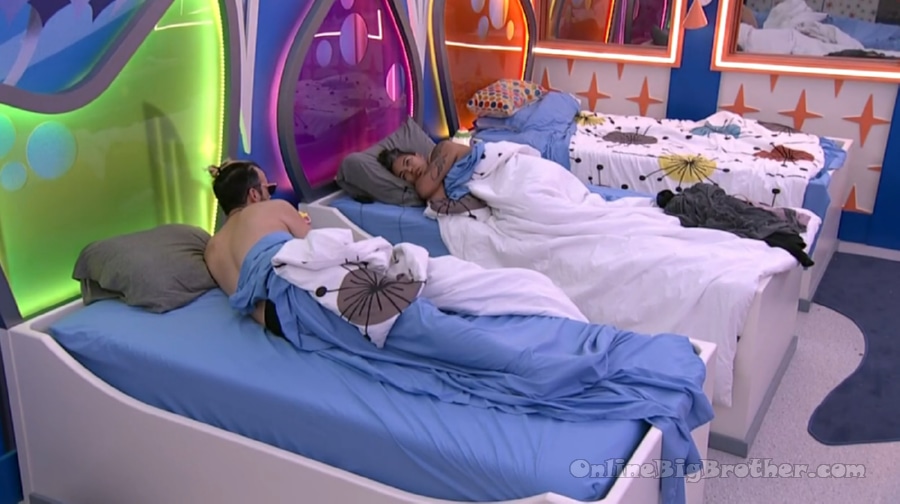 4:20 am Daniel and Nicole
Nicole says the twist may chance their plans to get Indy and Brittany out.
Nicole – as a whole house people will start thinking in different ways
They go on speculating what the twist is.
Nicole – Technically I have the votes to stay.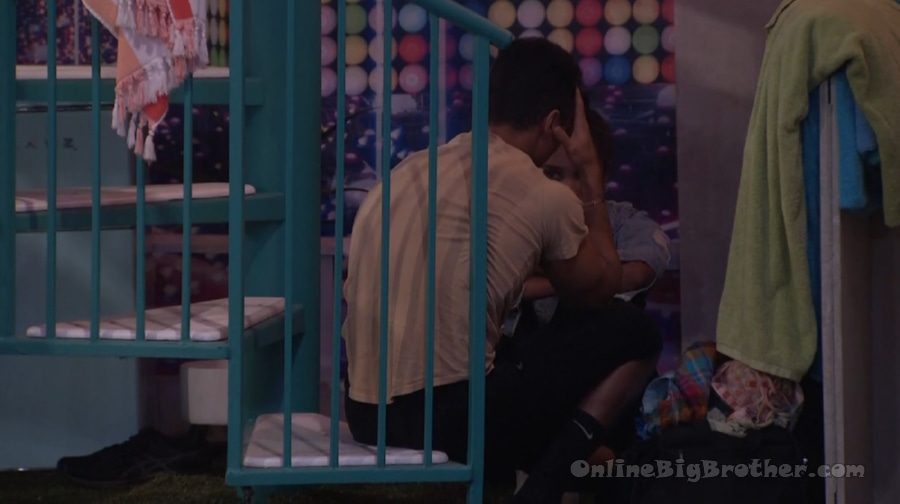 5:00 am Ameeraha and Joe
Joe says he heard Taylor's target is Monte
Ameerah says Taylor told them her target was Turner "last week"
Ameerah – now I hear she's targeting MOnte.. so I don't know what she's doing
Ameerah – how do you feel about Turner? I promised him safety next week
Joe – I told him DUde if you don't put me up I won't put you up.
Ameerah – he's a strong competitor he almost won that first HOH. THen the veto comp.. I feel he threw that veto comp the jousting one
Ameerah goes on about Taylor "She has to go.. she should have gone the first week nothing personal.. I've heard from multiple people she wants Monte which puts me on the block"
Ameerah – She's got to go it's over. that's done. Poor girl. I didn't do it she did it to herself. Next week will be Brittnay then the following week not 100% sure.
Joe wonders who Turner is close with.
Ameerah says Alyssa and Daniel. "I think Turner will take out women"
Ameerah – he needs to be taken out (Turner) he's another person that needs to be..
Joe – he slept the whole HOH. He's really not talking game.
Ameerah – he should be talking game with everybody
Joe – how can he sleep through his whole HOH that's weird to me. If I was HOH I'm talking to all you.
Ameerah – he's not taking advantage of it.
Joe – the only people I see him talking to is Alyssa and Daniel
Ameerah – yeah, I think he's going through someone emotionally .. He lost Paloma and he really misses Meghan. Now POOCH is gone that was his partner.
Joe – I really don't know him..
Ameerah – don't tell anyone about this talk
6:00 am Zzzzz
10:01 am Zzzzzzzz