Quick Big Brother Spoilers
Head of Household: Turner
Nominees: Brittany and Michael Ameerah and Terrance
POV Players: Nicole, Taylor, Michael, Brittany, Turner, Jasmine, (Joe is host)
POV Winner: Michael/Brittany
Veto Ceremony: Brittany/Michael us the veto and Turner puts up Ameerah/Terrance
Havenots: Alyssa & Indy
Lock your ranks in before midnight
Festie Besties:
Turner & Jasmine (She's also safe)
Joe & Monte
Daniel & Kyle
Brittany & Michael
Alyssa & Indy
Ameerah & Terrance
Nicole & Taylor
How Nominations will work: One pair will be nominated
How the Veto Player Pick will work: Turner/Jasmine, nominated pair, and drawn pair
– If one of the pair wins the veto, the other is also safe.
– If the nominated pair comes off the block, Turner would nominate another pair.
– Eviction: One of the pair on the block will be evicted
12:57 am Indy breaks down for being "too weaK"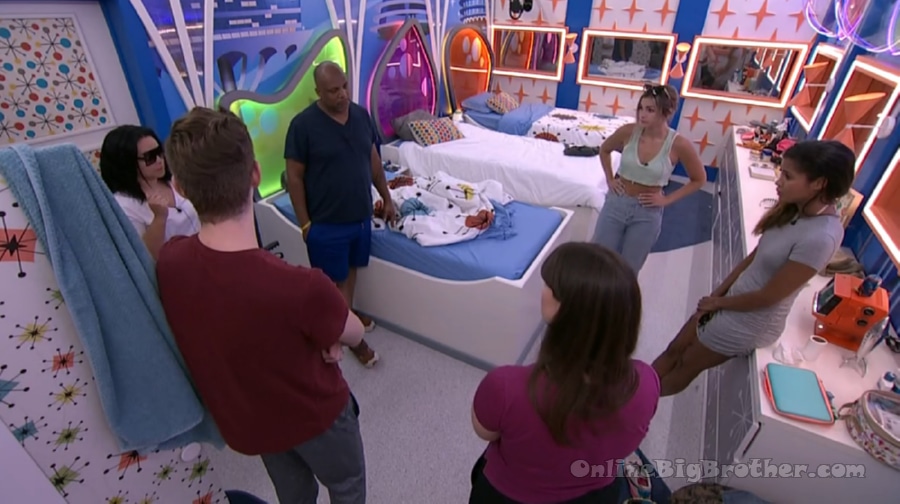 12:57 am Michael, Ameerah, Jasmine, Alyssa, Brittany, Terrance
Jasmine complaining that she never got a heads up from Turner. She comments that everyone has noticed he's been really quiet staying in his room.
Jasmine – what bothers me the most. I understand where he's coming from about the dogpile his background..
Terrance – Bullied and stuff
Ameerah – it's crazy I've been defending her..
Brittnay – yeah you've been the one
Terrance – I'm not campaigning against Ameerah I want Ameerah to stay over me that's …. that's it. so. What is this. One, two, three, four, five, You only need two more people I'm sure you have it so don't even worry about that shit.. You feel me
Michael hugs him.. "I have so much respect for you"
jasmine is crying
Michael – how are we supposed to go about the day now?
Brittany – honestly I feel like I am in shock. I am shaking.
Alyssa – I feel like I had the wind knocked out of me.
Terrance – He said I just don't talk game with him
Jasmine – how is it a good move to go against the ENTIRE house (LOL)
Aneerah – whos backing him?
Terrance – whose backing him? If you had the boys.
Jasmine – no no there's no way I went to the bathroom and they were distraught
Terrance – I don't know how he's making this move
Jasmine – maybe he feels like he's getting back for the POOCH thing?
Michael – Like a F*** you to everyone
Jasmine – I'm sure he's in the HOH.. I I guess I have to hop the f*** up there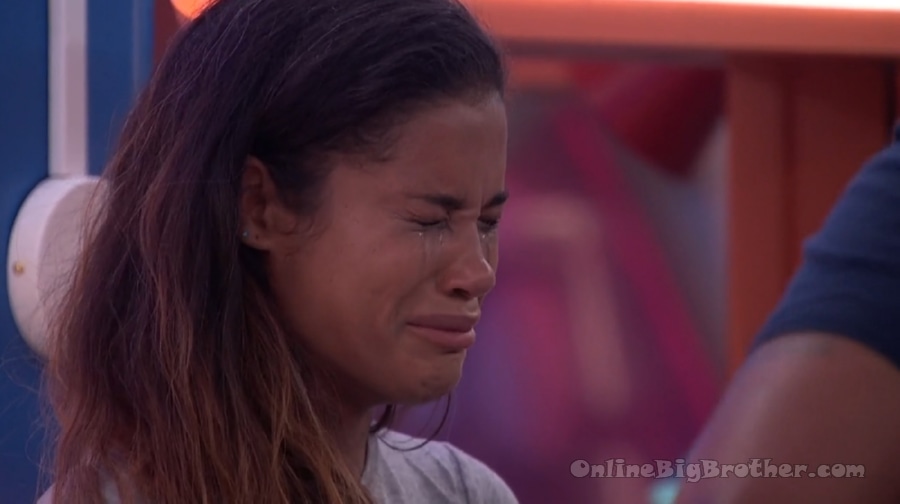 1:01 pm Ameerah and Terrance
Ameerah – why did he put us up
Terrance – just to f*** shit.
Ameerah – me and you? we weren't even targeting Turner or anything
Terrance – I don't know how he made that. I do thin kit's influenced
Ameerah – for sure
Terrance – The person that influence it no one was talking about
Ameerah – Indy
Terrance- Indy has it out for me.
Terrance – this is your passion you know this game.. go hard you're a F***ing beast and I love you for that. You've always had me since day f***ing one ..
They're both crying.
Terrance- it's my turn to get you
Ameerah – thank you
Terrance – I mean it.. kill it.. For real. Keep a clear head. You have to win HOH next week. Don't trust these muther F***ers
Ameerah – I know
Terrance – fight and go crazy .. you promise?
Ameerah – yeah.. thank you
Terrance says he made it further than he thought in the game. "I did great.. I did great.. I Did great"
Ameerah – yeah you did
Terrance – I'm still a super star outside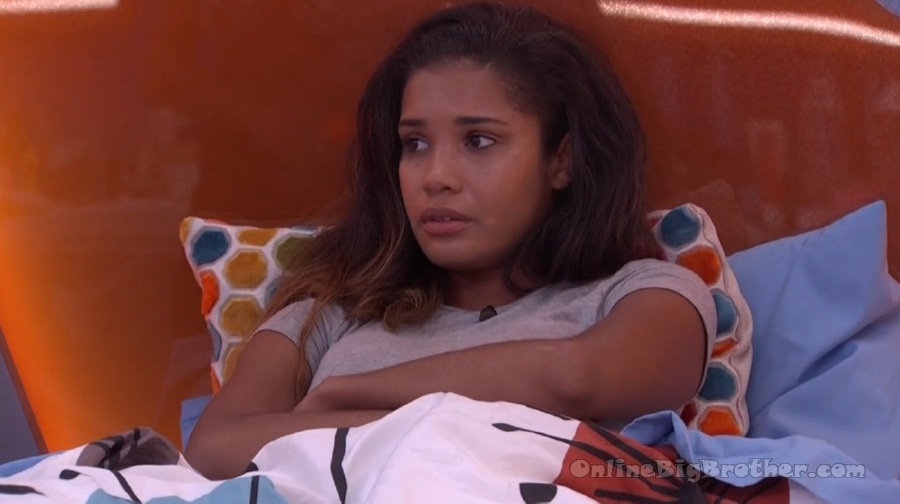 1:17 pm Indy, Brittany, Ameerah
Brittany – there's no way Turner and Daniel could be close?
Indy – They are close
Ameerah – they're extremely lose
Brittany – why? Isn't this bad for Daniel.
Indy – Daniel is trying to protect Nicole just because of the twist.. we don't know what is the twist.
Brittany – OHHH you think Turner and Daniel are close and this move protected Nicole
Indy – about the next twist
Brittany – you don't think that will blow up things
Indy – I'm looking for options..
Indy offers Ameerah help with campaigning
Brittany wants to call a girls meeting where they
Brittany – something is going on we need to
Indy – don't talk even to Michael right now.
Brittany – we don't know
Indy – Nothing Michael. Nicole I love her but still we need to remember.. Literally
Brittany – we can't afford anything to go wrong with this we lose Ameerah we're f***ed
Indy – I know
Indy leaves Kyle comes in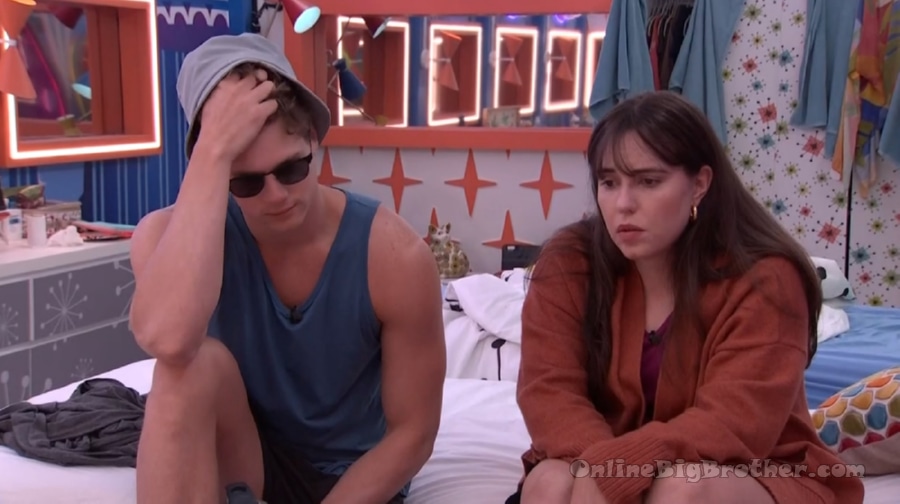 Kyle – "I had no idea.. yeah that sucks "
Brittany – I thought we were all together He's been by himself all week… what the f***
Taylor joins them.
Kyle – do you think Jasmine knows?
Ameerah – I don't think so. I can't imagine she knew
Kyle – I don't think she knew.
Taylor tells Ameerah anytime she wants to talk she here for her. She knows what it's like to be on the block.
Kyle – Indy broke down
Ameerah – she told me she puked
Taylor leaves Jasmine enters the conversations
jasmine was just talking to Turner.
Jasmine – welcome to Big Brother..
Jasmine – He said it's in the houses hands now. He apologized to me he said I put a target on your back because you are my fesite bestie
Kyle – why didn't he fill you in?
Michael – he just f** himself if you and him are up together
Jasmine goes on about not being given a heads up. "It blows my f***ing mind.. blows my mind"