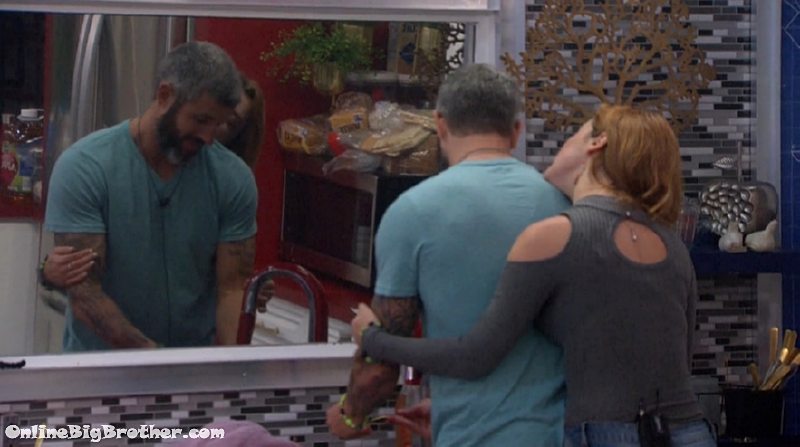 2:02pm Raven and Matt
Matt – hey girl you're kinda cute
Raven – I don't respond to that
Matt – what do you respond to
Raven – pull my hair..
(Matt also took that brown shirt off and swapped in his blue shirt. After 90 minutes the excited of Matt in his new shirt has died down. )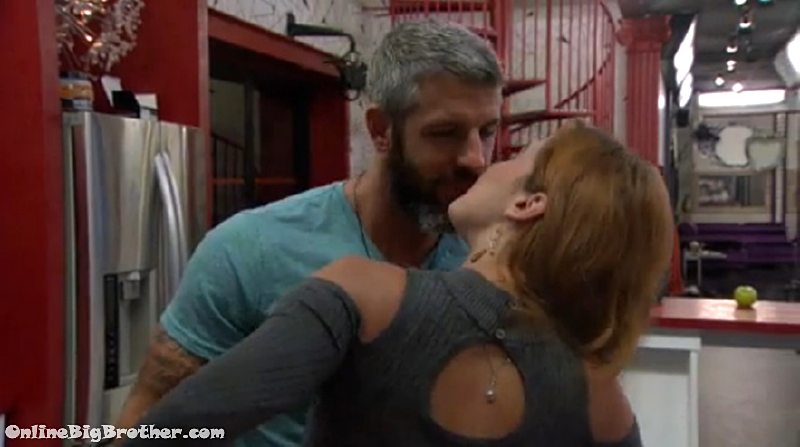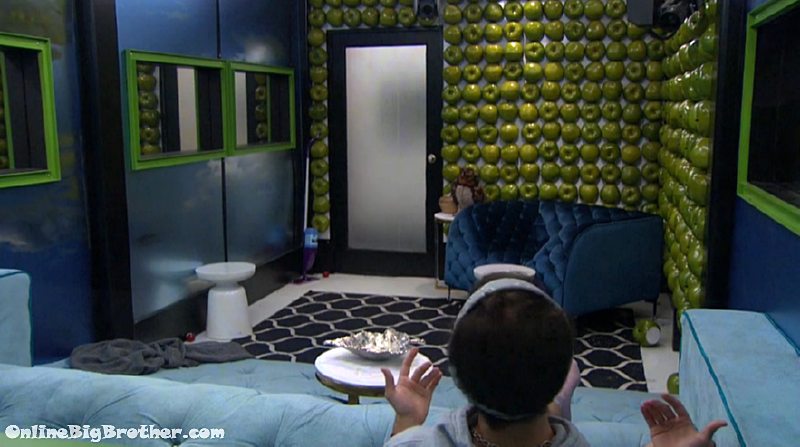 2:50pm Friendship Chat
Paul – what's up pals and gals
Paul – i'm board, everyone is boring nobody is doing crazy shit
Paul – now that all the bozos are out . Mark, Cody, Elena, Dom, all the people that were MEH MEH MEH. maybe I can be a little crazy now because..
Paul – Alex and Jason are CLEAR targets there just winning and winning and talking talking about the end and f*ing jury votes and sh1t
Paul – what are you crazy, you're saying that sh1t now, you blew it BIG TIME
Paul plans to be the clown from now on and let Alex and Jason assume they have won .
Paul goes on into a philosophical discussion about Friendship.
Paul says "boys' is private friendship.. Boys is a separate "sect' "it's boys, stupid but it's boys"
Paul – boys.. you got to be selective of boys
Paul explains if they give boys out than boys is obsolete and all they have is friendship, "Boys is friendship to the next level"
Paul – Gumpy is not friendship
Paul gets into the meaning of Gumpy
Paul – never slept.. PIssed in the bumper cars.. people boned never slept.. don't now how they accomplished that feat
Paul – boning in the big brother house Gumpy, very gumpy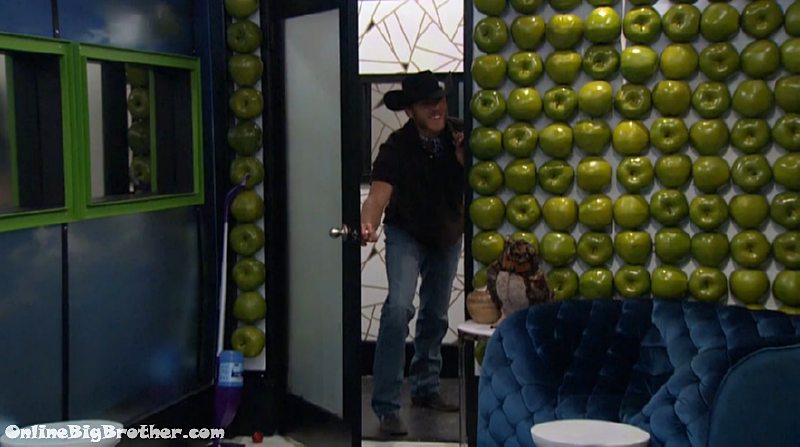 3:00pm Paul is telling Jason the plan for the week
Paul – I was down here talking to Matt and Raven, Alex came in and it was f*ing perfect.
Paul says after talking to MAtt and Raven, Matt was saying "we feel great, I don't care if I go on the block as long as Raven's safe at the end of the day"
Paul has been telling Matt and Raven he thinks Kevin is "Legit" the target.
Paul adds that Alex started shitting on Kevin. After she left MAtt and Raven said they were cool they knew Kevin was the target.
Paul – I was like, YA guys there's no need to worry
Paul – Josh told them the same thing…
Paul instructs Jason to talk to Matt after nominations tell him they are going to Backdoor Kevin. (Matt should talk to Jason before noms and Jason should talk to Matt before noms. Paul doesn't want this)
Paul – WE'll pull Raven off because that is what MAtt wants, Matt wants raven to be Safe..
Paul explains the Veto gets played on Raven they put Kevin up. They play nice with Matt they play nice with Kevin when Thursday rolls around they send Matt home.
Paul – you see it's better this way… when it's smooth…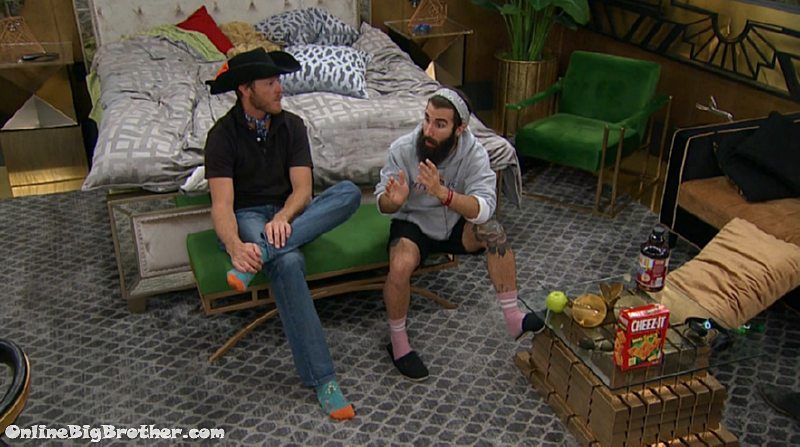 3:36pm HOH Jason and Paul
They go over the plan.. Jason does a shit ton of rambling he's nervous. They thnk Even if Matt wins the Veto he'll use it on Raven.
Jason – I understand my part in this.. I stay quiet when I need to be quiet I win when I need to win..
Paul – look how far it's gotten you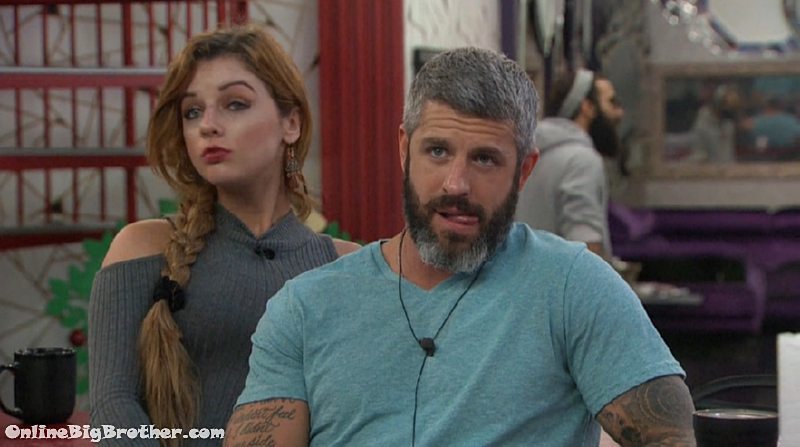 3:54pm Waiting to go on the block
Paul, Raven and Matt complaining about Kevin..
Paul – I just leave when he enters the room..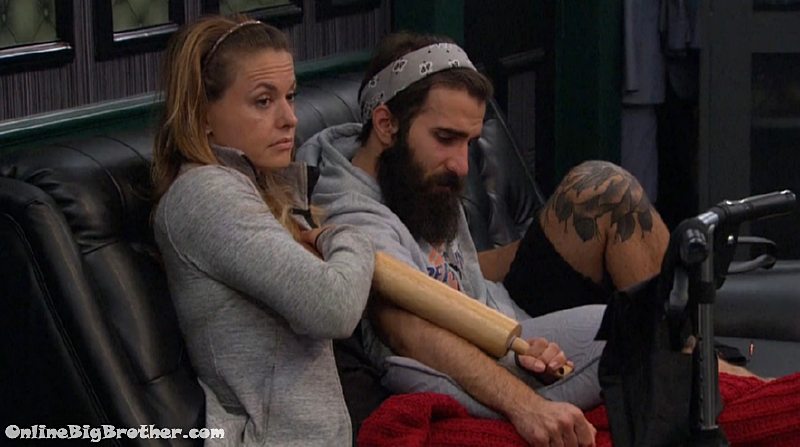 4:05pm everyone most of the house is in the money room waiting around for the Noms. Paul is worried that Jason is going to die because he ate all that raw shrimp. Alex tells him they are cooked. paul is unsure…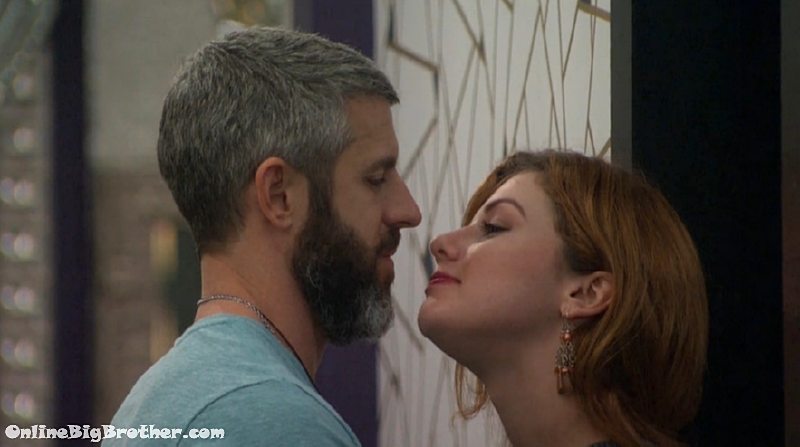 4:11pm Raven says her "momma" can't cook
Matt – so Michael cooks for her
Raven – Every morning..
Raven – food smells make her sick
Matt – this has been a gumpy day..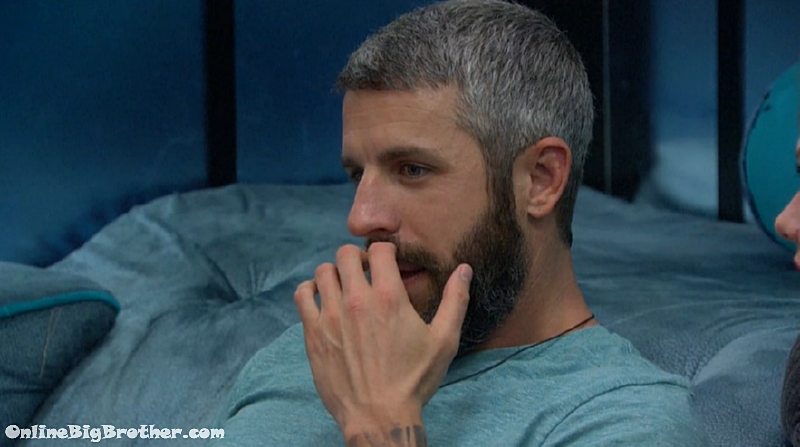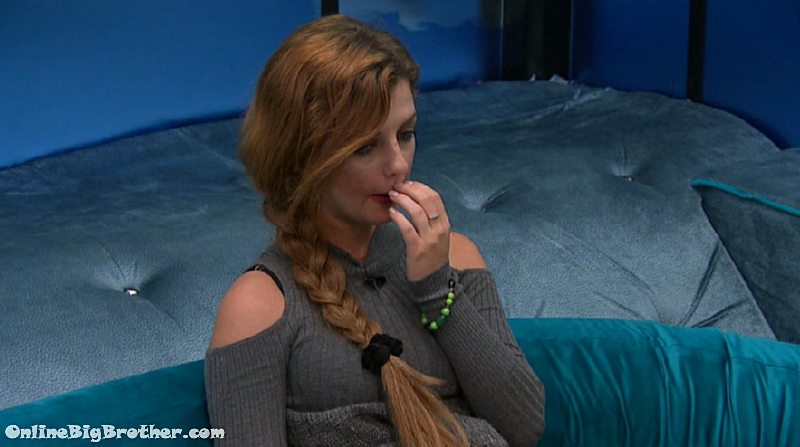 4:16pm MAtt and Raven in the ASPR
talking about how easy of a ride they've had in terms of Drama. Most of the drama in the house hasn't involved them and they just sat back and watched.
Matt – we've been kicking it dude ..
Raven says the only people that haven't changed since the beginning have been her, Matt and dear leader Paul.
Matt agrees.
Matt – I love Alex to Death but the first 2 weeks she was different.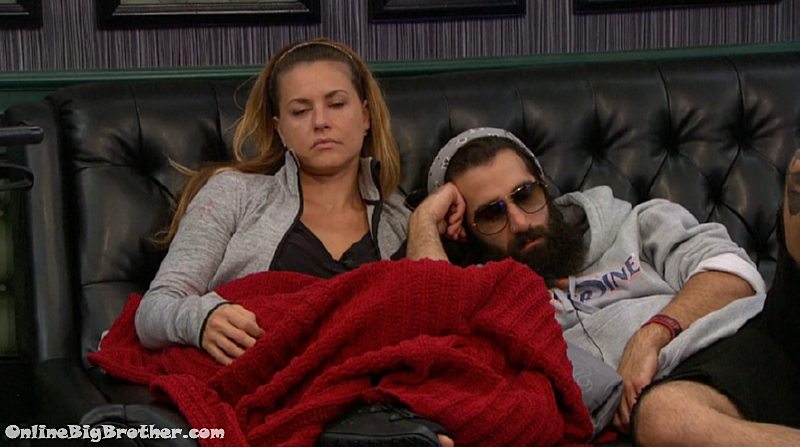 4:34pm Waiting for the Nominations..
Production tells them the storage room is open after being closed for some time. This means their food stocks have been replenished. Everyone rushes to prepare a meal. Looks like it's team effot for some
Raven makes sure the food is salted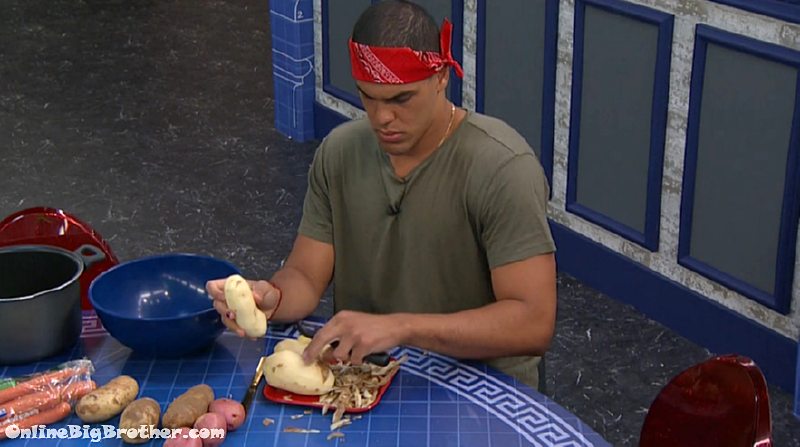 Josh helps out by preparing the potatoes (that's a shitty job, good for him for taking it on)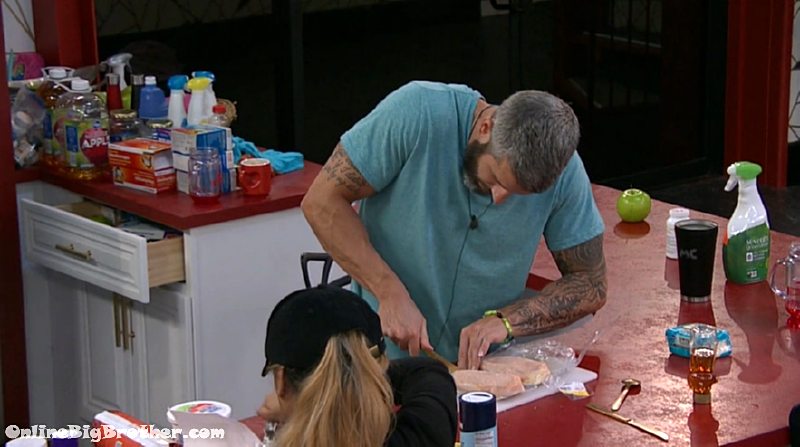 B2M curt chicken
Alex beats the meat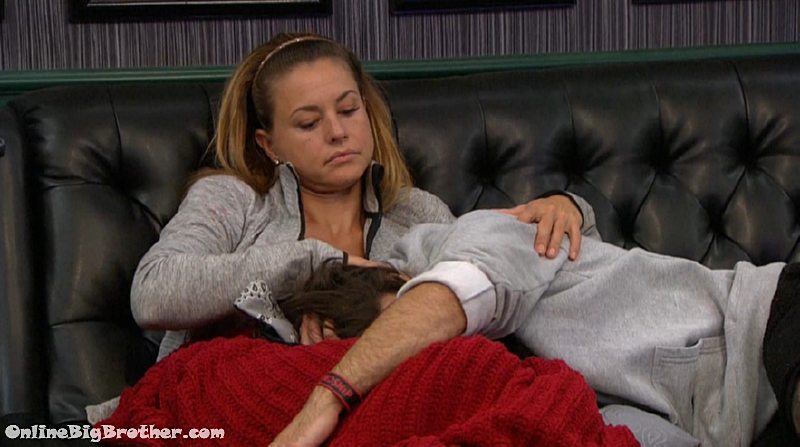 Xmas rubs Paul down.. (she must have found out he has a girlfriend)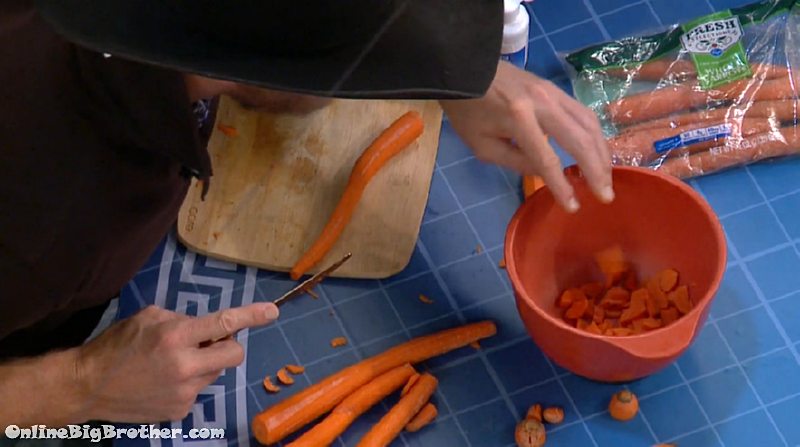 Jason cuts the carrots
(It's nice to see a bunch of them make a meal together, Even the HOH)
5pm – 5:35pm They continue to make the shepards pie.
Kevin apologizes to his family for not saying he wanted to get a letter and photos of them…
5:35pm Big Brother blocks the feeds for the nomination ceremony.
(Matt and Raven are going to be nominated.. No idea why production is dragging this on)
Donations help keep the lights on. If you would like to support the site please consider donating.
Links to the ranking system
Rank your house guests here
For those of you that like Statistics here are some expanded reports.