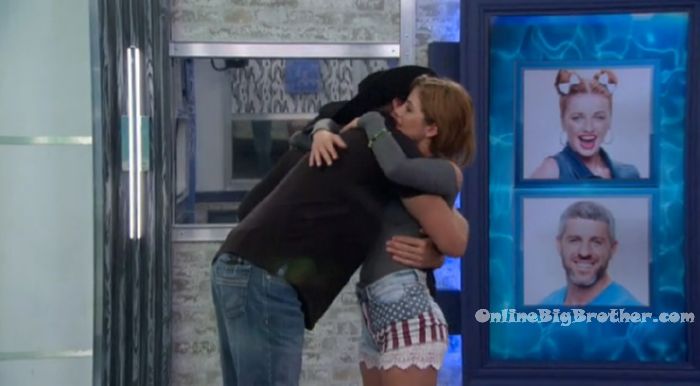 If you plan on buying anything from Amazon. Use this link Amazon home
Doesn't cost you anything and we get a small cut.
Jason Nominated: Matt & Raven
5:35pm – 6:35pm Big Brother blocks the live feeds. When the feeds return – Matt and Raven are making the round hugging everyone. Matt – It wouldn't be the block without me. Josh – I have a question if I don't compete can I host. They say no. Raven – Christmas first. She hosted but it wasn't a good one. The weather comp.

See what they can't show you on TV Try the live feeds for FREE!
Bedroom – Paul and Raven. Paul – it wasn't subtle. Raven – I wasn't expecting that speech. Paul – I know. Raven – literally hugged me and said if I win the veto I'll pull you off. Paul – perfect! I don't think anything weird is going on. Raven – I think Kevin knows. Paul – we need to do damage control. Raven – if I get house guest choice I am picking you. Paul – good! Paul goes to the storage room and does a happy dance.
In the kitchen – Christmas is pissed at Josh because he was supposed to grab her ice cream from the HOH freezer but forgot and now its gone. Christmas – I am almost as pissed as when Cody tired to backdoor me. Josh comes back with the puppy dog look and Christmas forgives him.

6:45pm Storage room –Paul and Raven are in the storage room together. Raven – I think Kevin knows, he is acting weird. Paul – I don't know, we'll calm him down. Raven leaves and Paul says F**K go away! F**k! Josh joins Paul. They high five. Josh does a happy dance. Paul shhhhh's him. Paul – I know, they are all f**king stupid. But we need them… (Paul whistles) Matt and Raven are no good. And then next week (send them out) We have to, or else we're f**ked! Josh – so what are you thinking if we get picked for veto? Gun for it or no? Paul – yes, and take Raven off. Josh – and put who up? Paul – Kevin. Josh – do you think he (Jason) will do it? Paul – uhh HUh.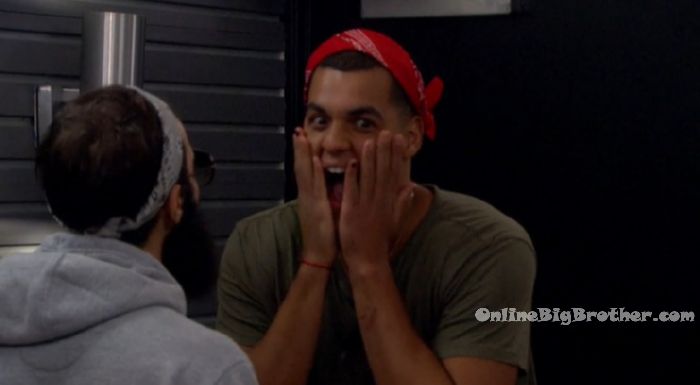 6:50pm Lounge room – Jason and Kevin. Kevin – you did a good job. You could have been an a$$hole but you weren't. You did fantastic. Jason – I'm not even going to say anything. Kevin – send one out this week and the other next week. I think this week is going to be another double.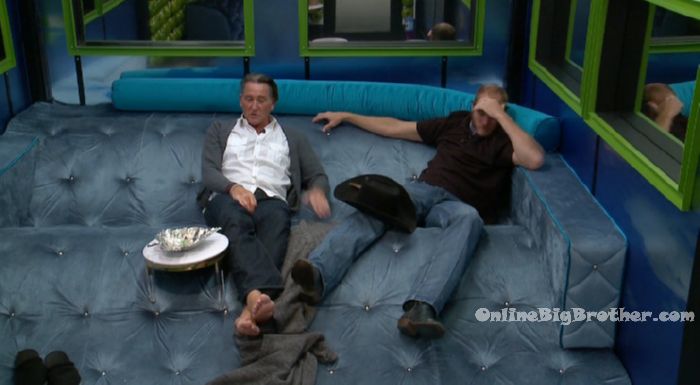 7:05pm HOH room – Matt and Raven.
Matt – do you think if Alex or Jason win veto … that they would actually pull one of us off? Raven – well if they don't one of us goes home and then one of them are going to jury right after us. Matt – yeah true. Raven – I think they know that. Matt – I hope so, I mean that would be pretty sweet if we were literally safe. I would feel much more comfortable if one of the three of us wins the veto or Josh. Raven – if I get house guest choice I am picking Paul. Matt – hell yeah. If I get house guest choice I am picking Josh. Or if I get house guest choice should I pick Alex as a sign of we trust you guys. Raven – I'll ask Paul but it might be a good idea. Matt – worst comes to worst .. we would have the votes to keep you. Raven – you think? Matt – yeah because you would have Paul, Josh and Christmas. Raven – I am not going to campaign against you. Matt – of course not. Raven – if I go to jury, I go to jury, its fine. If I go to jury you better win this thing. Matt – that is the beauty of this situation we can control which way Paul, Josh and Christmas vote. I would rather go out on those terms than anyone elses. Raven – he would be stupid to make that speech and not do it. Matt – I agree. Raven – because everyone would be like alright .. you lied. Matt – I feel good. Raven – me too, I trust Paul.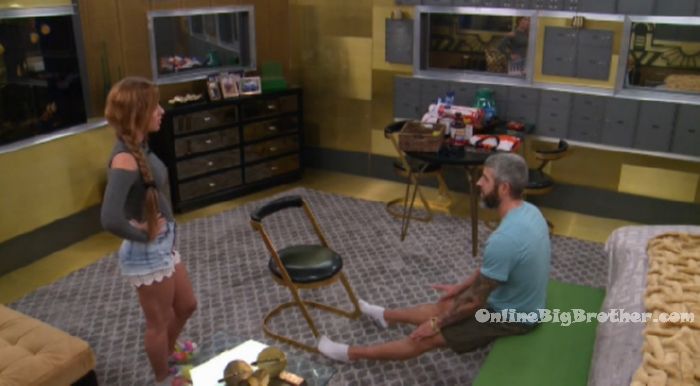 7:20pm – 7:50pm They all sit down to eat
7:50pm – 8:22pm Big Brother blocks the feeds.
POWER OF VETO PLAYERS PICKED:,
Jason, Matt, Raven, Paul, Kevin & Josh

*** They're going to have a Night POV competition ***



8:30pm Josh – I looked at Jason and he was stone faced. Christmas – do you think he is trying to backdoor you? He wasn't Matt and Raven out first. If he does we have the votes to keep you. Josh – probably just me making assumptions. Christmas – don't over think it.
8:30pm HOH room – Jason, Paul, Alex.
Jason – do you think we should stress Kevin a little bit? Paul – pretty much. We'll put him on his toes. The motherf**ker (Kevin) feels too comfortable. We will do it in a way that we all want it. It might be a double eviction, next week. Jason – so this is going to be a Sunday eviction? Paul – I think so yes. On Sunday or Monday we play a different HOH and do it all again on Thursday. I think she (Raven) is a better competitor than he (Jason). Jason – I think they are mocking us. Paul – do you think anyone would vote for her in the end? She would pull out all the victim cards. Alex – I wouldn't. Josh might. Paul – Cody would. Alex – they did make it to the final 2 I would self evict and be a bad sport about it. Josh joins them. Paul – there is no worst case scenario. If we even throw it to Kevin .. the he wouldn't use it and they couldn't be mad at us if he didn't use it. Paul – if it is the black box (veto comp).. Josh is going to be the first one out. And then we don't have to be worried about pissed jury members.
Paul – if we had just sh*t on him .. they were grab a$$ing. Josh I am glad, I'm competing. This is going to be fun. Paul no night time veto is fun. Paul – if Kevin gets to the end he would win. Josh – he is too liked. Paul – if he pulls out I'm a private investigator.. Alex – I think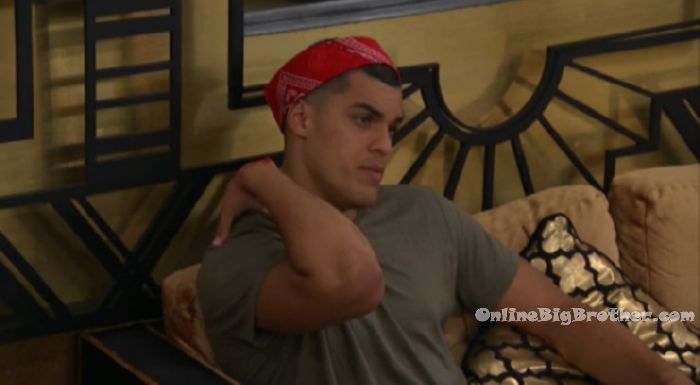 8:50pm Bathroom.
Paul – should I gun for it? Matt – YES! Paul – Okay, just checking. And if I win it I pull gypsy off? Matt – yes.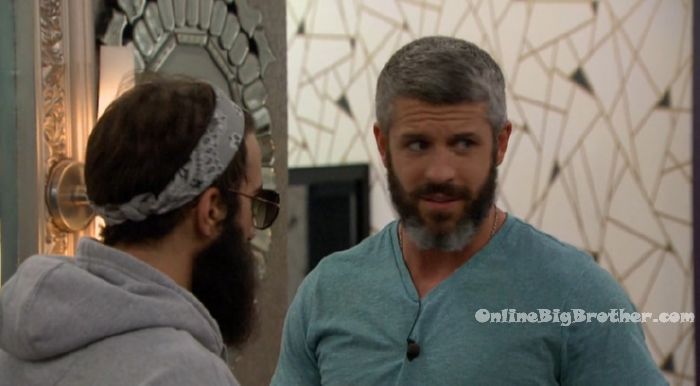 8:55pm – 9:20pm Josh to Paul – I don't trust none of them but you and Christmas. Paul – Even if they tried to put you or I up they don't have the votes to do it. Josh – I am f**king gunning for it. Paul – me too. Paul, Raven and Josh speculate on what the night veto competition could be. Paul thinks it could be the black box comp. Raven – it could be the egg comp. Paul – could be, your nails are going to be pissed! Josh – they're going to come for me, Christmas and then you. I am going to gun for this veto like there is a fire under my a$$. Paul – you think they would put you or I up? Josh – I don't think so but I wouldn't put it past them. But if there is an eviction on Sunday they might try and pull a fast one. If they did I would tear his a$$ up until Thursday.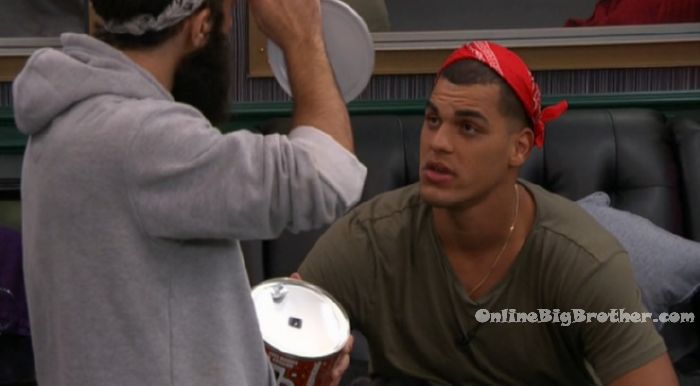 9:40om Alex, Paul, Christmas and Matt
9:45pm – 10:05pm HOH room. Paul tells Jason that Josh said he will not use the veto if he wins it. So if we can somehow toss it to him, then we don't get the backlash. If Josh takes that shot, then we don't have to.
11:40pm Alex and Kevin are laying in bed. They're waiting for the POV to start. Keivn – I don't even care anymore, lets just get it over with.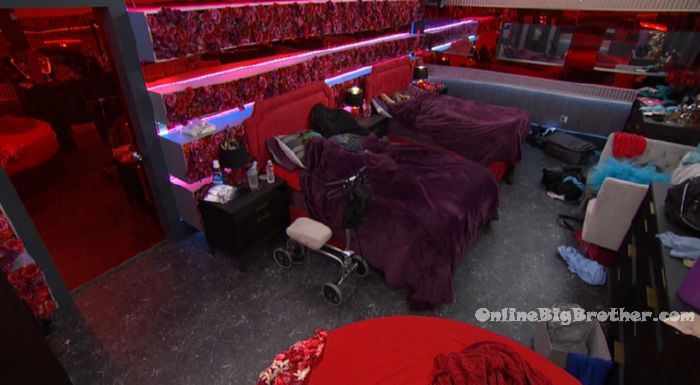 12:30pm Christmas, Matt & Raven are all bed.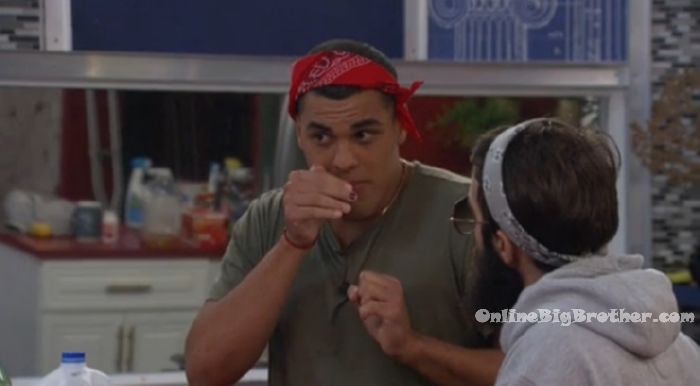 1am Kitchen. Alex and Paul comment on it being boring. Josh once they realize that we're backdooring Kevin and one of them is going home. Watch them (Matt & Raven) turn up.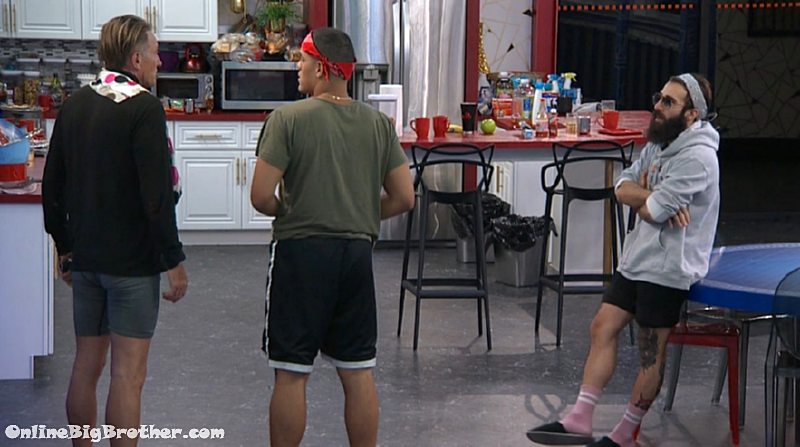 2:36am loitering around waiting for the POV to start.
Paul says he drank 3 cups of Coffee he's not going to sleep. Some houseguests are sleeping already.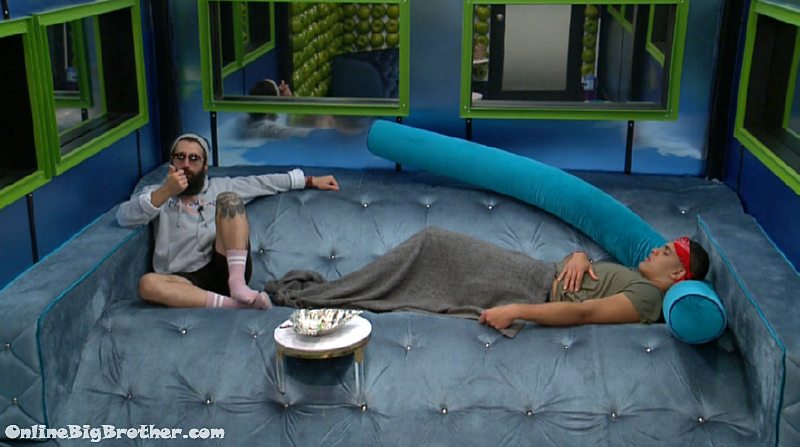 2:39am Josh thinks the POV will be mental because they want their minds fried "Like a pickle"
Paul – what's your favorite food
Josh – Italian..
Paul – favorite food not food type
JOsh says something in Spanish his mom makes, Steak, Black beans, Onions, rice etc…
3:00am JOsh, Paul and Alex in the APSR talking about gumpy things..
3:34am everyone gave up waiting for the POV.. Sleeping zzzzzzz
5:50am all sleeping still.. no POV yet 🙁
8:35am zzzzzzzzzzzzzzzzzzzzzzzzzzzzzzzzz lights on for some..
Donations help keep the lights on. If you would like to support the site please consider donating.
Links to the ranking system
Rank your house guests here
For those of you that like Statistics here are some expanded reports.