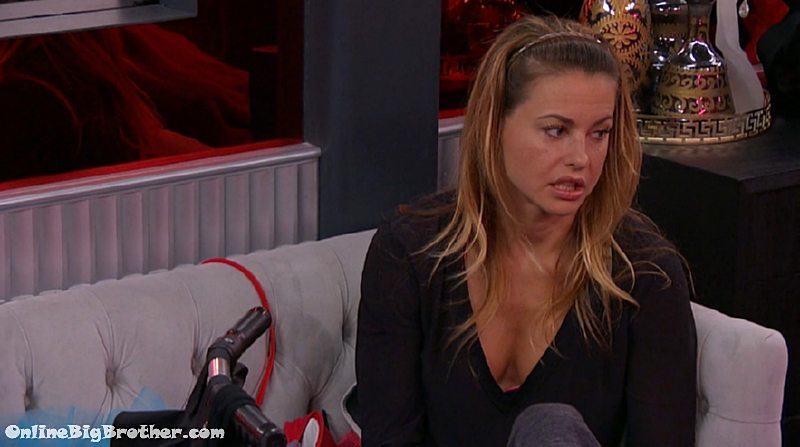 11:25am Josh and Xmas
They agree Matt and Raven are "so annoying"
Xmas – they gotta go, but unfortunately Matt's gotta go first he's the cool one
Xmas – I swear to god she's going to gravitate to kevin
JOsh – and Paul
Xmas – OMG, at least she won't be so f*ing loud
Josh – I had a dream that Paul found a hidden room
Xmas – raven is super f*ing manipulative
Josh – really good.. not that good because I see right through it
Xmas – everybody has had enough of her sh1t
Xmas brings up Raven doing something weird with her eyes when she talks.
Xmas – what the f* are you doing with your eyes, you don't need a translator
Complaining about Matt and Raven Slamming doors. Xmas says that's their game.
JOsh – I need to start working an angle with Kevin and jason .. I need to play nice
Xmas – you need to start playing nice with Kevin and Jason…. just be cool
Xmas – everything you say and do is being analyzed…
Xmas – when Jason gets an idea he holds onto it.. even if it's untrue..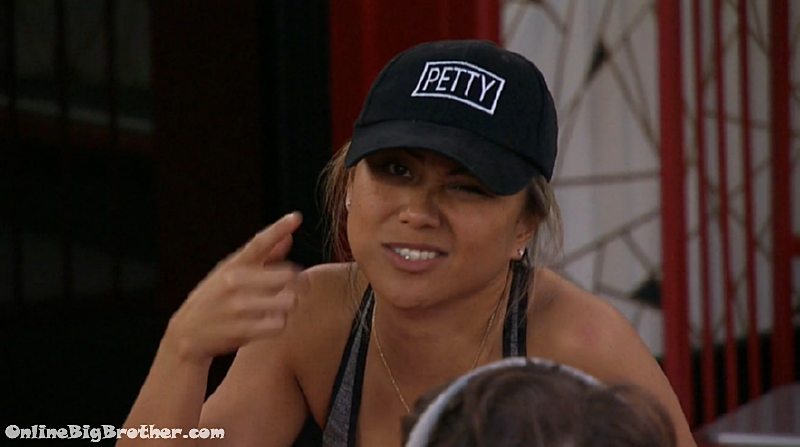 11:41am Jason, Alex, Paul and Matt
Chit chat.. a lot of talk about Cody from Alex, Paul and MAtt.. Jason wears his hat well..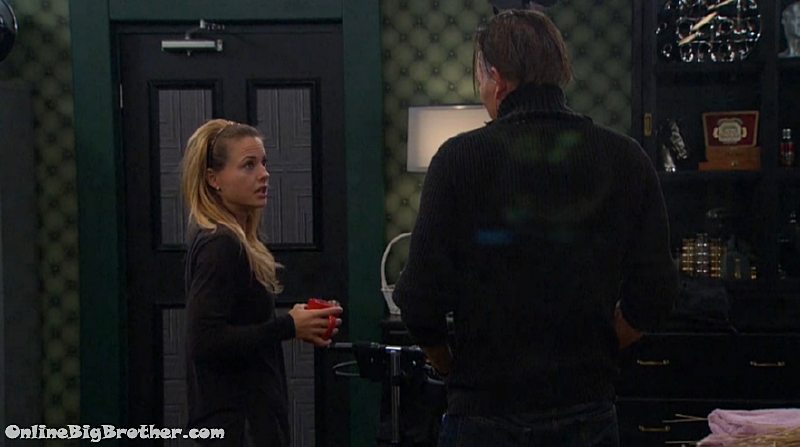 11:53am Kevin and Xmas
Kevin – you and Josh have gotten closer.. you took him under your wing.. I know ..
Xmas – he bounces around I tell him josh f*ing stop.. he doesn't think ahead.. Josh shut your f*ing mouth think ahead.
Kevin says the generation gap is starting to be a problem. Sometimes the people in the house talk about things that he would never talk about. Kevin comments that it's the same with his kids so he's use to it
Kevin mentions how people talk about the same thing over and over. He doesn't care for it.
Kevin explains this is why he comes into the room to be by himself sometimes he doesn't want to talk about the same thing over and over again
Xmas says they have nothing else to talk about.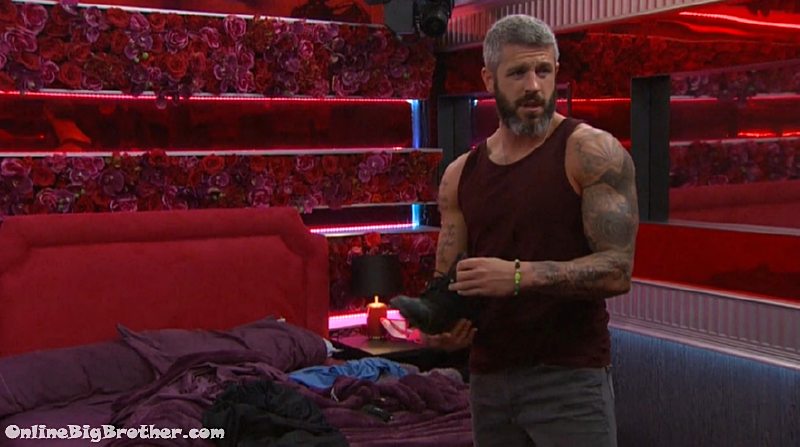 12:09am Matt puts on a shirt to better show off his Boys 2 men tattoo.. He's also wearing full pants because there's no B2men tattoos to show off there.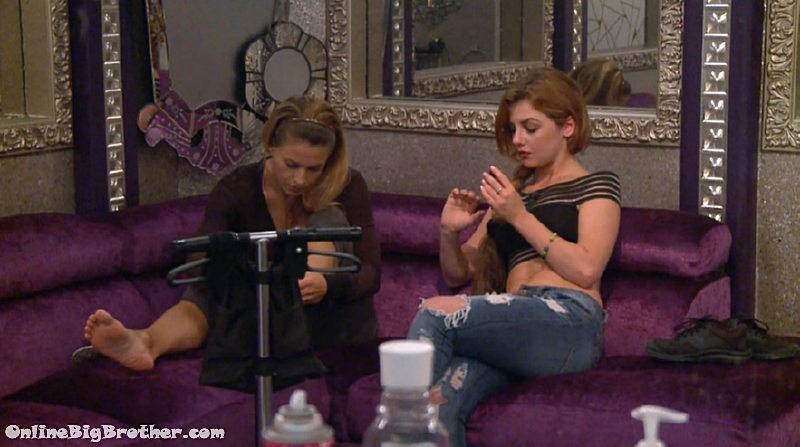 12:27pm Raven and Xmas
Xmas – I know they want to get rid of Kevin
Raven – think that's legit
xmas – are you f*ing kidding me? these last 2 nights he's been a f*ing nightmare
Raven – I hope so
Xmas – I think it was a good thing that Matt fell off so quickly and you didn't last till the end..
Raven – I trust them.. they've never gone back on their word
Raven – I had to redo my DR from last night.. because I looked really tired
Xmas – HEY can I redo my DR too.. (xmas had a DR at 4:30am .. I know because I was up by 3am)
Feeds cut
when they come back Raven is excited about how nice Matt looks.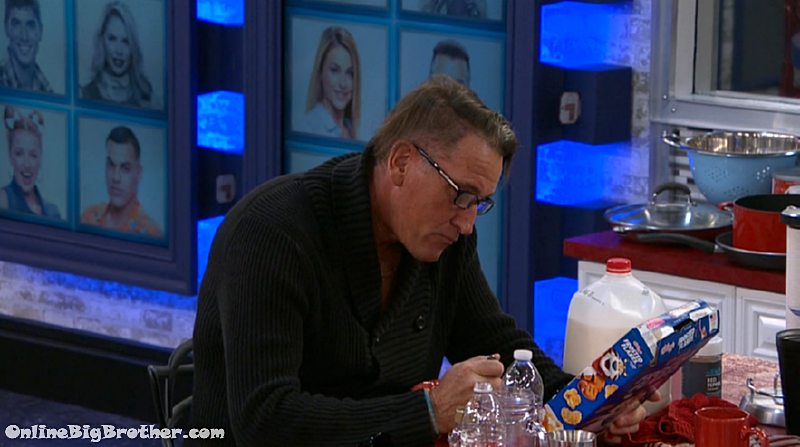 12:42pm Kevin's favorite cereal is frosted flakes.. he said it up in the HOH earlier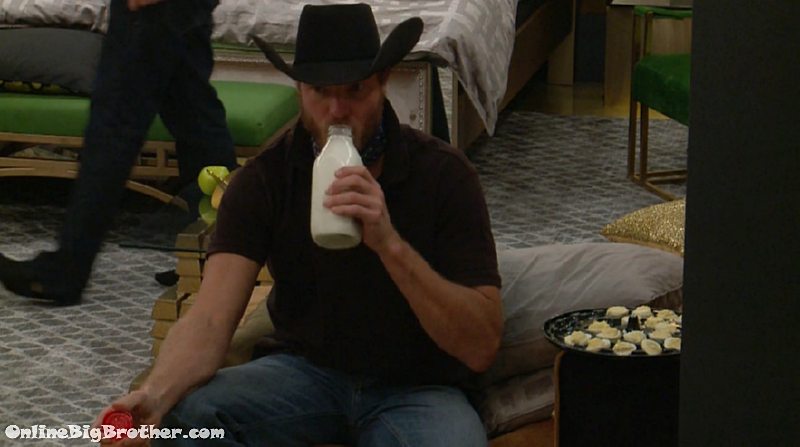 12:51pm Jason got a litre of Milk in his HOH fridge..
Jason – Milk so fresh the cow doesn't know it's missing.. what the f* .. I guarantee the b1tch knows it's missing you're tugging on her t1ts
Jason – the best milk you could drink is right outta the t1t (true.. but sounds crude)
Jason feasts on his shrimp..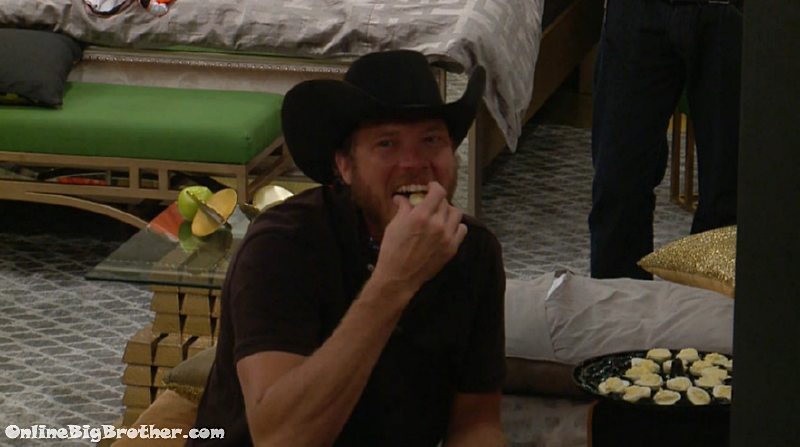 Jason offers everyone a deviled egg says they tast like sh1t though.. but he'll make sure they're all eaten either way..,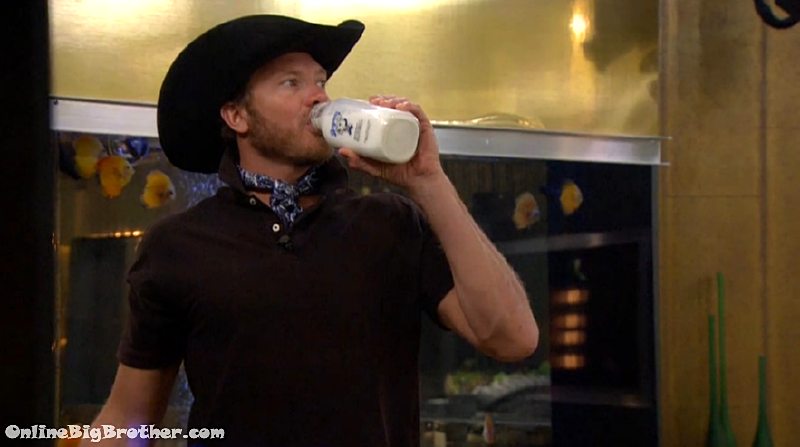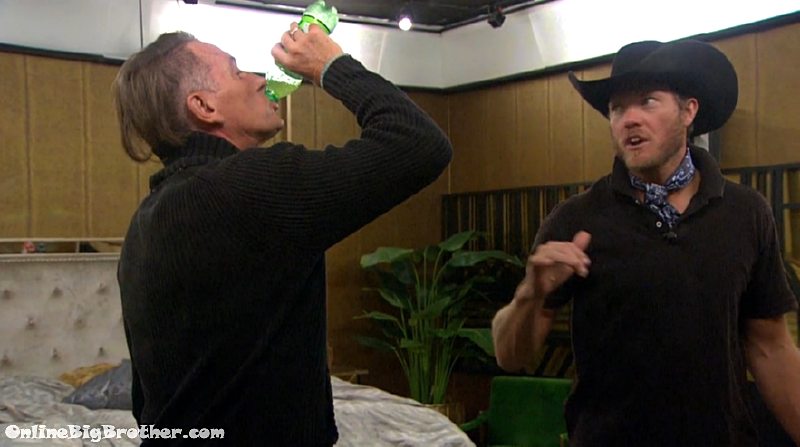 1:00pm HOH Alex, Kevin and Jason
Alex – I turn into an a$$hole when I drink coke you (jason) you turn into an a$$hole when you drink mountain do
Kevin – I turn into an a$$hole when I drink whiskey (same)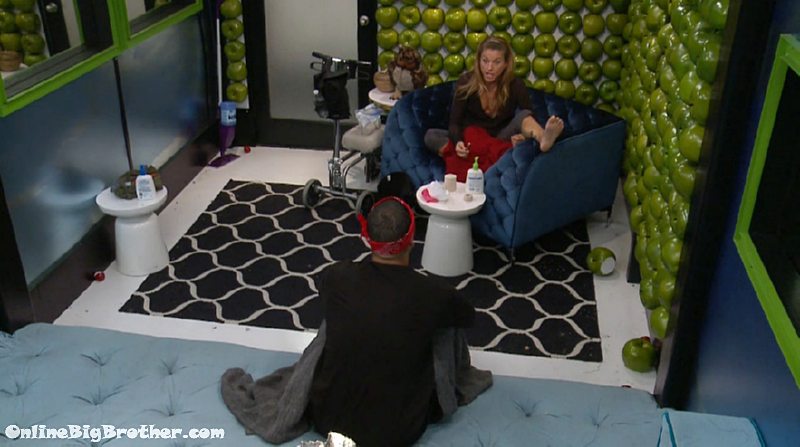 1:04pm Xmas and Josh
Josh is saying out of everyon them three deserve it the most.
JOsh goes on about ho they've had their back against the walls during the first half
(well Paul was fine he had safety)
Feeds flip..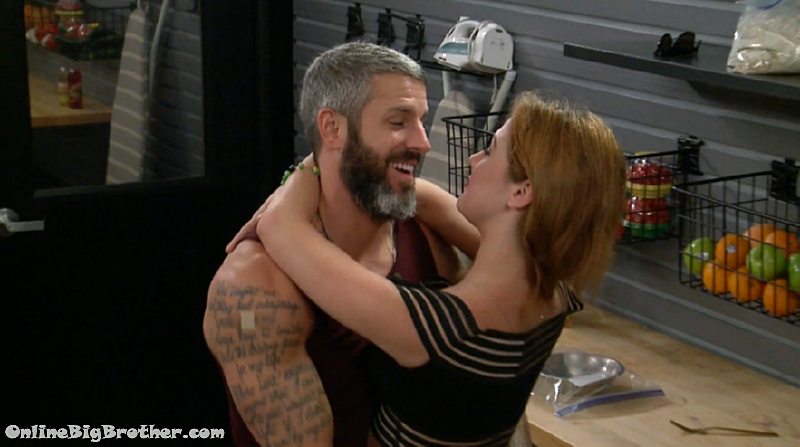 1:05pm Matt and Raven
MAtt – I think we should just let Paul work.. (sure contract out your game to Paul)
Raven – we don't want to look paranoid
1:17pm HOH Alex, Jason, Kevin and Josh
Alex says once Matt gets a whiff that he's in trouble he'll wigg out. They all agree Matt has done sh1t all season he's got to go.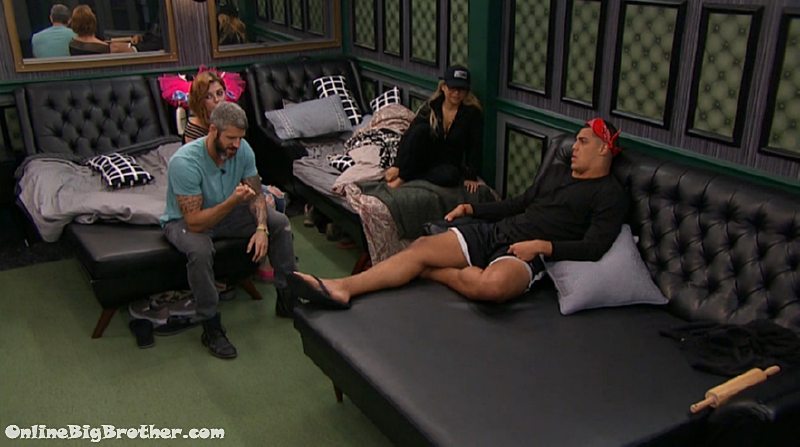 1:39pm Josh, Matt, Raven and Alex
Alex says she doesn't know Jason's plan but she knows he wants Kevin gone.
Paul joins them and they all start complaining about Kevin
Nominations is soon.. MAtt and Raven are going up.
Donations help keep the lights on. If you would like to support the site please consider donating.
Links to the ranking system
Rank your house guests here
For those of you that like Statistics here are some expanded reports.