POV Holder:
?
Next POV
Aug 10th
POV Used
?
POV Ceremony
Aug 12th
HOH Winner:
ANDY
Next HOH:
Aug 15th
Original Nominations:
Jessie and Spencer
Current Nominations:
Last Evicted Houseguest
David, Nick, Jeremy, Kaitlin, Howard, Candice, JUDD
Have Nots
Aaryn, Helen , GM, Elissa
3:01pm HOH Elissa, Andy, McCrae, Jessie
Andy points out that Candice was always telling them how poor she was then the next minute she talking about shopping sprees in Miami and Paarai. Jessie says that was during "Her glory days" not any more. Spencer laughs "Her glory days as Miss louisiana"
Andy: "She did compete in Miss USA.. thats a pretty big deal"
Spencer thought they got scholarships.
Andy: "Miss USA you get paid it's a job Miss America is a scholarship"
Jessie says she probably got 20 thousand for MIss Louisiana. Spencer doesn't think that's a lot to be calling it her Glory Days.
Elissa says she told production she's not doing the show unless they pay her a least 10 thousand a week
McCrea: "You didn't negotiate your stipend"
Elissa: 'Ya of course" —Feeds cut—
When the feeds come back they are laughing.. Elissa says somthing like she's making 10 times what they are she jokes that the twist is also if she gets evicted she gert brought right back into the game. (I'm pretty sure she was joking about the 10 grand a week)
McCrea: "I know Jenncity negotiated her stipend" Feeds cut
When the feeds come back they are talking about Jenn city not really doing anything last year. McCrae says he has trouble remembering her in the game.
3:05pm Cockpit Helen, Aaryn, Amanda and GM
Gm and Aaryn braiding their hair. Just chit chat about random junk.
Helen: 'I just started high school when you were born Aaryn.. I am old how did I get so old"
3:33pm HOH Amanda, Andy, Spencer and GM
Amanda telling them it's stupid to get vanity plates on your vehicle because if you ever do something stupid it's easier for people to remember a name than a license plate number. GM says she has vanity plates they read "HOT247" her car is a "jalopy" Sebring convertible with 209000 miles on it. It cost her 34 thousand new. The transmission, AC and radio had to be replaced.
Amanda says at that point it's easier to get a new vehicle.
3:42pm Kitchen Elissa and Aaryn
Aaryn says going to jury is scary because if you don't get along with Candice it's a living hell. She only wants to hear what she has to say if Candice would take the time to listen to other people there wouldn't be as much drama.
Elissa: "Those two together it's going to be like a circus act"
Aaryn: 'I would be so embarrassed and appalled if I left this house like that.. I would be sick for weeks"
Elissa says she is so excited to play in this competition today. Aaryn wonders if there is any luxury prizes. Aaryn is happy she gets to watch she's only had one other time to watch a veto.
4:00pm Elissa and McCrae Bedroom Elissa is telling him the time when she went to Hells kitchen with Rachel, Brendon and her mom. They could see and hear Gordon Ramsay but didn't meet him. She had a alot of fun there was free alcohol and the food was great. McCrae would love it if they all went to a Hell's Kitchen after Big Brother was over. Elsisa yells out asking if her sister Rachel is watching to hook them up. Hell's Kitchen Seasons 1-8 Box Set
4:21pm HOH Aaryn and Andy Aaryn says he can call him "A-Pac" from now on.
4:22pm Living Room GM and Aaryn rapping Amanda joins them from the kitchen.
GM: "Yo i'm G-unit in the house i'm going to knit you a blanket.. to stick you 6 feet under.. I got the hunger fore some slop balls just chilling with my UGGS on"
GM: "We got the braids tied tight with my cl!t ring hanging ohh so right "
Aaryn: "we got the BB bunnies in the house you better keep our names outta your mouth"
Aaryn: "they call me skipper or poopey .."
Amanda: "My boy Spencer with his beard so red he comes from Arkansas where they're all inbred"
Amanda: "Andy he's so cute he loves the mother f**** boys that like fruit.. UGH he may be gay but guess what he's still here OK"
GM adds the chorus can be "He likes Bananas .. he likes Bananas.." This becomes what you say when rapping and you get stuck everyone seems to be saying it now at some point in their rap.
Amanda: "There was a girl named candy who had a big a$$ she wanted to go out with a bang but she went with no class She liked a boy his name was Howie and guess what he's gone so a big old wowie".
Amanda: "GM has corn rows that are sick.. she always pays the homage to that Nick.. That may have left on week 2 but who knows whats she's going to do.. She going to visit him in Holland New York because we know she is a little bit of a dork.. She's going to eat him up in one little bite even if he puts up a fight .. she's going to wet her lips kiss him hard… "
Aaryn says "He likes Bananas"
You can re-watch ever second on the feeds using the flashback feature.. It's just like a DVR and is super easy to use. click this link for a Free Trial —> Subscribe to the Big Brother Live Feeds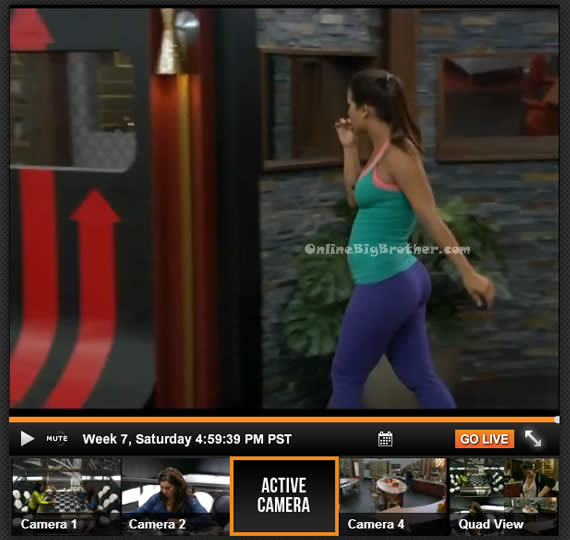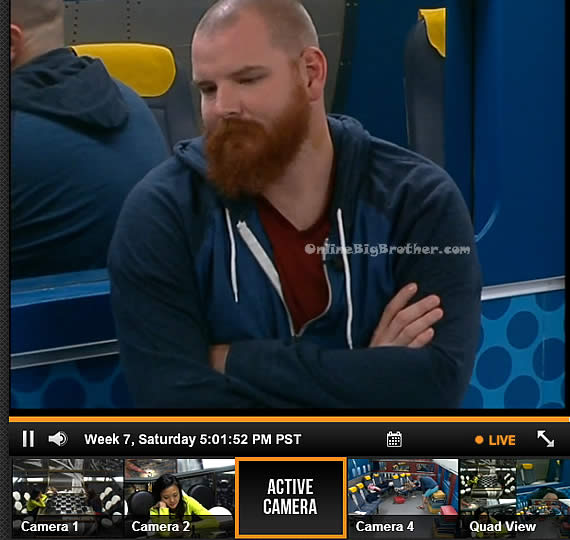 5:02pm Have nots Spencer and Aaryn
He tells her he's been nominated 5 times now but he's still sticking around. Spencer thinks after this things are going to get shaken up in the house. Aaryn agrees but finds it hard to read people.
A: "Can you imagine going to jury with Candice"
S: "She like living with a wild animal.. "
A: "GM is like living with a wild animal too"
S: "ya.. she is isn't she"
S: "For whats it's worth I'm not mad at you for putting me up.. I want you in this game seriously"
A: "Every time you go up you've never been the target"
S: "I'm still going up.. I speak more on Thursday than Julie does"
A: "I was the target both times I went up"
Specner: I think there is a storm coming next week"
A: "Next week is going to get real."
Aaryn points out that McCrae/Amanda and Elissa/Helen are together that leaves her, Spencer and GM
Spencer says if they can ride the middle and not be the hammer that strikes the blow, 'There can be two sides Waring"
A: "Do you want to win HOH"
S: "Ya"
A: "So you don't mind being that hammer than"
Spencer says he'll be the hammer to make the big blow.
Andy joins them (Drink)
5:22pm Andy and Jessie Bedroom
Andy says he's so glad she's being cool with her nomination. Andy: 'All the people that are voting respect me enough to do what I tell them what to do.. you will not go home.. especially with all these pairs it's so important that you stay here"
Anady: "Trust me I told you you were safe last week and you were this week you are safe also"
5:27pm Jessie and Elissa
Jessie says she's so glad Helen and Elissa are playing in the veto because they are all on the same page. She mentions how Aaryn and Andy told her she is not the target Andy has another target in mind but Jessie doesn't know who that is. Elissa says it will be Spencer.
Elissa says she's stressed a little today it's nothing to do with the game just thinking about her family.
Aaryn gets called into the Diary room. Elissa says they give Aaryn medicine in the morning and at 5pm .
Jessie: "At least they give it to you in there so they are not stockpiling it"
They both agree it's a good thing Aaryn isn't playing if she's taking her performance enhancing drugs
Elissa tells her if there are prizes in the veto competition she should play for those.
jessie doesn't think she will she wants the Veto.
Elissa: 'I will be.. if you are safe hmm ummm hmm just take the prizes" (Elissa seems to me moaning more than usual)
Elissa says seeing GM and Candice during eviction was one of the 10 funniest things she's ever seen in real life.
Jessie asks if she thinks Candice was wrong with what she said during eviction.
Elissa: 'I think Candice is a beautiful successful woman, She has a good degree she works with Children.. I think it was funny what she said to them.. these girls are nothing compared to her"
Elissa says GM is ridiculous she still talking about Candice, "Yo Yo Yo Candice is a rat yo yo"
They both agree that GM is disgusting for saying those things about Candice's mom.
Elissa says Gm was saying racial things about Candice right after she walked out the door. GM was looking at the Memory Wall picture and when it turned Black and White GM said something like now your picture is your colour.
6:00pm McCrae is called to the Diary room Everyone cheers because this could mean the POV competition is about to start. McCrae is taking his time getting to the Diary room.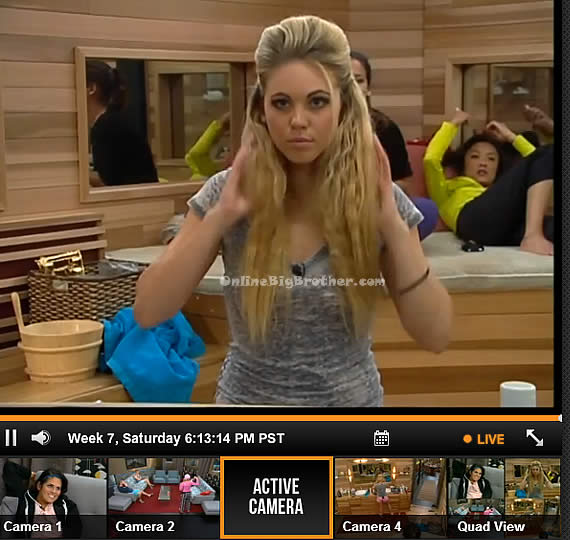 6:14pm Waiting for McCrae to come out so they can start the POV
6:20pm Trivia POV competition has begun
8:00pm POV comp still going on
[polldaddy poll=7309671]