POV Holder:
?
Next POV
Aug 10th
POV Used
?
POV Ceremony
Aug 12th
HOH Winner:
ANDY
Next HOH:
Aug 15th
Original Nominations:
Spencer & Jessie
Current Nominations:
Last Evicted Houseguest
David, Nick, Jeremy, Kaitlin, Howard, Candice, JUDD
Have Nots
Aaryn, Helen , GM, Elissa
12:10pm – 12:45pm Big Brother switches the live feeds to TRIVIA for the house guests to pick the players for the Power of Veto Competition.
Veto Players: Andy, Spencer, Jessie, Amanda, Helen, Elissa
POV Host: McCrae
Big Brother 15 Live Feeds: FREE 2 DAY TRIAL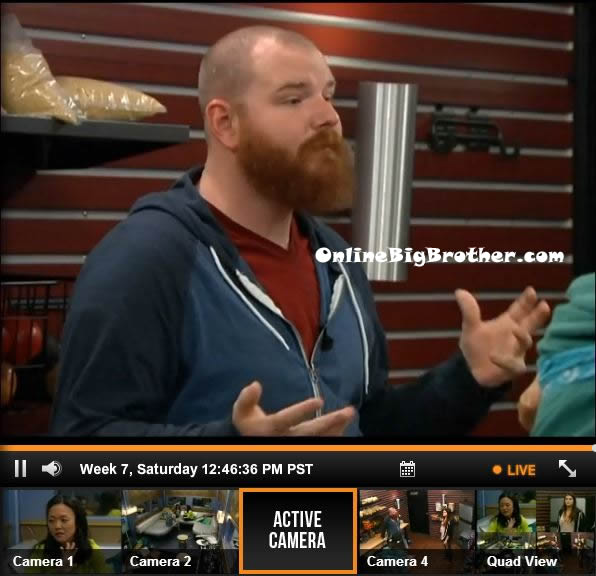 12:45pm In the storage room – Amanda, McCrae and Spencer are talking. Amanda says that she and Helen are going to try and knock out Jessie if its the knock out competition. The discuss different strategies to beat Jessie. In the lounge room – Helen, Elissa and Andy are talking. They talk about how next week they will make a big move. Andy says that he likes Jessie but that she needs to go this week. Helen says that she and Amanda will work to get to knock Jessie out if its a knock out competition. Elissa talks about how she really thinks they need to get Amanda out. If she is in the end she will win. Andy and Helen tell Elissa that this isn't the time we need to make sure we don't give her any indication that we are coming after her. Helen tells Elissa that they can make a big move next week or after that. Elissa tells them that she just gets bored and wants to shake the house up. Amanda joins them and tells them the strategy of folding for every round until they knock Jessie out. Andy says that he really doesn't want Spencer to win the veto either because I really really don't want to put up Ginamarie. If I put her up and she wins HOH next week and send me out I will kill myself. They discuss other strategies for the possible veto competition. Andy and Helen leave. Elissa says that she just doesn't like how she feels she isn't included in the plans. Amanda says of course you are, with out you it wouldn't work. Elissa says that she just gets nervous. Amanda talks to Elissa about how to calm down during the competition and how they need to make sure Jessie and Spencer dont win it. Helen joins them and Elissa leaves to go shave. Helen and Amanda talk about the possibility of Ginamarie going up on the block if Jessie or Spencer win the veto. Amanda tells Helen you could give her you baby blanket to reassure her that she isn't going home. Helen says yeah we could all give her collateral.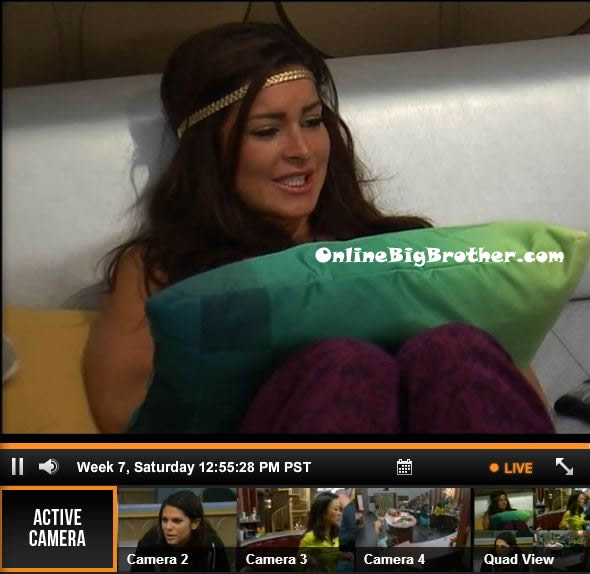 1pm – 1:10pm In the rainbow bedroom – Ginamarie tells Aaryn that she would never, never, ever put her up on the block. Gina says think of it this way I would never put up you put like how I would never put up Nick. Aaryn says that she wouldn't put up her either. Aaryn says its just like how they would never put up each other, we can do the same thing. Gina talks about how she needs a new car. She says her car sucks. She says she hears other people talking about how nice their cars are and its just hard because I really need something better. Aaryn and Gina discuss who they would put up next week. Aaryn says either Jessie or Spencer whoever is left here next week. They talk about who else to put up ..maybe Andy or McCrae. Gina says she promised people she wouldn't put them up but at some point you have to break that.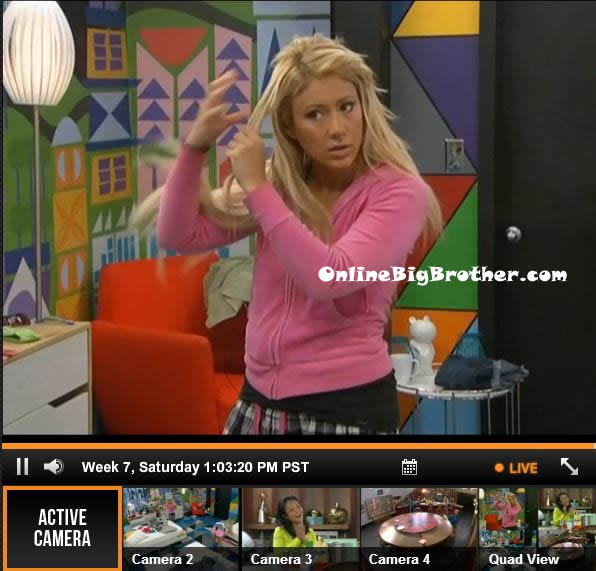 1:10pm Helen, Andy and Aaryn talk in the lounge room. Aaryn tells them that Gina knows she will go up if the veto is used and she isn't upset about it. She says she just really wants to be here for her birthday. Helen tells Aaryn about how they could all put collateral in Gina bag to show her she isn't going home. They think her birthday is next week or the week after. Andy says after the veto competition we will have a day and a half to figure things out.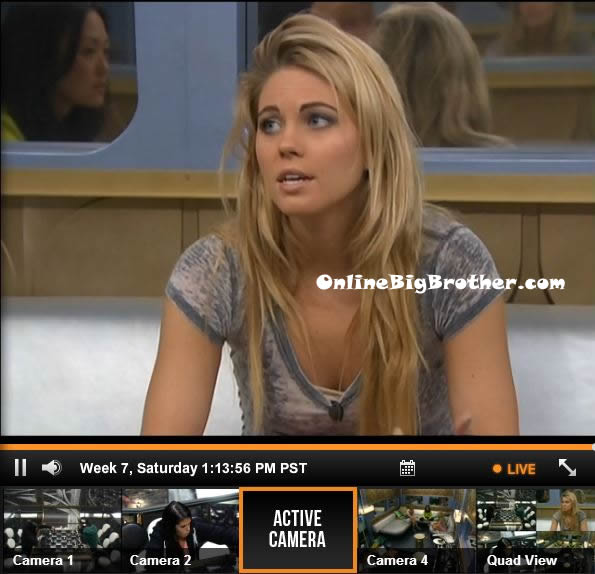 1:25pm In the lounge room – Helen promises her that she will not be the one to take Aaryn out. I won't do it and if I did you can not vote for me in the end. I won't do that to you not where I am at today. Andy joins them and reiterates that he won't take her out either. They talk about how much she helped their games. Helen leaves and Aaryn tells him – I am not taking her out of the game! I will not do it, I like Amanda and McCrae but I love that woman! Andy tells her that he is with her and feels the same way. Andy sasy we just need McCrae, Amanda and Helen to go after each other. Andy says that Helen is ready to make a power move. He says he doesn't know what Amanda and McCrae are thinking yet. Andy says that Helen wanted me to make a big move this week and was mad that I wouldn't do it. Aaryn wonders if Spencer would f**k Andy over again. He did it once and will do it again. Andy says we just need to stay loyal to Amanda, Helen and McCrae for as long as we can. If Helen wants to gun after them next week there is nothing we can do and they can't hold it against us. Helen joins them. Andy says that we just need to make sure Jessie or Spencer don't win the veto. I want this to be the first veto that isn't used.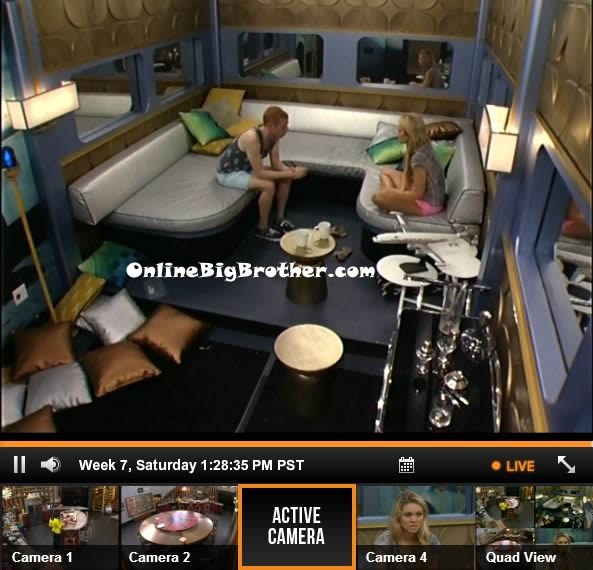 1:35pm In the bathroom – Andy talks to Ginamarie and tells her that if one of them (Jessie or Spencer) win the veto then he will need someone to put up. He says that he isn't sure who that will be yet but that they will be the ultimate pawn. He says they will not go home though. Gina says oh yeah, yeah. Andy leaves the room.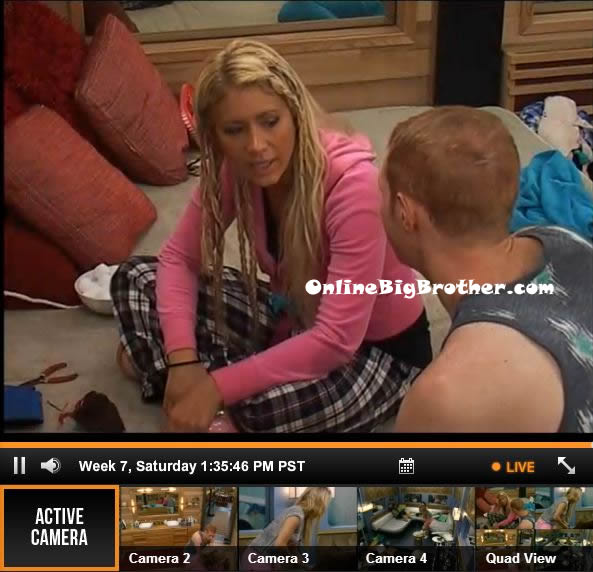 1:45pm – 2pm Helen and Aaryn talk about how they are super friends. Helen says that Aaryn is the perfect ally with the calm temperament. Andy heads into the HOH room and talks to Jessie and about how Spencer is the target (lie) and that he as bad as it sounds is just using Jessie to get Spencer out. He reassures her that she is safe even if she stays up on the block. He tells her that he has been 100% loyal to people and that's what people will see this week. He then jokingly tells her to get the f**k out so he can listen to some Madonna. Jessie heads down to visit Gina in the bathroom. She then joins Helen and Aaryn in the lounge and she does a bunch of stretching poses. She then does the splits straddling the lounge bench.
2:15pm – 2:57pm In the lounge – Aaryn gets in trouble by production for pretending to be a gargoyle. Up in the HOH room – Andy is talking to Amanda. McCrae joins them and Andy tells him that he pulled Helen aside and she trust him. McCrae says as long as everyone stays loyal to the 3AM alliance (Aaryn, Amanda, Andy and McCrae). Andy says that he really doesn't want to put Gina up. McCrae agrees and says that she will stay loyal. Andy says that he almost wants to call all of us together and ask one of us to go up so that Gina is good with us. McCrae says no way would I do it, I trust you guys.. just someone could take their shot. McCrae says he will give Gina every one of his cigarettes. Andy says I just don't want Gina to go up because I know she would not put me up next week and I don't want to ruin that. Andy says we will see after the veto is over. Andy tells them about how he reassured Jessie again that he is just using her and she won't go home. They talk about how they don't trust Spencer. Andy says that Jessie is easily readable, when she is mad at someone you know it. Andy says I am going back and forth about getting either Spencer or Jessie out and I trust that whatever I decide everyone will go with that. He says but right now I want Jessie out. They talk about Spencer talking game with Gina. Andy says not to knock Ginamarie too much but I really don't think she has the mental capacity to be a mastermind player. Andy talks about Spencer being a master manipulator, he tells us what we want to hear. I am not saying I want him out I am just playing devils advocate. He is way smarter than she is but she is way more of a loose cannon. Amanda says that Spencer basically said he wants Helen or Elissa out next week. Andy says oh my god in a couple weeks it is going to turn into an insane blood bath. Andy says that he wants Elissa out soon she just has so much money and has lead a privileged life. Amanda says she wouldn't win against any of us. Andy says yeah I just don't even want her at the end with us. Amanda asks do you think the target has shifted off of me now? Andy says well you haven't been yelling and screaming at people about co*ks in their mouths the last few days. Amanda says yeah all those people have gone. Spencer joins them and talks about how he can still hear them working on the competition in the backyard. Elissa joins them. Andy says McCrae was his third choice of POV host ..he says production asked him to rank his host choices.. He said Amanda, then Elissa, then McCrae. The conversation turns to talking about the double eviction nail POV competition.
Use the Big Brother Live Feeds to FLASHBACK to SEE what they can't show you on TV: BB15 N!p Sl!ps / N*des
[polldaddy poll=7309671]