POV Holder:
Chrsitne
Next POV
Aug 2nd
POV Used
NO
POV Ceremony
Aug 4th
HOH Winner 1:
Donny
HOH Winner 2:
Nicole
Battle of the Block Winner
 Caleb/Victoria
Next HOH/ Next BOB
Aug 7/Aug 8
Original Nominations:
Donny's Noms (Victoria & Caleb) Nicole's Noms (Zach & Jocasta)
Final Nominations:
Zach & Jocasta
Have Nots
Frankie, Cody and Hayden
POV Players
Nicole, Christine, Jocasta, ZachAttack, Caleb, Victoria,
1:15pm In the kitchen – Caleb starts talking about his ex-girlfriend. He talks about how she was in the hospital and he stayed there with her for a week with out leaving or showering. He says that she told him he was the best boyfriend in the world. Then the next day she broke up with me and that was it. Victoria asks Hayden if they can have their talk now. (Ambers gone and now Caleb is obsessively talking about his ex.)
See what they can't show you on TV! -Try the Big Brother 16 live feeds for FREE!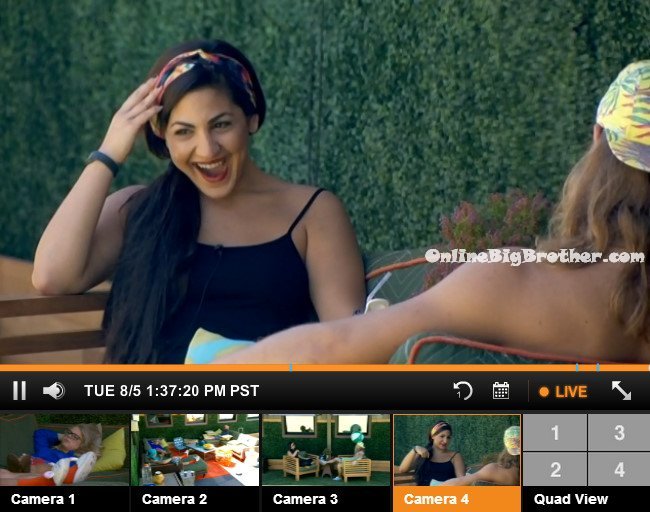 Take Advantage of the FREE 2 day Trial to watch all the drama!
1:25pm – 1:55pm Hayden and Victoria heads outside. Victoria says I came up with some really good points when I was in the shower. Hayden asks you were thinking about me in the shower? Victoria says no I mean while I was doing my makeup. Victoria says you called me a princess. So what I was thinking when I go out on a date with a guy I go to the bathroom and fix my make up a number of times. So in here I need to do the same because here I am in front of 9 million people. You should want to look your best and not sluggish. Shouldn't I want to look good. Isn't this proving my point? Hayden says no because you are always in the mirror so all the shots they'll have of you will be mirror shots. Victoria asks why wouldn't I want to look good. Hayden says to look perfect. Victoria says no not perfect. I don't have the right make up to look perfect. Hayden says you don't need make up to look perfect. I bet you use twice as much makeup as anyone else. Victoria says this isn't how I am in normal life. Hayden then shows her what she's like in the mirrors. Stopping at each one in the backyard checking his face, outfit and butt. Victoria says you wouldn't just roll out of bed and go out without putting on makeup. Hayden says but you don't need to check yourself out every 5 minutes. Victoria says so that's why people call me princess in this house. Hayden says one of the reasons. Hayden tells Victoria you're TV gold! Like the ditziness and checking yourself out. Victoria smiles and asks really?! Hayden says you think these things are bad things but they're not. Victoria says okay at least we're on the same page. Hayden says yes, you and America are on the same page. Victoria says my clothes have been taken from me.. they are like 90% of me.. My clothes are my identity! I have changed a lot since being in here. Hayden says what you don't realize is the more you talk about it the more they'll show it. Victoria asks what girl wouldn't want to be a princess. Hayden says this is a funny conversation. Victoria says whatever I don't even care any more. Hayden says yeah it sounds like you don't care. We're on the same page. Victoria says I understand this is a game and I have to play dirty, I just don't know how dirty. Hayden says yeah you're a dirty girl.
2pm – 2:25pm Victoria is talking to Christine in the backyard chairs. Victoria says this game is going to get dirty real fast. Christine says I think it already has. Christine asks do you know how people are voting this Thursday? This is the first time I don't know. Victoria says he isn't sure. She detached the other day and hasn't had a chance to talk to her. Christine says Jocasta is good to keep because she can always go on the block but Zach will always be a target. Victoria says now that we have the chance to get Zach out we should like when we had Devin on the block. Christine agrees you have to take it when you've got it. Christine says we only need 4 votes. Christine says that Hayden said well Zach isn't coming after me. Christine says but Zach has said Hayden's name. Christine says that Jocasta can't win anything and she's a loose cannon. She can go at any moment, she can't win anything. Victoria says there are bigger targets than Zach but we need to get the big targets out before they get together and make it to the end. Christine says Caleb was one of the guys that wants Zach to stay. I think there still could be a guys alliance. Frankie, Derrick, Caleb and Cody all said they are going to vote out Jocasta. Doesn't that look weird. We have to turn it on them. That's 4 girls out in a row. Zach is going to blow up walking out that door. Victoria agrees its going to be amazing. If he doesn't go then this HOH was a waste. It was for nothing. It would be boring for America. Christine says operation destroy Zach. She laughs and says just kidding.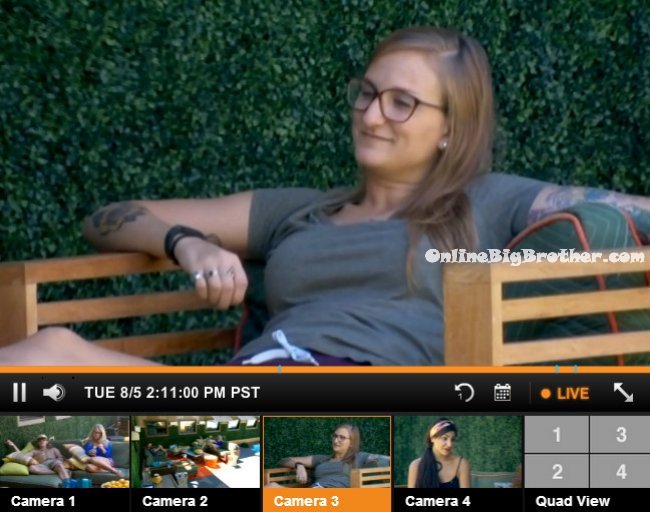 2:40pm – 3pm Donny talks to Nicole and Hayden about talking to Caleb trying to recruit Caleb to working with them. Donny says it would be easy to win him over. Haydeb tells Donny to bring it up and see what he says. It would be hard for Caleb to get over his original promises. Nicole tells Donny not to mention her name. Donny says he won't. Hayden says that Caleb has told him that he wants Donny, Nicole, Jocasta, and Victoria out. Hayden says Caleb is so loyal it hurts, it's crazy. Donny says that Caleb only talks about personal stories with him and never game. I won't bring it up unless he does. Donny laughs about how Caleb said his ex is going to be happy to see him after. Donny says he called her bipolar. Nicole says that she would hit her ex with a bat if he called her bipolar on national tv. Hayden says that Caleb and Victoria are great tv. Nicole says except them being chained together that was horrible. I'm sure people talk about how boring that was. Hayden says if it was me and you (Nicole) it would have been super cute but if it was me and Victoria it would have been hilarious. Nicole agrees. Hayden starts going through the events of the house. Studying the days and the HOH's, BOB's, POV's.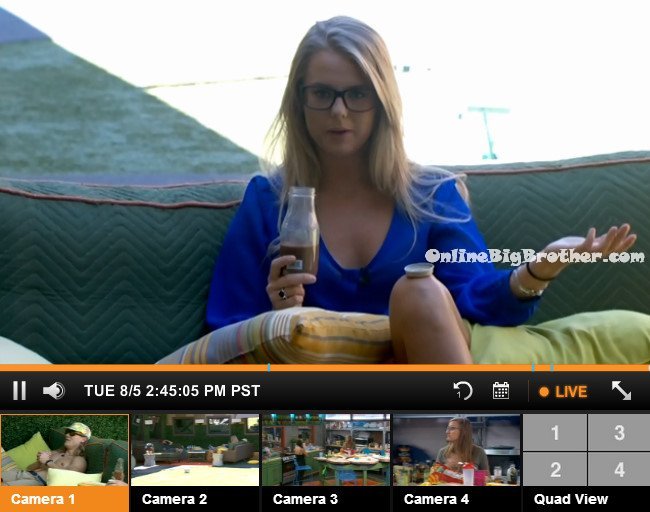 3:05pm In the kitchen – Derrick joins Victoria and Christine. Derrick says that he's pissed off and doesn't want to talk about it. He then says I'll talk about it .. they want us to do goodbye speeches but.. Big Brother blocks the feeds. Derrick goes and wakes up Cody and tells him to go take a look at who's outside talking together. (Hayden, Nicole, Donny) Christine hugs Cody on his way outside, he joins them on the backyard couch.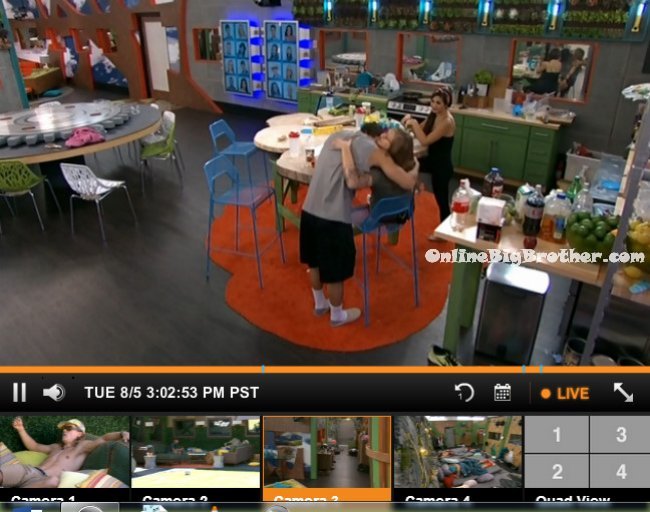 Alliances 
The Rationale = Nicole, Derrick, Hayden and Cody
Zankie = Frankie/Zach
The Detonators = Derrick, Frankie, Zach, Christine, Cody
"The HITMEN" – Cody & Derrick
Trilogy = Nicole, Christine & Hayden
Team America = Donny, Derrick, Frankie
Old timers = Jocasta/Donny
Nicotine = Christine/Nicole
bottomfeeders = Derrick and Nicole
More polls here https://www.onlinebigbrother.com/big-brother-compendium/big-brother-16-polls/