POV Holder:
Chrsitne
Next POV
Aug 2nd
POV Used
NO
POV Ceremony
Aug 4th
HOH Winner 1:
Donny
HOH Winner 2:
Nicole
Battle of the Block Winner
 Caleb/Victoria
Next HOH/ Next BOB
Aug 7/Aug 8
Original Nominations:
Donny's Noms (Victoria & Caleb) Nicole's Noms (Zach & Jocasta)
Final Nominations:
Zach & Jocasta
Have Nots
Frankie, Cody and Hayden
POV Players
Nicole, Christine, Jocasta, ZachAttack, Caleb, Victoria,

3:36pm Backyard CHit chit
Conny says he's not feeling as hot rigt now because he "Saved his undercarriage" (LOL what TMI)
Nicole talking about guacamole.. Donny wants to take the 3 blocks of cheese they have and make quesadillas. Derrick says they have a vegetable peeler they could use as a grater. Nicole says her stomach problems have all gone away no that she's started drinking almond milk over regular milk.
Donny – I have a buddy at work that can't eat anything hatched from the egg.. no Fish, no turkey no chicken.. It messes his breathing up.. "
Christine comments how Skerry Peanut allergies are "Skerry.. so Skerry"
Derrick says he got in bigt trouble because he made a peanut butter sandwich for his kid at their daycare.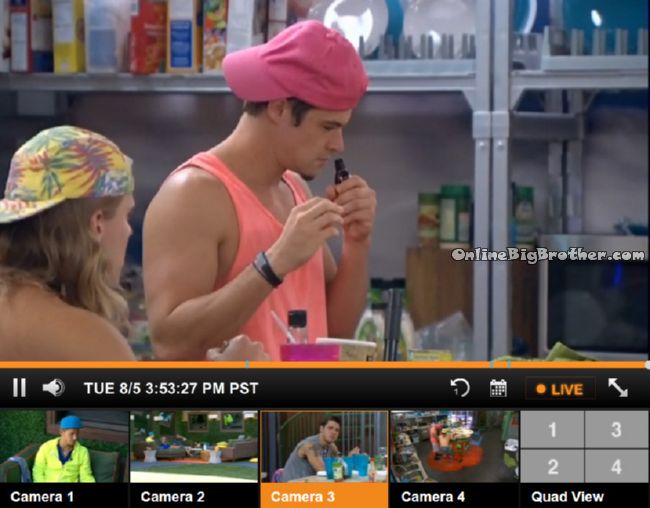 3:44pm Kitchen Nicole and Cody
Nicole says she tweeted out the Rationales because fans love that sort of thing. "I just hope I spelt it right "
Cody – How did you spell it
Nicole – "Ale right…
Hayden rolls ion Cody says he's made a deal with Donny if he gets called out by production (singing, Microphone etc) Donny gets to kick him in the balls.
Hayden mentions the song selection this morning were all the songs they talked about yester Slipknot duality, Disturbed and Korn freak on a leash .
Hayden tells him COdy is putting too much "Stuff" in his slop. Hayden says that is what makes him sick the condiments and salts people put in it. When he eats straight slop with some cinnamon it's fine.
Zach to Cody "Dude you put ½ the bottle of that vanilla extract in there"
Hayden says he was mouthing the song hotel California and he got a "Stop That" from production.
Hayden says all the HOH pictures are from him, Donny, Christine, Victoria and Nicole.. Caleb woke up near the end and got a couple in. There was a few of Cody, Zach and Frankie sleeping.

4:14pm Backyard Zach, Derrick, Nicole, Christine and Hayden
Derrick talks about finding kittens during his job as a groundskeeper. He took one in it's still a little feral but doing alright.
Zach – What's it's name
Derrick doesn't remember
Zach – you don't remember the name of your cat.
Nicole – No that happens in here
Derrick remembers jigs and sophie
Derrick "hates" his cats like his dog more.
Nicole and Christine starts hating on cats. (This means way ;)) Zach says Cats tongues are like sandpaper.
Zach tells them about his dog Tiger.. The Dog's birthday is August 31 when he gets out of the house the Dog will be 1 years old. Zach wonders if tiger will recognize him. They reassure him Tiger will remember him when he gets back.
4:36pm Most of the house guest clustered around the back yard about 4 different conversation are going on. Zach is talking about his brother, Derrick talks about his daughter, Cody says he wants to have one boy and One girl, Christine giggles…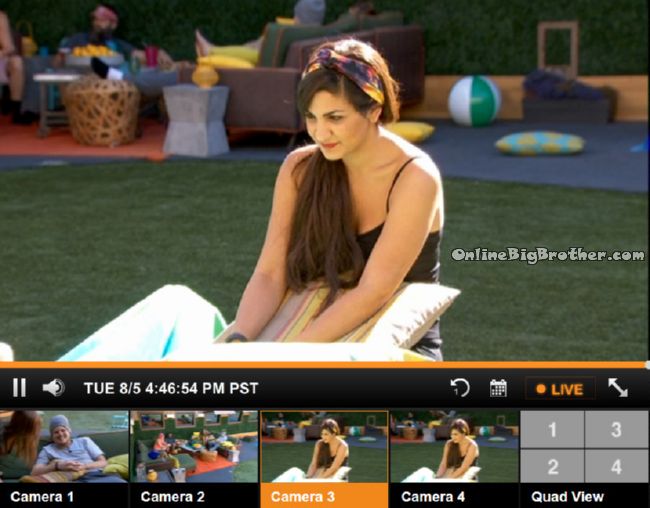 4:46pm Victoria and Frankie
Frankie being sarcastic says being a have nots is so much fun he wants to be one every week. Victoria says everytime she wears her head band into the Diary Room she gets compliments. Frankie says he's had to take more medicine for his circulation because being in the have nots room is so cold.
Frankie – What is everyone feeling
Victoria – I don't know
Frankie – what are you feeling
Victoria – Jocasta is there for me
Frankie – people are scared that i'm going to keep him.. people are afraid to talk to me.. i'm playing the game.. i'm going to do what is best for my game.. We're friends ya but ultimately..
Frankie – He's volatile he's unpredictable how is that good for me..
Frankie says he's entertaining voting Zach out.. I will do whatever everyone else does
Frankie – Everyone assumes he's protected but he's not.. He's dangerous
Victoria say it will be a waste if Jocasta goes home.. "It's boring OK and what has changed.. nothing.. do you know what I mean"
Frankie – It's boring for the country as a fan Oh my God"
Victoria – "it's boring '
Frankie – If he survives this it's AWFUL
Victoria – that's what i'm saying…
Frankie – We're on the same page
Victoria- I think you are more able to talk to the guys
Frankie says the guys are starting to talk to me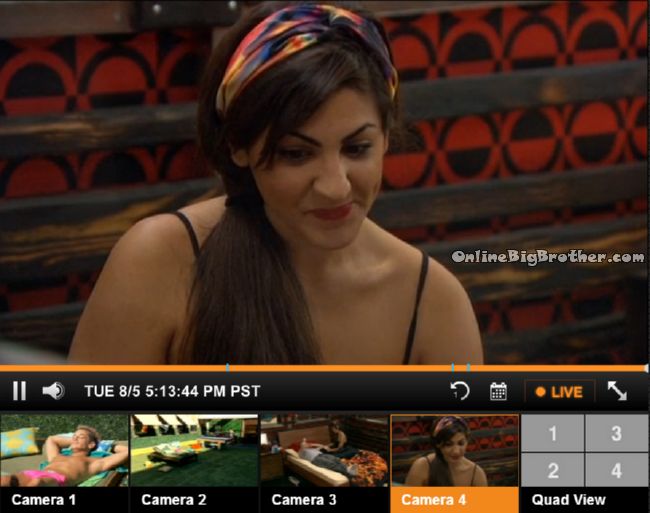 5:00pm Derrick and Victoria FIRE ROOM
Victoria says she spoke to Christine this morning. Christine told me the guys are going to vote Jocasta out because there's a guy alliance. Victoria – People are saying they want Zach to stay because he has a big target on his back.
Victoria – I want Zach out
Derrick says Christine is lying to her.
Victoria doesn't think she is, He tells her when the vote comes out on Thursday and Zach goes home she'll know Christine is lying.
Vciotira doesn't think so
Derrick – I don't buy it Zach's staying.. I don't buy it"
Derrick says he doesn't trust Christine, "I'm voting Zach out.. this better not get out"
Derrick says if there is only two votes Thursday then they know Christine lied to her face, "If it's unanimous she still lied to your f*** face"
Derrick points out Christine is seen talking with everyone.
Derrick says it doesn't make sense for there to be a guys alliance "Let be honest Victoria it's you Jocasta, and Nicole left"
Derrick says the guys are all turning on each other he doesn't want to give the money to Hayden or Cody he want to win it for himself.
Derrick points out that Christine only started talking to her this past week.
Victoria says she doesn't trust Christine. She mentions Christine wanted Victoria to talk to the guys
Derrick says Christine wants Victoria to do all her dirty work.
Victoria brings up her conversation with Frankie he didn't say who he was voting out. Derrick says if the house flips to vote Zach they are going to have to. He doesn't think that will happen. Derrick warns Frankie and Christine are very close.
Victoria starts talking about her conversation with Hayden where they talked about everyone in the house thinks she's a princess.. She says everyone that goes out in public always want to look decent and since they are being viewed 24/7 by the public she wants to look her best.
Where the Vote is..
Zach going home..
Alliances 
The Rationale = Nicole, Derrick, Hayden and Cody
Zankie = Frankie/Zach
The Detonators = Derrick, Frankie, Zach, Christine, Cody
"The HITMEN" – Cody & Derrick
Trilogy = Nicole, Christine & Hayden
Team America = Donny, Derrick, Frankie
Old timers = Jocasta/Donny
Nicotine = Christine/Nicole
bottomfeeders = Derrick and Nicole
More polls here https://www.onlinebigbrother.com/big-brother-compendium/big-brother-16-polls/