POV Holder:
?
Next POV
July 26th
POV Used
?
POV Ceremony
July 28th
HOH Winner 1:
Frankie
HOH Winner 2:
 Zach
Battle of the Block Winner
Next HOH/ Next BOB
July 31/Aug 1
Original Nominations:
ZACH's Noms (Christine & Nicole) Frankie's Noms (JOcasta & Victoria)
Final Nominations:
?
Have Nots
Nicole, Caleb, Christine, Derrick
POV Players
?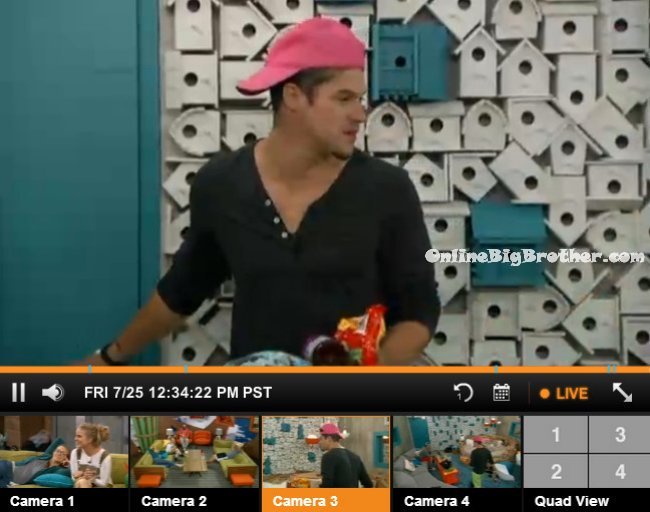 Take Advantage of the FREE 2 day Trial to watch all the drama!
12:35pm Zach heads down to the living room with candy specifically to taunt Nicole and Christine asking them if they want some of his food knowing that they're havenots. He heads down and sits on the couch throwing the candy on the coffee table and ask them if they want any. Oh my bad you can't have any. Nicole and Christine don't say anything. Hayden and Donny eat some.
Up in the HOH room – Cody is talking to Frankie. Frankie says that Caleb actually thinks that once again he saved Amber. Frankie says if I remain HOH I just have to do what the house wants and get out Amber. Cody says that Zach isn't trying hurt you he is just trying to stir stuff up. Zach heads back up to the HOH room. Cody tells him that you need to make it so that Nicole and Christine just dislike you over despising you. We need them to still want Amber out. Zach comments on how they're going to lose the battle of the block because they're not feeling well being on slop. Cody says we need Christine to not blow us up. Zach says she's not going to blow us up because she has nothing. Cody says there are still numbers in the house, there are still 12 people in the house. Christine could rally Jocasta, Victoria, Nicole, Caleb and Amber. Cody says we don't know where Donny is at. He could be playing us big time. Zach says he better not be playing me.

In the hive room – Jocasta talks to Victoria and tells her that they (Production) keeps telling them to hydrate, hydrate, hydrate. That means its going to be a physical competitions. Victoria says is going to focus all her energy to winning the battle of the block. Victoria says what's hurting me is that people are going into it not rooting for us. That's what hurts. Its very frustrating.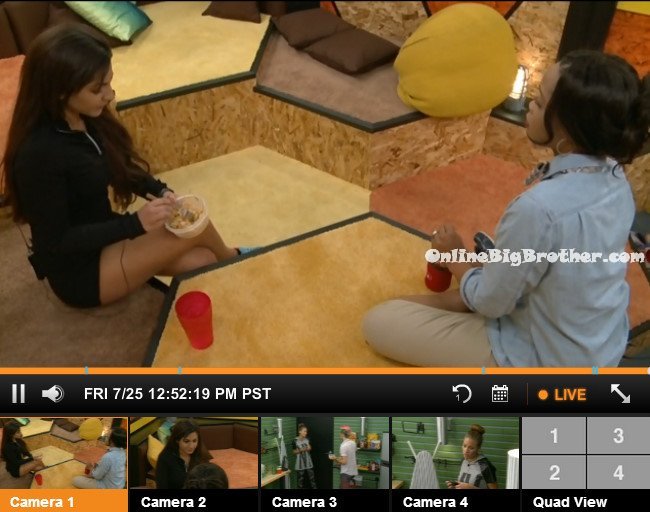 Up in the HOH room – Frankie tells Zach "I'm a bit in love with you." Zach asks really? I'm a bit in love with you too.
In the fire room – Victoria is crying to Hayden about how no one is coming up to her rooting her on to win. People are going up to Christine and Nicole and no one is coming up to me. I don't believe in backdooring will work. Victoria says its boring that she keeps going up on the block. No one is going to want to watch this. Victoria then takes Nicole into the hive room and complains about how no one has her back. Nicole says this is a super stressful situation for all of us. Nicole says he called me a dingus froot loop.. this is an embarrassing situation but he is the one that should be embarrassed. Victoria then talks to Christine in the hive room. She says it sucks that you two are up agianst each other and I don't want to go against you two. Victoria says it's my safety in the game I don't care if people tell me I am not the target, I am not going home. Victoria says low class, no respect! Victoria says if Amber or Caleb win the veto I am f**ked.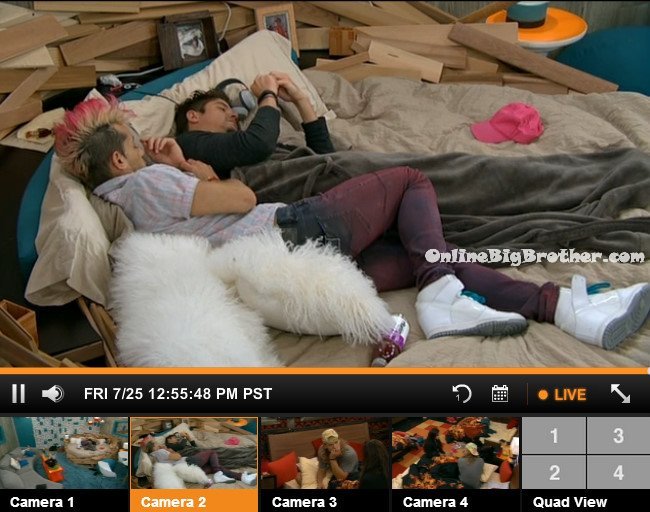 1:15pm In the earth room – Cody says to Amber once again 4 girls on the block. Cody tells Amber that if he wins the veto he is going to take her (Christine) off. Amber says I'm going to too. Amber says there are only 5 girls left. Cody says Zach is such a punka$$! He wants to embrace that in this game. I don't know if he is actually like that or if they are voting for him to do stuff. I don't want to be paranoid but he is acting crazy. I just want to go in the diary room and ask.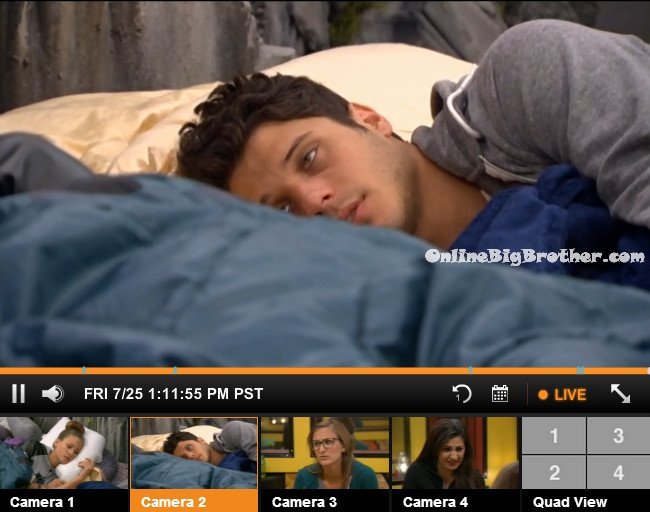 1:20pm In the bathroom – Hayden tells Nicole and Christine about how Victoria thinks America is bored because she keeps going up. Nicole says yeah she told me that too. Hayden laughs and says did you see that show today! That was awesome! Nicole says it wasn't awesome. Hayden says well not you going up but.. Big Brother blocks the feeds…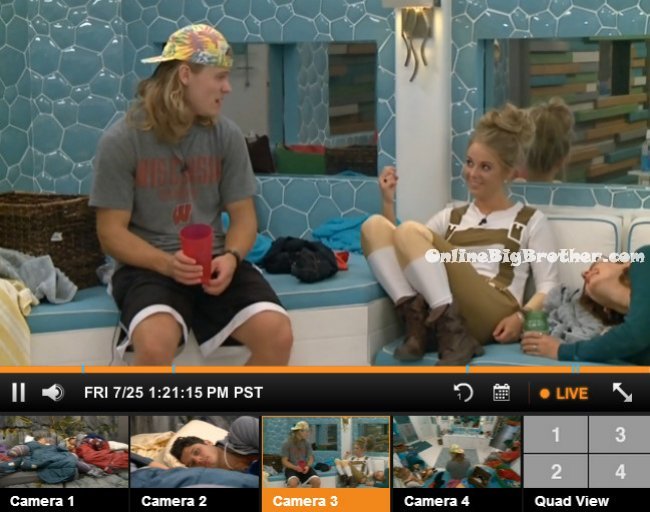 1:35pm In the hive room – Victoria is talking to Frankie. She says that she is taking it really hard because there is no support. Usually there is support, like you guys pump me up. Frankie says if Zach is HOH you and I are safe. Frankie says I will pump you up. I will tell you like I told Jocasta that I want you to win it. I am not asking you to throw it because nothing is guaranteed. Frankie says Zach doesn't want you gone. People are more concerned about Jocasta because she has a partner.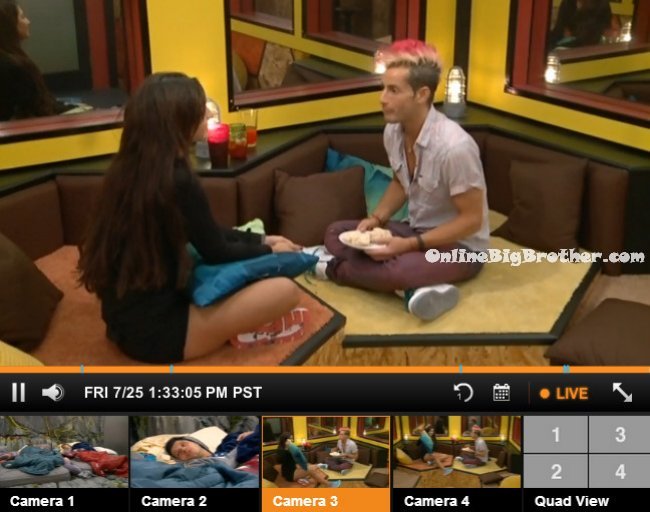 1:36pm Zach comes into the hive room and holds up a little bag. Frankie looks over and says lets DO IT!! (Picking for the host of the battle of the block competition) Big Brother blocks the feeds.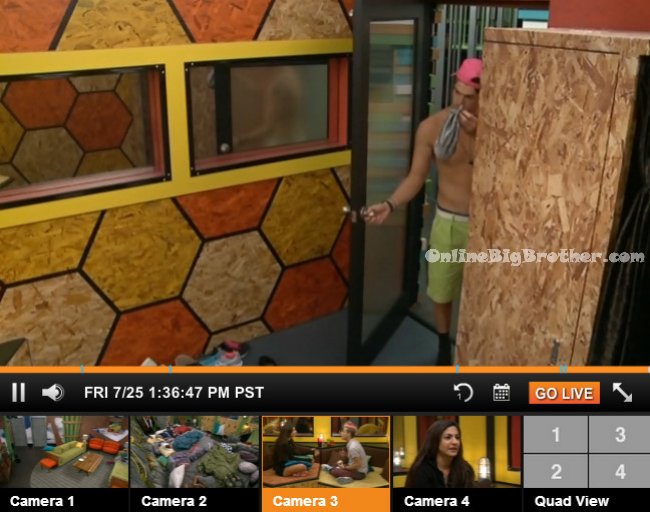 1:45pm – 2:15pm In the living room – Donny tells Jocasta to just pace herself and tells her not to panic in the competition. Donny gets up to pace around. Meanwhile most of the other house guests are sleeping..
2:20pm In the fire room – Donny says that she has to work with Jocasta and communicate good with her. Donny says I am pulling for you. Zach is pulling for you too, because he wants to remain HOH. I would rather Zach remain HOH. Donny and Victoria leave the room. Donny runs into Christine and comments on how only the players for the Battle of the Block are awake. Everyone else is sleeping. They put you up and then throw you to the wolves. Christine agrees and says it sucks. Christine comments that an ant just bit her tongue. Donny heads to the living room to sit with Jocasta and Nicole. Nicole asks about how much they're expected to remember as hosts. Jocasta says just the first line. Donny says you have the ear piece telling you what to say.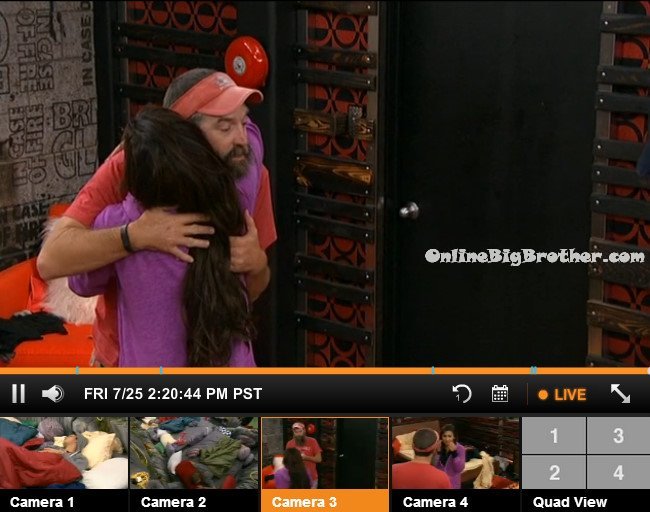 2:34pm – 3:25pm The live feeds are blocked… and switch to the Jeff Schroeder live feed high lights. Looks like the Battle of the Block Competition is starting now!!
Alliances (Some Of these are defunct)
Zankie = Frankie/Zach
Bomb squad = Caleb, Amber, Frankie, Derrick, Cody, Christine, Zach, Hayden
Team America = Donny, Derrick, Frankie
Nicotine = Christine/Nicole
Not a showmance= Hayden/Nicole
Los Tres Amigos = Derrick, Cody, Zach
The bottom Feeders = Derrick/Nicole
We hate Devin = Christine and Zach
Outsiders = Brittany, Victoria, Jocasta, Donny
Old timers = Jocasta/Donny
Stalker = Caleb/Amber
Quad Kings = Derrick, Zach, Cody and Hayden (still being built)
Trilogy = Nicole, Christine & Hayden
The Detonators = Derrick, Frankie, Zach, Christine, Cody
Final 2 Deal "The HITMEN" – Cody & Derrick
One way to support this site that doesn't cost you anything extra is making your Amazon purchases through the links below Amazon.com OnlineBigBrother Link
For Canada use link Amazon Canada OnlineBigBrother
More polls here https://www.onlinebigbrother.com/big-brother-compendium/big-brother-16-polls/
[polldaddy poll=8207784]