POV Holder:
Cody
Next POV
Aug 30th
POV Used
?
POV Ceremony
Aug 25th
HOH Winner 1:
Cody
Next HOH
Aug 28th
Nominations:
Donny & Nicole
Have Nots
Donny & Nicole
POV Players
Donny, Nicole, Cody, Frankie, Derrick, Christine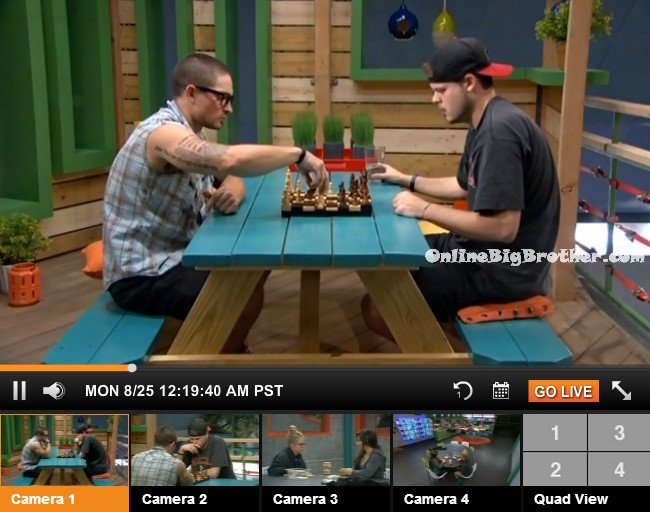 12:20am At the kitchen table Victoria and Nicole are playing Jenga. Meanwhile – Caleb and Derrick continue their chess game on the picnic table. Caleb asks Derrick if he's into guns. Derrick says no, I never really got into them. Caleb says if I win the HOH before the final 4 I will put up Cody and her (Christine). Derrick says I kind of want Christine gone before Victoria because she has the potential to win a comp. Victoria's just a fart in the wind. You know what I'm saying. There's no chance. If Christine's here she can win and send one of us packing. Derrick says but right now with this buy back (Nicole returning) is f**king killing us. Derrick and Caleb concentrate on their game and play in silence. Caleb says recites the HOH wins of the season. Caleb says they're not opening the backyard tonight. Derrick says nope not with all that going down (People yelling with a Megaphone).
Take Advantage of the FREE 2 day Trial to watch all the drama!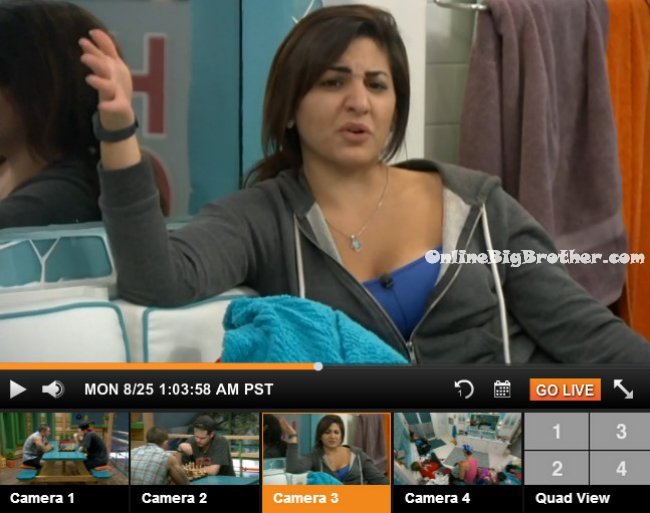 1am In the HOH bathroom –
Victoria and Christine are talking. Victoria comments on how Donny was mocking Cody. Christine says what an a$$. Victoria says it was so rude! Christine agrees. Victoria says and every time I make something he stands like right there! Christine says when we were up there he was mocking Cody the whole entire time. I find it really frustrating and I don't laugh at what he says any more. There is no need to try and appease him any more. If I don't think its funny I don't laugh.. which is all the time. Victoria repeats what Donny told her.. You're so smart Victoria you're a genius. Christine says he is such an a$$. He's a jerk! Frankie comes in and asks if it was Donny acting? Christine says oh no Donny was being rude to her earlier. Frankie asks are you serious?! Like how? Christine says he put on Cody's glasses and asked is this how you guys see me. You guys think I'm smart. Christine says he was just being rude. I can't remember everything he was doing. And what is he thinking Cody holds the veto, he holds all the power. Something about being young. And then Victoria was grilling today and he told her she's such a genius, you're so smart. Victoria says he was right behind me. He always is when I cook .. like get away from me!! Literally like so rude! I just don't understand does he think that's being social?! Christine says yeah. Victoria says he needs to go to social skills! I don't know whatever you call it. Frankie asks social services? Victoria says no. I would rather him not talk. Christine says yeah rather him sit in his corner.
Watch the last month of the live feeds for only $9.99!
– PLUS try it out first with the 2 day FREE trial! –
1:20am – 1:40am Frankie, Derrick, Cody, and Christine are up in the HOH room. Derrick thinks the producers won't do a double eviction this Thursday so that Nicole doesn't go home. If she goes home that's bad tv. I've watched 5 or 6 seasons and I've never seen a season with this many mental comps. They're producing a tv show .. they don't want it to be predictable were every week you tune in and you can predict what happens. Derrick and Victoria head to bed. Caleb says that girls a bug dude! Cody says it doesn't really matter she doesn't have sh*t to do or say in this game. Caleb says personally I don't want to sit here and go over all that stuff in front of Christine. I'm scared the girl will friggin' use it against us. Cody says that's why it was only Frankie and me. That's why I question him (Frankie) and Christine. I don't question you or Derrick at all but with Frankie and Christine .. I don't know.. I don't know how tight he is with her and how much information he wants to share with her. Caleb says I don't know either .. but when Nicole's gone.. and if its a Double Eviction.. her and Nicole are going up. Cody says yup. Cody says if you're the HOH and that's who you put up and you say who you want to go home. Then that's who I am voting to go home. Caleb says she's got to go before Victoria. Victoria knows nothing! Cody says she knows nothing and will get nothing right in competitions and will be last in every competition. I just don't want her riding to the end. That's what will frustrate me if she goes further than me or you. Like how the f**k did that happen. It happens every season. What if Christine wins HOH she is not going to put up Victoria she is going to take a shot a one of the big boys. She is playing both sides of the fence. If I win HOH again I would put her up. There is no chance you or Derrick would go anywhere near the block. Christine has literally floated here on our backs!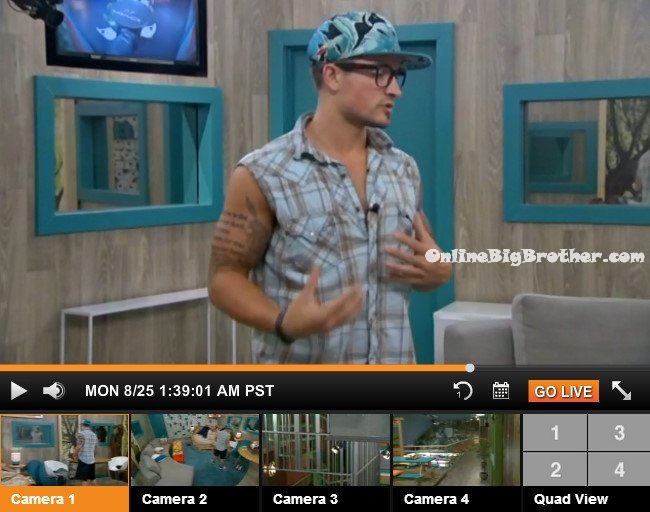 2:30am In the earth room –
Derrick is talking to Christine and Victoria. Christine is rubbing Derrick's arm. Derrick says honestly the shower down here is literally disgusting. I'm not going to say it because you two are women. Victoria asks the one down here? Derrick says yeah. Victoria says gross. Derrick says and I usually don't take a shower upstairs. Christine says that's what's so weird you've asked to take showers up there. Victoria says that's really disgusting! I think I'm going to throw up! Derrick says we'll just leave it at that. Derrick and Christine agree to clean the showers tomorrow after the veto ceremony. Derricks says in addition to that all the razor without the cap on. Step on that .. that's a wrap! Derrick says lets just leave it at .. when there's grooming going on in the shower .. and when it touches your feet. Victoria says EWWw. Christine says I'm going to throw up now. I know exactly what you're talking about because I heard what was said. Derrick says well I don't so lets just leave it at that. Derrick says I am just looking forward to Donny going. He is just moping around. He's a very weird guy but he does say some interesting things.