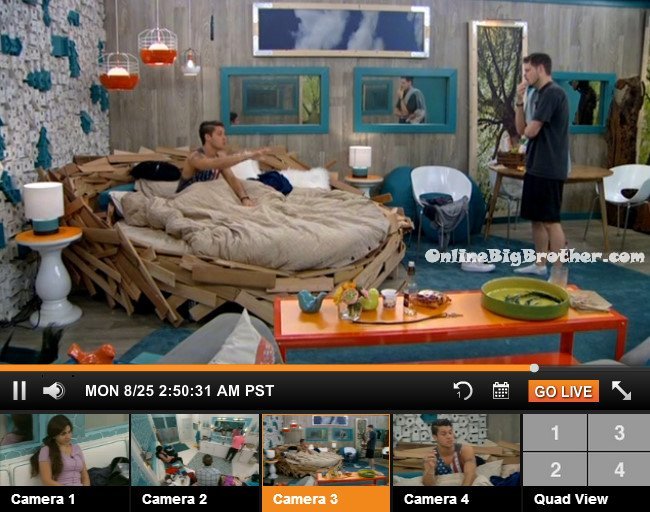 2:40am – 3:15am
Derrick heads up to the HOH room. Cody says Caleb is scared as f**k about Christine. He thinks if she wins he is going home. He f**king slipped and said if Frankie wins and one of us (Cody or Derrick) would go home instead of him. Derrick says they slipped in front of me and then they wouldn't leave me alone to talk to you. Cody asks dude should I throw one of them up tomorrow? Derrick says I don't think it's good for your game. I want you to so bad though. So bad you have no f**king idea. Cody asks what did they slip up and say? Derrick says don't just judge off me, you had Caleb and Frankie in the room and Caleb said something like.. it wasn't even a slip it was just basically them showing their cards like they're going to try and get out you and me eventually. They were talking about if Nicole wins HOH and puts up Frankie and Christine .. and Caleb won the veto he would use it to save Frankie. Derrick says he doesn't need to but doing it would mean me or you go up on the block. Cody and Derrick agree that Nicole isn't coming after them (Cody or Derrick). Derrick says I have to separate them (Caleb and Frankie). They're just being blatantly obvious that they're going to continue to save each other and Christine's in on it too. Derrick says I think she's playing us. Cody says here's the thing if I pull Nicole down we could send one of them home on Nicole's vote and your vote and Victoria's vote. Derrick asks and keep Donny?! He's coming after us. Cody says yeah that would be the only downfall of it. That's the thing I can't take the shot. Donny will put you and I up. Derrick says Donny has to go. Cody says if Caleb wins HOH he is going after Nicole. Our only opportunity to go after Frankie is the next one. Derrick says and if not we go after Christine. Derrick says if I win HOH and she hasn't come to talk to me. I will put Nicole up. Cody says that's the thing we can't get rid of her because then it give them the votes. The thing is Victoria is a vote but she's not a player. Nicole is a vote and a player. Like she can smoke them in any comp just as much as week could and she'll vote with us. Derrick asks do you think this is stupid.. Do you think we should make a fake alliance with Nicole? Cody says I don't think thats stupid but what if .. I don't know how tight she is with Christine. Derrick asks are you using the veto? Cody says no! Well I want to use the veto and get out Frankie because we could get him out. The 3 numbers we need are you, the person coming down and Victoria. But then Nicole and Donny are still here and then we have to battle Nicole and Donny and the other side of the house. One of them will get picked off and one of them will but both of us won't make it to the end. Cody says Caleb just said he wanted to go final 3 with you and me. He said he doesn't want to go with Frankie. Cody tells Derrick he will help him study the past comp info. Cody says Christine is a f**king floater.. she isn't throwing the comps she just can't win them.
See what they can't show you on TV! -Try the Big Brother 16 live feeds for FREE!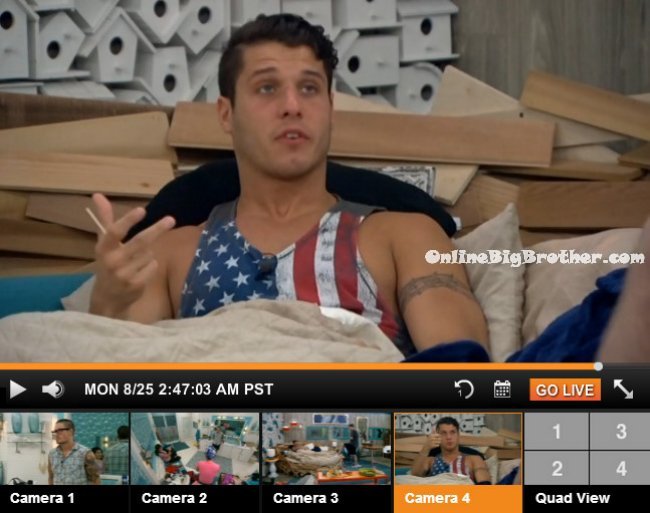 3:20am – 4am Derrick, Frankie and Victoria are in the kitchen eating and talking about random things. In the bathroom Derrick tries to teach Victoria to whistle but as much as she tries she can't. He keeps telling her to stop. The live feeders are watching, you're going to be so embarrassed. They all head to bed. Frankie says I love you guys. Get some sleep you little f**kers!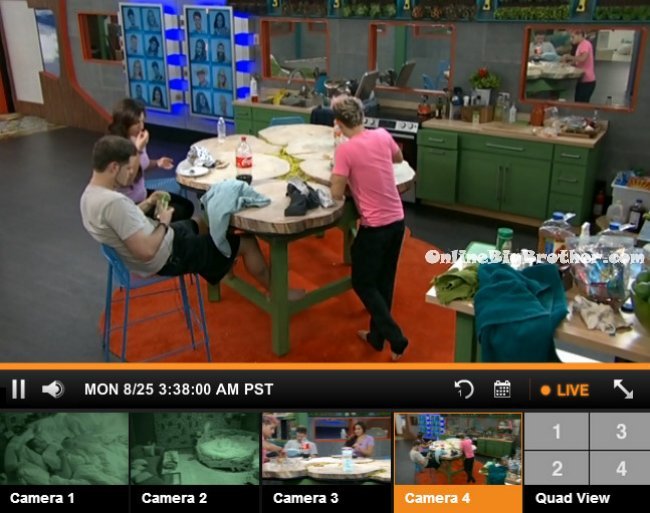 One way to support this site that doesn't cost you anything extra is making your
Amazon purchases through the links Below
For Canada use link
Amazon Canada OnlineBigBrother
More polls here https://www.onlinebigbrother.com/big-brother-compendium/big-brother-16-polls/
[polldaddy poll=8263785]
[polldaddy poll=8260325]
[polldaddy poll=8261457]
Share it YO!
Tweet