Head of Household Winner – ENZO YO!
Have nots – Dani, Tyler, Da'Vonne
Nominations – Kaysar & Kevin
Power of Veto Players are – Enzo, Kevin, Kaysar, Tyler, Bay, David
POV Host: Memphis
Power of Veto holder –
Power of Veto Ceremony –
Safety Suite –
Live feeds —-> Grab your Live feeds here. Try it free.
Rank the houseguests —-> Big Brother 22 Ranking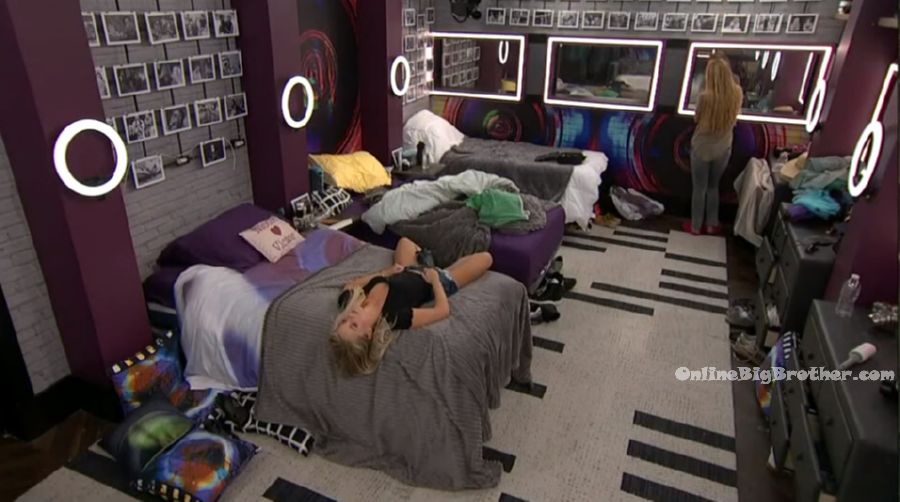 12:15pm Bedroom. Nicole and Dani.
Dani – I don't think we will play till really late. Nicole – I hope I get drawn. Dani – do you? Because then you have to try and win though. Are you going to win? Nicole – yeah. Dani – I kind of want to play but I don't because I don't know if I could win against Kaysar. Nicole – I would want to be the one that seals it.. so then I can be useful. I really wanted to play in the spelling one but that one is really messy. Dani – I do too.. I don't think they will do messy ones though. Nicole – I just thought it would be fun. Dani – I will DIE if Kaysar gets it. I just want him out of here. I've had enough. Nicole – do you think Cody regrets last week? Dani – I don't care .. she needed to go. I'm not afraid of him. What is he going to do take everyone out? Janelle is the one that can rally everyone. Kevin and Ian join them. Nicole – I think you'll have to climb the wall and put together a puzzle.
1:17pm – 1:47pm Big Brother blocks the feeds for the veto player pick.
Veto Players: Enzo, Kevin, Kaysar, Tyler, Bay, David
POV Host: Memphis
1:50pm – 2:07pm HOH room. Enzo and Tyler.
Enzo – this sh*t worked out perfectly YO! That is f**king crazy YO! Tyler – f**king snipped. Enzo – TYLER! Tyler – you read that sh*t first. Ezno – I wanted him to pick Cody. Then we would have been like sharks in that thing! Tyler – I was thinking you were going to get house guest choice. He picked Bay so that's good too. I just hope she is going to perform. She hasn't won anything.. because she's got ties with him, you know!? Tyler – its all good, we'll win it. I'm due for a veto win to catch up to you guys. Tyler – she wants David up there. Enzo – so she (Day) wants me to get rid of a rookie!? That's my power move!? Like come on YO! This isn't Day's HOH.. this is my HOH! She is going to get backdoored YO! Christmas is going to go after her. We've given her three week safety and you want to question me?! I am winning sh*t and getting blood on my hands and I have to worry about people in my alliance not trusting me!? Like come on!? Enough Yo! Tyler – I am stuck between wanting Dani out of here or Day. Dani is the source. Enzo – Dani is working with everybody. Tyler – she is the source of EVERYTHING! Enzo – I am coming this close to backdooring her right now! Tyler – If I win HOH next week I might. Enzo – for reals because we cannot trust these girls. She is always trying to plant seeds .. always! Tyler – and she likes to sit in the middle and feed the fire. Enzo – she really thinks that we're dumb enough to not be onto her game. Blow up the alliance .. I am ready to tell the whole f**king house that its you me and Cody.. and that's it! Get the f**k out of here! I am done with this bullsh*t! I have another week or two in me and then I am done! Tyler – I am done now! Enzo – They're trying to tell me what to do! I am about to backdoor Ian. I ready to put up Dani and Day too. I don't give a f**k about these people! Cody and Nicole join them. Enzo – David knows not to use it if he wins it. Cody – no he doesn't! They talk about it being a night veto. Nicole – I think it will be the puzzle.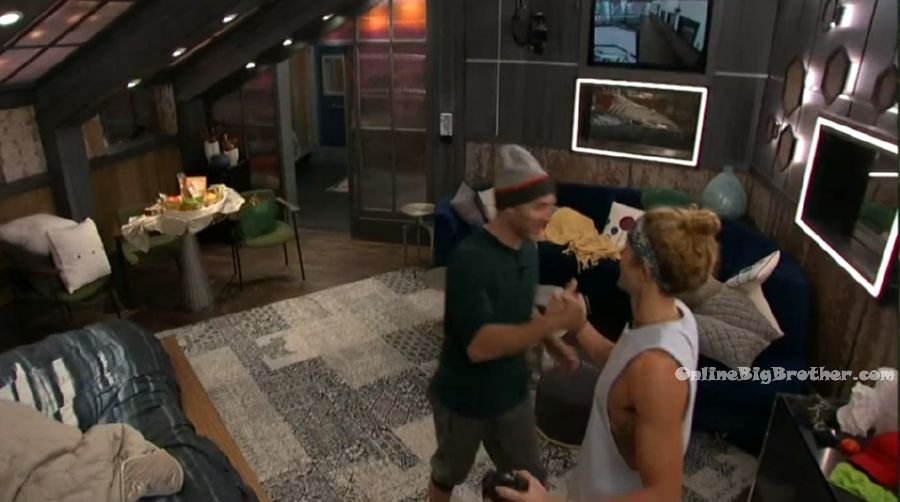 2:25pm Living room. Kaysar, Ian, David.
David – just remember Kaysar you're a comp beast! 12 hours! Kaysar – I could have gone another 10 hours. Different time. David – different time, same person. Kaysar – we will see how it plays out.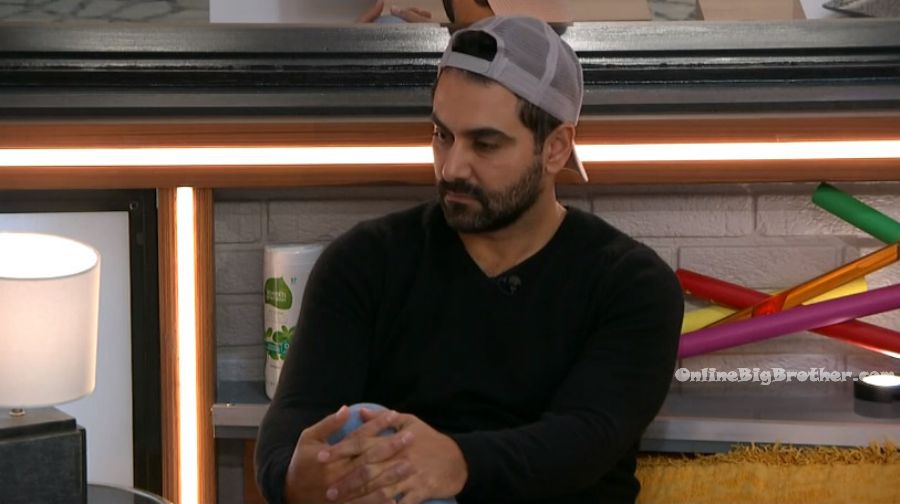 2:30pm Kevin and Dani.
Kevin – I just picked him (David) to give Kaysar more competition. I just based it on who would beast out. Nicole joins them. Nicole talks about how bad she feels about calling Janelle out. Kevin – she called you a rat and a B**ch. Nicole – I just feel bad about saying that because I should have been a bigger person. Dani – you're too worried. Nicole – I don't want Victor and my mom to be fighting people off.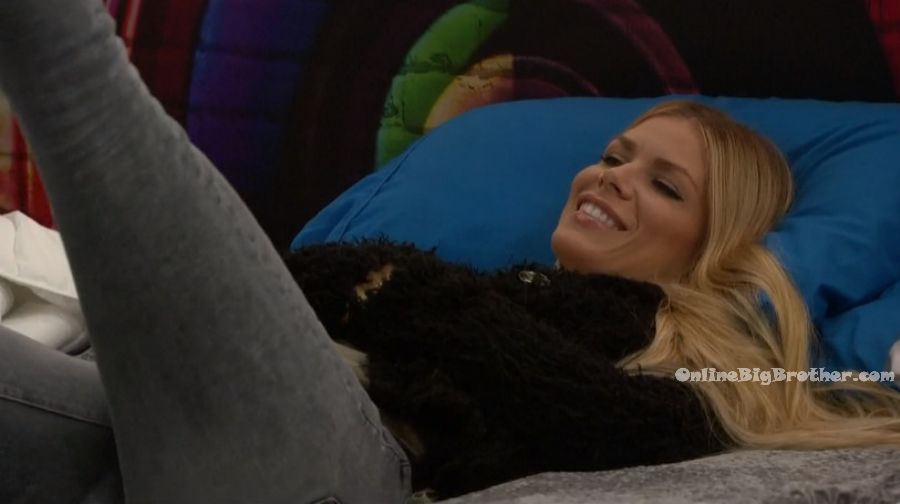 2:45pm – 2:57pm Bathroom. Kaysar and Bay.
Kaysar – It bothers me that you feel like you were forced or put into a compromising position. I understand that you want to stay out of harms way. They don't need to come to us for anything. They have a monopoly on who we talk to. They put the pressure on to make you feel bad about who you talk to. They just want you to be sleeping as long as possible. Think about it!?Bay – Don't say think about it! I'm not stupid. I am very aware. You don't have to be condescending the points that you're making, I've heard them all before. You don't have to beat a dead horse. I get it. The points that you're making are all through your lens. Not once have you look at it from our perspective. Kaysar – that's all I know. Bay – you're not a good listener. You talked for twenty minutes and now when I talk .. you interrupt. Now is not the time to talk about this. Kaysar – we'll talk after the veto. Bay – yes after the veto would be a perfect time. There is still a possibility that you will stay here. I just need you to breath. kaysar – do you have an idea if you would use it? Bay – I am not sure but I would do what is best for my game.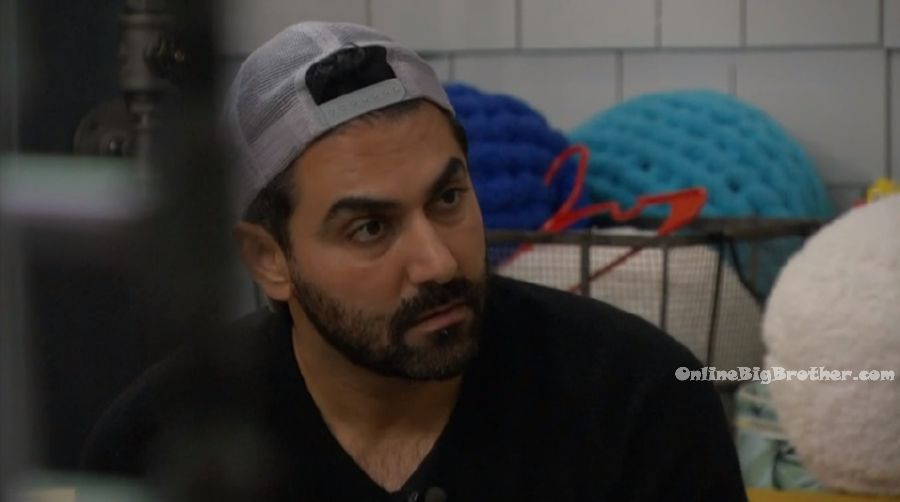 Bedroom. Cody, Nicole and Dani.
Cody – David .. now I just want him to go home. Dani – we will just see how well he does because he is trying real hard but not getting anywhere. Cody – his whole goal is to get it to jury. Dani – that's what everyone's goal is the first time so that they don't look like a loser.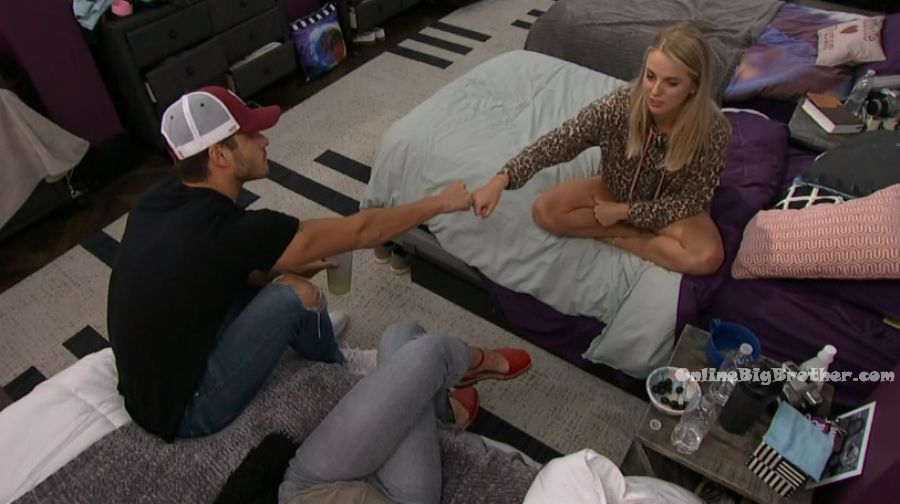 3:40pm Living room. Memphis and Christmas
Christmas – I honestly think that Bay is a bigger competitor. She is more likely to win stuff. Please keep this between us.. I think the order of hierarchy would be Bay, David, DaVonne .. Bay can win more comps. Memphis – lets see what happens today. Christmas – worst case scenario Kaysar wins and pulls himself down and Enzo puts up David or one of the girls. Memphis – he would probably do David. Christmas – but if David wins and takes Kevin down. Then he would probably put up one of the girls. (Enzo said he would put up Ian.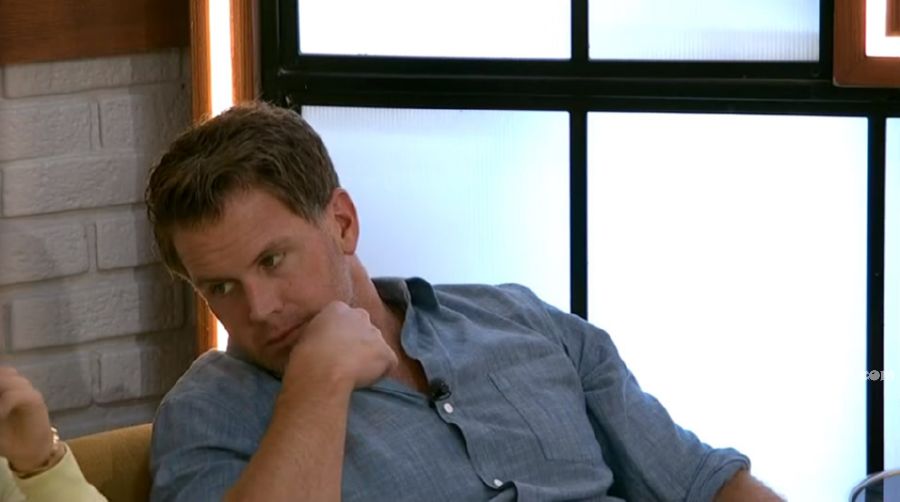 4:10pm – 4:20pm Bedroom. Memphis and Kaysar.
Kaysar – Honestly if no one is going to do anything I might as well go home because I am going to lose my damn mind. Whether its social or physical I am going to give it my all this week. And if people don't get their a$$es together and wake up. Memphis – obviously you winning veto would be the best case scenario. Even if Kevin wins the veto its a better scenario for you than someone else winning because more than likely he is going to put up David. Kaysar – they won't put David up against me because that would be too unreliable. They would have to put up someone that they feel they can send me out against. Memphis – we will see..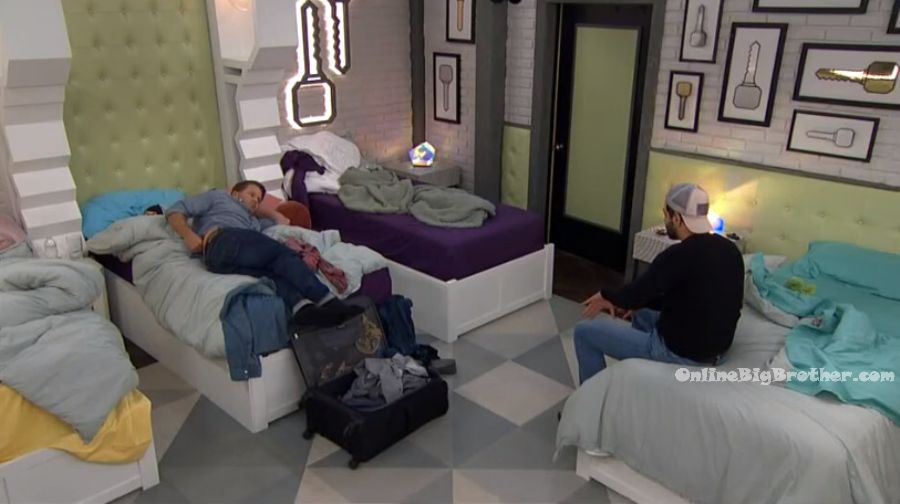 4:55pm The house guests are all sitting around waiting for the veto to start..
5:50pm Lounge room. Bay and David.
David – you wouldn't change the noms if you won? Bay – no. Would you? David – no.. I kind of want to though. Bay – but the person going up .. that is the question mark. David – I wouldn't want it to be me. Bay – no if you pull someone else off you can't go up. David – yeah I don't know who it would be. Bay – my fear is that it would be someone that would be a bigger target than Kaysar and Kaysar would stay. David – yeah Kaysar has to go.. he's manipulated enough people to f**k me up. Bay – yeah I'm exhausted. David – he's a good human though. I like him. Bay – yeah he's a good person.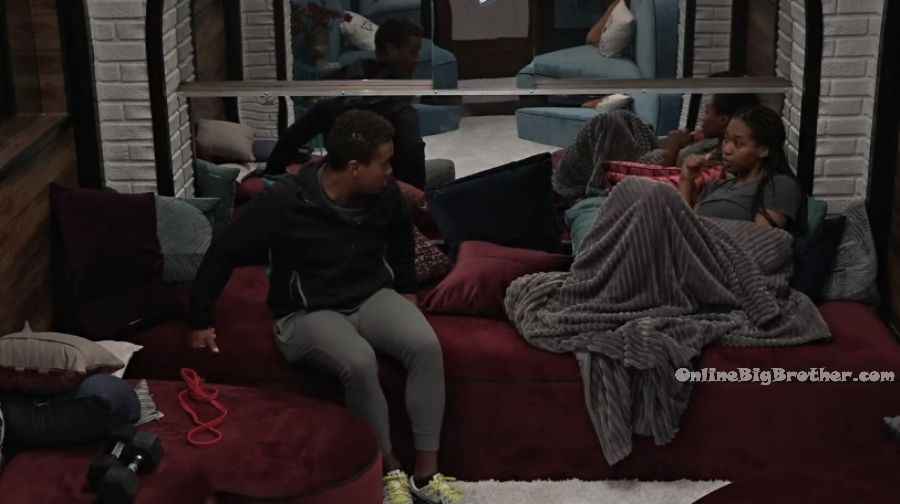 5:50pm – 6:10pm HOH room. Enzo and Kevin.
Enzo – I like Christmas a lot. Kevin – Yeah I do too. I just don't know who she is aligned with. Enzo – I don't know either. And Memphis is the type of player that I want to just be friends with him ..just in case he wins HOH. I don't know if he is with Kaysar and I think he is.. I think he was on that whole other side type of thing but now I think he is seeing that it is f**king crumbling. Kevin – he is smart. He's a numbers logical guy. Enzo – but he is winning sh*t this season too. And I think he won POV's on his season too. Kevin – he was the POV king. Enzo – I like Day and Bay. Where is Ian at? He hangs out with Nicole. Lets see if he wins an HOH. Kevin – I think he will do whatever Nicole wants. Enzo – thanks for coming up. After this week and I prove myself to you .. we work! I've got an idea of who else to bring in too. Kevin agrees and leaves.
6:10pm – 6:30pm HOH room. Cody, Enzo and Dani.
Enzo – I think we're going to lock in today. Cody – Bay has a good chance too. Dani – I don't think she would want to be put in that position either. She wouldn't want to keep getting bugged by him (Kaysar). They talk about how smart Ian is and how he's playing dumb. Cody – he can't be dragged into the end of the season. Dani – he won't 7 competitions at the end of his game. Cody – yeah that ain't happening.. he is getting clipped before that.
6:50pm The live feeds switch to the kitty cam.. The veto is happening now!
9:12pm Still blocked..
Show your support by making a donation.
If you're enjoying our live feed updates this season, please consider donating.
Any amount is greatly appreciated! Your donations go directly to paying the fees required to run this site.