Head of Household Winner – ENZO YO!
Have nots – Dani, Tyler, Da'Vonne
Nominations – Kaysar & Kevin
Power of Veto Players are –
POV Host:
Power of Veto holder –
Power of Veto Ceremony –
Safety Suite –
Live feeds —-> Grab your Live feeds here. Try it free.
Rank the houseguests —-> Big Brother 22 Ranking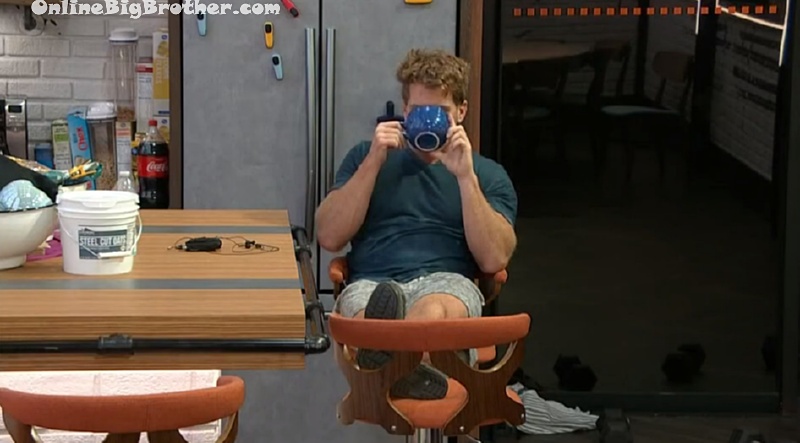 9:30 am Memphis up drinking a bowl of coffee.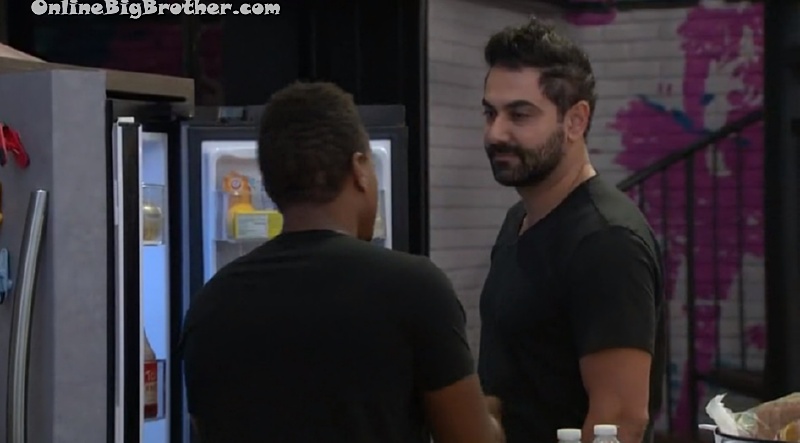 9:51 am Kaysar and David (when David turns around in the gif is when he says Dang)
Kaysar – are you going to put me up
David – dang.. what makes you think that? you coming after me Kaysar? you tell me
David – I feel the least amount of blood on your hands if you were to beat me would have been me
Kaysar – I don't believe in the least blood amount I don't believe in going that way
David – you know what my problem is I'm too honest and in a house of lies..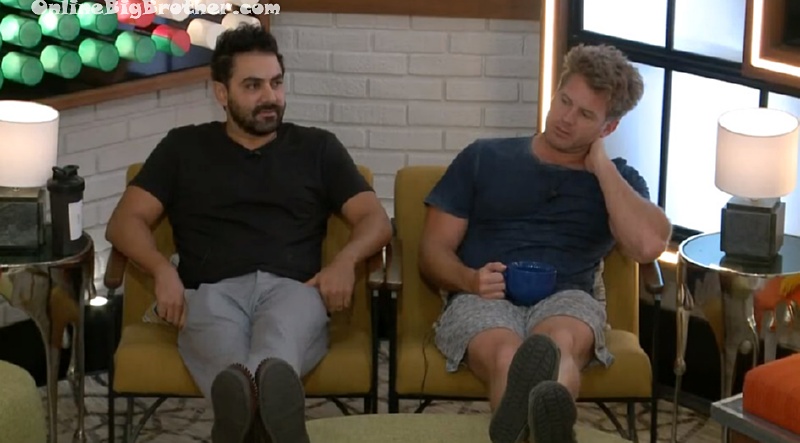 9:57 pm Kasyar and Memphis
Kaysar – morning with Memphis lets do your f**ing show
Memphis – wheres my intro music
Kaysar does the music collections of beeps and boops
Memphis – Mornings with Memphis.. fade out (queue for Kaysar to stop beeping)- welcome everyone mornings with Memphis
Feeds flip to David in the kitchen. we can still vaguely hear them in the background. (WTF)
When we're back Memphis and Kaysar are chatting about Patrick Swayze writing the song for Ghost.
Chit chat about Patrick Swayze.
Kaysar – are you a big Patrick Swayze fan
Memphis – yeah he's awesome.. Ghost, roadhouse, outsiders, dirty dancing.
Kaysar – point break
Memphis – 5 massive movies
Kaysar – I've never seen roadhouse or outsiders.
David joins them. Chit chat about movies.
10:28 am Kaysar and Memphis still chatting about Movies and Actors.
Kaysar says right after season 6 he got called to do a couple of roles he was on a sitcom on UPN and he did young and the restless. Comments how hard it was.
Kaysar says he then got a call from a major casting director, "it was the lead role for The Kite Runner. I told them I'm not an actor I can't act.. So of course I blew it.
Kaysar – I hate failing so I enrolled in some acting classes.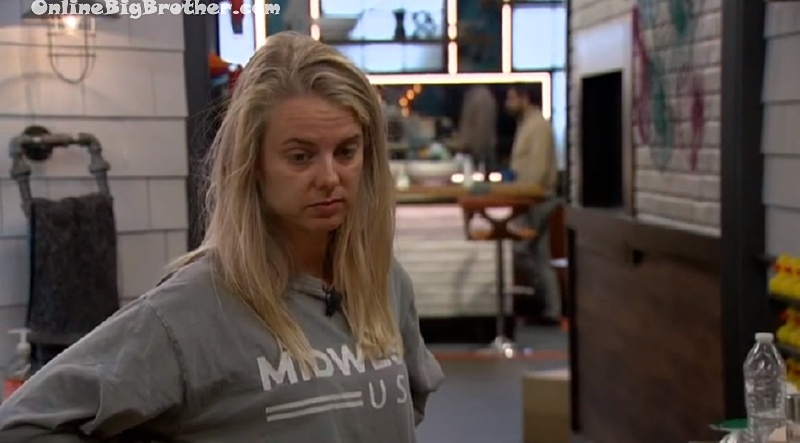 11:04 am Dani complaining to Nicole about the bed in the have nots
Dani says she hung out with Enzo and Cody until 2:30.. "Enzo is obsessed with you"
Nicole – Aww I'm glad he likes me
Dani – Cody and I had our first fight he snapped at me for no reason and I got really mad. He got called into the DR
Nicole – it Happens, Just cause you disagree on something or what.
Dani – something about what I told him he was actin really weird.. I snapped at him and said LOOK, first of all, you're being rude
Dani – he's (Kaysar) is not coming after me it's for you (Cody) what's wrong with you right now
Dani – Kasyar went up to Enzo and was like tell me one thing did Dani throw me under the bus. I was like what.. I couldn't believe it
Nicole – he's trying to catch you
Dani – I know it really made me mad. He kinda trusts me but with him saying that he kinda doesn't trust me at the same time.. whatever he's going home BYE
Nicole – Cody doesn't want you to say anything nice about Kaysar because it's annoying to him
Dani – exactly
Nicole – I had to sit there and listen to him talk about Janelle and I just sat there unless I had a point to make.
Dani says Cody gets frustrated really easy – something about him saying all he does is Bicker with me and Nicole .. I was like go away … I almost left the room I was like really mad. It's weird because you are not use to people talking to you a certain way
Nicole – I don't get out much let's be honest I'm used to the same 5 people
Dani – me and Dominic we don" tell each other to shut up that's disprespectful, We have boundaries we don't say a certain thing to each other out of respect.. so it's kinda weird.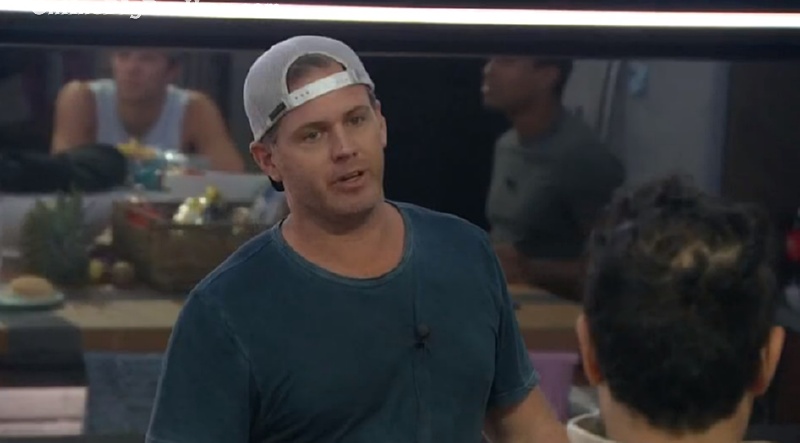 11:33 am Tyler, Memphis and Kaysar
Tyler tells them about the show "awake" where they count quarters for 24 hours. He explains it in detail.
Kaysar – what network is this on
Tyler – Netflixs.. it's huge
Memphis shares a story about taking ayahuasca and finding his spirit animal. Says it was a Polar Bear. "The whole point of it is you have an out of body experience"
Memphis explains all the "rounds" taking ayahuasca "they add more stuff to the fire and it gets hotter and hotter the steam.. you're not breathing smoke it's more of a vapor. it's more like being in a Steam room. I made it to the fourth round and started seeing sh1t had an out of body experience.. you pass out"
Tyler – where's the polar bears
Memphis – I kept seeing polar bears I passed out for a period of time it was crazy
Memphis – once you cool down you're fine. They use it in ancient time to see dead ancesters.
Memphis – some of my buddies did the full-blown ayahuasca where you eat it and you sh1t yourself for 24 hours
Kaysar – why would you want to do that
Memphis – that is an enlightenment thing it changes your perception .. Different people different stuff.
Feeds cut .. when we're back
Memphis – it opens up different parts of your brain and the way you think of things
David brings up Joe Rogan and how he talks about DMT, psychedelics. Feeds cut when we're back
David – that's what got me into meditation
Tyler – you meditated on mushrooms?
David – no I tried it and then ..
Feeds cut.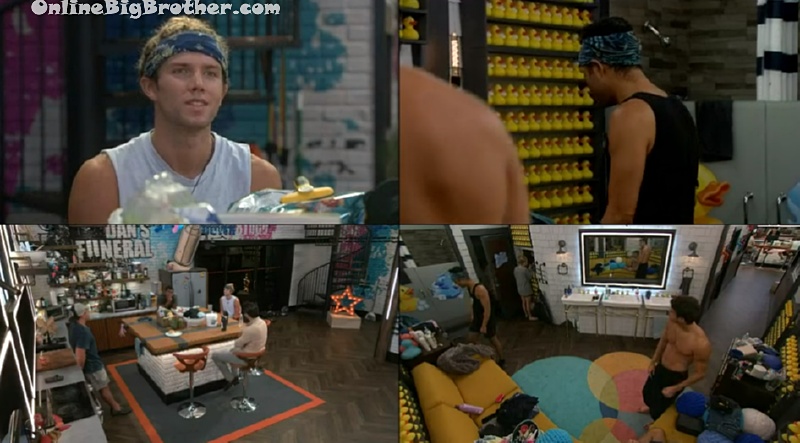 11:53 am Waiting for the Veto players to be picked.