Head of Household Winner – ENZO YO!
Have nots – Dani, Tyler, Da'Vonne
Nominations – Kaysar & Kevin
Power of Veto Players are – Enzo, Kevin, Kaysar, Tyler, Bay, David
POV Host: Memphis
Power of Veto holder – Kevin
Power of Veto Ceremony –
Safety Suite –
Live feeds —-> Grab your Live feeds here. Try it free.
Rank the houseguests —-> Big Brother 22 Ranking

6:50pm – 9:23pm The live feeds were blocked for the Power of Veto Competition. The house guests that competed in the veto are covered in paint.
Bathroom. Kevin, David, Tyler, Kaysar
David – Kevin you destroyed that! Tyler – David you f**king crushed that too man! Kevin – oh man David .. you were giving me a run. David – I'm glad you didn't stop. Kevin – Dude!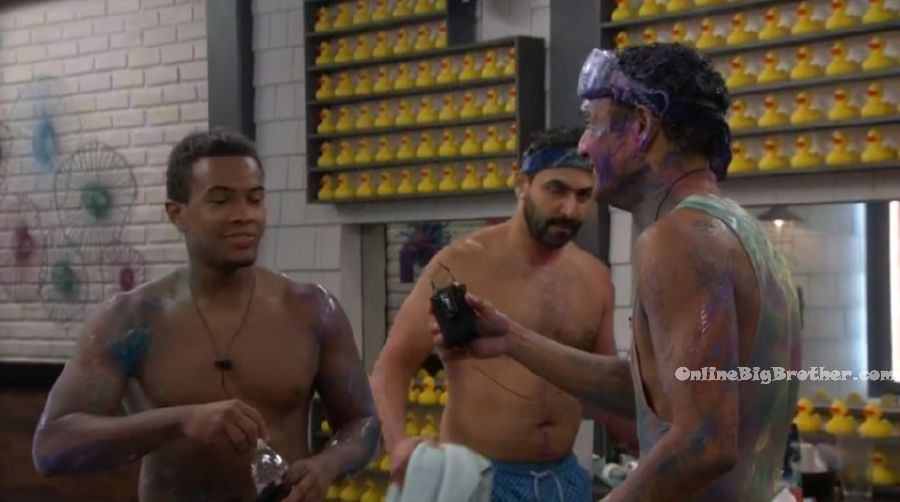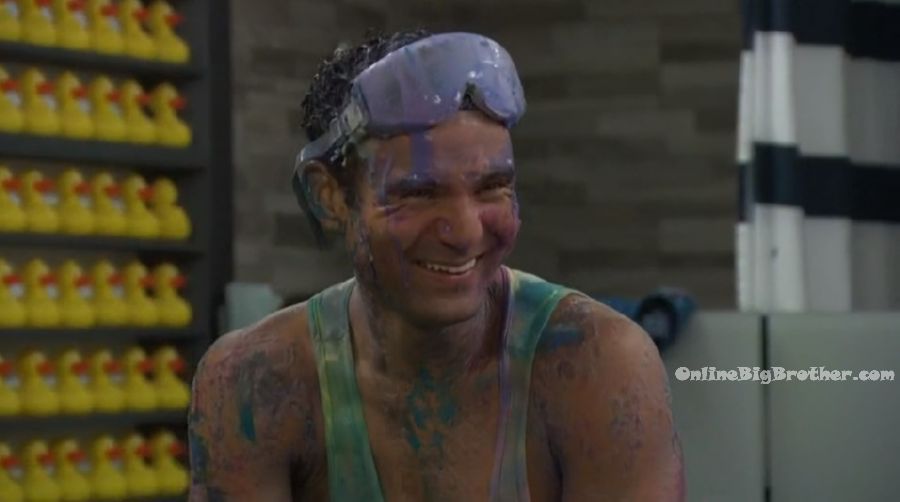 Kitchen. Dani, Cody and Christmas.
Christmas – do you think he is going to use it? Cody – has that ever been done before? Somebody on the block wins the veto and doesn't use it? Dani – yeah Marcellas that's why he got on all stars. Cody – he was on the block, won the veto and didn't use it? Big Brother cuts the feeds.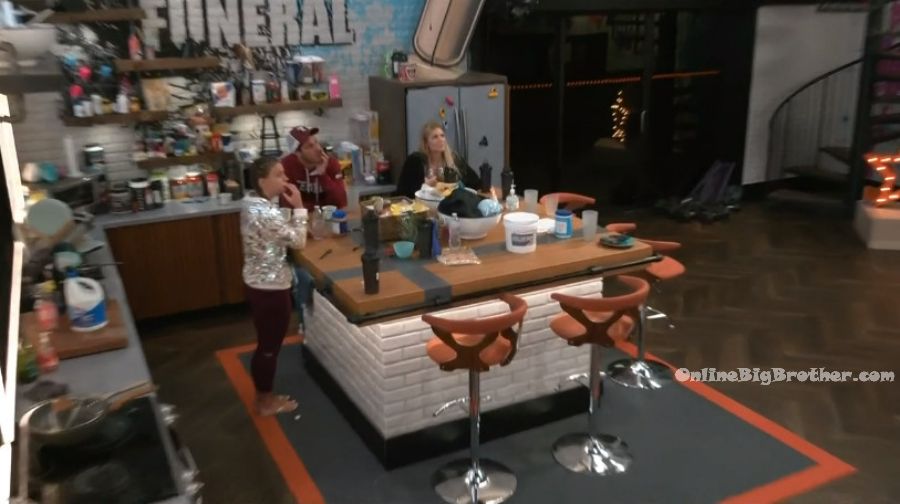 9:35pm Storage room. Cody and Dani.
Cody – he (Enzo) will probably put David up. (Enzo's said he will backdoor Ian) Dani – he's not going to do it. I bet you a million dollars. Cody – but who will he put up? Dani – Ian. Cody – do you think people are going to battle to try and get Ian to go home? Because I won't flip flop on Kaysar over Ian. Dani – no Kaysar is done! Cody – but that is the thing if he puts up David .. Day is going to battle. Dani – I think we can get him to put up David but I don't think he is going to want to.
Living room. Dani and Ian.
Ian – you don't think it will be any of us do you? Dani – I don't think so.. Ian – there are like safe pawns and then there are dangerous pawns. Dani – I agree. Ian – he might put me or Nicole up. Dani – aren't you guys cool though? Ian – yeah we are but you never know. He is cool with everyone. Dani – I know. I agree with that one. But you haven't won anything or done anything. Ian – but that's the thing he might keep people safe that won before and keep him safe .. he might prioritize them. I will talk to you later.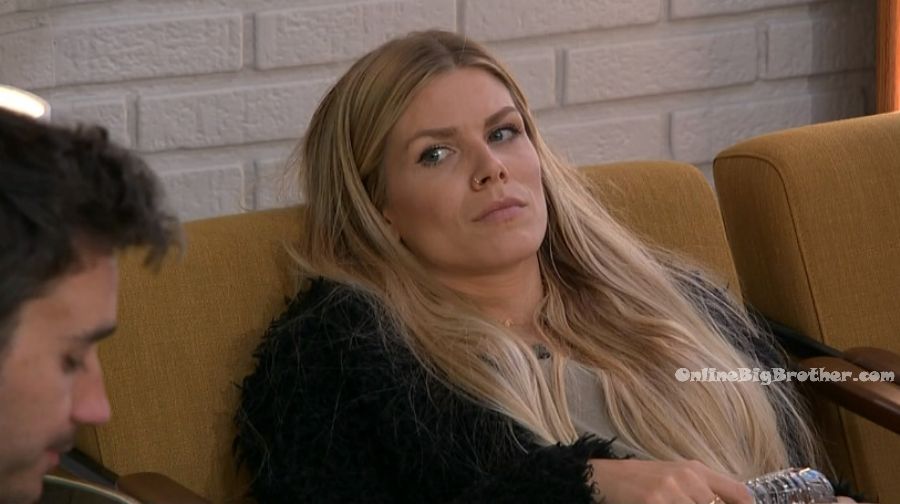 Bedroom. Memphis and Kaysar
Memphis messed up his back. Kaysar – YO, BB what do we do about this? Gramps is down!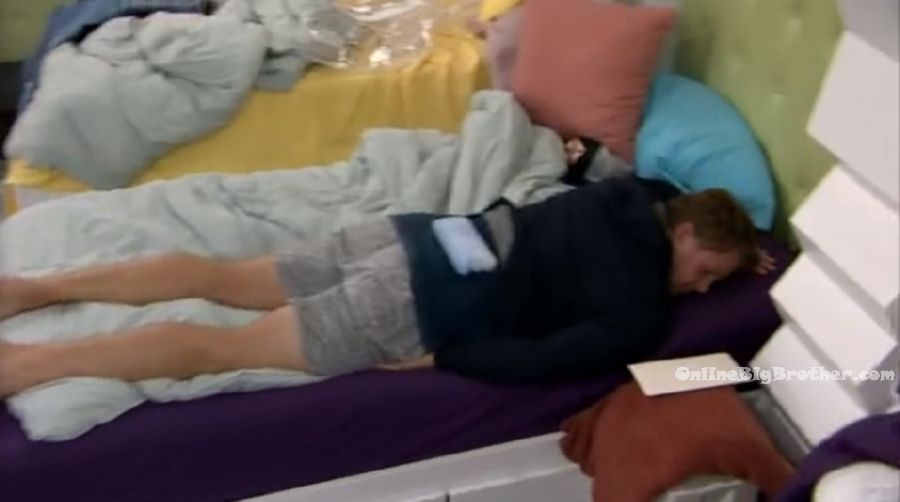 9:55pm Bathroom. Enzo – Congrats yo! This motherf**ker killed it! They hug. Enzo – I am so impressed YO! That was awesome bro! You deserved that! Its it Yo! I just wanted to congratulate you. I'm impressed! That was f**king dope! Kevin – I definitely want to talk to you. Enzo – yeah.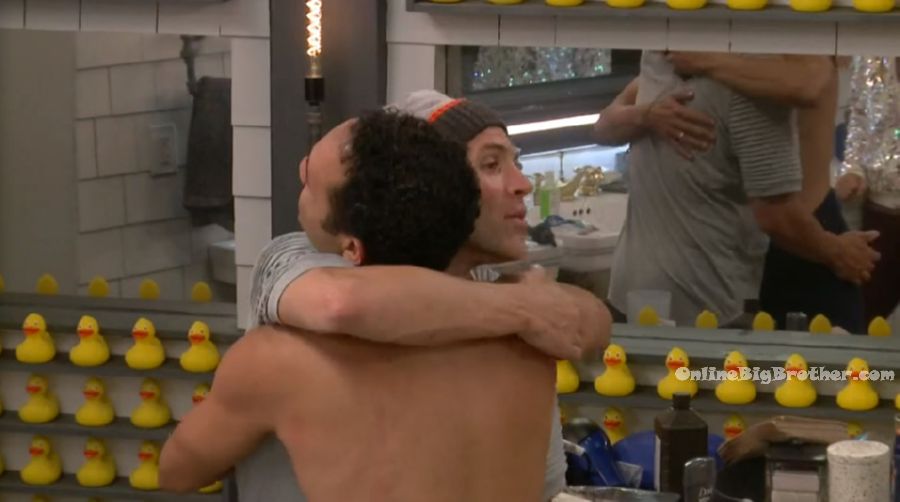 10pm – 10:10pm Nicole and Dani.
Nicole – I've played with Bay before and I've never seen her comfortable. This is a whole new side .. like.. Dani – she told me the other day that this is the first time she's ever felt comfortable in the house. Nicole – okay .. its just weird. Because even though our alliance keeps winning .. I'm not even comfortable. Dani – its just weird because she is the queen of paranoia. Which I like because her paranoia drives me nuts. Friggin Christmas has no idea what is going on in this game. She thinks she owns everyone. Its really funny. Nicole – I am just glad that I am safe this week and next week I can fight… but I don't freakin want it though.. and if its questions its a lot harder to throw. Dani – you just have to make sure you beat Bay. That is the only person that would maybe put you up.. and I don't even know if she would. Dani – I think you're too paranoid …I am telling you because you don't need to be. I have my eye and ears out there and if I heard anything I would tell you.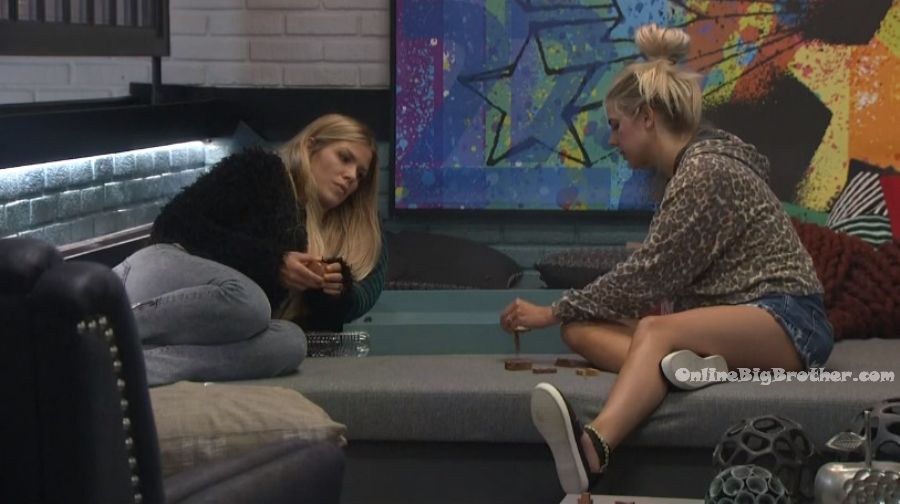 Dani, Christmas and Nicole.
Dan- Kaysar did so bad. I knew he would be the first one out. Its definitely not going to be endurance. Not after that. Nicole – it will be a crap shoot. Dani – who do you think he will put up? Nicole – maybe David. Christmas – is he going to put up somebody he wants out? Dani – I'm thinking it will be another pawn. Dani – Kevin was obviously a pawn so I would assume it has to be another pawn. Christmas – but looking at how bad Kaysar did.. he might not be the physical threat we thought. Dani – I don't think he is a physical like that. Christmas – guess it doesn't really matter who he puts but because we have the votes.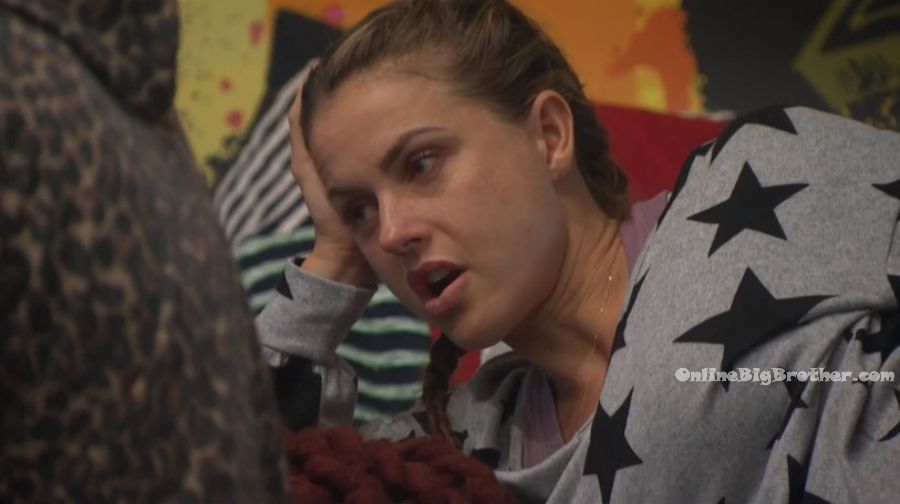 10:30pm Bedroom. Enzo and Kevin.
kevin – thanks for letting me take control of my story. Enzo – yeah bro you did your thing. Kevin – I know you're in a situation.. Enzo – na bro.. its part of the game. F**k it! Its part of the game. People will be coming up to me .. Enzo joins them.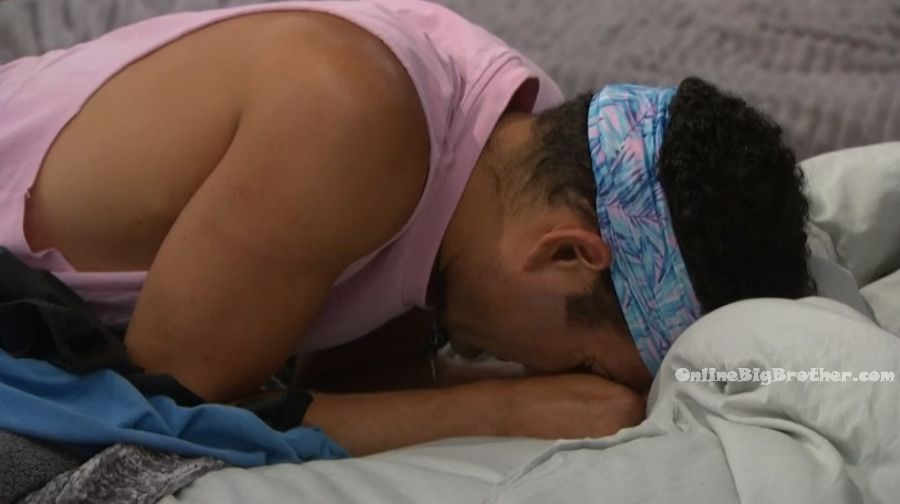 11pm HOH room. Cody and Nicole.
Cody – whoever it is, is a pawn. Do you think he (Enzo) could have that conversation with Ian and be like you're a pawn? Nicole – I don't know. He won't put up David right? Cody – I don't know. The only thing is that Day is hell bent on David. Nicole – don't mention Ian .. Dani mentioned that Ian might be a choice. Cody – yeah because Dani mentioned Ian. Na, she didn't mention Ian. He (Enzo) mentioned something about Ian. And then she was like, well put him up to make him sweat. Nicole – Christmas talked to me today and mentioned that Bay talked to her today and said that she is so comfortable. Cody – well if Christmas wins HOH .. she won't be that comfortable. If you win HOH she won't be that comfortable. Nicole – I don't know if I could make that move. Cody – who would you put up though? Nicole – exactly I would do a backdoor. Cody – then f**k it. Whatever its a backdoor. If you put up two people who would you put up? Nicole – I don't freaking know. Cody – you sound so full of it. Nicole – no, I don't. Kevin and David. Cody – then that is the two people you would put up. That's an easy answer. That is exactly who I would put up. Nicole – Then I have 3 people mad at me and Day. I am not getting out one of them two on my HOH. Cody – who would you get out though? Nicole – backdoor. Cody – this is what I don't understand.. That is not who I would get out on my HOH. We're in the 5th week right!? Week 6 is first week of jury. Nicole – Dani told me that Bay is going to put me up. Against Memphis next week. Cody – yo, don't take what Dani says to heart. Take it and try and try to find stuff out. Nicole – I need to stop telling Dani so much. Cody – she plants stuff like that to you so that you will go after Bay. The David's and the Kevins's need to go. What are we going to carry them into jury. Nicole – yeah Dani told me she wouldn't mind one of them being in the finals because they're easy to beat. Cody – how far are they going to get carried and then there is going to be that time where the split happens and for me the split is not about those two f**king alliances.. its about You, Me, Enzo, Dani. Figuring out how we're going to split it. Nicole – are you not going to go for HOH next week. Cody – I will win it and have no problem putting up Kevin and David. Nicole – I do want to win too. Enzo joins them. Cody – I have a good goodby message for him.. na just kidding .. I don't have a wedding to uninvite him to.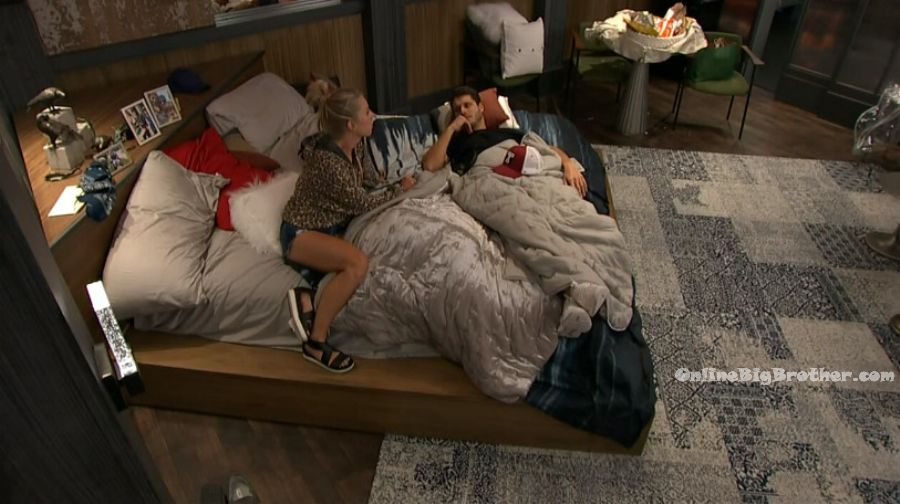 12:25am – 12:40am Lounge room. Kevin and Enzo.
Enzo – congratulations! Tomorrow is going to be a busy f**king day for me. I have to pick somebody and I have no f**king idea. Kevin – I know I am putting you in a situation. Enzo – no, it is what it is. F**k that! He (Kaysar) is going no matter what. Its just who do I put up and say yo you just have to go up for a couple days .. that's it. Let me talk to everyone again.. Kevin – I wish I could give you a recommendation. I am not connected enough. Enzo – a lot of people said Dave.. he busted his a$$.. I am not doing that. Kevin – you have a better sense of who would be better for your game. Enzo – maybe I figure out someone to strike a deal with. You will not go on the HOH again from me. Kevin – if I become HOH you will not be on the block or backdoored. They shake on not putting each other up again. Enzo – he (Kaysar) is f**king gone this week. He is done! I've got the votes. They want Dave up and I'm not doing it. He busted his a$$>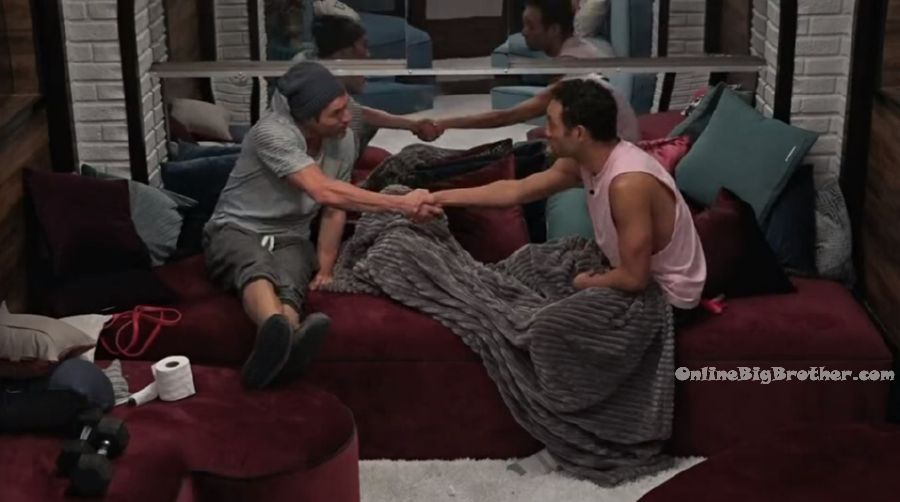 12:50am – 1am Bathroom. Bay, Day and Enzo.
Enzo – he is going to want to talk to me too. Like who are you going to put up? Maybe I have a chance if you put this one up. I want to work with you. Day – has Kaysar done anything to you personally? Enzo – No, No.. Day – that's what I am saying .. Do you feel that anyone else has done anything to you personally? That you want to put up. Like you scared that sh*t out of me. Enzo – I mean .. there are a lot of people in this house that are good players but I just want to make the house happy. Get rid of f**king Kaysar and just move forward. But then the next few weeks its going to get f**king crazy. Bay – but that is what makes me… Day – nervous. Enzo – me too. Bay – I know where I stand but where do all of ya'll stand. Enzo – but I am loyal to the people I said I am loyal to and that is it!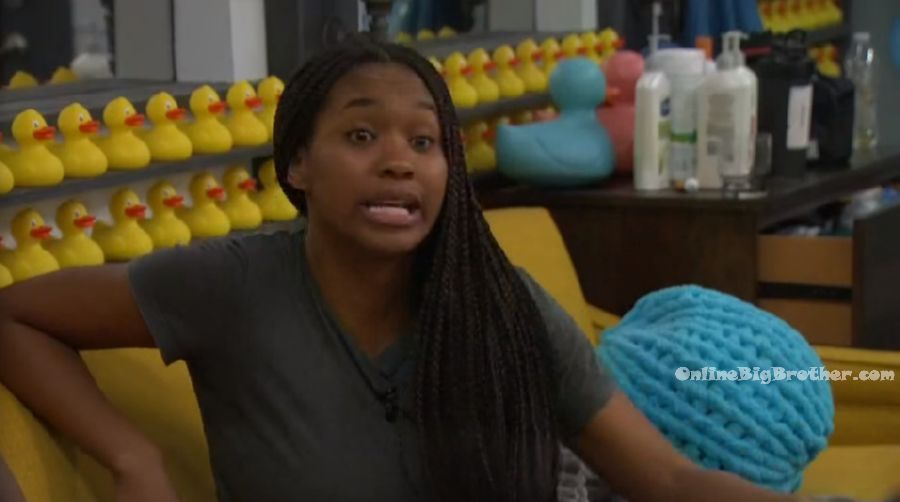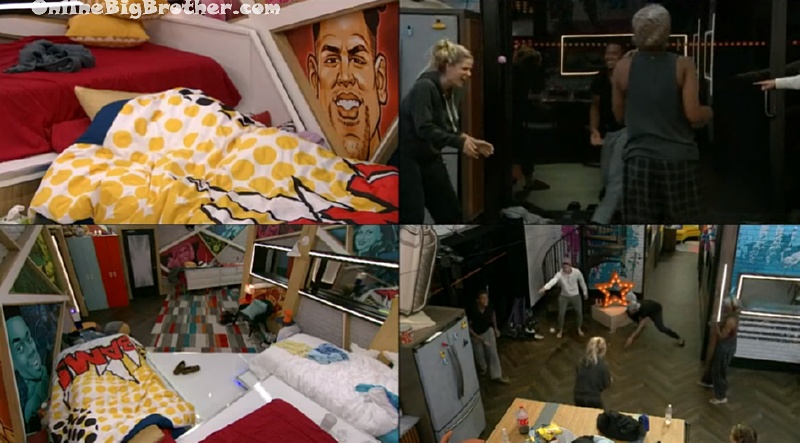 1:52 am chit chat and games.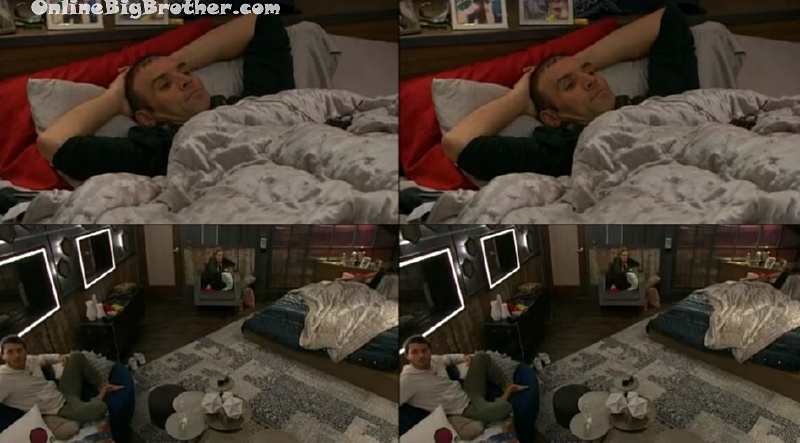 3:30am Enzo, Dani and Cody
Enzo mentioned how paranoid Da'Vonne is. They wonder how they will get the votes to send Kaysar out. They mentioned Christmas volunteering to go up. Enzo says this is what happens when you make someone the plus one they trust you.
Cody says if Christmas is nominated "She's not going anywhere"
Enzo says everyone hates Kaysar.
Cody – if she volunteers it should be a done deal she's going up
8:26 am Everyone still sleeping. Kevin did wake up for a bit to talk to the cameras but nobody was around to listen.
10:10 am still sleeping yo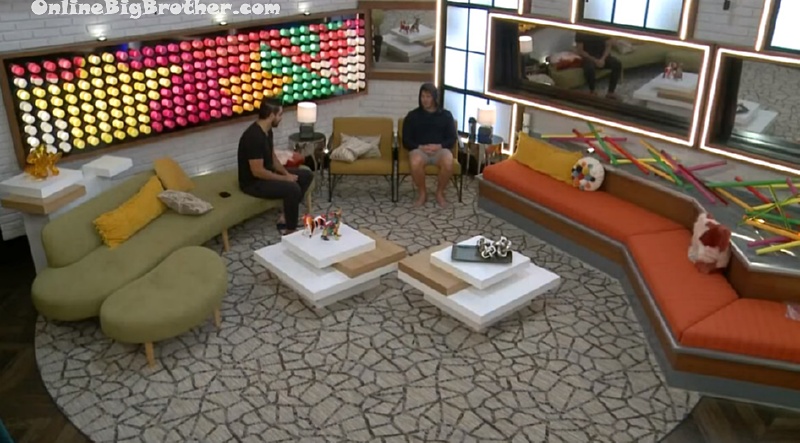 10:53 am Kaysar, Memphis and David are now up.
Memphis talking about his back pain. Chit chat about Memphis' being the host for the veto yesterday.
Finally, they get back to talking about actors. The TV show Friends comes up.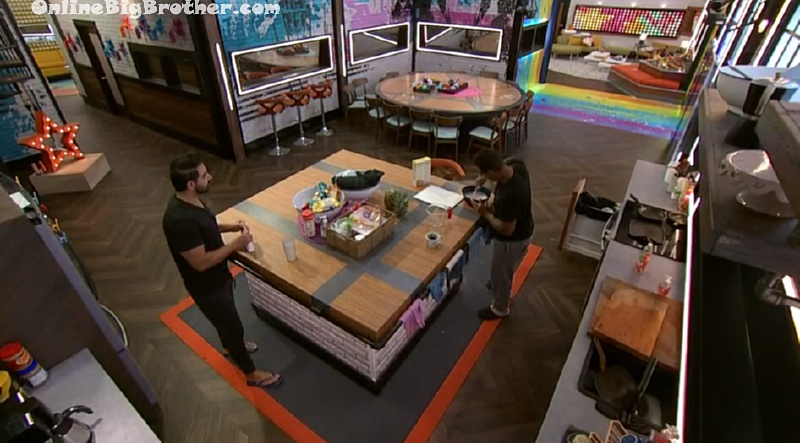 11:17 am Memphsis says they are bringing a medic in to look at his back. David and Kasyar continue to work on breakfast.
Kaysar to Memphis – Hey gramps it's 11:17 you want something to eat
Memphis – nah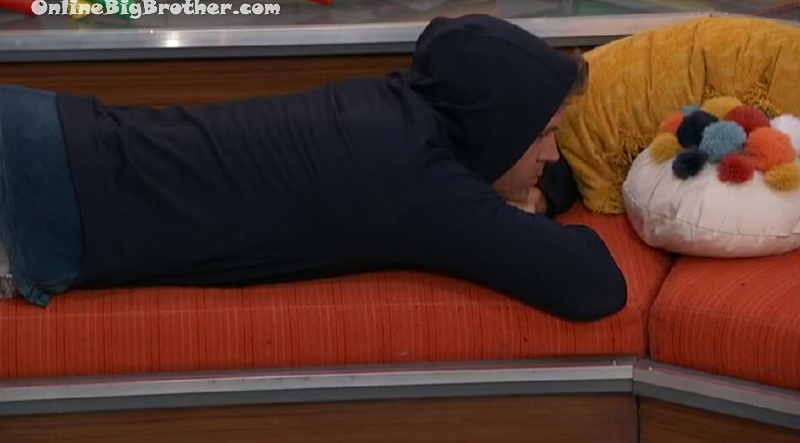 11:28 am Memphis' and his busted up back.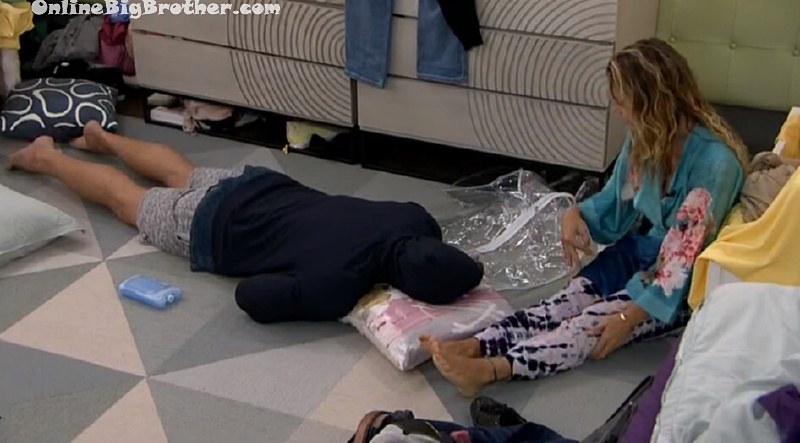 11:41 am the back pain continues
Show your support by making a donation.
If you're enjoying our live feed updates this season, please consider donating.
Any amount is greatly appreciated! Your donations go directly to paying the fees required to run this site.