Head of Household Winner – Christmas
Have nots – No havenots this week
Nominations – Bay & DaVonne
Power of Veto Players are – Christmas, Bayleigh, Da'Vonne, Nicole, Ian and Dani.
POV Host: – David
Power of Veto holder – Christmas
Power of Veto Ceremony – Veto not used.
Powers – Christmas, Dani, David
Live feeds —-> Grab your Live feeds here. Try it free.
Rank the houseguests —-> Big Brother 22 Ranking
Veto Results:
– Christmas Won the Veto
– Dani won the Home Gym
– Day won the 5K
– Nicole got the Slop-tard punishment
– Bay has to do 500 laps riding a tricycle on a track
– Ian didn't feel well so he didn't play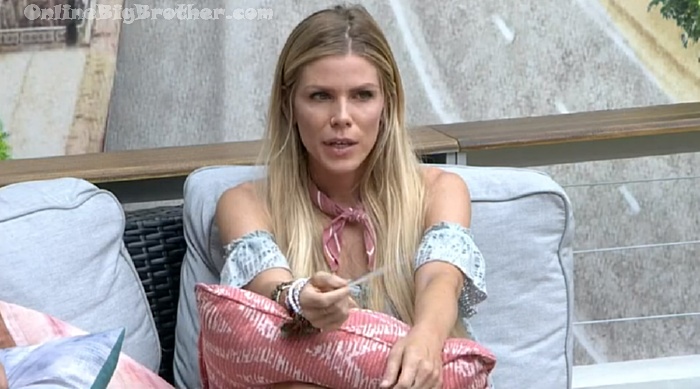 11:16 am Dani and Cody
Dani – I talked to Christmas and she blatantly lied to me.. she said he was up there for two and a half hours talking about how he missed Angela.. C'mon
Cody – what he said to us is he tried to quit yesterday Alison had to come. (THE GROD!!!! I curse thy name)
Dani – oh really.. I think if it stays the same i'll just up to him and be like Lets talk this is stupid.
Ian joins them. Dani goes on about questioning if she should have been on the show this season.
Cody – you should have .. everyone has these moments
Ian – This week has been emotionally draining

Cody going on about his skin being like his dad and his brother's is like his moms.
Cody – in the winter time I'm very pale I have to keep my facial hair or my dark circles
Cody looks at Ian "you're trying to hold my hand"
Ian – no I'm trying to scratch my head
Cody – ohh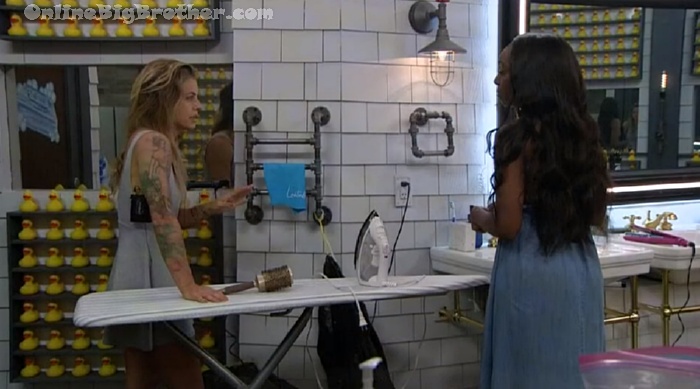 11:31 am Christmas and Da'Vonne
Day – So what you thinking?
Christmas – it's so weird right. I would really like to figure out our game. I just want to see how Bayleigh reacts.
Day – ok, so your going to use it
Christmas – I can't tell you
Day – Ok
Day – 5 is great 4 works it's up to you guys..
Christmas – Nicole adores you.. we all want you here I'm going to make that very clear. It's just really weird with the Tyler and Bayleigh thing It's just.. I'm still trying to wrap my head around it.
Christmas says she's getting pulled into something she has nothing to do with/ (bay vs Tyler)
Day says use the veto put Tyler and Bayleigh on the block let them battle it out.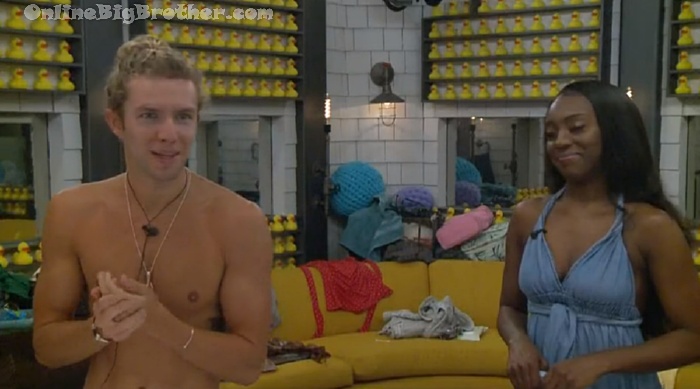 11:45 am Tyler and Da'Vonne
Da'Vonne – I'm constantly asking are you sure.. are you sure
Tyler – I'm sure. I won't go back on that. I did what I can without throwing in the towel I was told I'm not allowed.
Da'Vonne – You're not
Feeds cut..
11:47 am Tyler and Christmas in the HOH
Christmas – you're ok
Tyler – yeah I'm good
Feeds flip to backyard.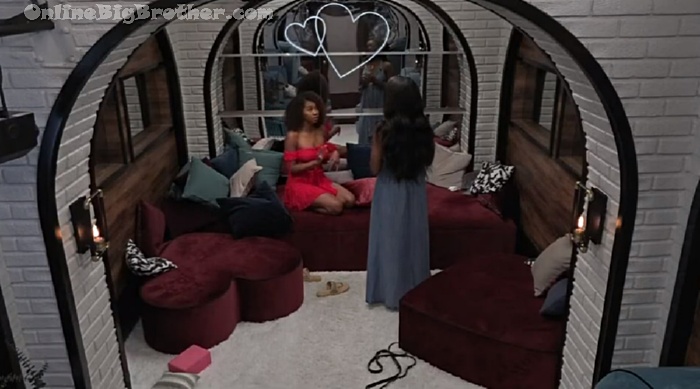 11:51 am Da'Vonne – Bay
Da'Vonne says she thinks Christmas will use the veto. "She was like I can't tell you because of the guidelines"
Da'Vonne – she pisses me the f*** off with the guidelines of the show
Bay says that is why she thinks Christmas is not using the veto.
Bay – 'I'm a stickler for the rules of the show' (as shitmas) .. so she thinks.. because he just wants to go she's cheating the show if she allows Tyler to be on the block.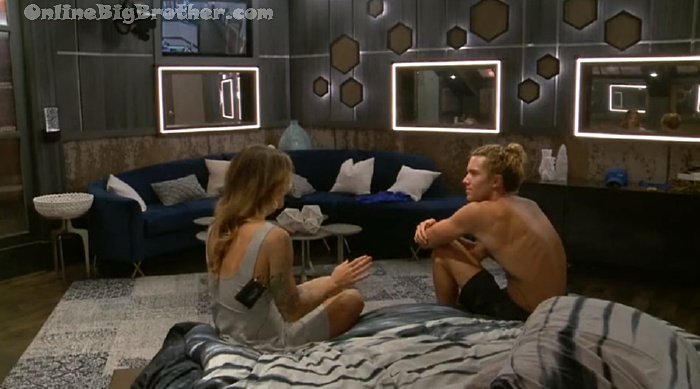 11:59 am Christmas and Tyler
Christmas – Angela can have you for a whole life time let the world have you for 2 more months
Tyler – right two more months .. less than two months. You're right
Christmas – we're in such a great position we're almost untouchable.
Tyler says he'll have to squash the beef with Dani.
Christmas makes it clear she's not into backdooring someone in this game.
Christmas – I'm not into playing dirty I'm not into mud slinging (ZOMG)
Christmas tells him when he talks to Bay/Day just say you were trying to make me understand.
Tyler mentions how they have to make it sound like she's still trying to figure it out.
Christmas – day wants to have an all girls alliance with the final 4..
Tyler- final 4 girls
Christmas – yeah.. I'm not throwing the girls under the bus.. My loyalty is God, me, Family, and in the BB house You, the committee and the girls..
Christmas says that Da'vonne is telling her that Bayleigh burned her "I don't know how much of that is 100%"
Tyler says they can't trust neither of them.
Tyler says she's done a good job this week building up trust "I think we're ok"
Christmas – Kevin can't get it. David can't get is and Da'Vonne can't get it. (HOH)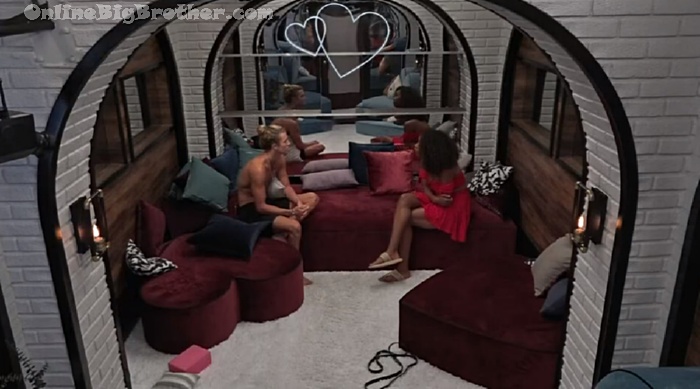 12:16 pm Tyler and bay
Tyler – what I can't do is openly you know try and go that's considered quitting
Bayleigh – 100%, If you are on the block next with me we can genuinely let the house decide. If me and you were in the same boat if we go home Great if we stay great
Tyler – I was going to tell you that to you can't .. they told me it's against the rules to ask people .. to give people permission to vote you out
Tyler – I learned this yesterday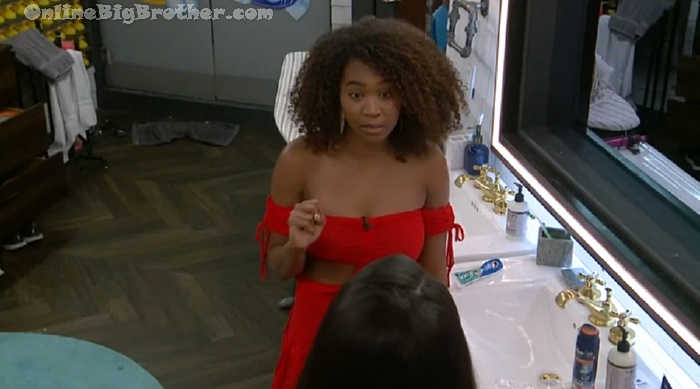 12:25 pm Bayleigh and Da'Vonne
Bayleigh – she specifically told me don't worry if I got home this week he's my target. I will make it my mission to get him out he's next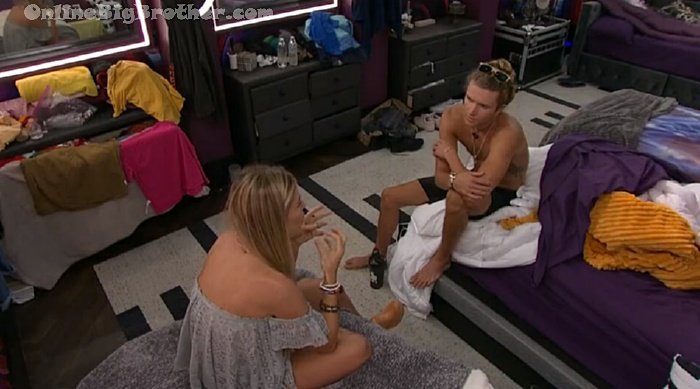 12:27 pm Tyler and Dani
squashing their beef.
Tyler – I've been having a rough time.. sorry I've been self sabotaging in a way"
Dani – Is wear on my life I swear on everything I've never said a bad word about you in this house. nothing even I don't like him in the game her's a threat .. like lets get him out NEVER once.. I swear it on everything I have (Yikes)
Tyler – we need a little bit of a reset if you can accept my apology
DAni – I can
12:31 pm Feeds cut to cats for the Veto Ceremony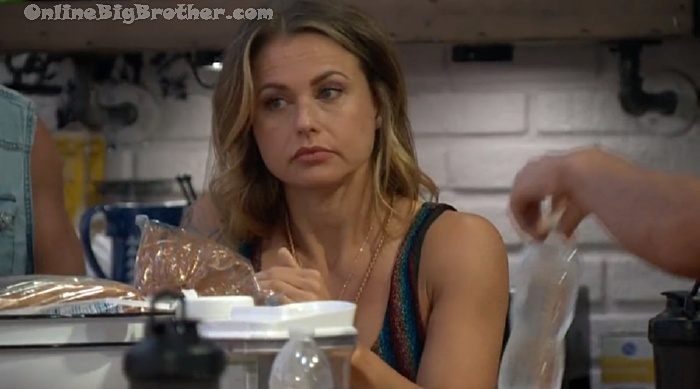 1:32 pm Veto not used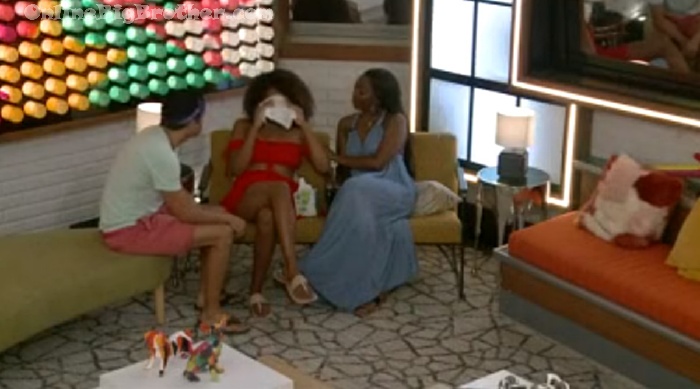 Bayleigh cries. "My heart is broken.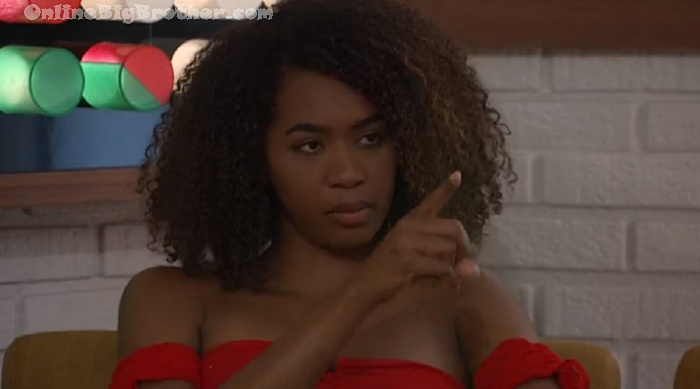 1:37 pm Bayleigh and Da'Vonne
Bayleigh is pissed.
bayleigh – can I hug you no b1tch if you ever come near me again.. (about Christmas)
Bay – I feel very .. played.. I feel played by him to
Da'Vonne – who
Bay – Ian . His eyes are darting he's so nervous. He was talking sh1t about Nicole and Cody last week to me.. I don't know what I am going to do with that. He straight said she's not my Brittney I'm not going to be loyal to her because her loyalties are elsewhere.. I haven't even said anything (LOL Ian isn't why you are on the block)
Bay – I'm tired of being played with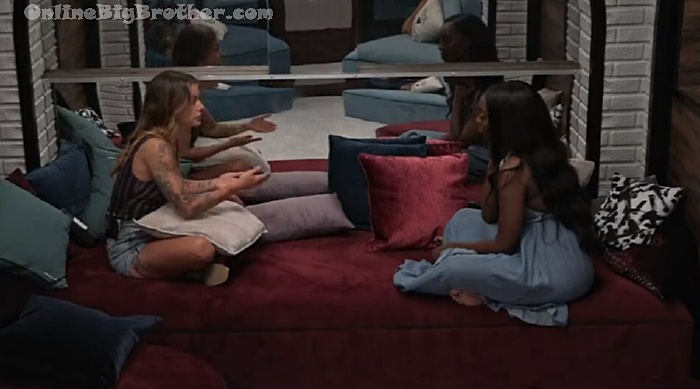 1:41 pm Da'Vonne and Christmas
Day – I told you I don't have the votes against her Christmas..
Christmas – I don't think that's true
Day – I know that's not true
Christmas – I can't be caught in the crossfire of someone else's situation. This will destroy my place in the game 100% it will look like I don't know what I'm doing I put her up because of what she said to me.. not because what Tyler has done if she was Tyler out she'll have to do it that's not my job
Christmas – he's a big player he's never thrown me under the bus.. I don't have a cross with him that's hers' not mine
Feeds cut.. when we're back.
Christmas goes on about how Day is in the girls alliance with them.
Christmas – I didn't pull this out of thing air. I promise you.
Christmas – as much as you need it I need cadence to see their momma win (Day's daughter)
Christmas – I will cut somebody when they leverage my child.. I want her to see you win HOH (Day's daughter)
Christmas – my commitment to you Is I'm working with you this week as well.. (ZOMG)
Christmas – I'm not campaigning against BAyleigh I'm campaigning for Da'Vonne. You are the one that needs to be in this game
Share it YO!!
Tweet