Head of Household Winner – Christmas
Have nots – No havenots this week
Nominations – Bay & DaVonne
Power of Veto Players are – Christmas, Bayleigh, Da'Vonne, Nicole, Ian and Dani.
POV Host: – David
Power of Veto holder – Christmas
Power of Veto Ceremony – Veto not used.
Powers – Christmas, Dani, David
Live feeds —-> Grab your Live feeds here. Try it free.
Rank the houseguests —-> Big Brother 22 Ranking
Veto Results:
– Christmas Won the Veto
– Dani won the Home Gym
– Day won the 5K
– Nicole got the Slop-tard punishment
– Bay has to do 500 laps riding a tricycle on a track
– Ian didn't feel well so he didn't play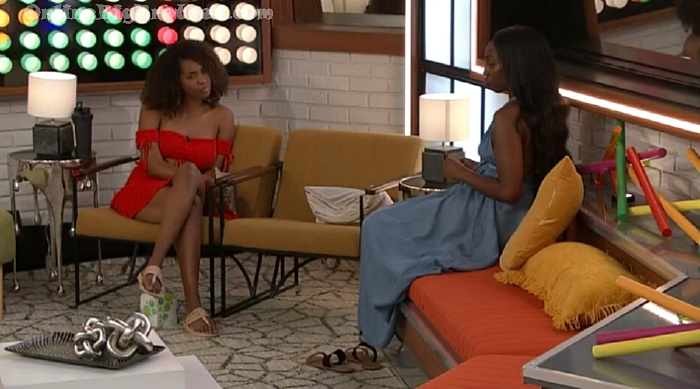 1:59 pm Bayleigh and Da'Vonne
Da'Vonne – you didn't get a power
Bay – no, I would have told your a$$
Da'Vonne – there's nothing we can do now
Bay – the fact that both Dani and Nicole said if there's anyway we can help you
Bay – she has to know they will call her racist online.. she has to know that. She has to know
Bay – she played me like a fiddle even before nominations

Tyler comes by.. "get off that block"
Bay – this is my spot this is where I live
They hug (Sweet baby bird)
Da'Vonne – well my friend.. my sister.. my ally let's enjoy.
Bay – now that she's scared because I called her out it's going to be me
Da'Vonne – I don't think so.. She can't vote.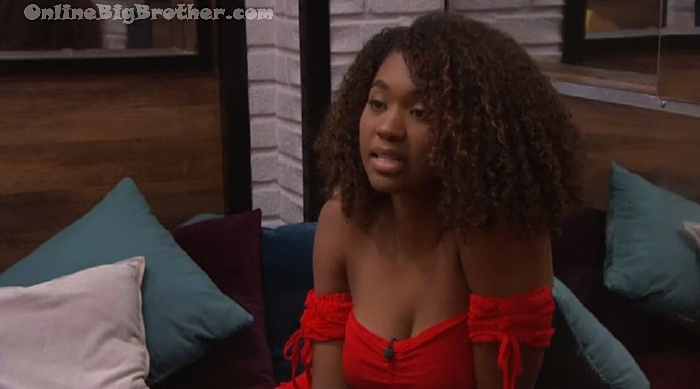 2:22 pm Kevin and Bay
Bay filling him in on everything that went down with Tyler in teh past 24 hours. Says that Tyler wanted her out prejury.
Kevin saying that they are doing to Bay/Day exactly what they did to Janelle and Kaysar. They are making they think they have a chance.
Kevin – this season is sick on a different level
Day joins them.
Kevin – whoever stays we're just going to be cannon fodder.. they have a final 6 they're just going to keep it like that they're not going to twist it up unless once of us wins.. They're going to mess with our minds making us think there's a shot.. we have to know theirs no shot
Bay – there's no shot it's clear. we know that they know that I think even David knows that
Da'Vonne – out of everyone in this house he is going to get his heart broken so much .
Kevin – he might have worked something out though he did't win power early in the game
They bring up Tyler wanting to quit.
Da'Vonne says she didn't Believe Tyler at first, "there was one line he used"
Bay – if it was a trick he's going to look terrible to America
Da'Vonne – he said to us I know the cause and the reason why you two are here
Bay – I talked to David about it and I'm for it I want to be an ally for you guys I don't want to be a person that sits there and stands by and watches this happen
Da'Vonne – how do you say that.. that can't be game. If that's game ohh he's a piece of sh1t
Kevin – his motivation is he looked like an a$$hole on his season
Bay – he's going to look like a bigger a$$hole
Kevin – he would never offer his life up to sacrifice.
Da'Vonne goes on about how Tyler offered them a Christmas present and Christmas didn't take it.
Kevin tells them that everything to do with Tyler volunteering is fake. He already knew he had zero chance of going up so he told bay/day.
Kevin – he's doing that to cover himself so he looks good to America
Bay – That's low
Kevin – they did it to Janelle..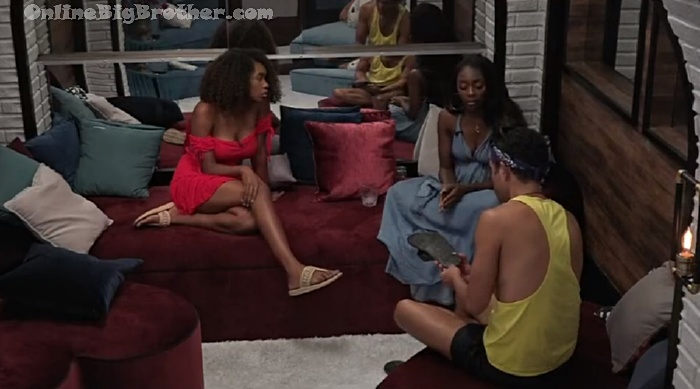 Kevin – why would he marry Christmas his a$$ out of this house..
Da'Vonne – he said he was ready to go
Kevin – C'mon this is the dude probably top tiered players
Bay – ok can you not laugh at us .. so we're just dumb as f** (yup)
Da'Vonne – I called bullsh1t up until that line because I couldn't believe in my heart that any person would use that line as game..
Kevin – they use that line on people
Bay – on our colour
Keivn – Colour.. allies is not colour
Bay – Black Lives Matter .. that's what he said.. not ally in the game
Kevin – he said the movement
Bay/DAy – YES
Da'Vonne – this is what we were talking about. To even make it clearer I started crying and I said this means so much because people don't sacrifice for people like us
Bay – nobody does that for us
Da'Vonne – they don't do that for us. We're disposable they throw us away
Bay – he specifically said I said to David and I know why you guys are here I know the cause you guys want represent and I am supportive I know this is tough in a game for people like you
Bay continues to explain what Tyler said – I am an ally of the cause I support the cause and I don't want to be the reason why you guys get separated.. this is not an issue of game this is an issue of him saying because your lives are not valued. Black lives are not valued I support you
Bay – so if he used that in gameplay that's messed up
Da'Vonne – that's some sh1t
Bay – if they are laughing and joking about the black lives matter movement and black people getting separated and thrown on the block together then sure..
Kevin says he thinks Tyler had it locked the veto wasn't being used, "That is a over gesture.. it's like over correction it's like a tell .. you must be really secure to offer your whole a$$ game.. "
Da'Vonne says Tyler has apparently been trying to self evict since last week
Kevin – I don't buy it.
Kevin – What's happening is there some shady a$$ gross a$$ stuff going on they're privy to it and they are just grossed out by it and they are trying to tell people I am grossed out by it I want to go home but in reality it's just their way of saying.. keeping their hands clean because of it..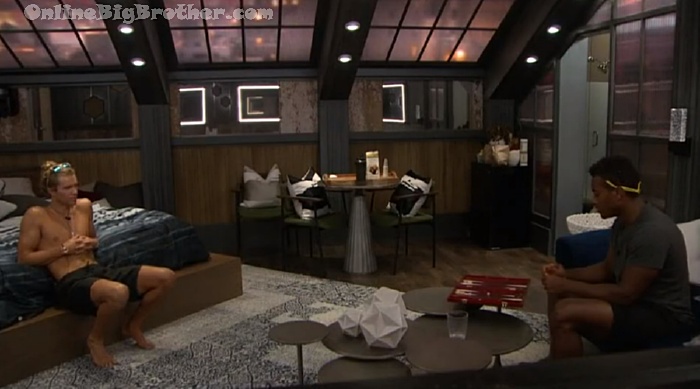 2:51 pm Tyler and David (this is a longer conversation where David goes on and on about not believing Tyler doesn't have a power)
David – who would you put up if you won
Tyler – Nicole and Dani because I feel like Dani is closer to Nicole than anybody else. If Bayleigh told Dani and Dani told Nicole and neither of them are coming to me to ask me if it's true so that means they're coming after me
Tyler – is that what you would do
David – its crossed my mind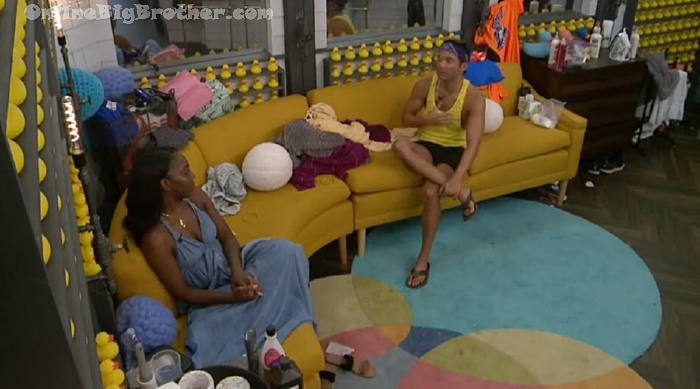 3:03 pm Kevin and Da'Vonne
Ian's been with them for a bit chit chatting. After he leaves.
Da'Vonne points out that Ian doesn't look like a person that wants to leave and lost his chance out.
Kevin – it's all lies.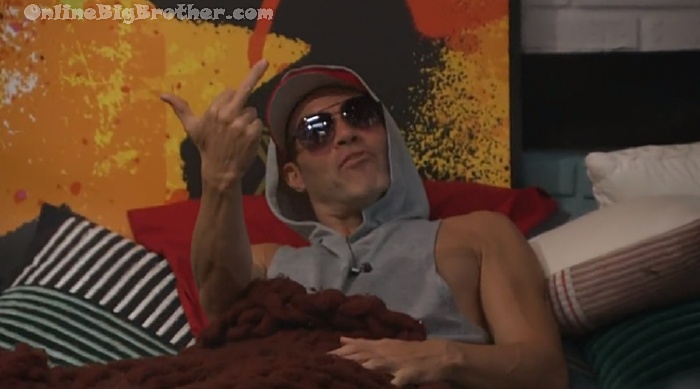 3:12 pm David and Enzo
David – who do you want to keep?
Enzo – I mean I think .. I love Bayleigh more but I think the house wants her out
David – we can flip that. Let me tell you how.
Enzo – yo I want to keep bayleigh more I do YO. I just don't think we have the numbers YO.
Enzo – will Kevin vote for her to stay
David – I can talk to him.
David says they need to spread throughout the house that Bayleigh is the bigger target if she stays and they can get her out next week, "All the house wants is things to stay in line"
Enzo – yeah… keep her in the house because she already has beef with Tyler let them go at it you know what I'm saying
Enzo – Kevin is really close with Da'Vonne.. you need 5 votes who the f**.. right now it's me and you that's it who the F** else.
David – if Tyler wants to fix his sh1t keep Bayleigh .. convince Kevin.
Enzo – Tyler doesn't want bayleigh in here because Tyler doesn't want to deal with this shit no more. He's not going to want to keep her. THe noms are locked I'm down to try Christmas can't do shit now.
Davi d- can you convince Cody
Enzo – I don't think so .. I'll try..
Enzo – they want Da'Vonne because she can't win sh1t.. bayleigh can win so they want her the f** out.. She' rings drama in the house she'll be the target. The girls are going to go after her. Tyler is going after her.. What the F***
Enzo – I'm with that if we can convince him. Tonight we'll chill out we have the party starting tomorrow I'll start chipping away YO .. I'll try to get Kevin I'll try to get Cody that's four right there yo.. it's not going to be easy .. she's got a start me and you. At the end if we don't got it we have to go with the house.
Sounds like David is saying he'll throw Bayleigh a vote. Enzo says here's his vote. Fingers the camera.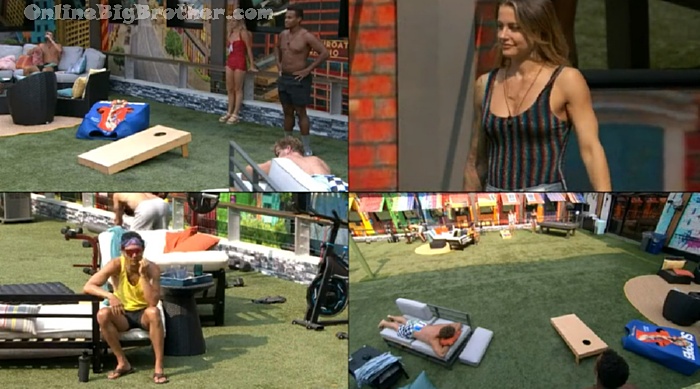 3:35 pm Cornhole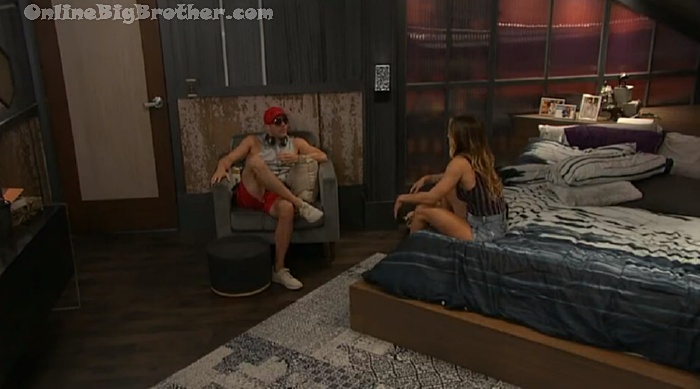 3:55 pm Christmas and Enzo
Enzo says it's awkward right now but tonight they'll accept it. "it is what it is"
Christmas – I feel like kinda what happened with Tyler will happen with me where it gets dragged out into the real world. that's not why I came here to play I didn't come her to have a beef after this I came here to play the game. Afterwards I'm done. If you come after me if you slander me if you talk about me in this house i;s the game you choose to play.
Christmas – I will own everything .. (when she gets out)
Enzo – this isn't my life this is a game i'm playing..
Christmas start talking about how much she worked on her first season she wants this season there to be no question she deserved to make it "I was part of that team. I will be damed if This season i'm seen as anything else than a competition F**Ing monster"
Christmas says Kevin has a power she thinks if she would have used the veto Kevin would have activated it.
Enzo says that Day/Bay don't have a power.
Christmas tells him she's good as long as Da'Vonne, Kevin or David don't win the next HOH. Assuming that bayleigh leaves this week.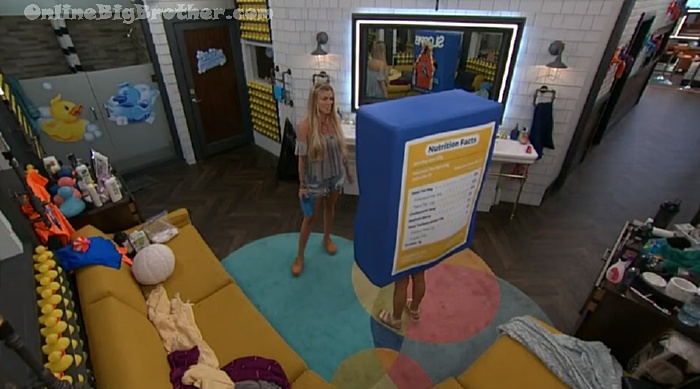 4:05 pm Nicole and Dani
Dani – trust no one.
4:24 pm Feeds on stars.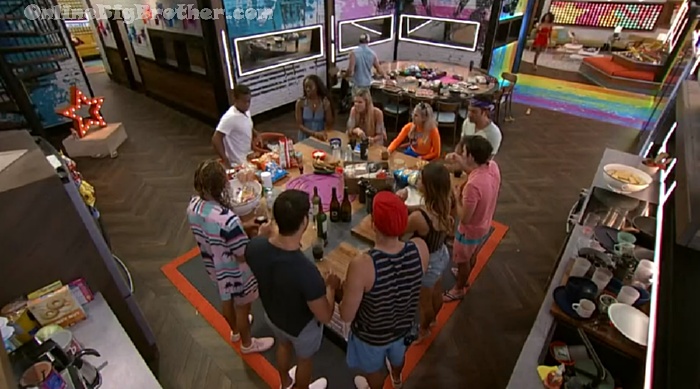 5:02 pm a flash of the party.
5:21 pm stars yo
6:00 pm feeds no
6:30 pm Stars yo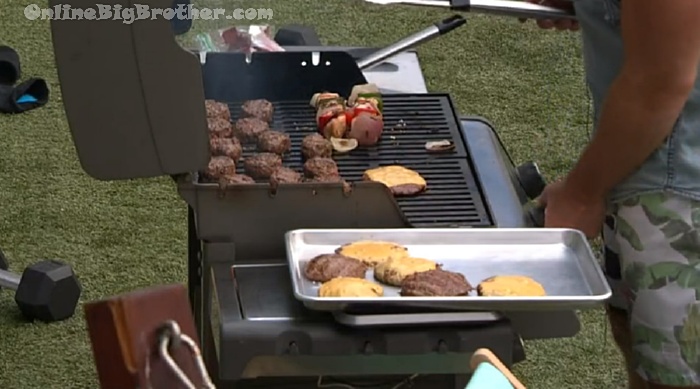 6:35 pm PArty is starting up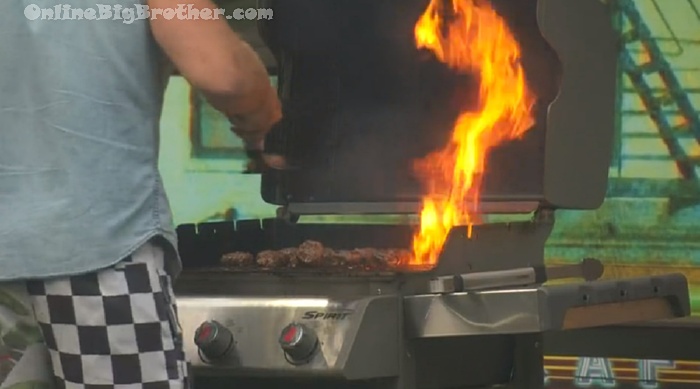 6:40 pm Memphis working the grill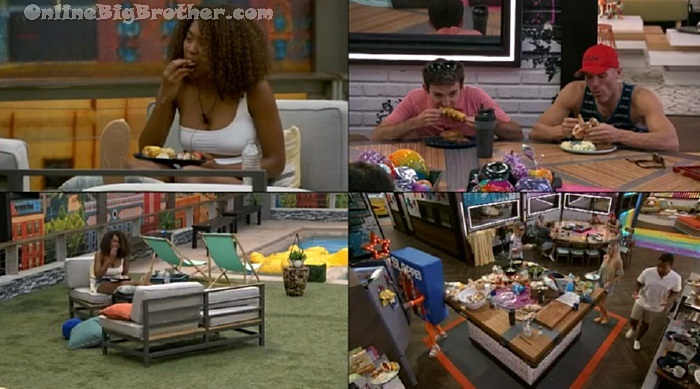 6:50 pm Bayleigh eating her BBQ outside alone the rest in the house.
Da'Vonne joins her.
Bay talking about being in "Live or death situations where I've given so much and there's nothing given to me and literally no one there to give it to me"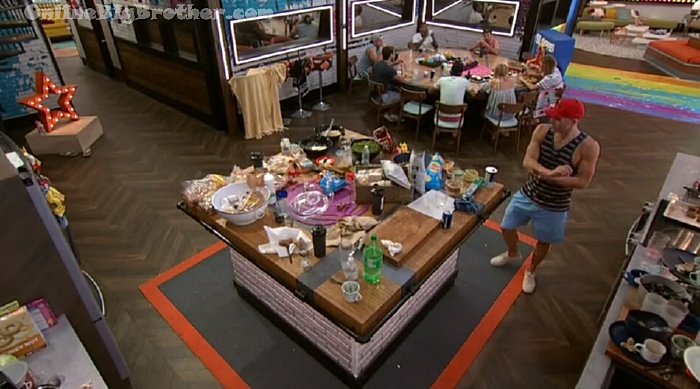 7:00 pm BBQ ..