Head of Household Winner – Christmas
Have nots – No havenots this week
Nominations – Bay & DaVonne
Power of Veto Players are – Christmas, Bayleigh, Da'Vonne, Nicole, Ian and Dani.
POV Host: – David
Power of Veto holder – Christmas
Power of Veto Ceremony –
Powers – Christmas, Dani, David
Live feeds —-> Grab your Live feeds here. Try it free.
Rank the houseguests —-> Big Brother 22 Ranking
Veto Results:
– Christmas Won the Veto
– Dani won the Home Gym
– Day won the 5K
– Nicole got the Slop-tard punishment
– Bay has to do 500 laps riding a tricycle on a track
– Ian didn't feel well so he didn't play
12:18 am Blood moon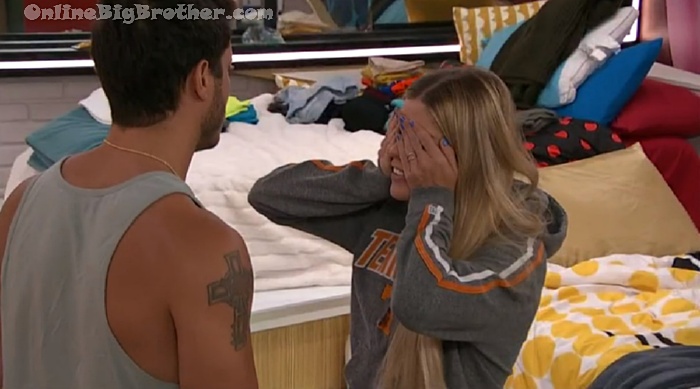 12:21 am Dani and Cody
Dani – I'm freaking out I think they are backdooring me.. Ok listen
Cody – I was just talking to Bayleigh doesn't seem like that
Dani – I just talked to Christmas.. Don't repeat this obviously. We were upstairs and she makes this all girls alliance .. right the four girls
Cody – You, Da'Vonne, Nicole and her
Dani – it was really weird.
Dani – when I went to the bathroom Tyler was whispering with them all comfortable
Dani – It feels like a setup.. I know I'm like reaching but I'm telling you. Something is happening. What if Christmas and Tyler had a final 2?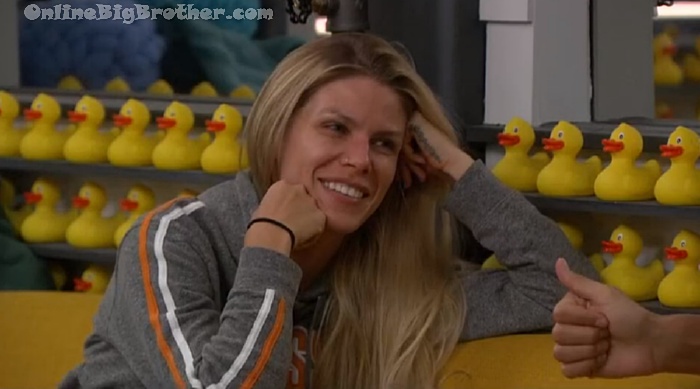 12:27 am Cody and Dani
Cody asks what will Tyler be able to go to Christmas with Da'Vonne and Bayleigh that will get her to flip on her, 'Since when did Christmas not trust you"
Dani – I don't know
Dani – she has literally not told me anything her and Tyler were whispering in the kitchen. "Something is really really off"
Cody – why wouldn't Nicole know about it
Cody says the only way they'll know is if Him, Tyler and Enzo get some time alone they'll get it out to Tyler
Dani – do you think he'll tell you?
Cody – if he doesn't i'll be like you're f***ing shot
Dani is suggesting that Cody isn't getting all the information because they know they are close.
Dani says Christmas would split the sides "which doesn't make sense because she hasn't been with them"
Christmas – Da'Vonne, David, Kevin and her that's it.
Cody – if she wanted to do it don't you think she would have done it with Kaysar and Janelle.
Dani brings up talking to Christmas before the nominations saying "Just to feel her out.. I said I'm kinda getting bad suspicions. I'm here Tyler is throwing my name out there she was like Really why would he ever? She got really defensive it was weird"
Dani – it was straight up she did not want to hear anything about negative about him it was kinda like.. I didn't push at all .. It was like she didn't wnt to hear his name
Dani – I Don't freaking know.
Dani says Tyler is "Playing a poor game'
Cody suggests that maybe Tyler played his season with really poor people that is why everyone thought he was so good a the game. (Cody critiquing other peoples season competitors)
Dani – she hasn't even told me. This last week Christmas has gotten close to me she would tell me everything she hasn't even said Dani I need to talk to you or anything
Dani says Christmas and Tyler were talking for 2.5 hours "they were drinking hard kombucha it was real"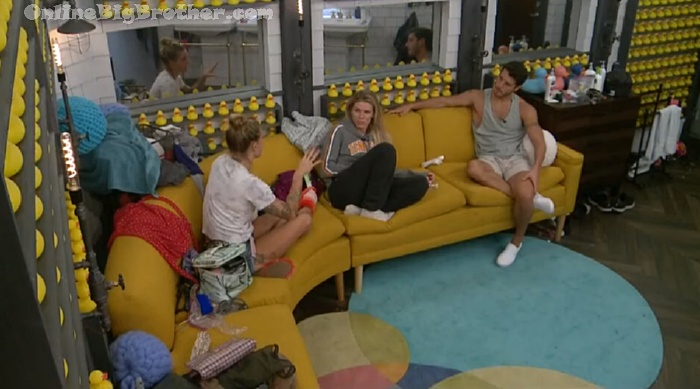 Christmas joins them..
Cody says Da'Vonne is better to stay because she's close to Christmas.
Christmas – I've been working towards letting Da'Vonne be more comfortable with me. She said I was her untouchable
Christmas says Da'Vonne hasn't won sh1t "In three seasons it's crazy. When she's under heavy pressure she doesn't do well"
Christmas – Bayleigh .. Bayleigh thrives under pressure .. wait I won't say that.. Da'Vonne has keep her under wraps so she doesn't spin out
Christmas goes on about not telling anyone who to vote out until after the veto ceremony "I want to obey the rules'
Christmas says Bayleigh has been "Sassy" these past couple weeks. Mentions that this is a social game "You have to be nice and if you're not willing you have to be able to face the circumstances. This is a social game"
Christmas – she's realized what she's doing what she did in previous seasons that is getting too sassy
Christmas – I still love the girl I would love to go our and RAGE with her
Cody leaves..
Dani – what was Tyler saying> He talked crap on me? don't lie
Christmas – he's just concerned he feels tension from you
Dani – I haven't even done anything to him
Christmas – no no don't get piped up.. he was just asking me if everything is ok.
Christmas – he's having a really hard time being away from Angela right now.
Christmas – I've cooked 1/2 the meals in here for him.
Dani goes on about all these things she's done for Tyler can't understand why he would think she never liked him on a personal or game level.
Dani – I've never said his name.. It's frustrating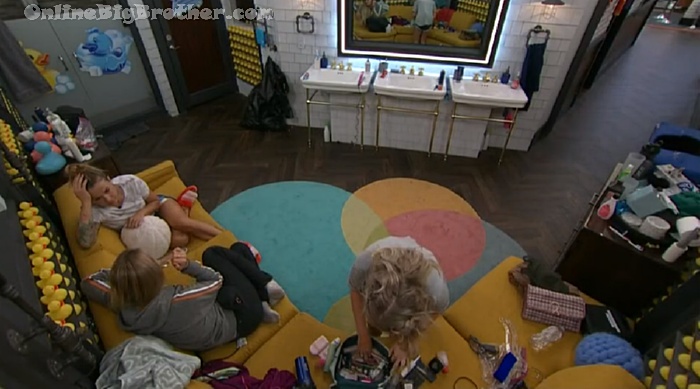 Nicole joins them to put on pre Diary Room makeup
Christmas asks who will vote the way they don't think
Dani says David and Kevin
Christmas warns her to not tell Kevin anything "He's a snake"
Dani brings up Kevin saying he'll vote with the "majority of the house" but says he won't "Vote with the house"
They count the votes, Dani, Memphis, Cody, Ian, Nicole
Christmas – right there is enough
Christmas says that Da'Vonne is really hyped about the girls alliance.
Christmas brings up Mentioning to Da'Vonne about Dani saying Season 6 had a all girls final 4. (friendship)
Christmas – it's a good idea for you guys to try and squash it. It's been blown up.
Dani says it should have been obvious she liked Tyler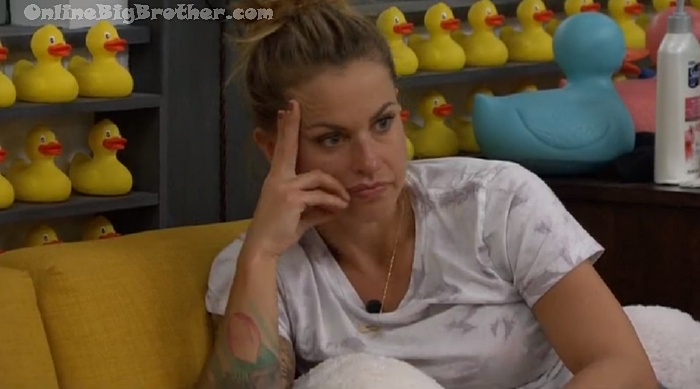 1:06 am they bring up the new wall yeller
Christmas about the backyard "what the hell was that"
Dani – same thing as always
Christmas – who was outside?
Dani – Kevin, Ian and Cody
Christmas – what it say
Dani – they don't know
Christmas – I don't believe it
Dani – Ian said he heard power..
Feeds cut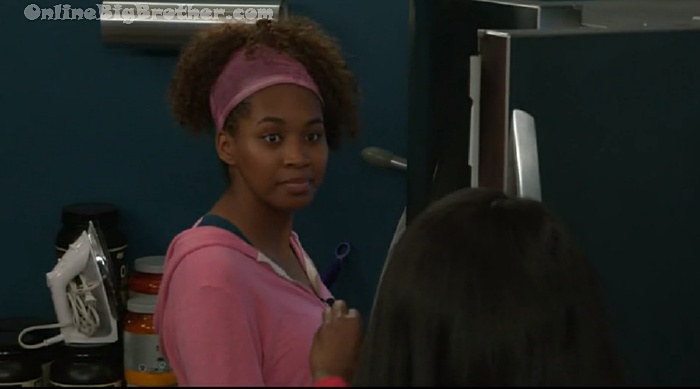 12:45 am Da'Vonne and Bayleigh
Bayleigh saying that Dani had Christmas cornered in the bathroom
Da'Vonne – she gave me a vibe that she will not use the veto so.
Da'Vonne asks Christmas if there were people that came to her and said they wanted Bayleigh out. She said there wasn't many but a few.
Da'Vonne – I said I'm telling you we have the votes to get Tyler out of this house
Da'Vonne – I'm trying to think who the f** that was. I don't know if someone really had that conversation with her.
Da'Vonne goes on how she told Christmas she can throw Da'Vonne under the bus but the need to take out Tyler "girl she was not going to use it until I said I would take care of you then she was like.. Okay"
Da'Vonne – what I thin is going on she's linked with Nicole and Dani but she knows she's the third wheel
Da'Vonne – this time she wants a partner..
Da'Vonne – right now I'm saying Girl you got to use it. Make no sense to leave her on the block. You leave her on the block she goes home. You wasted an HOH on Bayleigh what are you doing
Da'Vonne says Christmas wasn't going to use the veto if she thought her and Bay were a duo.
Da'Vonne – she said do you think she will come after me.. I said I will take care of her .. you're good. You keep her in here you got me I got her you good..
Da'Vonne – then she threw me under the bus so now what..
Bayleigh – she's really not smart.
Da'Vonne – I'm glad she's not smart because the sh1t's working to make her use this veto..
Da'Vonne says the more she talks to Christmas the more she knows that the target was Bayleigh.
Bayleigh says Dani, Nicole and Cody were in the room for an hour today and when she walked in they acted sketchy.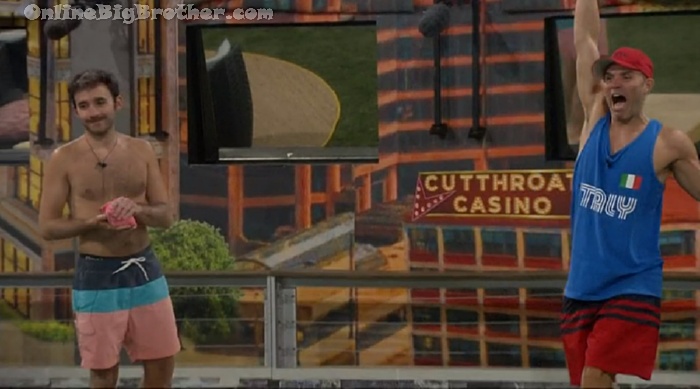 1:00 am Cornhole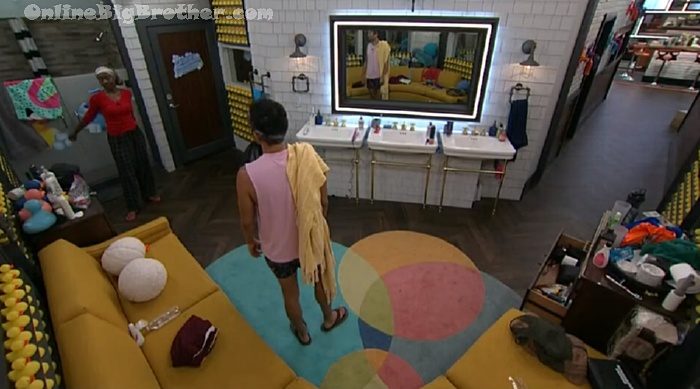 1:30 am Da'Vonne and Kevin
Kevin – I hate how I can't contribute to conversations. they just change the topic as soon as I go up there (because everyone knows you are a rat)
Da'Vonne says that Nicole "Cosigned" her plan the reason why is because getting rid of Tyler will pull on personal away from Cody.
Da'Vonne – I really think it's possible.
Kevin – how can we incentive's it.
Da'Vonne says there is.
Kevin – you have a good vibe
Da'Vonne – mmmhmmmm, I just have to pull it off. Bayleigh has the votes to stay. Who wants him in here.. Cody? (Tyler in here)
Da'Vonne doesn't think Enzo wants Tyler in the game.
Kevin – is the incentive more powerful than the threat of a hidden power?
Da'Vonne – I don't think he has one.
Kevin – I think he has it
Da'Vonne – that sh1t will backfire on her (Christmas) I'm trying to get my a$$ off the block
Kevin – but she worries about it.
Da'Vonne – The package deal is if we can pull this off she's going to use the veto on ME
Kevin – and
Da'Vonne – I don't give a f* about what happens after that. I don't care.
Kevin – The incentive has to be bigger than the threat of a power. Is it?
Da'Vonne – trust me I'm going to finesse some sh1t. We're praying we're crossing our fingers, our eyes and our toes. Anything can happen. It could possibly happen I feel good.. I feel real good.
Da'Vonne – she would be real stupid not to take this.. she would be a idiot.
Kevin – she would get Cody mad at her


Da'Vonne – nope .. this is the sh1t that pisses me off.. these girls.. you know you're shedding why is your hair in the damn drain. Grossness.. (Messy bathroom shower)
Kevin – the girls are getting kicked out of this show quickly
Da'Vonne says if her and Bayleigh survive this week she might be able to pull a "girl power lets make it happen" thing with Nicole and Christmas.
Da'Vonne – you get attached to that. I'm not going to lie to you it'll be a girls alliance with 5 they will try to boot you at 6. and you know I'm not voting you out. that woudl mean they will use you to take out Dani or to take out Cody.. Nicole
Kevin – girl use me however you are going to use me.
Da'Vonne says Christmas wants a person, She sees Nicole/Dani and Da'Vonne/Bayleigh. She might want to get rid of Bayleigh so it will be Da'Vonne/Chritsmas
Kevin – her person is Memphis. HIs perspective is do not shake up the house if you have to.
Da'Vonne – this won't shake the house
Kevin – why are you saying that
Da'Vonne – It'll make sense tomorrow
Kevin – Girl if it don't make sense.. you owe me so much. Because i've been making sense all the time (ZOMG)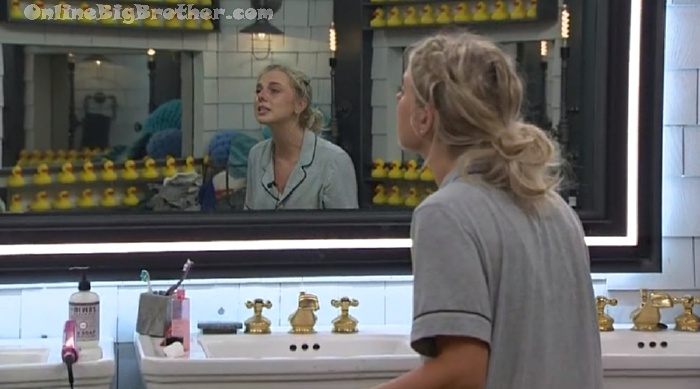 2:05 am Nicole and Dani
Nicole crying about something Cody said about her flirting.
Nicole – she said he never gets put in this situation because chrissy (COdy GF) doesn't flirt with guys.. Neither do I!
Dani – I don't think he meant it like that..
Nicole – it's going to be a whole week of freaking crying this week (fun)
Nicole – everything.. everything I was saying he 's just god so annoying I hat him some times.. he was getting defensive.. he gets mad about stuff..
Feeds cut..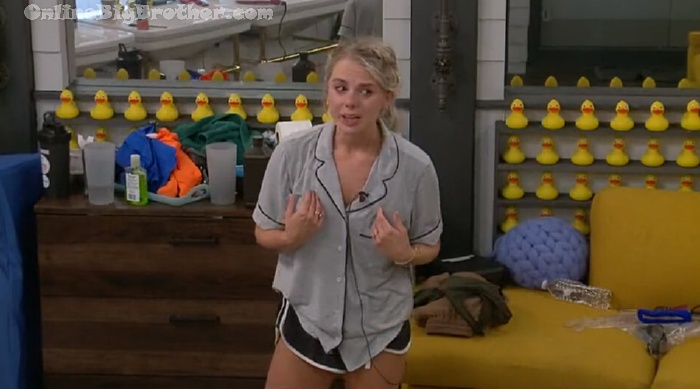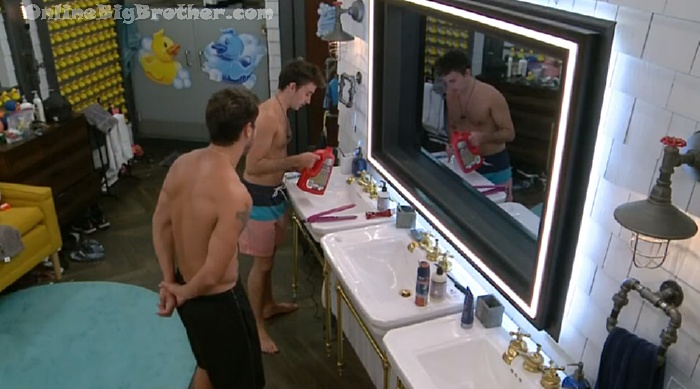 3:00 am Unplugging the sink
5:00 am Sleeping.

9:55 pm Lights on
10:07 am Nicole working out some sort of nest from her hair.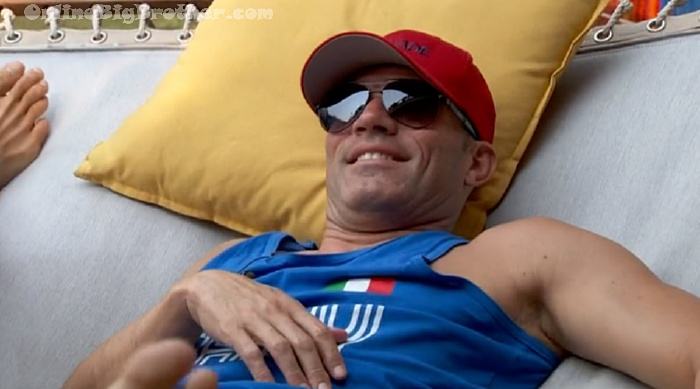 10:40 am Cody, Ian and enzo
Cody got the call from CBS "second week in April"
Ian got the call end of April
Enzo got the call one month before they were in sequester.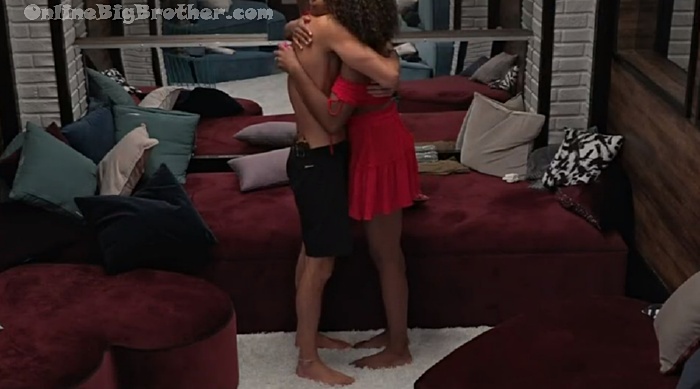 10:43 am Tyler and Bayleigh
Bayleigh – I really don't think she's going to use it because I think she thinks it's a trap and she feels like I want to come after her If she doesn't I just want to say thank you before hand and because of what you did was really sweet.
Bayleigh – I want to give you permission to vote me out. She deserve to be here
Tyler – so do you Bay
Bayleigh – I wrapped her up in all of this she had no issue with you she had no issue with Christmas. It's my fault she's even on the block.
Bayleigh says the "Baggage" she had from season 20 messed up Da'Vonne's game.
They hug.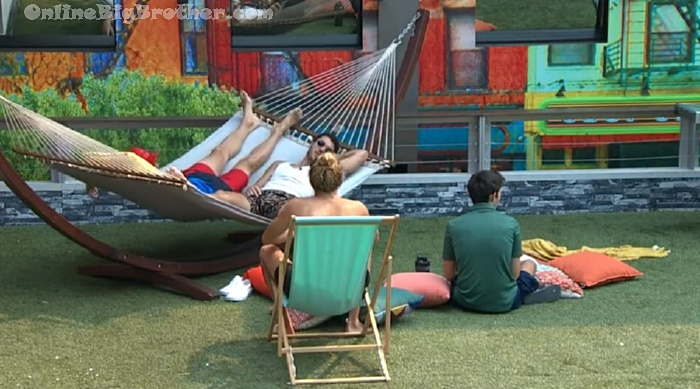 10:50 am Tyler, Ian, Cody and Enzo
Cody pointing out that after this week it will be 7 guys and 4 girls.
11:04 am
Enzo – Yo if I win HOH i'm going after the two people that are the most comfortable in the f**ing house yo
Enzo – I'm going to flip this house upside down yo ..
Enzo says there's 2 girls that are very comfortable in this house
Cody – there's four Girls I don't think they are comfortable at all