POV Holder:
JohnnyMac
Next POV
?
POV Used
?
POV Ceremony
July 6th
HOH Winner Team 1:
Becky
HOH Winner Team 2:
Shelli
Nominations 1 :
Steve, Jason
Nominations 2:
Day, JohnnyMac
Battle of the Block Winner
Steve & Jason
Next HOH/ Next BOB
July 9th / ?
Original Nominations:
Day, JohnnyMac
Current Nominations:
?, ?
Have Nots
Steve, Jason, James and Meg
TRY the Big Brother 17 Live Feeds FREE for 1 WEEK:
Click here to ensure your live feed subscription supports OnlineBigBrother.com at no extra cost to you.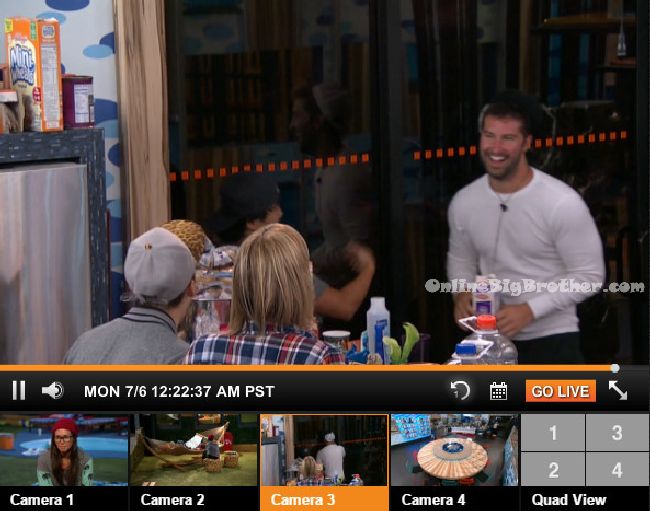 12:25am Kitchen – Jason says he went over there like inspector gadget. Maybe for once he was doing something good. Meg says well I wouldn't go that far. Jason sees James & Jeff listening with their ears up against the sliding glass door and "Empirical evidence!" They all laugh.
Hammock – Vanessa, Shelli and Audrey are talking. Vanessa tells them about how they day they were supposed to do their preseaon interviews her transgender story broke and they rushed her through everything. She talks about how she didn't get to do the Rachel interview.

12:30pm On the lounge couch –
Austin, Meg, Jeff and James are doing their podcast.
Clay joins them. Jeff asks are you single and ready to mingle? Clay says ready to mingle. Jackie calls in and asks Clay to describe the perfect date? Clay says first of all my licence is revoked. All the house guests OOHHhh!!? Clay says he would take his date to The Golden Corral. "All you can eat" Liz phones in and asks what kind of guy are you that you would take a first date to golden coral!? F**K THAT NOISE! James calls in and asks if your date shoves buns in a zip lock bag are you okay with that? Clay says we need something to eat later after we burn off all those calories. Shelli joins them and they ask her if Golden Corral is an acceptable first date? Shelli says can we change it to Ryan's Steakhouse? They all say Clay said that too. When is it acceptable to send the first text. Shelli says later that day otherwise if he waits a couple days it just looks like he's playing games. Audrey says if your ex was here what would she say you needed to work on? Clay says probably eating ice cream too late at night. Audrey says this is thunder Pam I want the real f**king details. Clay says probably being too honest. Audrey asks would you tell your girlfriend she's gaining too much weight? Jeff says ABSOLUTELY… NOT! Clay says probably not, I would just take steps to change that. Jeff asks like not taking them to the all you can eat at the Golden Corral. Shelli gets up into the hot seat and they start asking her relationship questions.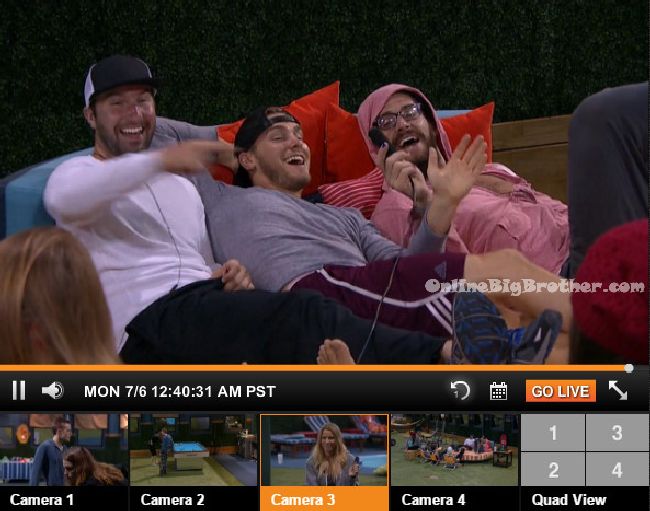 1:15am Vanessa is up next. Vanessa says that she met her girlfriend on plenty of fish. She hit on me first and actually kissed me first. Vanessa says but I've pretty much been the guy since then. We're both every big music people. She has a "Music is the answer" tattoo down her leg. Jeff asks when we your first female girlfriend? Vanessa says I was 28. She says its way more important to be authentic that to get approval. It took some risk coming out to my parents. Jeff asks since you did professional poker for awhile what was that like? Vanessa says the amazing part of it is that you work for yourself and when its going well its very rewarding. The downside is that if you have a bad day you're not only not making money, you're losing money. She says she did it for 2 years.
Test out the live feeds for 7 days FREE! Then pay ONLY 20 Cents a day ($5.99 for a month of the 24/7 feeds!)
Click here to ensure your live feed subscription supports OnlineBigBrother.com at no extra cost to you.

James is up next. Vanessa calls in and asks when you go for the kiss, what are the deal breakers. What makes you say oh hell no, not even a one night stand can come of this. James says as long as she has good breath and all her teeth, then I'm okay with that. Day calls in and ask I'm curious as to why they call you the bakery man. James says I think its time for a bathroom break. Jeff says okay we're back why do they call you the bakery man? James says I feel really embarrassed now but what it boils down to is I'm a jack of all trades and I like to bake bread in the oven. Becky asks you're a scandalous fellow who can train James from the hookers? James says he is definitely looking for someone to settle down with. Liz calls in what is your idea first date spot? James says I would probably take her on a boat ride on the river. Austin asks where no one can hear her scream? Day calls in and asks what would be your 1 bucket list thing you need to do before you checkout? James says get a smooch from Meg. They call Meg up to sit by James. Day calls in again asks if Meg is going to give James that kiss. Meg then gives James a kiss on the cheek. James says it wasn't what he was hoping for but is still happy.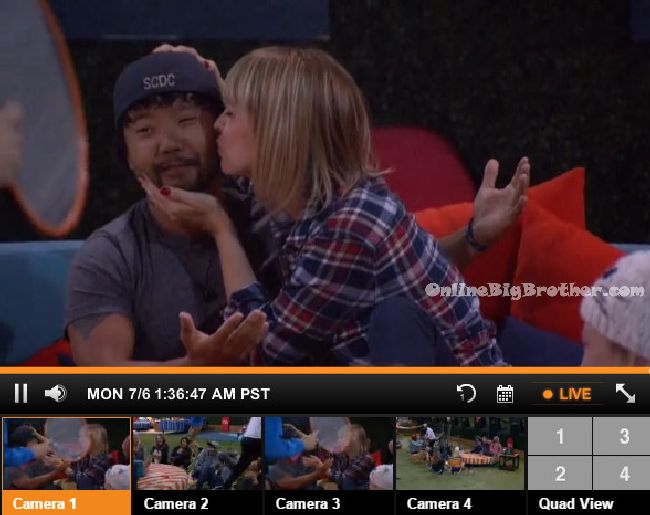 James gets a kiss from Meg @bigbspoilers #bb17 pic.twitter.com/tx14RAZj4J

— Dawg (@DawgsBigBrother) July 6, 2015
1:40am Backyard – Day asks James and Jason did you hear that when Shelli said everyone deserves a second chance. Day says so she isn't going to put Audrey up. James asks Day how come you don't get a second chance then? Day says I don't know. Big Brother blocks the feeds. When the come back Jeff is sitting with Jason and Day. Jeff tells them that in tomorrows podcast everyone will roast him and Austin. Jeff leaves to play pool. Day comments on how Jeff and Clay are thick as thieves now. Jason tells Day we sort of officialized something. Jason says we talked about who would go pre-jury. Audrey, Vanessa, Steve, Austin. Jackie and Meg join them. Day asks Jackie do I have your vote if its Audrey? Jackie says yes.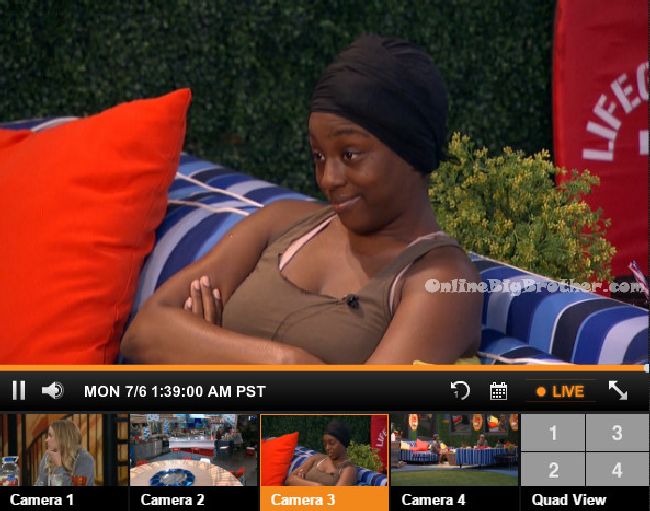 1:50am By the pool table – Jeff asks James why he didn't trick Meg into getting a kiss on the lips. James says that he didn't want to sexu@lly assault her. Clay comments on how the podcast got real serious. It got weird.
Steve heads up to the HOH room. I think Day knows that something is up. Someone was joking that someone wanted to see a picture of Cadance. And she said you're not going to get to see mine. She knows something is up. I just wanted to let you know that. Shelli says thank you for telling me. I think my best option is to stick with my original plan. Steve asks so you're looking to put up a pawn tomorrow? Shelli says yes. Steve asks why Day? Shelli says that Day hasn't done anything to build trust. Shelli tells Steve that Day had said if she won HOH she would put you and Audrey up. Steve tells Shelli she has his vote. Day asks Johnny can I get your vote? Johnny says yeah.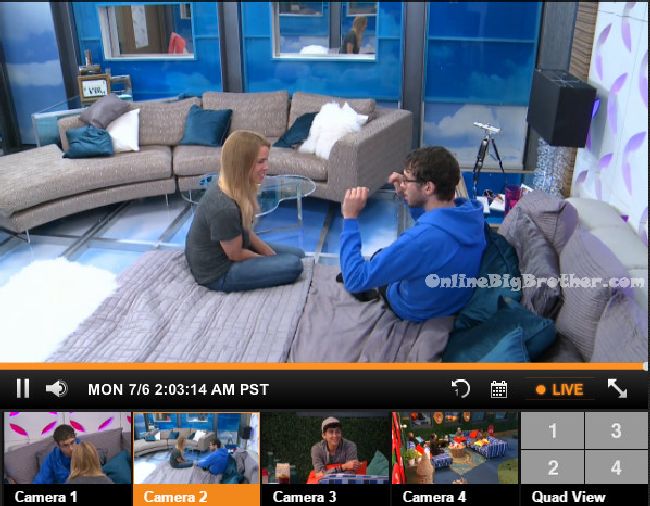 2:10am – 2:30am Shelli calls Jeff and James into the HOH room to talk with Meg. Shelli says I have been wanting to talk to you guys all day. As you know, Day is up and John won the pov so he is going to come down. I have already made a target by putting up Day and I don't want to make another target. Shelli says before I put up Day I felt pushed away from Day. The thing that wasn't the plan was Johnny winning the veto. I know who Day is close to and so I have to put up someone that she is close to so she doesn't stay. I have to put up you, Meg. I don't want to put up someone else up I wouldnt want Day to say and the other person go home. I like you on a personal and game level. I want your feedback on how you feel about it. Meg says I understand it but it sucks, it sucks! Shelli asks James who would you vote for? James says Meg obviously she just gave me a kiss. Meg says I will do this and be totally happy to do it just as long as you remember it. Shelli says Day will not have the votes. I really did have a lovely conversation with her today but no matter what she tells me I won't change my mind on who I want out. James says we've all been keeping Day quiet and calm. Meg says they do expect this. Day said she would know if she is going home by who is put up. Meg says I'm just terrified of this twist though guys. Clay says its not going to be like it saves Day or anything like that. Clay says we have the vote for Day to go. James says I will vote how the house wants but wonders if Jason would be mad if I didn't also vote for Day to stay? If two votes would matter? Shelli asks are you saying you're going to vote Meg out? James says no. Meg says Jason will understand you voting Day out. Meg says don't you let my a$$ leave this house!! Shelli says no, I wouldn't put you up if I thought that was a possibility.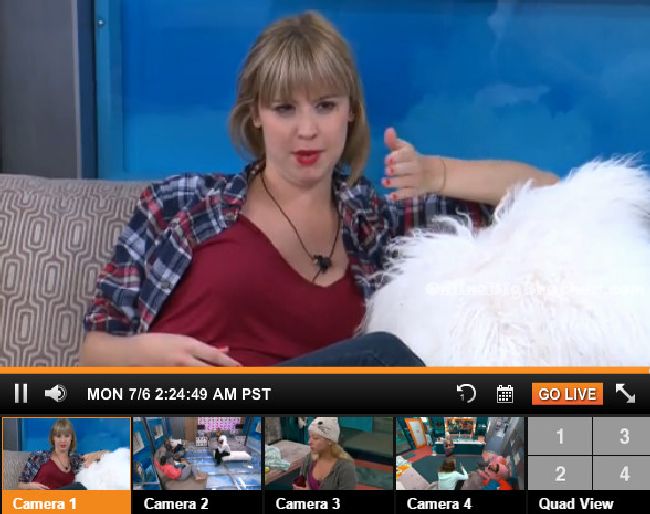 Hammock – James tells Jason that Shelli knows Johnny is using the veto. Shelli wanted to know where we were at with putting up Audrey. We let her know that we were okay with that. She wanted to know how Day was feeling. She said she is pulling everyone up there. Jason tells James if the HOH comes down to 5G's or the HOH …you take the 5Gs and I'll take the HOH. At least that way the money goes to someone who deserves it. James says yeah that's a lot of money that can help me get caught up on some child support.

2:40am Up in the HOH room – Shelli talks to Becky and Jackie. Shelli says I've made it clear to who I trust what I am going to be doing. If I put up someone that she can campaign against then that person could end up going home. Shelli says Day said she wouldn't go after me but I've put her up so I can't believe that. Shelli says she loves Day and thinks she's an amazing person. As far as game she is not on my team. She didn't even talk to me until she wanted Audrey out. Meg going up is perfect because no one wants to send her home and she is in Day's circle. Shelli says I am not working with Audrey. Whenever she tries to talk game with me I shut it down. Jackie says Day already asked me if I would vote for her if she was against Audrey. I said yes. Becky says I thought she would be way more sassy. I thought she would be a firecracker. Jackie says well its the unknown now, wait until tomorrow after the veto ceremony. Becky says I am just worried that it will have been 17 days since the blow up with Audrey for her to be able to change peoples minds before the next chance to send her home.
Backyard – Jeff, Austin and Liz talk about Audrey being America's Player. Liz says she's probably making 5G a week for the missions. Austin says if she's even passing them. Jeff heads inside. Liz tells Austin that Day asked for my vote. I just told her yes. She'll never know.
In the bedroom – Jason tells Day if you go home, you watch me at home run these mothaf**kers out the house.
Up in the HOH room – Clay comments on how Shelli eats healthy but that she could eat better. Shelli gets upset. She says that she is having a hard time with the food they have and how she doesn't have these types of food at home. Shelli tells Clay I don't want help from you with this either, its something I have to do myself.

Share it YO!!
Tweet