POV Holder:
JohnnyMac
Next POV
?
POV Used
?
POV Ceremony
July 6th
HOH Winner Team 1:
Becky
HOH Winner Team 2:
Shelli
Nominations 1 :
Steve, Jason
Nominations 2:
Day, JohnnyMac
Battle of the Block Winner
Steve & Jason
Next HOH/ Next BOB
July 9th / ?
Original Nominations:
Day, JohnnyMac
Current Nominations:
?, ?
Have Nots
Steve, Jason, James and Meg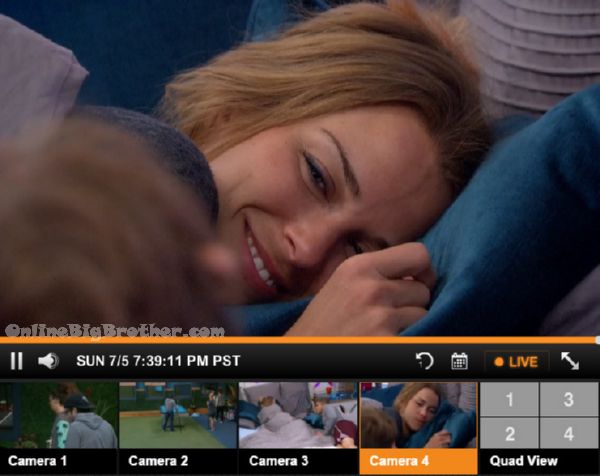 7:37pm Jeff and Shelli
Shelli – did you cut your hair… it's so pretty
Clay – if you like it i'll keep it
Shelli says she's uncomfortable working out in the backyard with everyone watching. She use to working out in her home and doing cardio at the gym.
Clay starts telling her about HIIT cardio and how she probably wants to do that.
Shelli says the workout Jace did was great "I loved it… it's exactly what I do.. then he did circuits I don't like circuits "
[envira-gallery id="119185″]
7:53pm Jeff and Jackie
Jeff saying he should have worn sunscreen he got a sunburn
Jackie says she still has his basketball shorts from when they were on Amazing race, "I wore them.. I almost brought them"
Jeff says Meg already knows she's going up. So does jason and James, 'They're not dumb"
Jeff saying that Shelli thinks Jason and James are still in the dark about Meg going up. Jackie is worried about Meg being nominated says it's scary that meg is going up
Jeff isn't worried Meg is safe
Jeff shows how much seen he's gotten.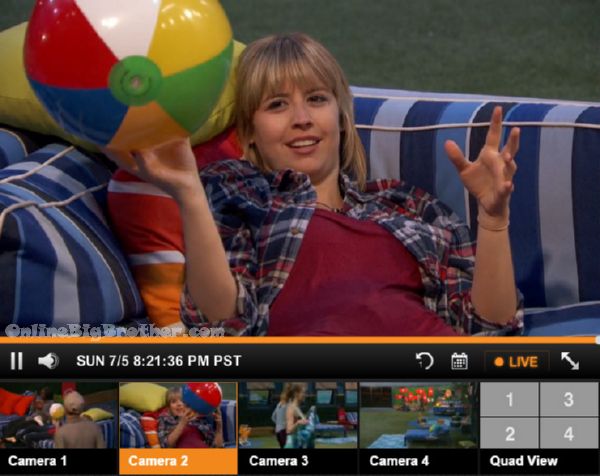 8:13pm Audrey, Day, Meg, Jason, Jackie.
Backyard JAson joking that they picked this year's cast at gold's gym, Him James and Meg were the only ones who went through th4e casting process.
Meg says she likes spin classes. Jason saw a "Spin Vine before"
(Meg continues to say how much she misses going out having drinks)
Audrey – I wish we could build something
Audrey and jason leave.. Meg and Day left alone. (Most likely the nominees)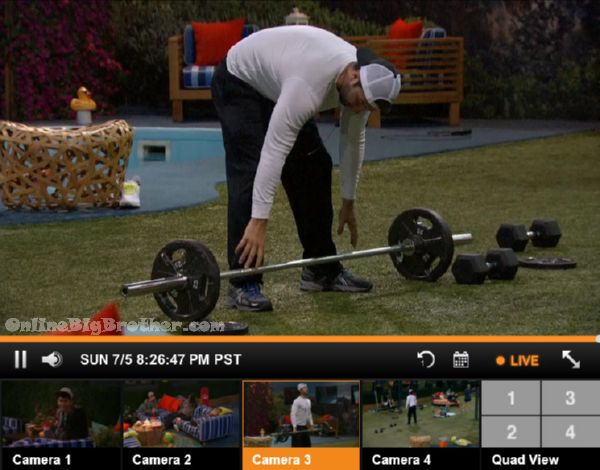 8:27pm
Jeff doing a workout says he's never done this before. Austin says he's doing great you can't tell at all he's new to the movement.
JohnnyMAc and Vanessa are working out off to the side.
Not following the conversation but JohnnyMac jokingly saying he only wears a bra when he's getting weird
[envira-gallery id="119193″]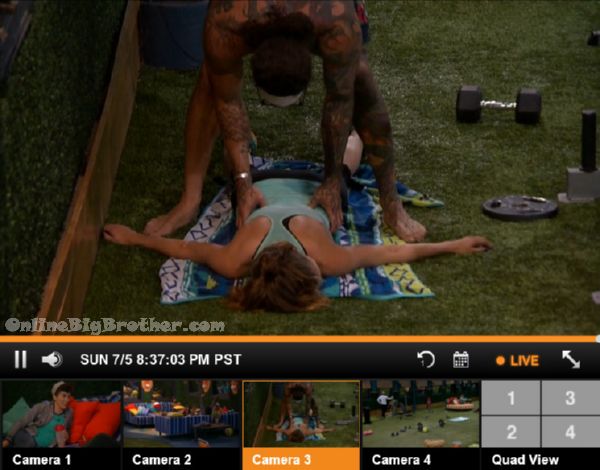 8:39pm Becky has tight back muscles.. Austin helps her relax them. Says she needs to passively relax them if she actively relax them it will get worse. Becky and Austin say Jeff wore the sexiest shirt when working out.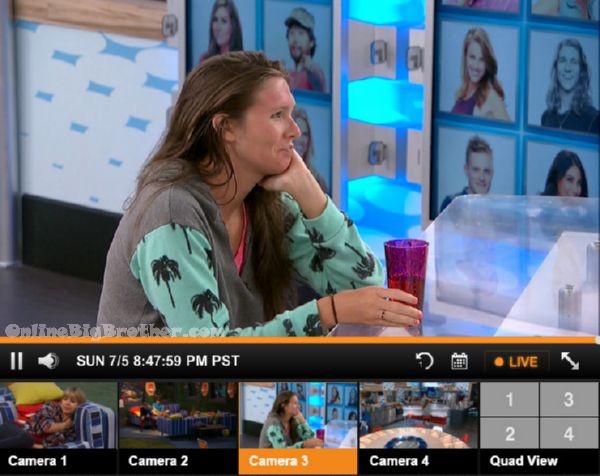 8:46pm Audrey and Clay
ASking who her replacement nomination is, 'It's not me". Clay says she (Shelli) would never do that to you
Audrey – I'm going to win HOH and this house is going to freak out.
Asks her what would Clay want to happen if Austin side wins HOH.
Audrey – Austin is really worried you guys are putting him up
Audrey warns if they put up Austin there's a good chance Da can flip the vote and get him out.
CLay – I know that ..
Clay doesn't give her any information.
Audrey grabs her medication walks to the kitchen asks Jason if he wants some "Boobs.. Boob Pills"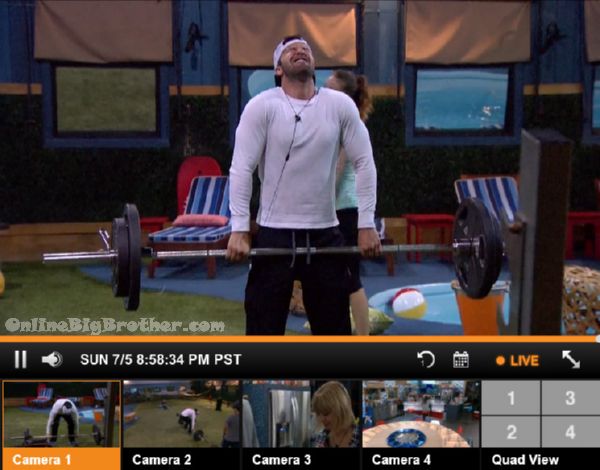 Dude Brah… Dude.. Dude Brah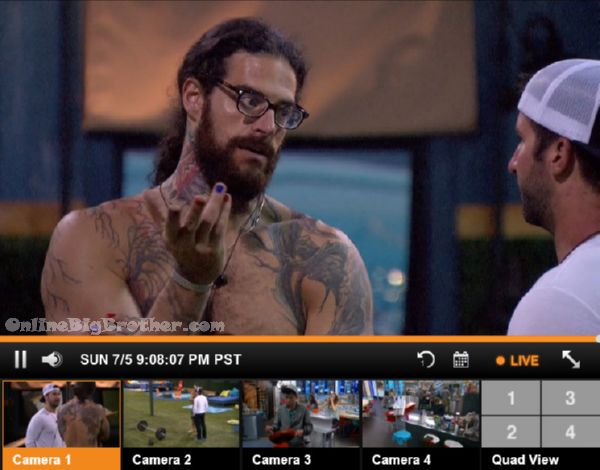 9:10pm Jeff and Austin
They start trying to figure out who America's player is. Jeff seems convinced there is because America isn't voting for have nots food.
Austin points out the single vote to JAce was Audrey and she's most likely America's player. Jeff agrees "Why would she makes up that many rumours"
Jeff says he's got Meg and Jason.
Austin – what about Jackie
Jeff – Jackie is really tight with BEcky
Austin has been getting closer to Becky
They agree Becky is a beast in competitions.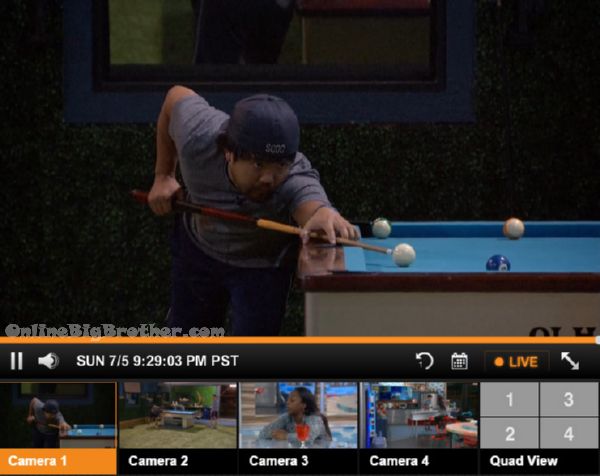 9:24pm Bunch of the guys playing pool.. Jeff doing a lot of thej talking saying mostly Dude and Bro…
Jeff saying when you do weird sh1t some girls are pretty receptive..
Jeff – Austin is your life outside a lot like Mama's boy
Austin says he doesn't smoke weed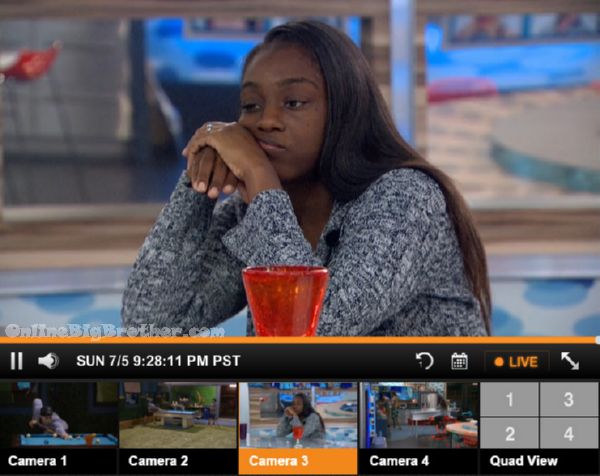 9:28pm sad
9:45pm Jeff, Da, Jason, Meg, and JAmes Backyard.
(just to highlight the type of conversations going on tonight)
Jeff – Dude Constructions is Dude I have a lot of respect to those guys they're badasses..
Jeff – Dude the guys that make a lot of money and didn't go to college.. They worked at the power plant.
James – or the oil fields
James – I just want to keep the crazy aways when I get out I'll have a fanbase of a million. (He's joking)
Jeff laughs says if he wasn't on the show he would follow James.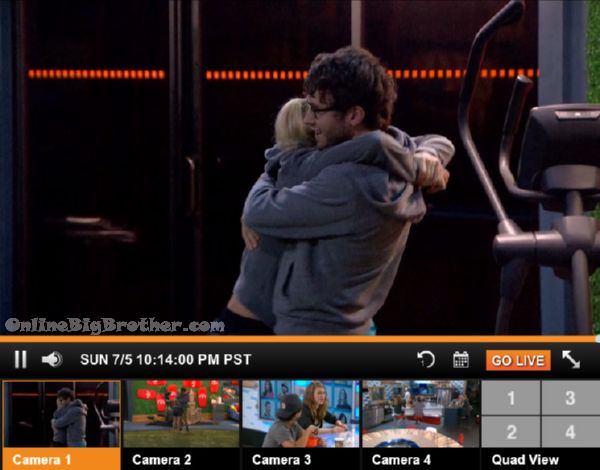 10:13pm Liz and Steve have been play fighting
Steve – this is not fair.. I'm not allowed to hit you
[envira-gallery id="119213″]
10:28pm Backyard Jeff, Jason, Day, Meg and clay
They talk about Steve being fine on Slop it's not bothering him as much as it's bothering the rest of the have nots.
10:39pm JEff breaks the elliptical machine. (Later fixes it)
James comes back from the toilet says he went in right after Jackie "She blew it up"
James adds he "Blew" it up right after Jackie did.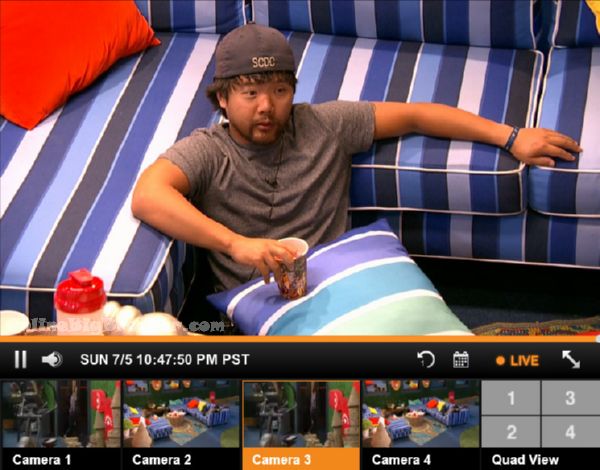 10:48pm James and Da
Da asks him "How's it looking"
James says it's not looking good. Nobody is talking about it almost like the decision has already been made. James doens't know who is going up he doesn't think they will tell him because they knew he would tell Day.
James reassures Day he will vote for her.
Da hopes they put Audrey up because then she has a chance. She says if they can get Audrey out the three of them will "Run the house"
Da says there's only two people she's given her loyalty to. It's Jason and James. She knows they are fighting for her and she would fight for them to.
James is worried the house doesn't like Jason as much. He's worried If Day goes Jason would be close behind.
Day thinks Jason will be lost and they will try and pull Jason in.
Da – It sucks… It sucks so bad
James – I know
11:10pm Backyard, JohnnyMac, Jason, Da, Jeff, Meg and James
James – I may not look good but I make I make good suff.
11:12pm Austin and LIz
Comparing notes. Austin says James is his number one target calls rude to women, inconsiderate of people sleeping "He's the worst"
11:13am hammock Shelli and VAnessa
Vanessa says she never talks strategy with Audrey. Shelli says sometimes Audrey would talk game to her but Shelli has her mind made up. VAnessa warns that Audrey will use whatever she can against you later.
11:29pm Jackie and Becky Join them

11:48pm Feasting on all the eggs Austin has made
11:57pm Hammock Shelli and Vanessa
Shelli says she's been trying to avoid Audrey's game talking.
Vanessa and Shelli agree it was mob mentality that took over when people were attacking Audrey.
Shelli – Blew over really fast
They agree they cannot name one thing that Audrey did wrong. They both think the whole things was exaggerated and mean to Audrey.
VAnessa says Audrey is in a desperate position but is still dangerous.
Shelli brings up Clay cluing in on how Audrey tries to extract information from people.
They can only think of Audrey making up the girls alliance. They agree that wasn't so bad.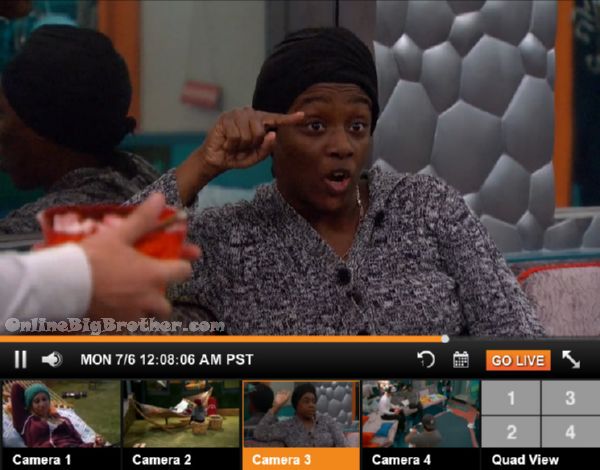 12:09Am Bathroom Da, James and Jeff
Da – I don't mind leaving.. but to leave before her (Audrey) after all the sh1t she did that's a hard pill to swallow
James – hard pill to swallow
Da – It's like she never did anything
Jeff – You know we're all on the same page
12:14am Jeff and James in the bathroom. Jeff is thinking it's Audrey that has been spreading they meet late at tnight.
Jeff – She's back to her old ways
They head into the have not to tell Meg (whose sleeping)
Jeff explains to her that Liz commented today while at the pool table that she was going to hang out with the "night Owls" meaning Jeff, Jason, James and Meg.
Live Feed subscription gives you CBS All Access thousands of archived shows. Live Shows like Big Brother, all the Big Brother Seasons, and 24/7 coverage of what is happening inside the Big Brother House. Plus there's flashback that lets you go back to any second of the feeds and rewatch what happened. Simon and Dawg will index the season just watch the parts worth watching. All this for $5.99 a month try it out 1 week free. Support our efforts and get your feeds via a link on this site. Live feed subscription Sign up
[polldaddy poll=8961340]

Share it YO!!
Tweet