POV Holder:
JohnnyMac
Next POV
?
POV Used
?
POV Ceremony
July 6th
HOH Winner Team 1:
Becky
HOH Winner Team 2:
Shelli
Nominations 1 :
Steve, Jason
Nominations 2:
Day, JohnnyMac
Battle of the Block Winner
Steve & Jason
Next HOH/ Next BOB
July 9th / ?
Original Nominations:
Day, JohnnyMac
Current Nominations:
?, ?
Have Nots
Steve, Jason, James and Meg
TRY the Big Brother 17 Live Feeds FREE for 1 WEEK:
Click here to ensure your live feed subscription supports OnlineBigBrother.com at no extra cost to you.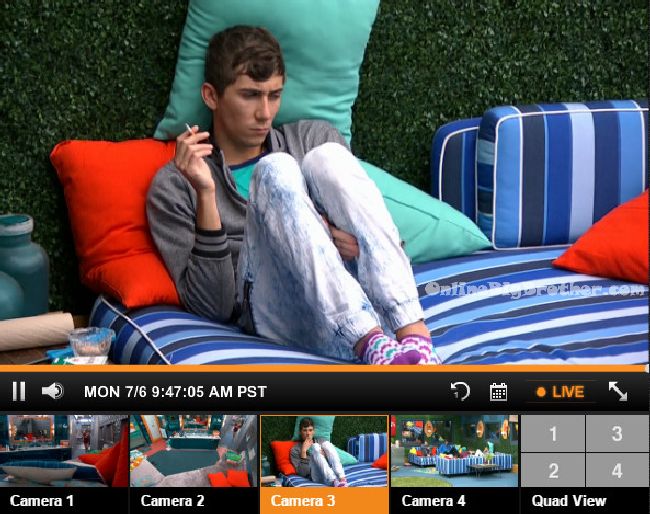 9:30am Big Brother wakes up the house guests. In the backyard – Jason, Steve, Johnny and Vanessa are talking. Jason comments on how the slop never really feels like it fill you up no matter how much you eat. Meg joins them and asks can things get any worse for me? She says don't answer that because I know it could. Steve says he can't eat that much slop any more. Meg gets into the hot tub to warm up. Meg and Johnny head over to the lounge chair. Meg says I just want Thursday to be over and that I'm still here. I hope I'm still here and that I'm still qu*er. Johnny asks is that what's happening? Meg says yeah. Johnny says yeah it hates to go up at this time. Meg says she's going to make a protein shake and have a cold shower. Johnny says he's been thinking about putting his hand up and volunteering. Meg tells him not to volunteer.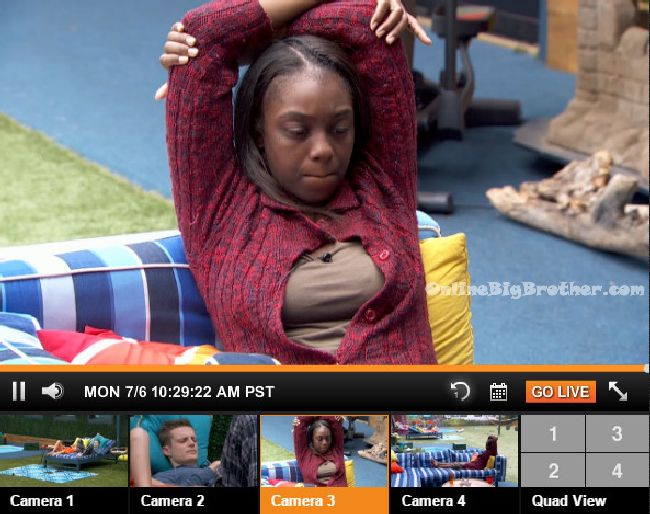 10:25am Backyard couches –
Day asks Jason do you think she (Meg) was crying because she felt sad or guilty? Jason says both. Day says I hate that he got to see that and that she got to see that. They are the kind that will use that against you later on in the game. You was up there crying. I will done jump through the tv. We just have to have fun this week and you have to continue enjoying this experience. Jason says I just feel like I ruined my life last night. Day says no. Don't talk about it. Jason says she (Audrey) knows not to speak another word of game to me. Day says I don't know how to be fake. I was trying to do it, I was trying to learn. I just can't do it. Jason says I look at it just like work … I be ringing through ignorant peoples groceries while I smile to their faces. Day says that's a great way to look at it. Jason says if I don't win HOH on Thursday I am going to do exactly what that hoe did and lay in bed all of Thursday. And if I go up on Friday then I'll know what's up. Why does she get so many passes just because she lays in bed. Day says Jeff and James never came and talked to me when they knew. Even she (Meg) didn't talk to me until you said something. Jason says I love how people like to think game and personal are separate .. they aren't. The people you align with are the people you have the most connection to. Day says ya'll need to send me the coup'd etat.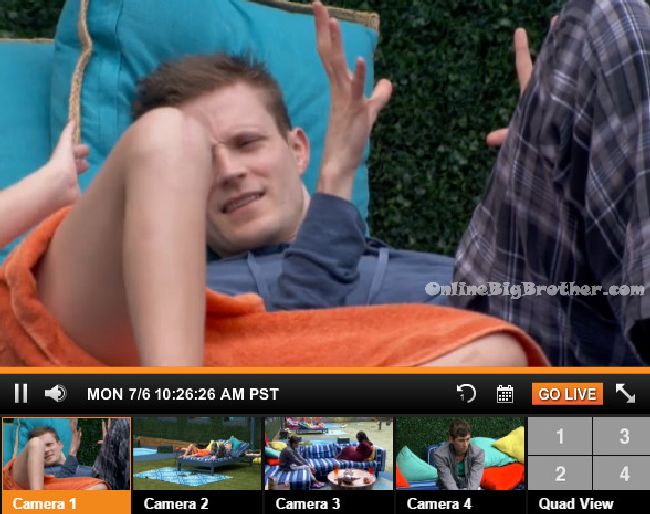 10:45am In the kitchen – Meg talks to Clay and tells him that Day said she wasn't going to campaign against her. She says that Jason said he had to vote for Day. Meg heads to the bathroom. She talks to Liz. Liz tells her she loves her and that she has her vote. Meg says thank you. Liz says thank you for taking one for the team because if it was me up there I would be sh*tting bricks.
11:10am In the backyard – Jason says he used to laugh at people saying you can't be friends after 18 days. Clay says its a tough environment, there's no privacy. Jason says its not the privacy for me. I don't have 16 friends let alone 16 roommates. Jason heads inside. Clay says its tough, I hate to see people cry. If one of us goes I hope its a double eviction. I'll be like just put me up. Shelli says wouldn't that be horrible if one of us went just before jury.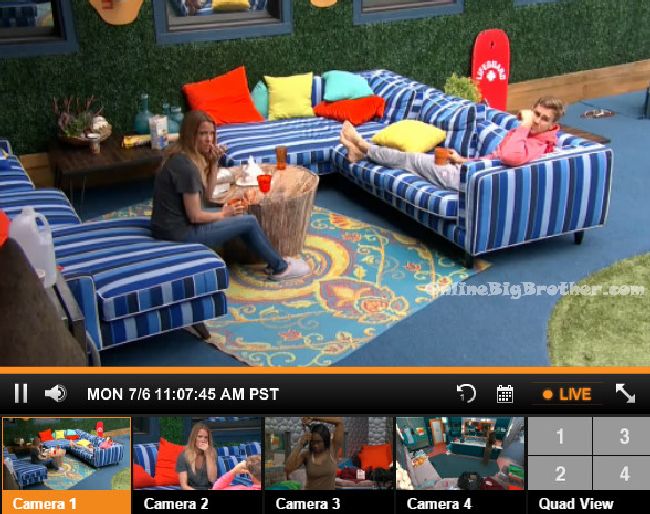 11:25am Backyard – Audrey asks Liz do you know who's going up. Liz says its Meg. I'm just glad I'm safe and you're safe. One more week in the BB house. Liz says our day is coming. The same people can't keep winning. I just feel like such an outsider. It's going to be a long 4 days. Audrey says it feels like we're in purgatory. Liz asks do you think people are still acting weird towards you? Audrey says its getting better. I feel like the people on the outside realize they need me. I feel like that small pool all need to get on the same page but no one wants to initiate the conversation. Liz agrees.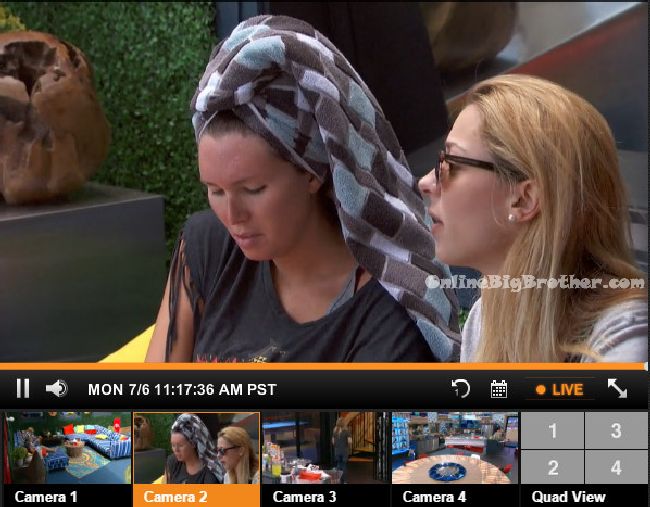 11:30am Big Brother blocks the feeds for veto ceremony…
Live Feed subscription gives you CBS All Access thousands of archived shows. Live Shows like Big Brother, all the Big Brother Seasons, and 24/7 coverage of what is happening inside the Big Brother House. Plus there's flashback that lets you go back to any second of the feeds and rewatch what happened. Simon and Dawg will index the season just watch the parts worth watching. All this for $5.99 a month try it out 1 week free. Support our efforts and get your feeds via a link on this site. Live feed subscription Sign up
[polldaddy poll=8961340]
Share it YO!!
Tweet