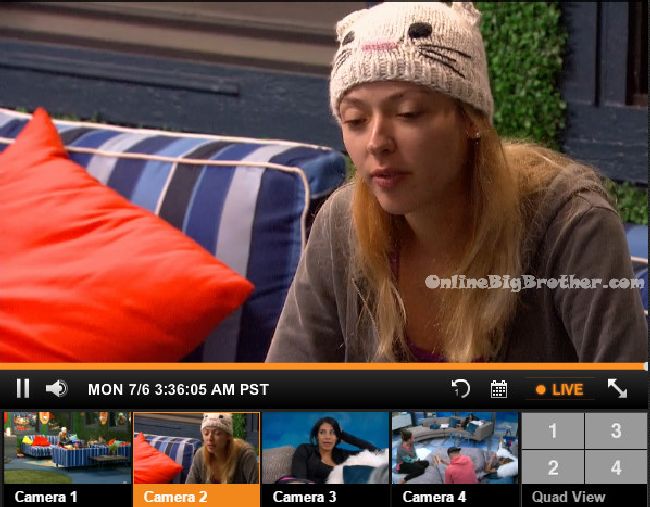 3:30am In the backyard –
Jason talks to Liz. I fell in love with Day before I could even speak to her. How quickly people forget. She (Audrey) changed. She changed for like 3 days. We can all act different for 3 days. I'm just going to enjoy my time with her. Liz says if it wasn't for Day no one would have called her out. She would probably still be doing what she was doing. Jason says I just feel bad because we told Jace she would be next. Liz says if I win HOH I don't want her up there. I don't even want her in my shower. Jason says it would be perfect if we were both HOH next week. Even if I go after her I would be okay with that. Do you want to see her in jury house? Liz says oh hell no. Jason says I hope Kathy Griffin has something good for us. I don't think it will be something to save Day. It will probably be a costume or something.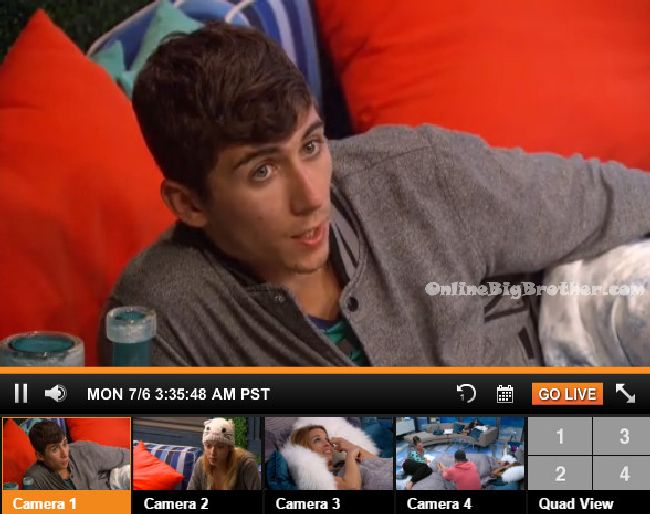 3:40am In the bathroom – Meg telling James that Jeff needs to stop freaking out about people thinking they are working together. James tells Meg that Jeff needs to chill out Bc he can get them in trouble, Meg agrees. James wonders if the last laugh means .. if the votes come in and she gets the last laugh and then you go home. Meg asks that would be so unfair wouldn't it? James says expect the unexpected. I'm just joking it wouldn't be like that. Meg says what if its like I have to pick someone to do something? I don't want to do that.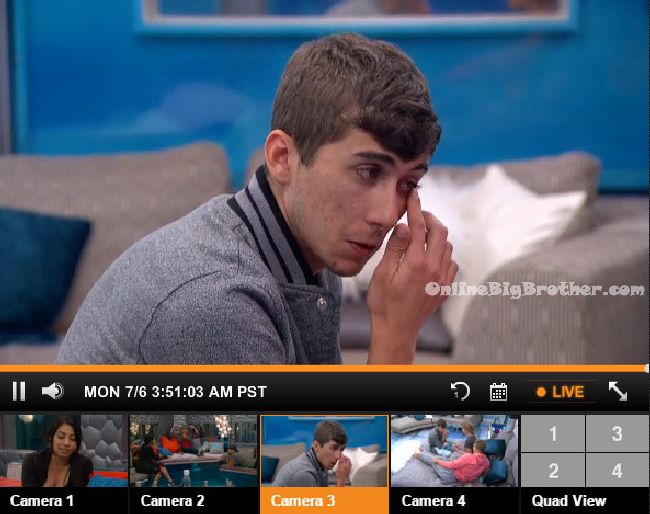 3:50am – 4:05am HOH room – Jason comes up and says I am giving her the sympathy vote. Jason starts to cry and says that he didn't really connect with anyone like he did with Day. I trusted her from the jump. It's okay though, I totally understand I just have to rebuild now. I just don't have anyone once she is gone. Shelli and Clay comfort Jason. Clay says Shelli has been talking highly of Day outside of this game. Shelli says she is precious. This week is going to be hard for you, next week its going to be Audrey. You'll have plenty of time to make connections. Clay says you already have a lot of people that love you and want to work with you. Meg, James, Jeff, and obviously us. Shelli says we've wanted to work with you. You being attached to Day which has hurt you. Shelli says I understand you'll vote for her and I applaud that. Jason says I am not going to try and flip the house or anything. Next week if I win HOH I am going to put Audrey up. I came here to play. I don't want Wikipedia say that I came and sat in the corner to slide though. Clay says you have us, James, Meg in your corner. Jason heads out and says we'll obviously talk more later. After he leaves Shelli says awww.. I love him.

4:20am In the bedroom – Jason talks to Day. Jason says its just sad. I just don't want you to go. You have been my rock here. Day says I'm going to be cheering for you every day. It will the first year ever for me getting the feeds. You are my piece of hope. Don't worry about it. Jason says It's sad, I was in love with you before I even talked to you. Jason says its just a game. Day says yup. This friendship is for life. Jason says even if I follow you next week just know I was fighting for your honour. Day says don't trust anyone not one single person. Meg joins them. Day tells Meg they're going to put you up tomorrow. Did you know? Meg says they basically told me. Day and Jason head outside to talk. Jason tells Day that Clay told me they were waiting for you to be gone till they pulled me in. Even James pretended like he didn't know. The only person I can trust in here is Meg. Jeff joins them.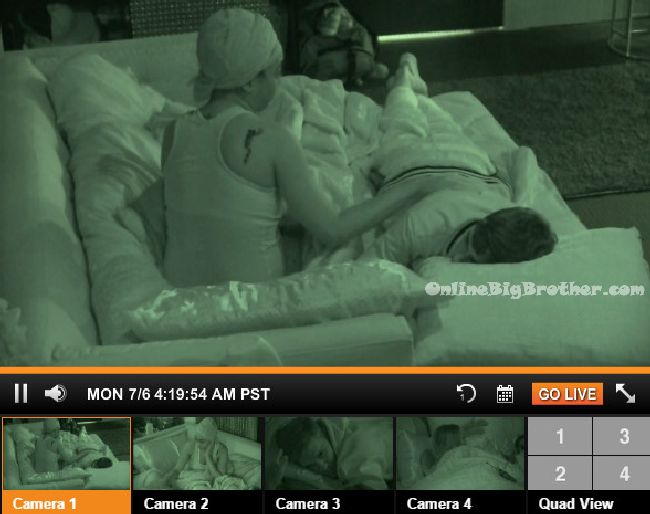 4:30am Jason says I can't believe they're doing that to Meg. They could have picked any motherf**ker in here and you still would go home. Jason says I'm going to get Audrey's head on a plater. I'm going to sh*t in that hoes mouth. I'm going to have the rashiest speech anyone's ever said on Big Brother. I'm going to snatch not just her wig her edges every little bit. I'm going to f**king hatchet her skin off! I'm going to tear the skin from her face with my fingernails. Jeff says no mercy. Jason says they awoke the beast. I was just chilling. That bit*h is going to have to do everything to get me out next week. Jeff says its safe to say Audrey goes next week. Day says we said that this week. Day says putting Meg up next to me is asking me to erupt but I'm not going to. I am a mother and I will leave like a lady. Day says its a coward move. Meg and Jason start crying. Day says she could have told me straight up she was putting me up but she didn't because she is a coward. Day comments on how Clay's hair cut looks stupid. Meg heads inside.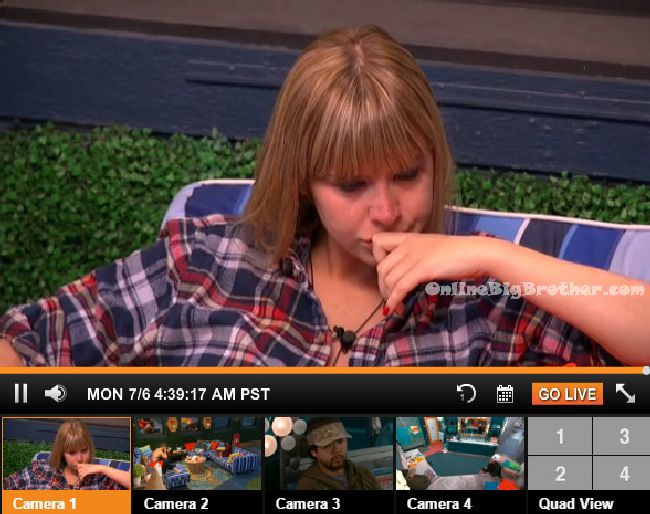 4:55am – 5am In the bathroom – James, Jeff and Jackie talk about how Day knows Meg is going up. James says well that sucks because that means Jason knows I lied to him. They probably hate me right now. I can't go out there right now .. they're going to blast me. James and Jeff head up to the HOH room. James says all hells breaking loose down there. Jeff says they're all out there crying. Jeff says Day definitely knows. I think Meg cracked under pressure. James says Day said its a hard pill to swallow that Audrey is staying longer than she is. James says its going to be rough for me because I pretty much had to tell him I didn't know anything. I'll have to deal with that now. Jeff and James tell them they just wanted to fill them in on what was going on. They then leave.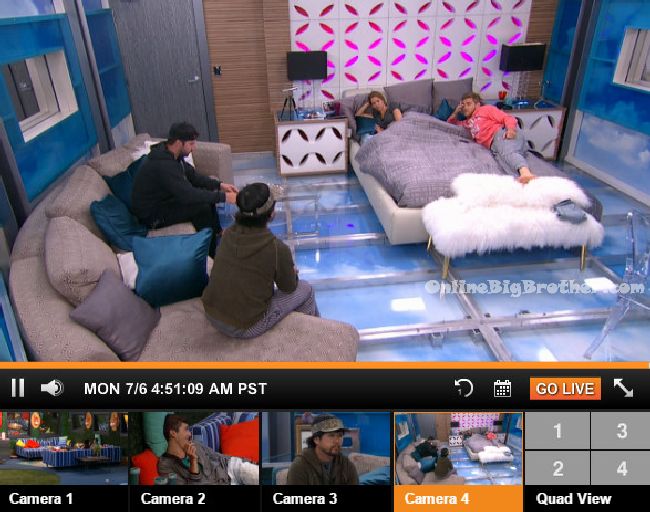 Live Feed subscription gives you CBS All Access thousands of archived shows. Live Shows like Big Brother, all the Big Brother Seasons, and 24/7 coverage of what is happening inside the Big Brother House. Plus there's flashback that lets you go back to any second of the feeds and rewatch what happened. Simon and Dawg will index the season just watch the parts worth watching. All this for $5.99 a month try it out 1 week free. Support our efforts and get your feeds via a link on this site. Live feed subscription Sign up
[polldaddy poll=8961340]
Share it YO!
Tweet