POV Holder:
James
Next POV
Aug 1st
POV Used
No
POV Ceremony
Aug 3rd
HOH
James
Next HOH
Aug 6th
Original Nominations:
Shelli and Clay
After POV Nominations:
Shelli and Clay
Have Nots
Austin, Liz, Julia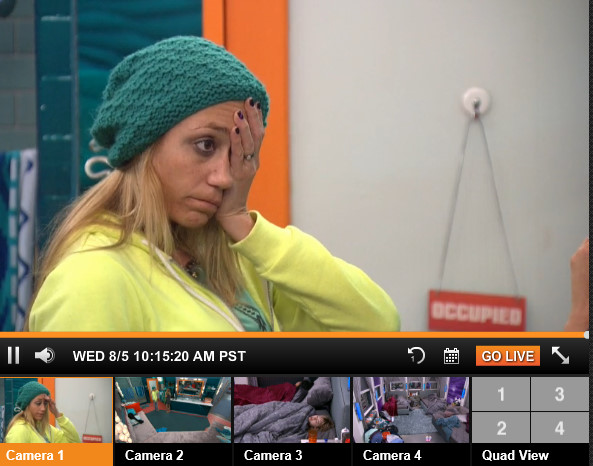 TRY the Big Brother 17 Live Feeds FREE for 1 WEEK:
Click here to ensure your live feed subscription supports OnlineBigBrother.com at no extra cost to you.
10am Big Brother wakes up the house guests. Steve comments to Shelli that his toothache is still bothering him. Steve says that his goal is to not pull a Victoria. (BB16 Victoria passed out in the bathroom stall due to a pain of her wisdom tooth) Steve heads back to bed. Vanessa joins Shelli in the bathroom. Vanessa tells Shelli she wants to talk to them today. I will fill you in completely. Shelli asks what happened? Vanessa says its a really long story.. I'll fill you in later. I have a plan though. I have an idea. Its the only hope. Shelli asks its the only hope for what?! Vanessa says for both of you. Shelli asks is it a plan for next week? Vanessa says yes, and based on being bullied. Its a terrible situation. Shelli asks are Austin and the twins in on it? Vanessa says they're being bullied too. I'll explain later.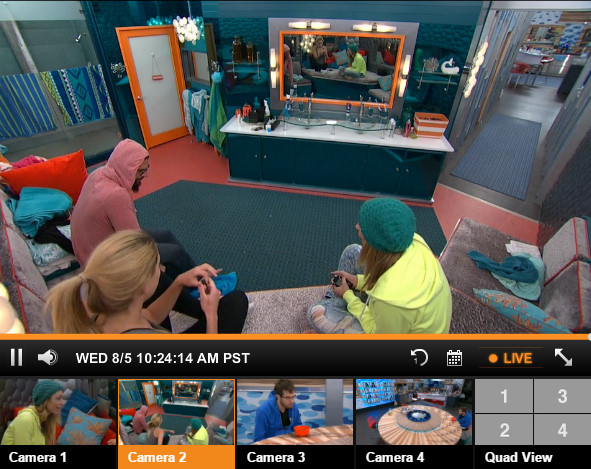 10:15am Vanessa talks to Austin. We're in a terrible situation. I find it really bad. I feel like I am being forced. I call my plan .. its redirect and minimize. First stage of the plan is to redirect in the short term. Redirect a target for this double eviction. It involves .. Shelli & Clay have to out Becky as the traitor she is, as two faced. We just have to give enough ammunition to have another potential target in mind. She (Shelli) needs to have a big blow out with you saying their going after Austin and the twins.. I'm the only one that will. You need to keep me in the house because of this. She needs to convince them of that. To the point that they are more ambivalent to keeping her. And if the votes happen, no one will ever think it was you. Austin asks what do we have a blow up about. Vanessa says no one would ever suspect you would keep her if you have a blow up with her. Austin asks you don't think Clay would run up and tell them? Austin says or we go along with them and keep Clay .. then we throw the HOH to Steve or Clay or Johnny Mac.. and let one of those three take them out. Vanessa says she woke up to Becky whispering to James last night .. she is the biggest two face. Austin says she was targeting James and Jackie last week.
10:25am Vanessa tells Steve that Becky was up till 6am whispering with James. It woke me up. She is so two faced. So I have a plan to out her and redirect the target. She's been running and telling Shelli and Clay everything they tell her. She was targeting James and Jackie last week. She is so two faced. It's completely f**ked up to play both sides. Its a rat in my book. Austin, Steve and Vanessa head into the cabana room. Vanessa says we can't do anything about this weeks vote. But to keep Shelli she could have a fight with Austin. Steve leaves because it looks too suspicious. Austin asks are we that adamant about not being able to trust Clay? Vanessa says no but how do we test it. They talk about feeling Clay out today. Austin says I think the most important thing is the Becky thing but how do we say we didn't know about it all week. Vanessa says I did say it, I just didn't say her name. Vanessa says that Becky is loyal to the whole f**king house. That's the definition of a floater. Its so two faced what she is doing right now I can't even take it. Austin asks what if James confronts her and she spills sh*t. Vanessa says she doesn't have anything. Austin says okay let the Wednesday scampering begin.. They head back to bed.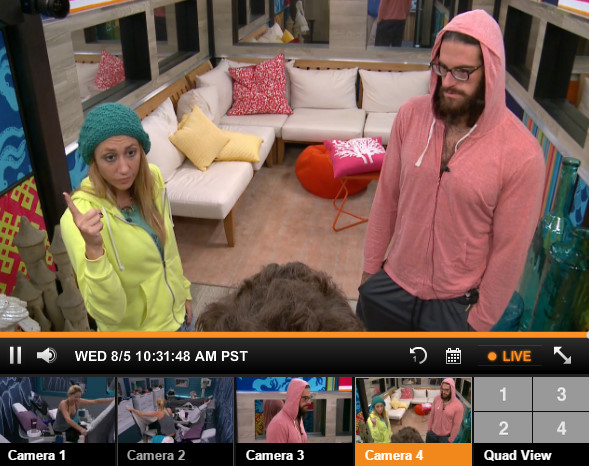 10:50am – 11:10am Shelli tells Clay she doesn't want to deal with this sh*t. James acts like he runs this sh*t. Vanessa tells them that she trusts them 100%. Obviously its very complicated the whole voting thing. The plan involves two steps that have to happen. Becky was up until 6:10am whispering to James. For 1 hour I heard them whispering. They were 100% talking game and then she came scampering back to bed. Its making my blood boil the extent to which she is playing both sides. Shelli says so we expose her now? Vanessa says you have to. Shelli says cool. Vanessa says You have to redirect the target to her for next week. Just f**king be honest. It involved the truth. She wanted to make an alliance before and we didn't do it. She thought of the name "The Generals". Her target was James, she said it before the HOH. She wanted Jackie out. She has everyone in her back pocket. She has the whole f**king house on her side. She is a hardcore floater. Vanessa says that James asked me to vote to keep you and I said that Clay asked me to keep Shelli. I don't owe him (James) anything. James asked are you going to have trouble getting out the other one next week. The whole house is on board with it and we'll have a problem if you don't. Shelli asks when do we expose her? Vanessa says today. The second part of the plan is that you both need to maintain (fake fight) that Austin is your number 1 target. We have to smoke screen who ever stays that you're going to work with Austin. Why are we letting them blow up everything we had for one week of their HOH. Austin and the twins are being bullied. Next week which ever one of you stays will go up next to the real target and the votes will be Steve, Me, Johnny Mac, and the twins. Clay asks why? Vanessa says to keep you. Why would we not. Clay asks why would we not put up both of them? One of them is going home. If one wins, we put up the other? Vanessa says because it maintains the smoke screen. Shelli says not if we expose Becky's game. Vanessa says I can't handle it any more. Vanessa starts crying over having to make a choice between who to vote out. Vanessa says you (Clay) asked me to make that promise (to vote him out to keep Shelli) and I going to keep that. I am praying for a reset and both of you stay. Vanessa says that Becky is the biggest two face ever! We need a target for next week so that's the plan. Shelli asks why does it have to be a secret who we're working with. Vanessa says she thinks people have made deals not to put them up. Shelli asks why do people act so scared to change. Deals are a joke in this house. Clay says its 3 against 8 ..if we leave Becky out of it. Why are we trying to hide. It doesn't make any sense. Everyone gets so scared and run to power. Vanessa says I want the twins to win .. I think they'll do what I want them to do. I really think this Becky thing needs to happen. Shelli says that just makes me mad that when we threw Austin under the bus .. we should have just done Becky. Shelli says I don't understand why people think James runs this house ..he doesn't have any power any more. He's not the puppet master.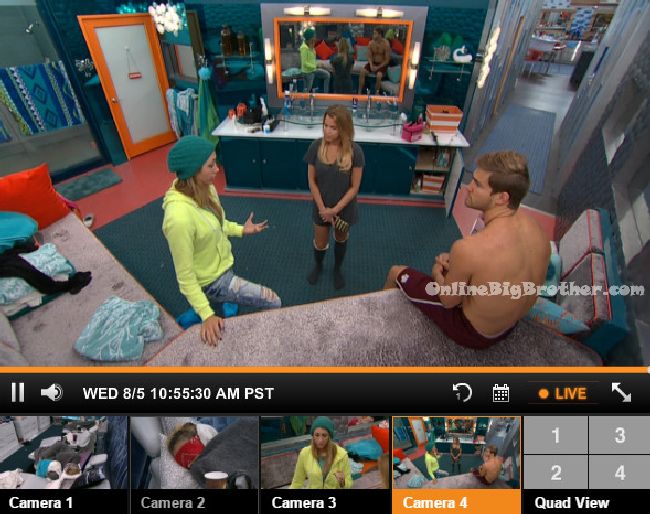 11:10am Shelli says to Clay if I go home and find that you were pretending to be on James's side I will be sick! He is a disgusting little man. It makes me sick! The way he runs around and farts on people and the disgusting things he says about women. He is nasty! Nasty little man!! I am not impressed.

11:30am Liz and Vanessa get ready in the bathroom. Clay makes breakfast.. Shelli tells Clay .. the rat (Becky) and the snake (James). I really can't imagine being friends with him after this place. Clay says that Vanessa know that Becky would throw her under the bus but I don't know if Becky would throw us under then bus. Shelli says we're the ones putting our a$$ on the line. Clay says I don't know any more. Shelli says I think we need to talk to Becky before exposing her. Saying we know she is playing both sides. Vanessa is right if we say that to Becky she has nothing on us so she can't run to James and say anything.

11:50am – 12:25pm Bathroom –
Vanessa, Shelli and Clay are talking. Shelli asks do you know for sure who you heard last night was James voice. Vanessa says you can't mistake that voice. Johnny mac joins them. Shelli asks Johnny are you afraid of James? Johnny says no. Shelli says he is being a bully and I don't understand why people are scared of him. Johnny says there are other people I would like to take out first. Shelli asks who? Johnny says Jackie. I'm not scared of him and that's why he's not my number 1. Johnny says I know you can't go after him. Vanessa says I can go after him. That deal was only a one week thing. Shelli says they're not going to be in power next week or for double eviction. We shouldn't go along with their plan. Vanessa says we need a plan to redirect. The remaining one of them (Shelli & Clay) is going to be the next target and you or I will go up next to them. I want to get them (James, Meg, Jackie) off that kick. Shelli says when it comes to the double eviction why does everyone need to follow through with what they want. Vanessa says I am not going to be bullied. I'm going to do what is statistically best in my interest. The problem is convincing the other fools its the right thing to do. Vanessa says if anyone should be scared it should be me because she'll put me up. Shelli tells Vanessa about her thought to first go to Becky and confront her about all the stuff they have on her. Vanessa wonders if she should talk to Becky first. Shelli says that she would put up Meg with James because people would vote out James over her. Vanessa says she would put up Steve with his permission. Shelli says no, people would vote Steve out. Vanessa says which ever one of you stays you are on board with making a final 5 with Austin & the twins. (Vanessa, (Clay or Shelli), Austin, Julia and Liz) Clay says yes as long as they don't float to the other side again. Vanessa says Austin and the twins will not vote you out (next week). Clay says I don't believe that. Vanessa says they're on board. They're not stupid. Vanessa says James's biggest argument against you staying is that he is convinced you can't win an HOH. Shelli has won HOHs but it doesn't mean you can't! Clay says all I want you to do is make sure Austin and the twins are on board and will not put us up. Vanessa says they're already on board. Shelli says that he (James) is making false promises and empty deals. What does anybody else owe him? Nothing at all! They discuss putting up James and Jackie on the block and if one of them comes off put up Meg. Vanessa asks is it better to redirect to Becky or get her on board. Clay says get her on board. Shelli says people would be dumb to vote us out (next week). Everyone knows its better to keep a bigger target in the game.
Julia actually spilled the protein powder not Julia.
Johnny to Liz who just spilled the protein powder "Austin is NOT going to be happy with you!" @bigbspoilers #bb17 pic.twitter.com/YY9CoZxuuA

— Dawg (@DawgsBigBrother) August 5, 2015
12:50pm – 1:10pm Vanessa, Julia and Johnny are in the kitchen chatting about random things. Julia tells Vanessa not to tell Austin I spilled the protein powder. Clay and Shelli are in the bathroom. Shelli's cleaning.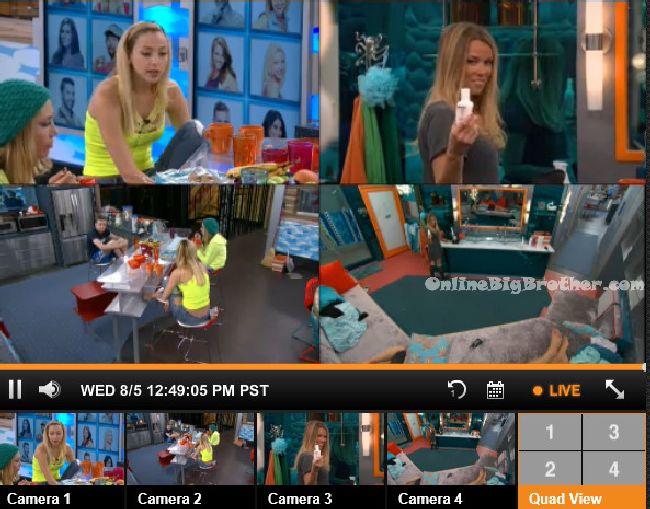 [polldaddy poll=9004995]